October 29, 2019 | Nathan Hale, Truman, and Chief Sealth at Amazon | by Shawnte Garrett and Cindy Jamieson
On Oct. 29, students from Nathan Hale High School, Truman High School, and Chief Sealth International High School visited Amazon for a field trip with IGNITE Worldwide. When we walked in, we met with Karen A. She was super welcoming and introduced herself to every student. She offered the ladies a snack or something to drink, which was so unexpected and generous! Our group was in awe because the building was so uniquely designed inside and out.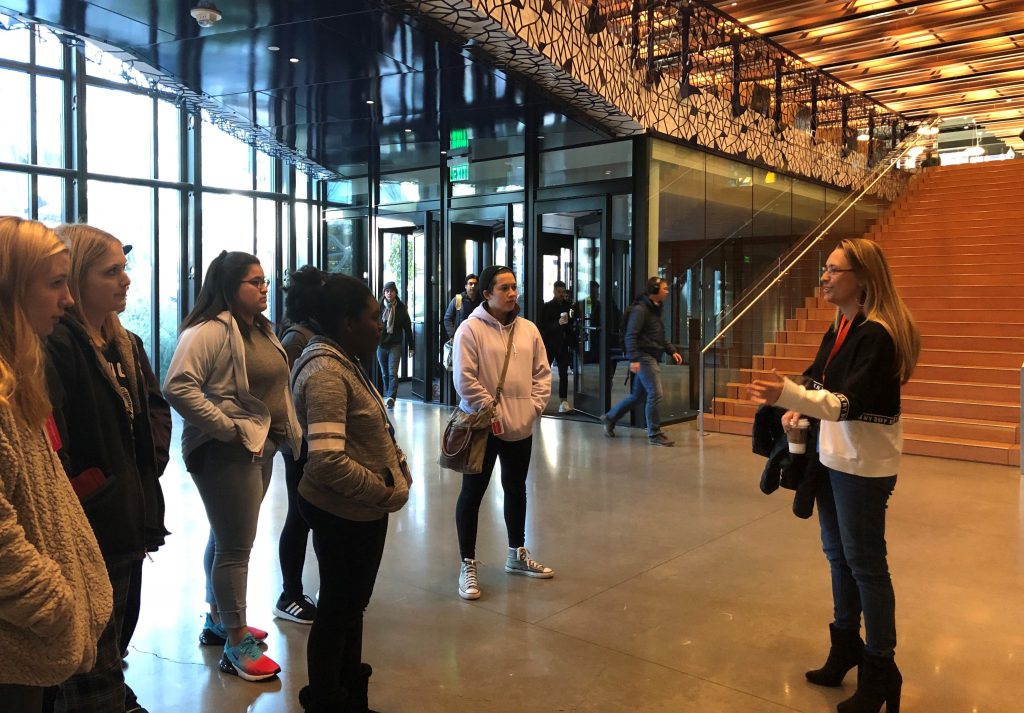 After we checked in at the re:Invent building, the students got to see the evolution of the Kindle and tablets made by Amazon all on display. As we were waiting to get our security clearance, we noticed the employees bringing different breeds of dogs to work. Amazon even built a mini dog park across from the Spheres for their employees to enjoy time with their pets.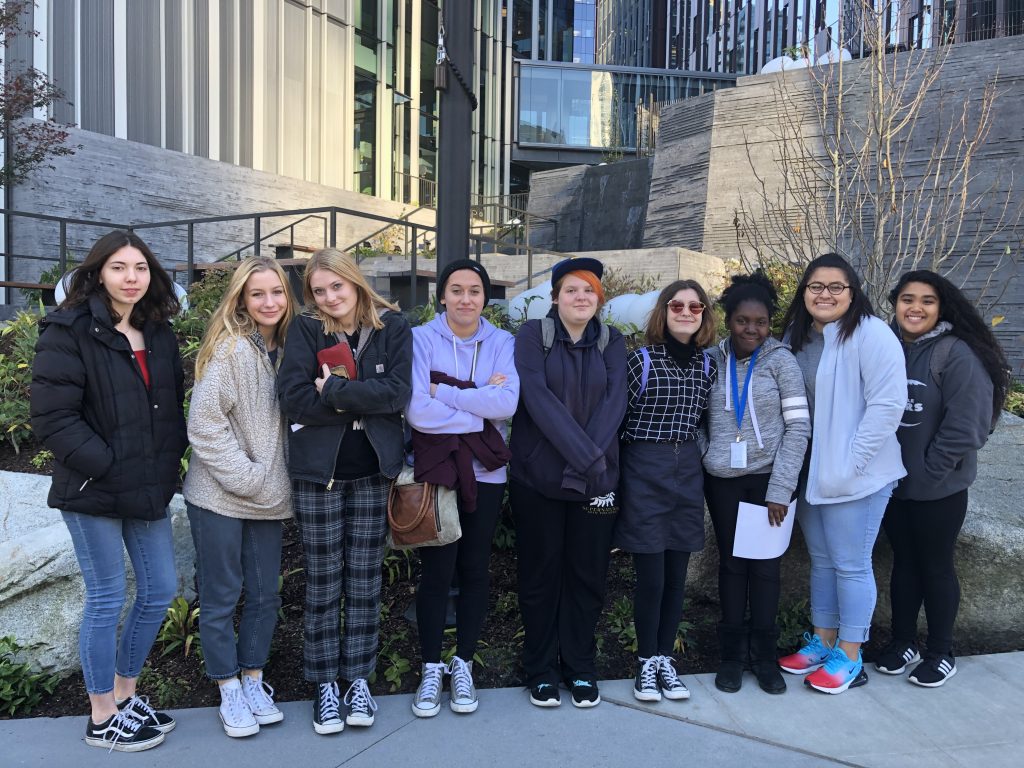 Next, we broke out into small groups so we could tour the Spheres. Research shows that one of the influencing factors in increasing creativity and innovation is to be surrounded by nature. Inside these five floors are plants from all over the world, some fish, places to work, and of course a coffee shop! We were told how the design came about, how metal was used, and how many glass panes were put in place. The living plants have a set oxygen and ecosystem level, so if too many people are gathered in the Spheres, it can actually change the ecosystem for the plants to breathe and live in. We felt very lucky to be able to see this unique and amazing environment!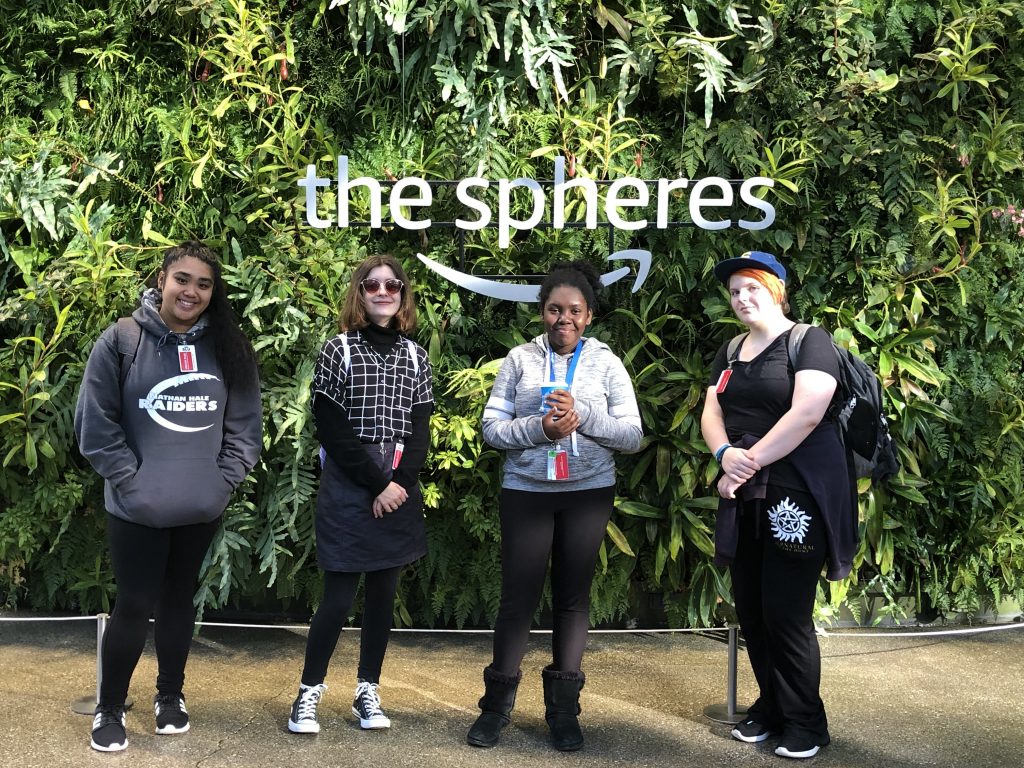 We returned to the re:Invent Building, where Karen Watts, a 16-year employee, educated the young ladies about Amazon's plans to help with climate change by pledging to reach net zero carbon by 2040. She talked about measuring greenhouse gas, the removal of carbon emissions from businesses and corporations, and the importance of carbon offsets.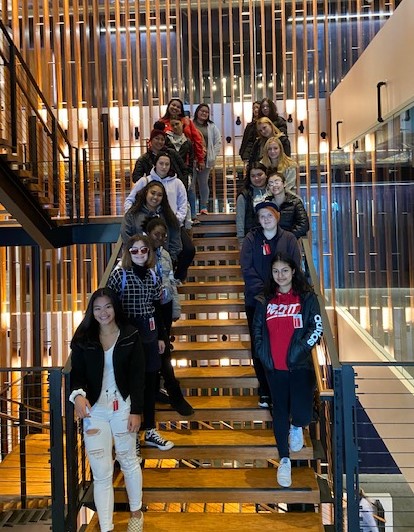 The girls then worked in small groups on a challenge to follow the steps Amazon uses for product development. The Amazon employees shared that this is exactly how Alexa was created! The students all brainstormed ideas and reported their findings back to the large group.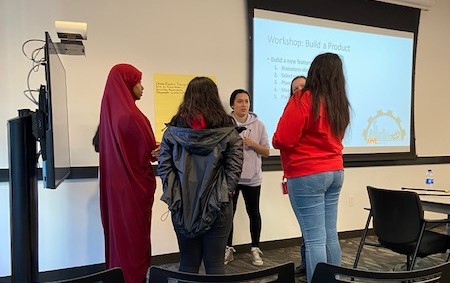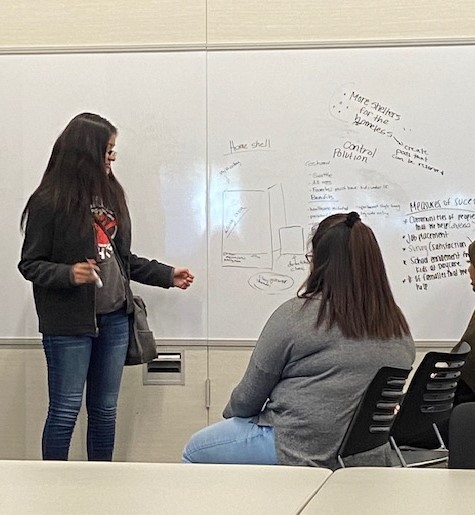 The final activity was listening to a panel of women in STEM while enjoying a complimentary pizza lunch. We heard from Tyra, a Sr. UX designer who can name all 50 states alphabetically; Melissa, the program manager of recruiting who loves "critters," including her bunnies Max and Maya; Elizabeth, another project manager with an electrical engineering background; Rachel, who is new to Seattle and Amazon and recently graduated with a degree in engineering; and our lovely host Karen, who has a degree in International Studies, loves to remodel homes, and has been at Amazon for three years.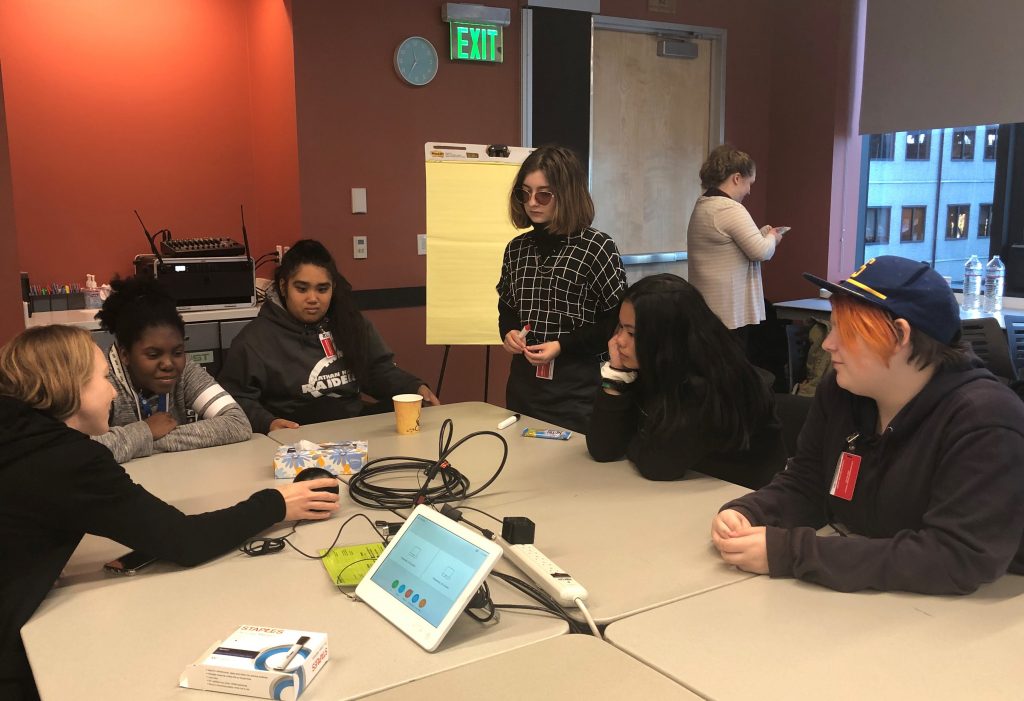 Students heard stories of how these women prepared for their careers, what it's like to be a women in technology and engineering, and what kinds of skills students can gain now to start preparing for their futures. They got advice to never give up and to try something outside your comfort zone; you never know how amazing you can be!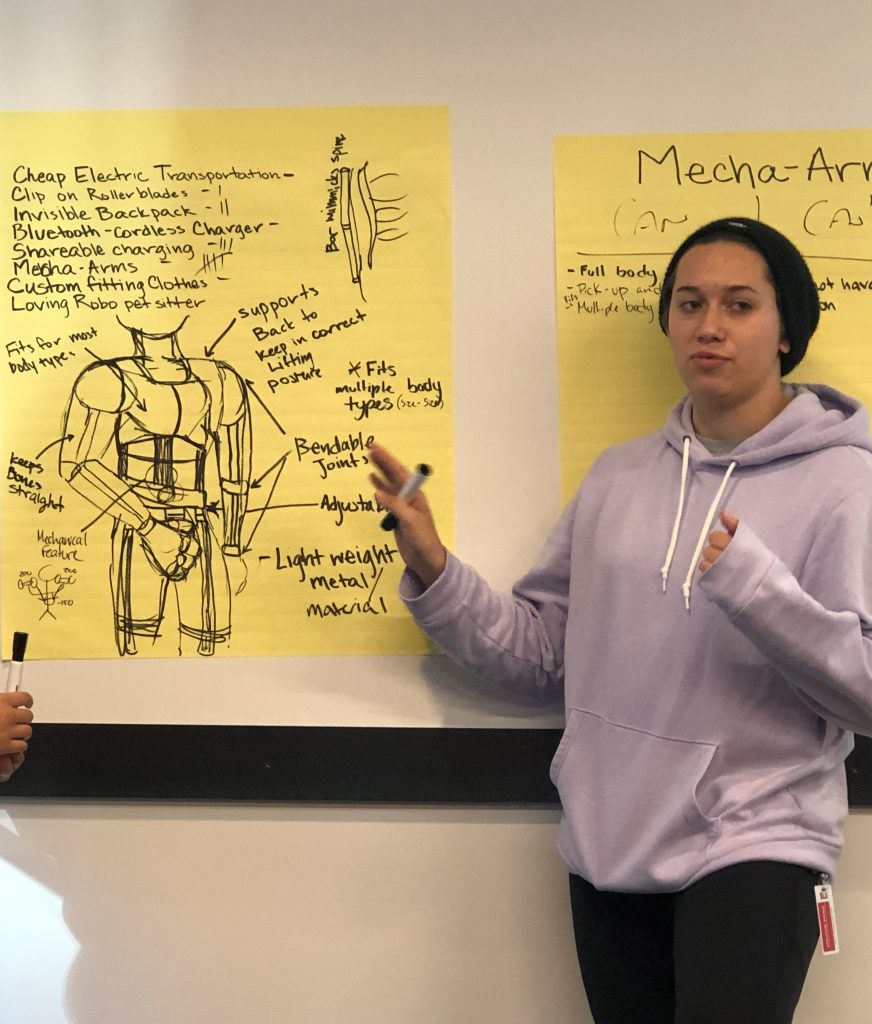 It was evident that these professional women with awesome careers really want to help our students. You know it's a good trip when students comment that they wish this event was longer! This was Truman High School's first ever IGNITE field trip, and they can't wait to experience more of these incredible events!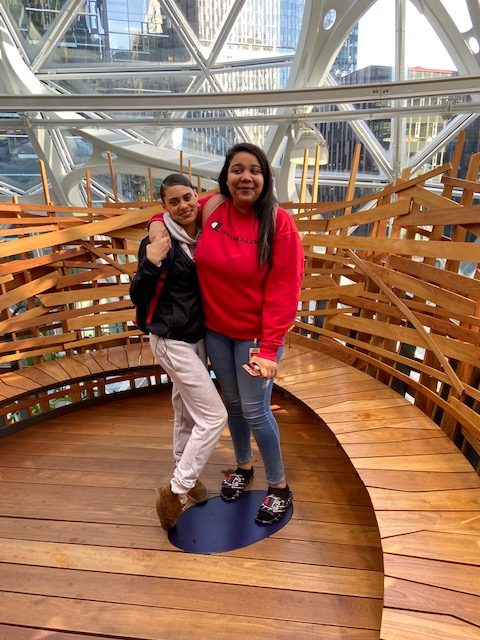 THANK YOU to Karen A, Karen W, Tyra, Melissa, Elizabeth, Rachel, and everyone at Amazon who volunteered their time to make this an engaging and inspiring day for the girls! 
After attending this event:
Here's what the students enjoyed most:
"I loved the guides. They were very inspiring and informative. This event inspired me to join a programming club over the summer."
- 12th grade
"How a lot of different females have really important and meaningful jobs--jobs that you think only men would have."
- 11th grade
"Going to the Spheres and learning that Amazon is more than just delivering packages."
- 11th grade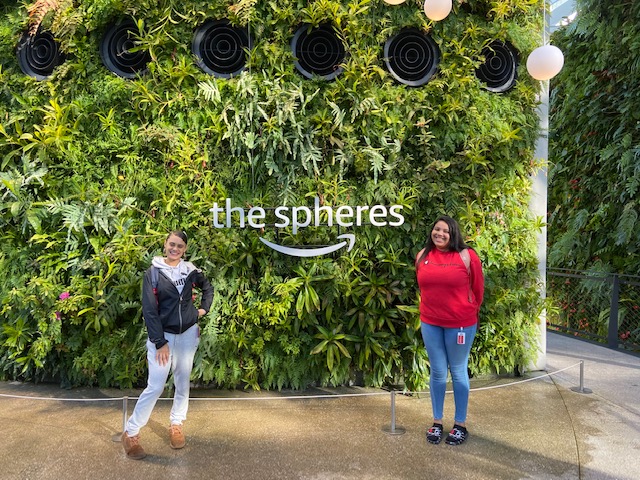 "I liked hearing how the ladies enjoyed working at Amazon. I also enjoyed the activity we did coming up with our own project."
- 12th grade
"I liked listening to the women talk about how they got to their jobs today."
- 12th grade
"Getting the inside scoop about happenings at Amazon was really cool. This event inspired me to start networking!"
- 10th grade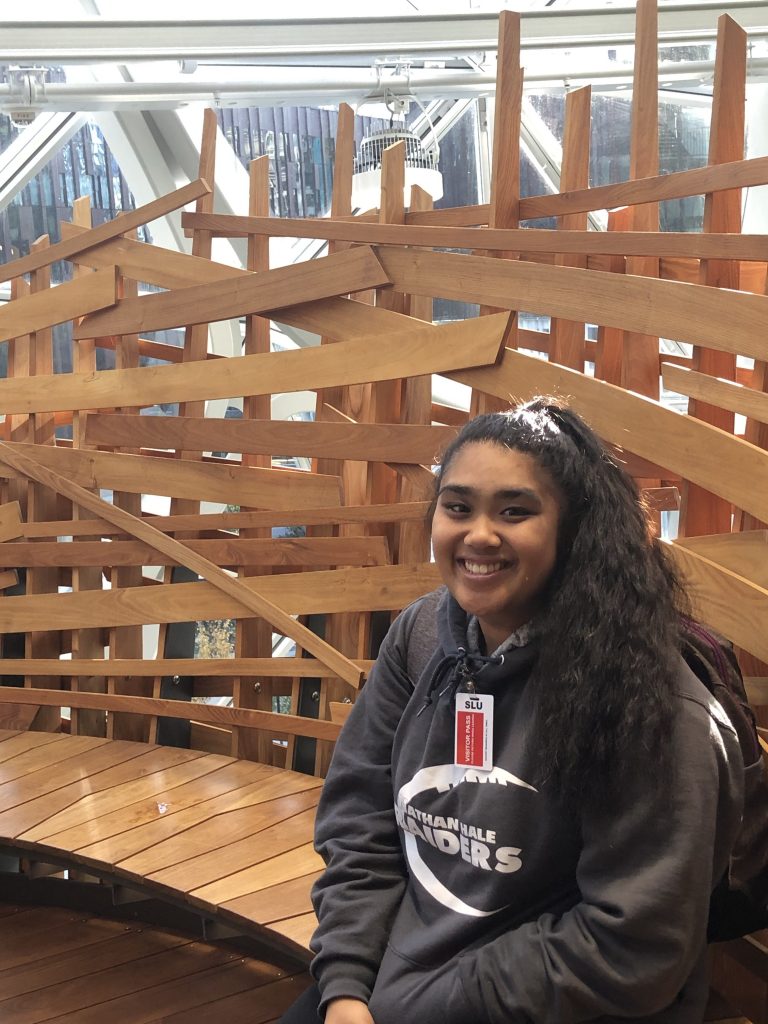 "The different positions women have worked to be in. The amount of effort each person has put in to achieve their goal."
- 12th grade
"Seeing the different plants around the world in one ecosystem and the type of technology that keeps them alive."
- 12th grade
"The Spheres were really cool. I feel like they could be a really good place to work."
- 10th grade
"When we took a tour around the Spheres. It was very interesting to see all types of plants and trees around the building."
- 10th grade