November 5, 2019 | Franklin Pierce High School & Washington High School at SAP Concur | By Archer B. 
On Nov. 5, we took 22 girls and non-binary students from Franklin Pierce High School and Washington High School to SAP Concur in Bellevue. We were greeted by the very polite and welcoming Geetha French, one of the panelists we would hear from later. The work environment seemed to be a very serious one that also had a lot of friendly vibes, and everyone wanted to be there.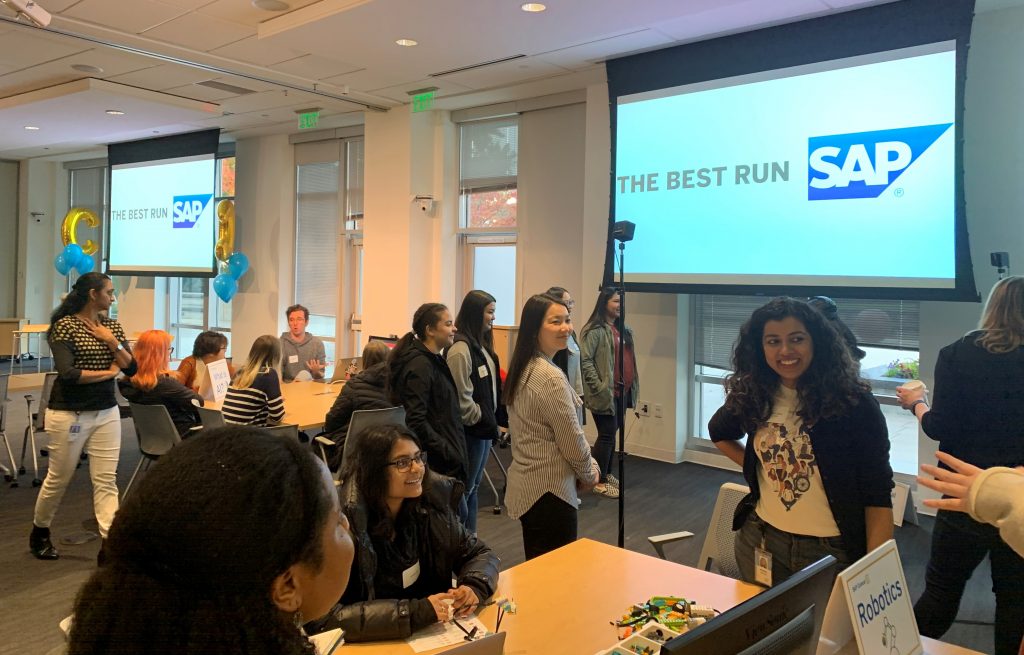 We all started in a conference room, where we were given information about the background of the building and the volunteers, as well as a breakdown by Jessi Alva, Product Manager, of all the activities available during the workshop.  Activity stations included Business Management, Cybersecurity, AI, VR, and robotics! The volunteers all explained what they do for the company and what they were going to show us.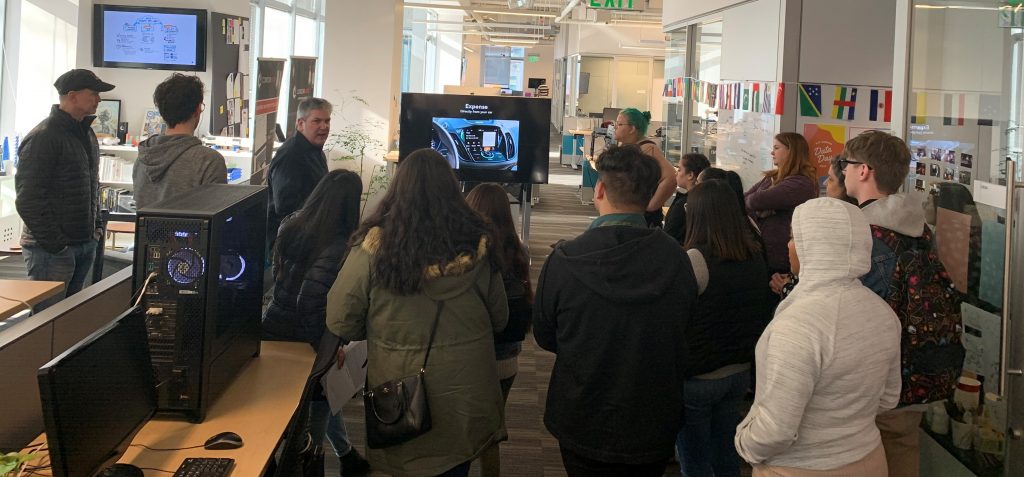 From the business station we learned how to use the app they created to help companies file their receipts.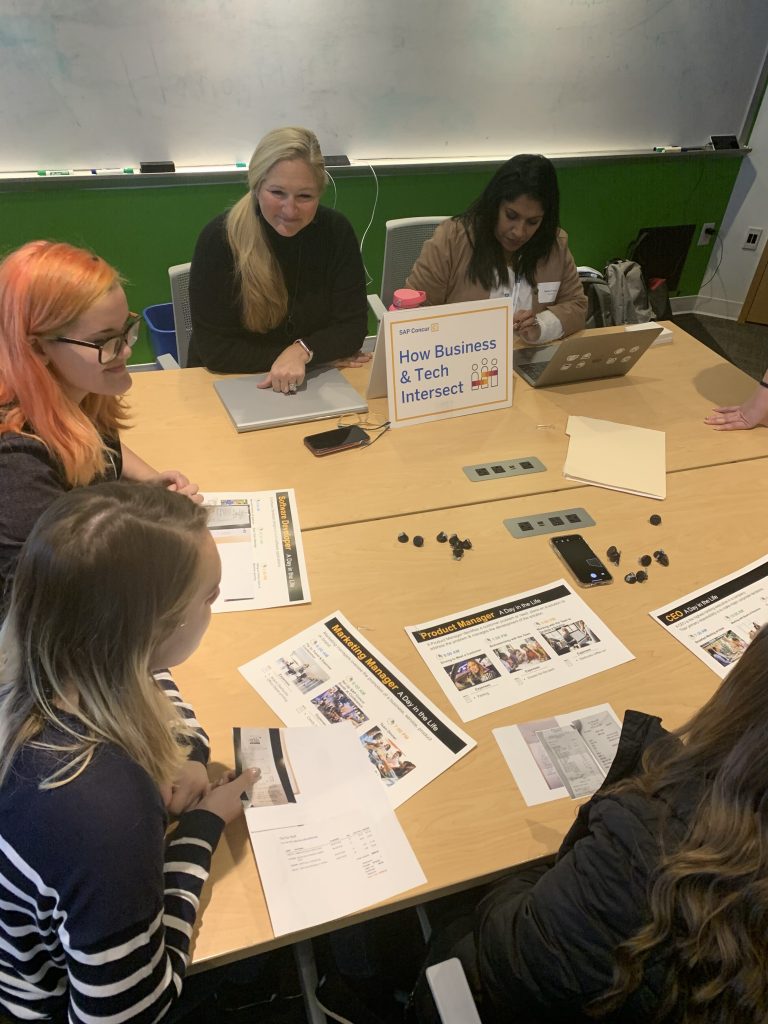 The cybersecurity station showed that there are multiple work areas you can go into for cybersecurity and also how important it is to have good cybersecurity.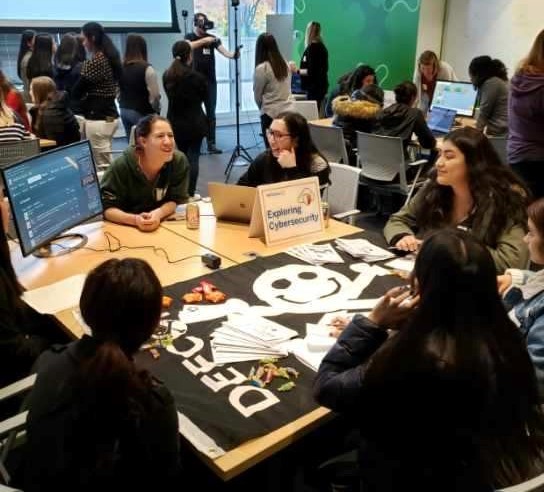 At the AI station we learned how artificial intelligence shows facial features and can help a program differentiate emotions and other expressions.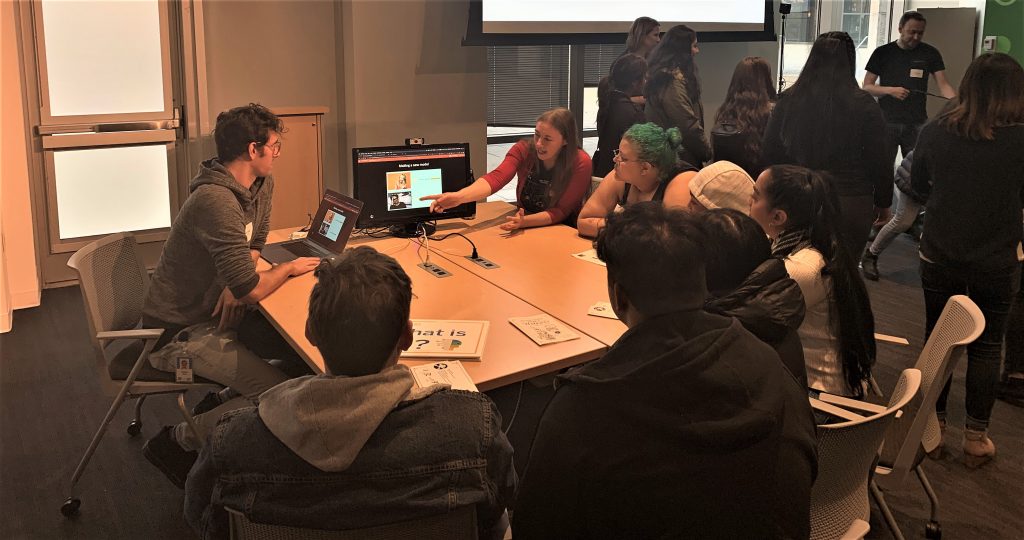 The VR demonstration showed us how we can create a model or anything in a program and then use that program for recreation or business, like displaying multiple graphs.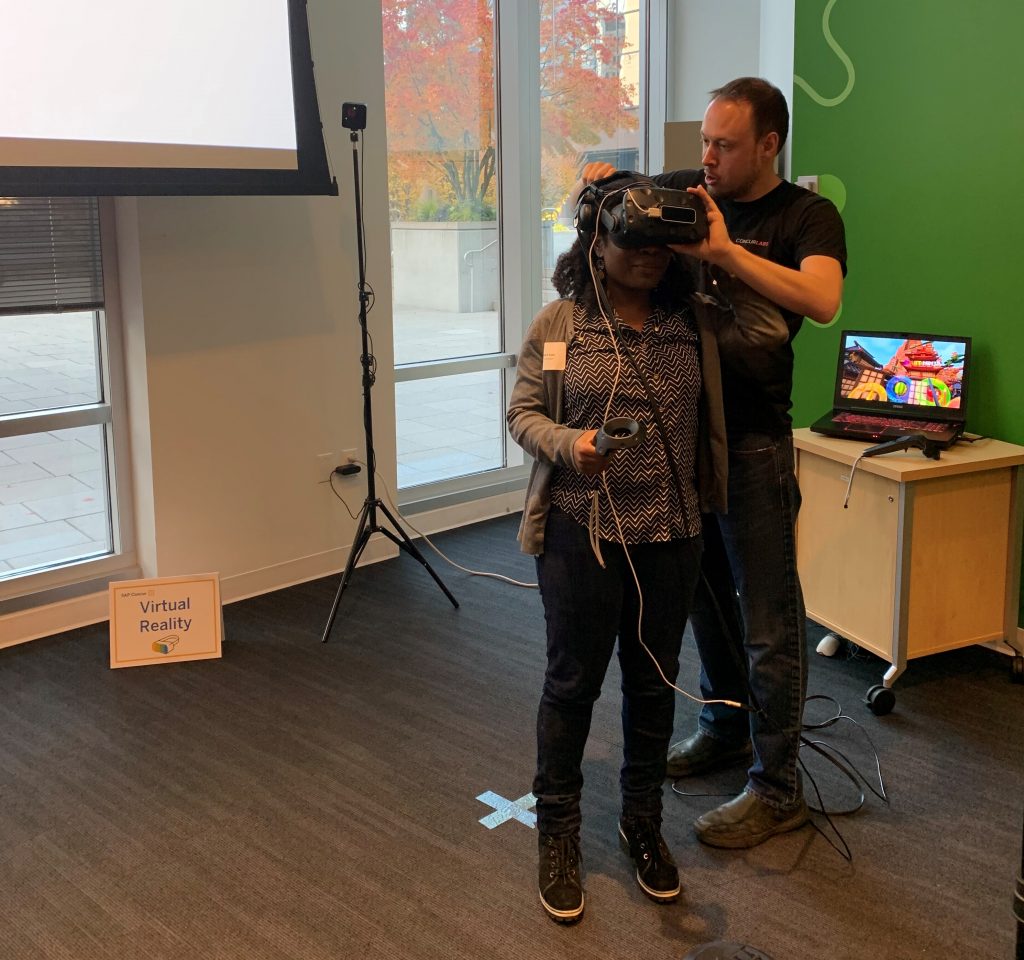 I personally didn't go to robotics due to time constraints, but I heard everyone over there having a blast! We all really enjoyed exploring the different activities.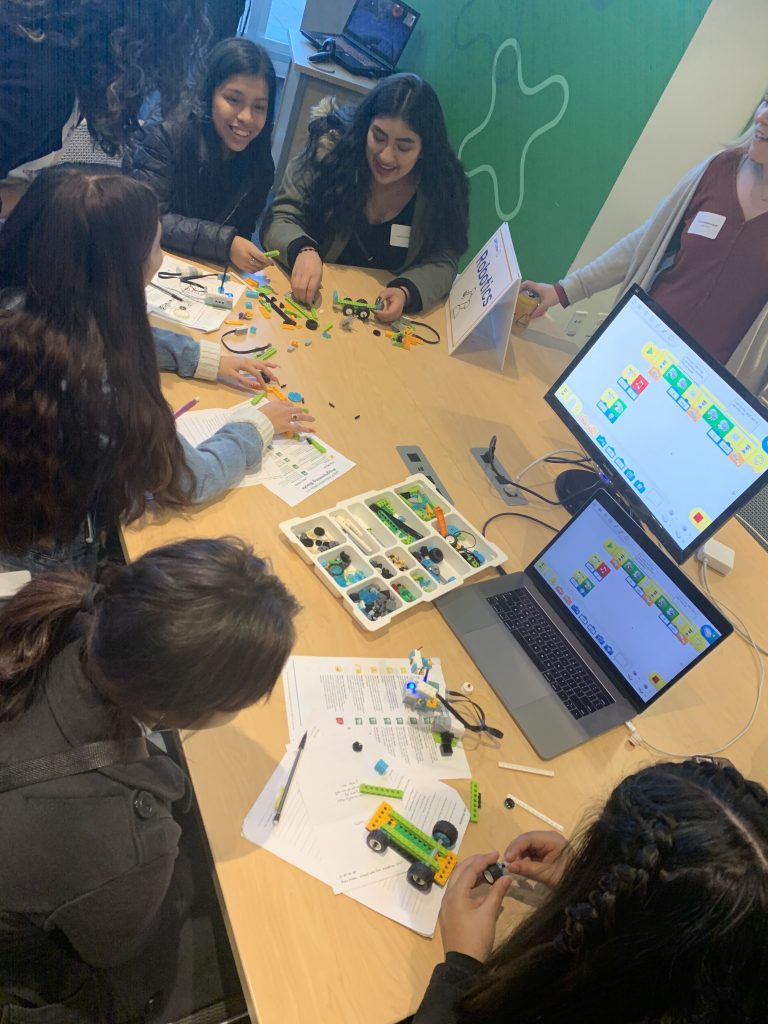 Before the panel, SAP Concur provided everyone with a delicious lunch! The panel started with Carol Russell, who gave us background information on the company and women in STEM. Next was Alice Day, a software engineer who migrated from China to Canada, and then America. Then there was Camille Hansen, who is a tech writer and has faced challenges but doesn't let them stop her from achieving her goals. She is even in the process of writing a book! Kendra Kissane, part of the user engagement team, shared that she was originally going be a doctor but decided it wasn't for her. She then worked for a while as a civil engineer before finding her passion in her current field. Finally, there was Geetha, from sales, who was born and raised in Olympia, where she was the only Indian girl in her school growing up. She said that this was hard, but it taught her how to talk to different groups of people. All of these amazing women really inspired us, because they showed that no matter how difficult things may seem, there's always a path to success and happiness!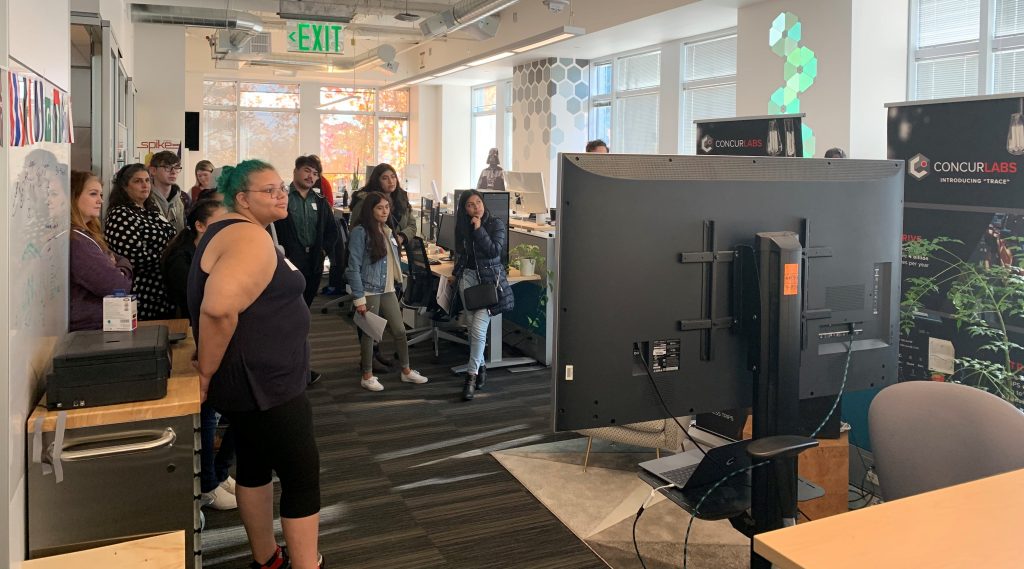 What made this field trip so special is that it shined a bigger light on the technology side of STEM and helped us better understand the options available. This trip showed that no matter what anyone says or how any of us grew up, we can succeed in any field if we just buckle down and persevere. We can make it to our dreams!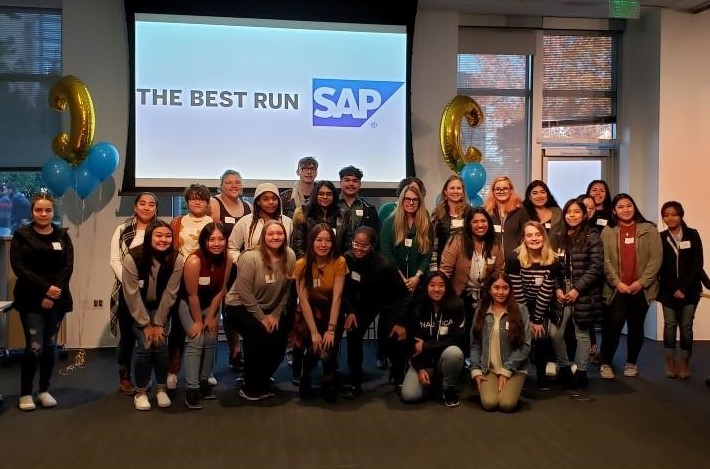 From everyone at Franklin Pierce High School and Washington High School, we'd like to thank Carol, Jessi, Alice, Camille, Kendra, Geetha and every volunteer and worker at SAP Concur. Thank you for letting us come and experience this wonderful field trip!
After attending this event:
Here's what the students enjoyed most:
"Leaving with more than a promising future occupation - with women's empowerment and inspirational, motivational words for life and school."
- 12th grade
"Exploring the different aspects of STEM careers. It helped me realize what I might be interested in doing in the future."
- 10th grade
"I enjoyed how they gave us many different activities to do, and learning more about what they do inspired me to want to pursue this type of career."
- 9th grade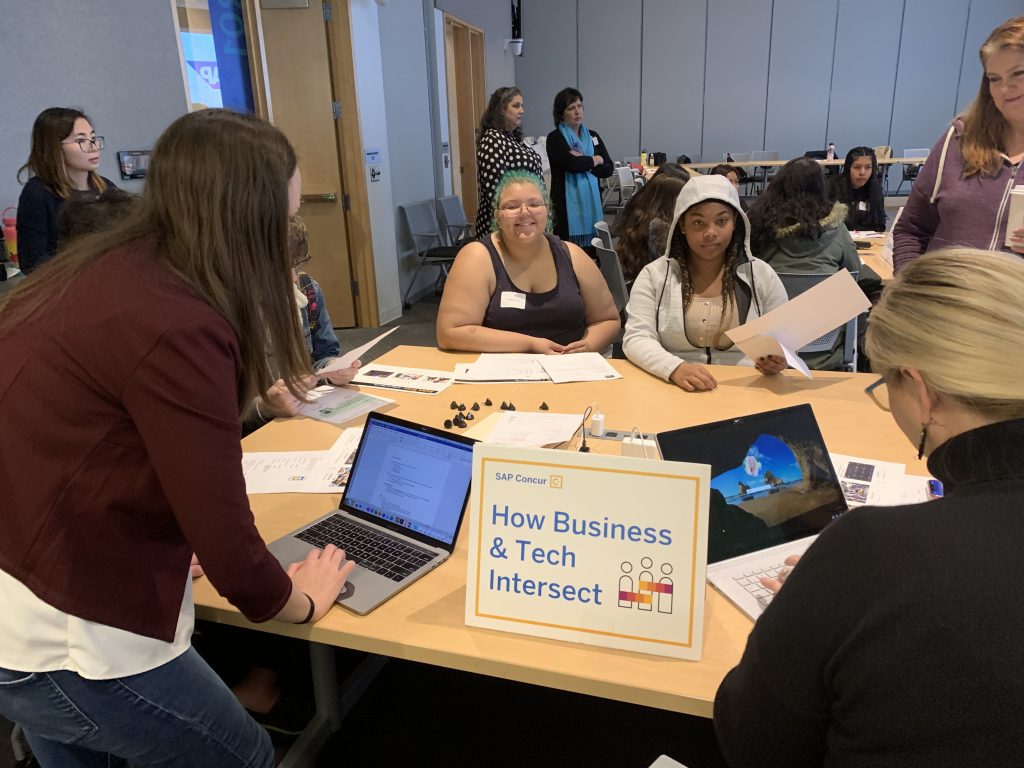 "I was inspired by how many women there were and how they all came from different backgrounds. Everything was fun and great! I learned a lot!"
- 9th grade
"Seeing multiple examples of STEM and how people from all different backgrounds go into the field. This event inspired me to get an education, because everything can be taken away from you except your education."
- 10th grade
"I enjoyed the short yet engaging table activities, which introduced us to the different technological fields where we could explore our options further. The tour also gave us an interesting perspective on the environment of their workplace."
- 12th grade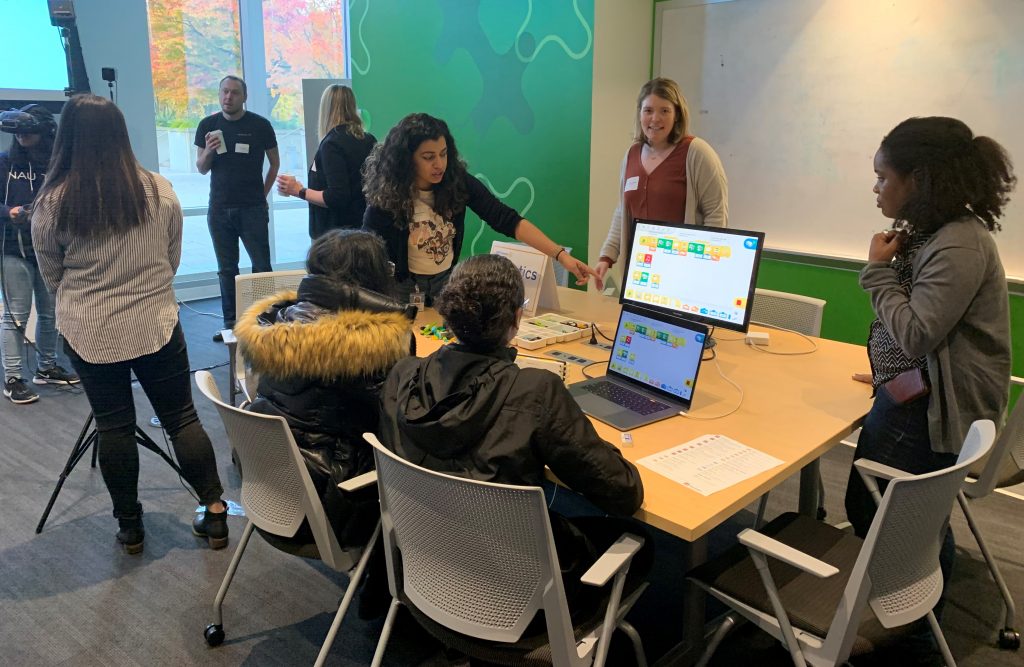 "To see the achievement of women and everyone there. The event went spectacularly and I found it perfect!"
- 10th grade
"I really enjoyed the panel, and I especially loved the building tour. Seeing the workplace and bright environment really inspired me."
- 9th grade
"How so many people are involved and all the things you can do. I learned a lot."
- 12th grade
"I really enjoyed the panel and asking members/employees of Concur questions about their jobs."
- 12th grade
"The highlight that I enjoyed about today's event was each employee and getting to listen to each person's story."
- 12th grade
"There were a lot of highlights: robotics, cybersecurity, business. I had fun!"
- 12th grade
"Getting to know the life stories of every woman and how they got there."
- 12th grade
"I enjoyed the hands-on experience like the VR and Legos. I had fun with them."
- 12th grade
"Using the VR and being able to hear about the panel."
- 12th grade
"I enjoyed the business management part and looking around."
- 11th grade