November 7, 2019 | IGNITE Panel at West Seattle High School | by Damaris Pearson
On Nov. 7, 44 young ladies from West Seattle High School attended an IGNITE panel, where they heard from four inspiring women in STEM! The panelists were:
Pepsy Martin-Wirth, an Engineer at Microsoft/X-Box
Livia Jobson, Executive at Atsu Corp
Heather Slee, Sr. Manager at T-Mobile
Jigna Patel, Founder at La Morisyenne LLC
These STEM professionals gave a fantastic presentation and really opened up and shared about their lives and challenges they have faced. Each story was different, but all were inspiring. It was important for the girls to see that everyone takes a different path, but no matter where you come from, you can be successful.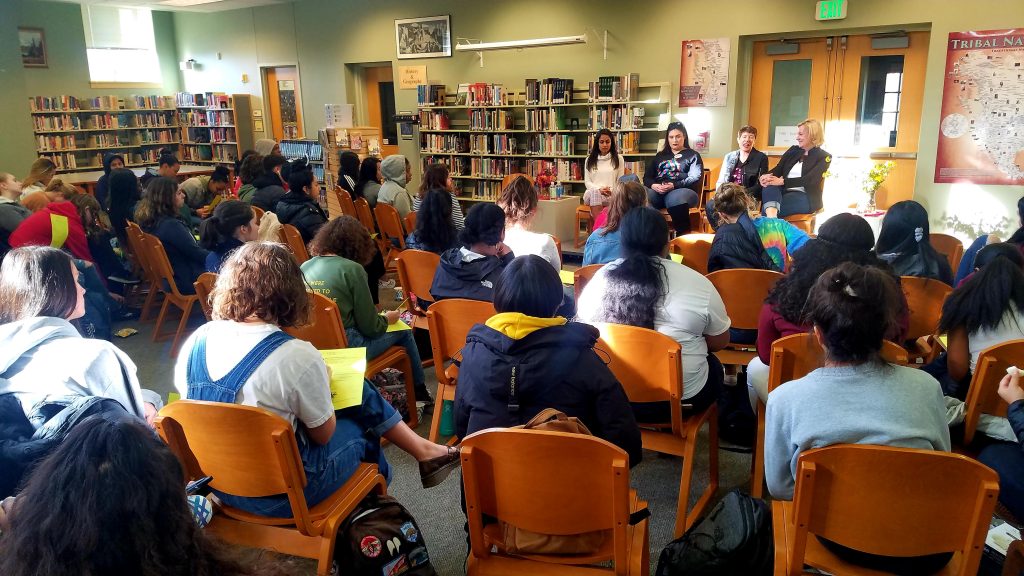 After the women shared their stories, the young ladies got a chance to ask them questions. The girls asked thoughtful questions about education, work, life, and opportunities they can take advantage of now, and they were very engaged throughout the panel.
The young ladies left energized and inspired! They heard that it's okay to not know what you want to do right away, that taking risks and working hard is worth it, that you can make really good money in STEM, and that anyone can do it!
Thank you, thank you, thank you to Pepsy, Livia, Heather and Jigna for sharing your time and energy with the young ladies at West Seattle High School. Hearing your stories gives them confidence to challenge themselves and pursue their dreams!
After attending this event:
Here's what the students enjoyed most:
I loved hearing all of their stories. They were very inspiring. The way they explained everything and the money they make inspired me because I kind of want to prove to those who don't believe in me that I can do it and can be successful. This event inspired me to talk to my dad (an engineer) about where to start. I loved it! Thank you so much for coming!
- 10th grade
"The fact that they pushed to be what they wanted even when people told them they couldn't do it!!"
- 12th grade
"I was inspired by the hard, difficult choices they made to get to where they are now. I want to be like them."
- 10th grade
"I loved hearing everyone's story. It was great and made me think I might actually be able to do what I want to do."
- 9th grade
"Each person's inspiring story. The sheer dedication the speakers have to changing the world. This event inspired me to apply STEM to more than just a career."
- 9th grade
"Hearing people's backstories about how they got into STEM and how they work is inspiring. This event inspired me to think about STEM career choices for my future."
- 9th grade
"The questions section - knowing that you never have to have a definitive answer to 'What's your dream job?'"
- 12th grade
"I liked how encouraging they were, and how they talked about how they came back from issues and troubles."
- 10th grade
"I liked hearing their stories and seeing/hearing what they came from and what they've become, and getting their advice on how to achieve what they have or even greater."
- 10th grade
"I found Pepsy's story really amazing, especially to see how far she's come. I also love her personality! I thought it was amazing to get to see her. She's really funny and super strong."
- 9th grade
"The highlight was the women on the panel telling us about their experiences. What inspired me was them telling us about how they weren't really interested in STEM but still made a career out of it that they enjoy."
- 9th grade
"I liked hearing about the panelists' lives and jobs and how they got to where they are today, as well as the motivation and advice they gave."
- 10th grade
"I was inspired to start doing stuff on my own, don't let anyone put you down."
- 12th grade
"That no one can tell me no! This event inspired me to enjoy my young life :)"
- 11th grade
"I have hope for my future."
- 9th grade
"Their stories were inspiring. I like how they thoroughly explained how and why they got where they are."
- 11th grade
"Learning about how all of them got to this point, how bold their decisions were."
- 11th grade
"The fact that they all were unsure about what they wanted to do at first."
- 10th grade
"Seeing their backstories and seeing how they didn't give up."
- 9th grade
"That they make really good money. It takes a lot but is worth it."
- 9th grade
"All the different points of view and all the different opinions"
- 9th grade
"Listening to the different paths/stories. It inspired me to try STEM."
- 12th grade
"I learned a lot about STEM. I liked this event."
- 9th grade