November 12, 2019 | Graham-Kapowsin HS and Bethel HS at Hulu | by Kelly Woyak, GKHS Career Specialist

On Nov. 12, 25 IGNITE students from Graham-Kapowsin and Bethel High Schools took a field trip to Hulu. "Hulu" means "box of secrets" or "something cool." That was evident from the moment we stepped into the building. The old building in downtown Seattle had character and the people were friendly, welcoming, and busy being passionate about what they do!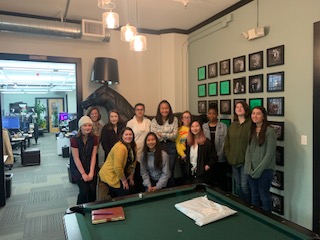 Our wonderful hostess, Wendy Grus, led us on a tour of the office. We all loved the horse, as well as all the cool pictures of employees on the walls…each new employee gets a 15 minute photo shoot! Zane Teh showed us around the 10th floor, and we learned about the Living Room Team, which works on what you see as an app icon from your TV.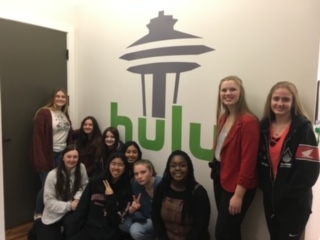 Hulu has offices in Los Angeles, San Francisco, Seattle, New York, and Bejing. The Seattle office is preparing to move to a larger space because they have outgrown their current location. We are very grateful that they hosted us with everything going on!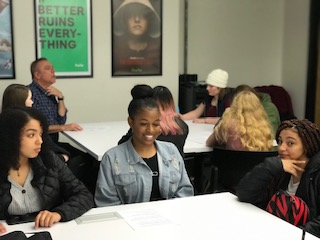 After the tour the girls had the opportunity to create their own television project, and the engagement, participation and enthusiasm was a treat to see. They loved brainstorming ideas, interacting with Hulu professionals, and being empowered to share ideas and visions. We saw leaders, we saw strong "behind the scenes" support, and we saw great teamwork - all important elements of their future professional lives!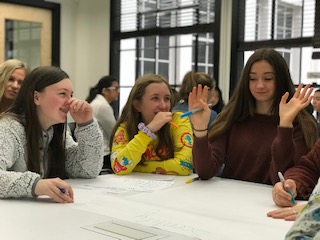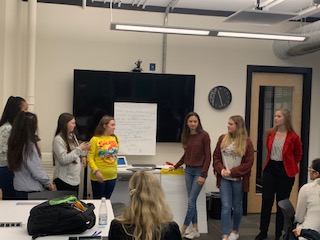 After the activity, we enjoyed lunch and a panel presentation with women from the company. The stories they shared about their lives and jobs, the journeys they have been on to get where they are, and the time they took to spend with us was very meaningful. The girls loved being able to talk directly with professional women, and the panelists shared helpful advice on how to get into the industry and things the girls can do now to prepare. It was inspiring to hear all the different journeys and how hard everyone has worked to achieve success.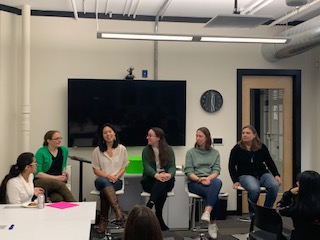 We had an amazing, inspiring day and are so thankful to IGNITE and everyone at Hulu for making it possible! Thank you to Wendy, our wonderful hostess, who greeted us, facilitated the discussions, and took us on a tour.  Thank you to Zane for the interesting tour of the 10th floor, and to Bill Mears, Stacey Wilkins, Piera Damonte, Anne Tran, Audrey Tang, Elise Neroutsos, and Karrie Pilgrim for helping with the activity and sharing your stories on the panel. THANK YOU!
After attending this event:
Here's what the students enjoyed most:
"I really enjoyed hearing their personal stories and thoughts on STEM careers. Also, I loved the activity and how it sparked my interest in wanting to do it more. I loved it!"
- 10th grade
"Gave insight of how to get into the software industry. This inspired me to be a part of this. Making products was fun and inspired me to be creative."
- 10th grade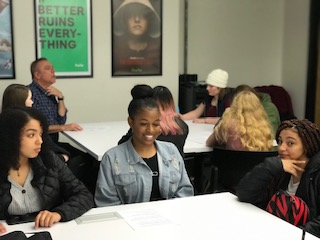 "It was very interesting learning about their jobs and how they got there. How they didn't give up and how hard they worked. It was great!"
- 10th grade
"The tour was really nice, it made me not feel self-conscious working in a big business."
- 10th grade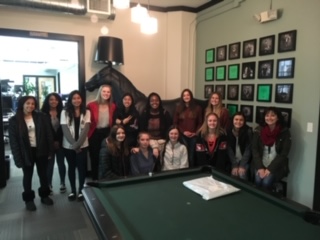 "I enjoyed learning about the workers' experience. It inspired me to work harder."
- 10th grade
"The tour - it made me see how collaborative tech companies are and how they function."
- 11th grade
"The very little amount of females. I enjoyed working with other people in this career path."
- 10th grade
"I liked coming up with our own 'invention.'"
- 10th grade
"Getting to talk with real-life professional women in STEM careers. It was great!"
- 10th grade
"Learning about the ladies' everyday roles. Knowing that they have fun!"
- 10th grade
"I enjoyed learning about the different jobs you could get in technology."
- 10th grade
"How we got to design our products. Learning about backstories."
- 10th grade
"I enjoyed the panel and was inspired by the women on it. It was great!"
- 9th grade
"The discussion on women in STEM was interesting."
- 10th grade