12/10/19 | IGNITE Workshop and Panel at Oakland Unity High School | by David Reynolds
On December 10, 2019, Oakland Unity High School hosted its second IGNITE workshop on the topics of artificial intelligence and machine learning. Though we had originally budgeted for thirty students to attend, we had nearly sixty young women attend the session -- a testament to the motivation of our students and their interest in STEM careers.
The session began with a hands-on workshop led by Mr Nathan Poon, CEO of Myntor Inc. He led students in an interactive workshop in which they built a program to leverage Google's translation API to provide Spanish-English translation. Throughout the session, Mr Poon consistently reminded students of the importance of such software for improving emergency services' response times -- a key equity issue affecting the East Bay and East Oakland in particular. While the work was certainly challenging, our young ladies demonstrated their determination and persistence. Moreover, many of our Junior students currently enrolled in AP Computer Science took the initiative to circulate and assist less experienced students with their work. As a school, Unity couldn't be prouder to see our students demonstrating such selfless kindness and cooperation.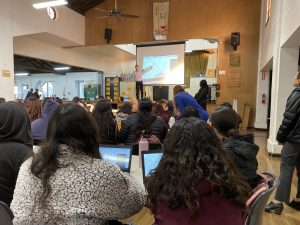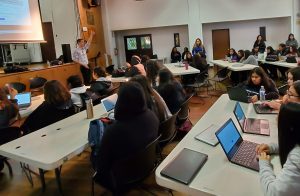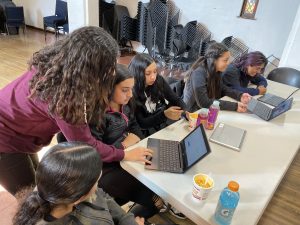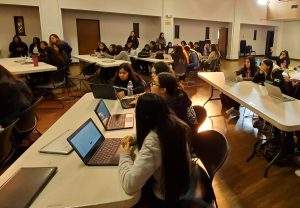 After the workshop, our panelists shared their perspectives on forging a career path in computer science. Elena Ikonomovska, Stacey Miller, April Payne, and Amber Williamson each spoke powerfully about the development of their own interest in technology, the unique challenges they have faced, and the strengths they have each developed as a result of these experiences. As always, our girls benefit most from seeing other women following their dreams. A key takeaway for many attendees was the value of persistence and work ethic, a message reinforced repeatedly by several panelists.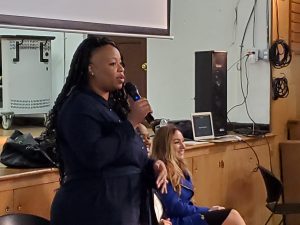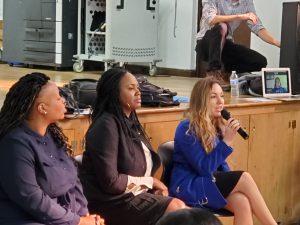 This event provided the most valuable possible type of learning: hands on experience. By working closely with the panelists and the tools provided, our students saw that what may seem a daunting career is already well within their reach. In their reflections, several of our young women commented that the session showed how accessible coding can be, even when it seems hopelessly daunting from the outside. They also expressed admiration for the confidence and professional bearing each speaker brought to the session, even when talking about their own private doubts and struggles.
Thank you to IGNITE, and especially to Amber, April, Stacey, Elena, and Nathan for taking the time to share their experiences and advice with the next generation of computer scientists!
After attending this event:
Here's what the students enjoyed most:
I was able to help 5+ girls with website/app troubles they were having. I am now inspired to learn coding. - Grade 11
What inspired most was how many details go into making a little project. - Grade 11
What inspired me is to help other specifically others like me. - Grade 10
It was inspiring to see how through computer science I can help my community. - Grade 11
Trying to figure out something I have never done before. - Grade 10
Becoming aware about cultural differences in our community. - Grade 10
I liked doing a website with my friends. - Grade 11
...is that we can use technology to help improve society. - Grade 10
I made my own website; my website can make an impact. - Grade 10
Making a new app; making mistakes is ok; learn something new. - Grade 10
How a website can have an impact in th world. - Grade 9