On Feb. 5, 19 students from Highline High School and the Realistic Transition Program in Highline School District took an IGNITE field trip to Microsoft in Redmond! Our first introduction to Microsoft was warm and welcoming. Upon entering the Visitor's Center space we were greeted by staff for a tour, seeing Microsoft's past, present and future.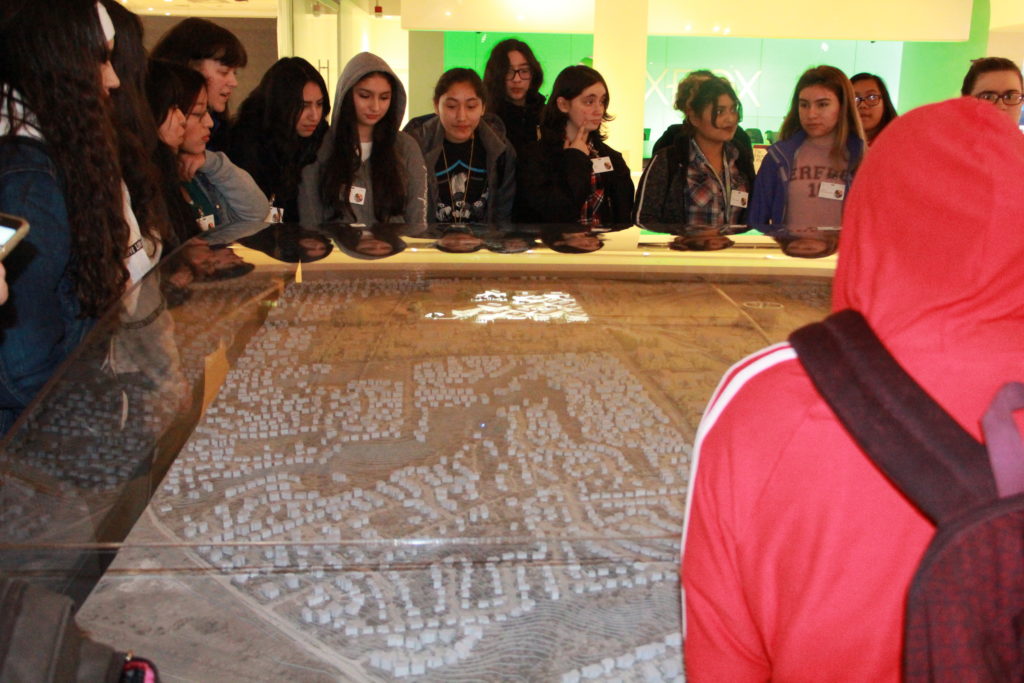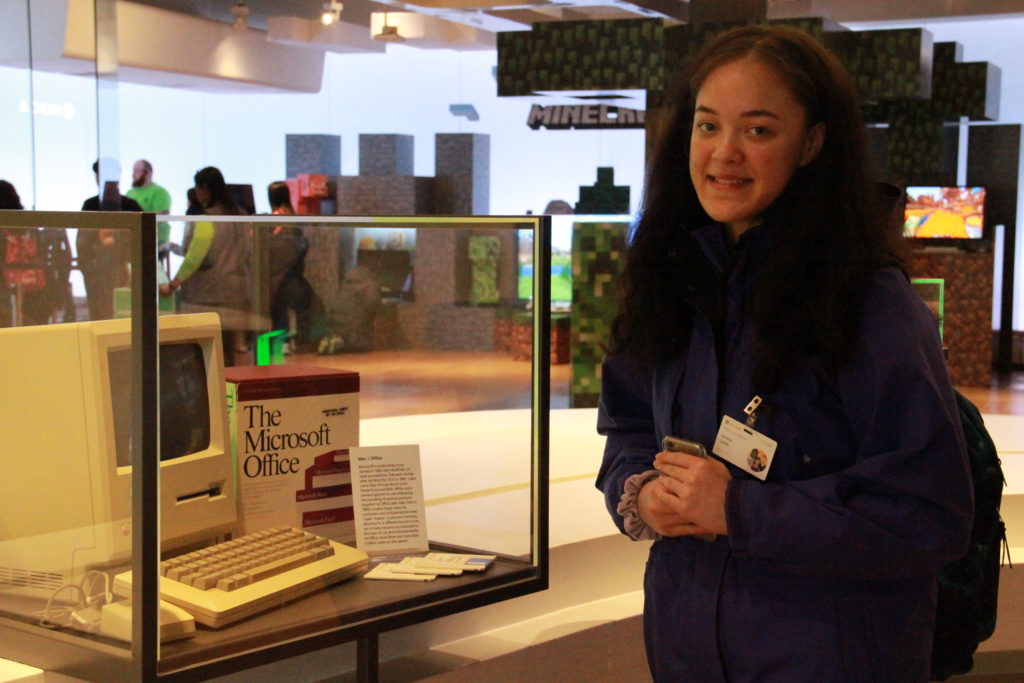 Highline's young women thoroughly enjoyed a driving simulation that allowed them to drive at 100 mph! A few crashed, but thankfully just virtually.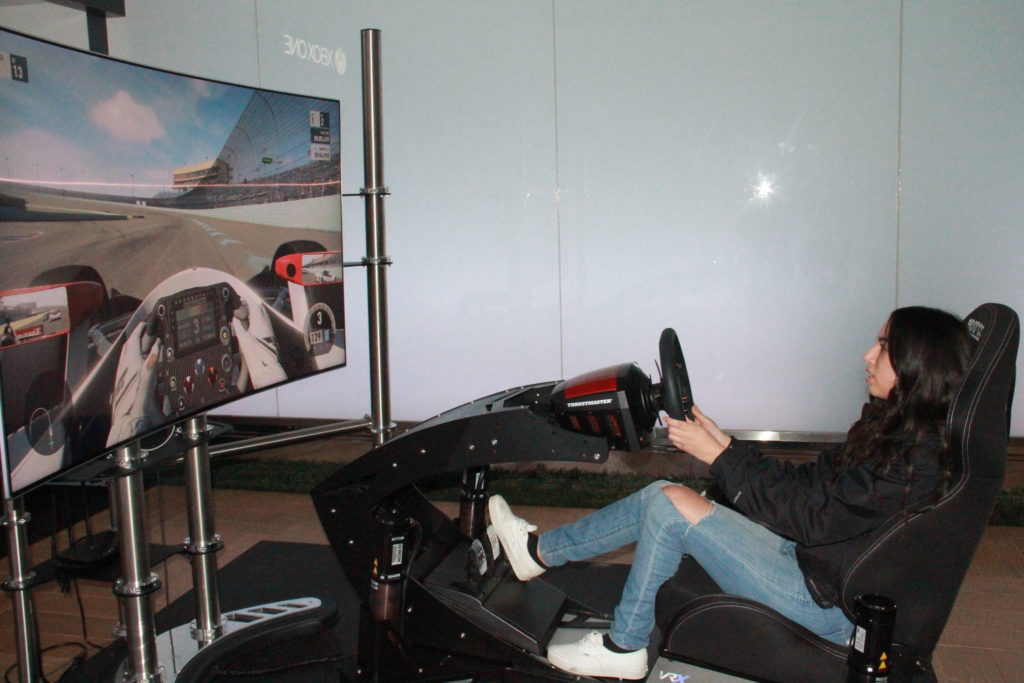 Then we moved on to experiencing virtual reality on the Oculus. Several students enjoyed exploring the latest video games.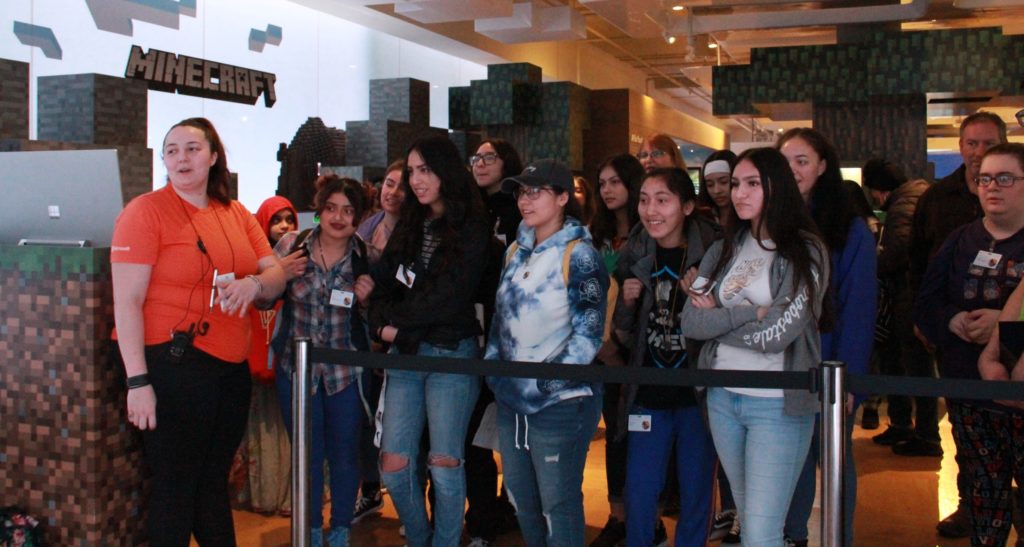 At one point we even had the option to experiment with artificial intelligence by having our pictures taken – AI guessed students' ages and then their resemblance to a celebrity. We also learned about how drones are currently used to improve the quality of our lives.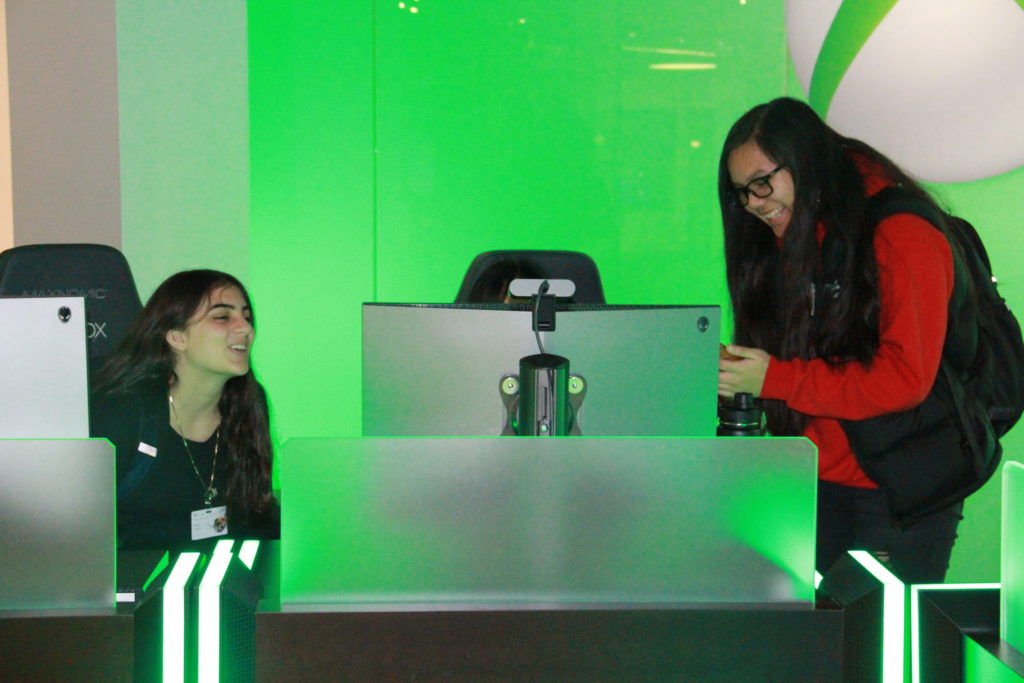 After our exciting tour, we moved on to another area for a delicious lunch and a panel discussion with women who work at Microsoft:
Sonja Nordmark, Sr. Program Manager
Ria Chang, Program Manager for Xbox Gaming Experiences
Viv Liao, Software Engineer
Kristine Bikdash, Principal Strategy & Analytics Manager
Sri Ramya Mallipudi, Program Manager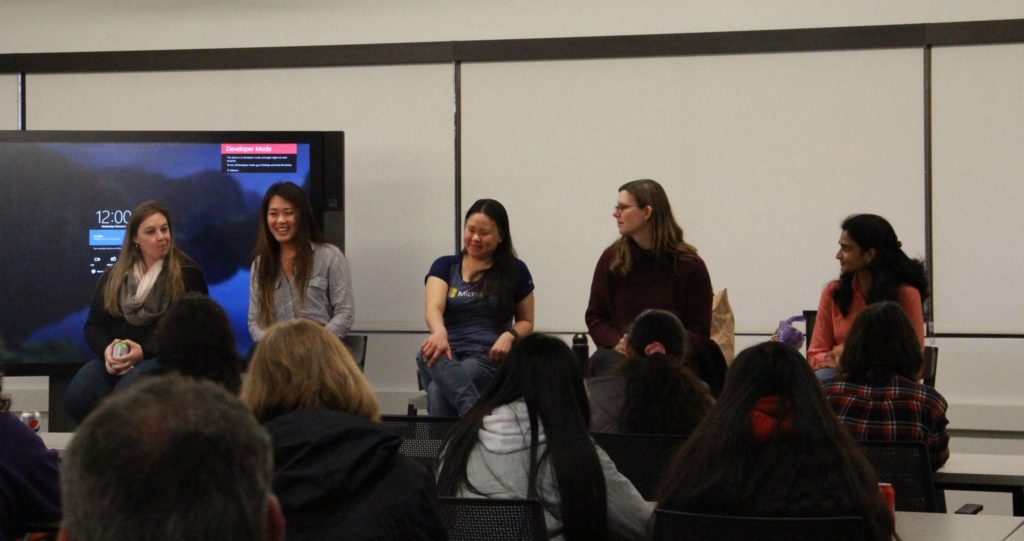 Each speaker had a different personal journey to their job at Microsoft. Some came from the tech industry, some from business marketing, accounting and language translation. All were able to transfer their skills to a job at Microsoft. Their attitude was positive and optimistic for the future of girls working in STEM! Students had thoughtful questions for the panel and the panel shared their candid answers. Some takeaways included:
It is okay to fail
Say yes to opportunities
Take advantage of courses in technology whenever possible
Learn a second language, if possible
Microsoft is not looking for perfect, we are looking for brave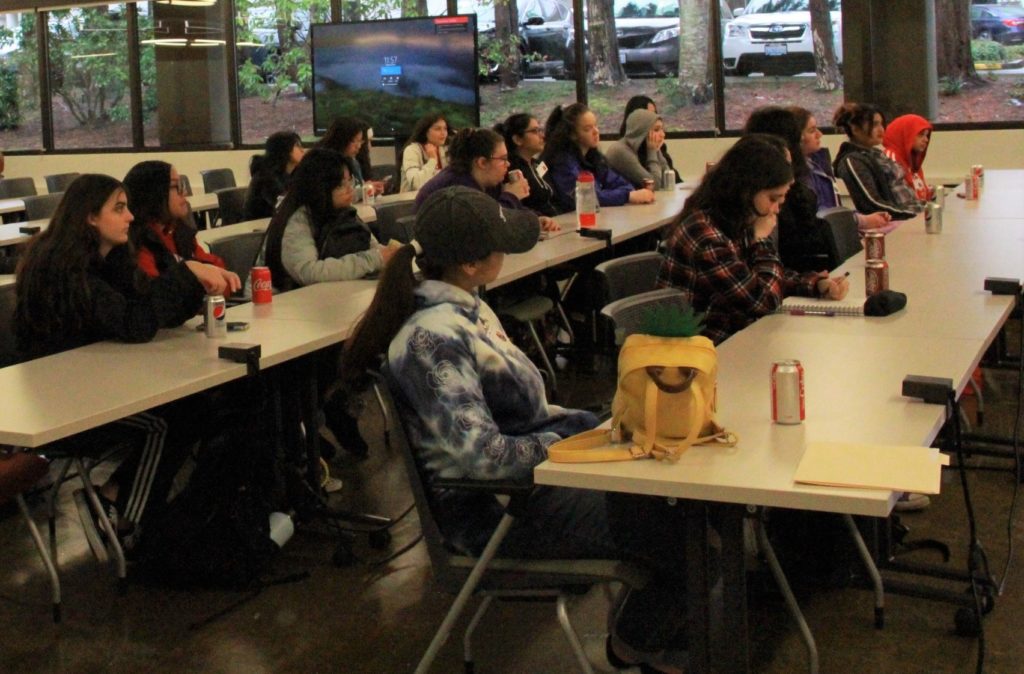 Our Highline students really appreciated the opportunity to learn from and be inspired by these professionals at Microsoft!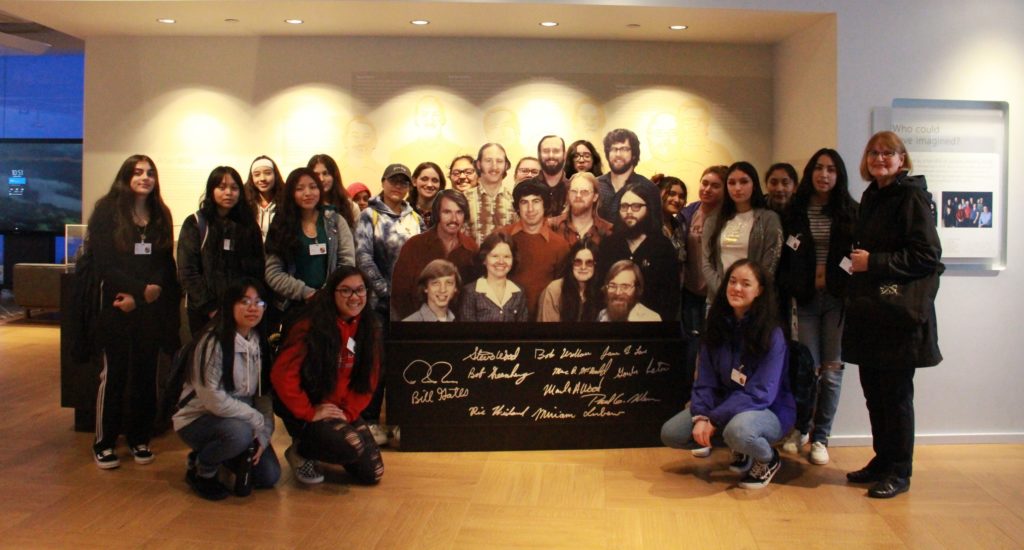 All girls were given a swag bag and got to keep their personal Microsoft name tags. We really appreciated all the care taken to provide us with a memorable day and look forward to visiting again. A big thank you to all of the volunteers, panelists, and staff who helped put on this awesome event: Sunitha Muthukrishna, Satish Bobba, Monica Martin, Ed Price, Cindy Cho, Margie Strite, Sufen Fong and awesome panelists Sonja, Ria, Viv, Kristine and Sri! We will not forget this special day!!
After attending this event:
Read what the students though of the event:
"The fact that the workers actually enjoyed how things worked and seemed to love what was going on!" – 10th grade

"Trying out products and being able to speak with employees on their experience." – 10th grade

"The highlight was playing games and getting to see what people created in history." – 10th grade
"The panel with Microsoft employees – they were very kind and fun to listen to." – 10th grade

"I enjoyed looking at how tech has changed and looking around at everything." – 10th grade

"The racing video game. I set a record of ~25 seconds even thought I don't know how to drive! Also the large touch screens were cool. Microsoft seems the most interesting." – 10th grade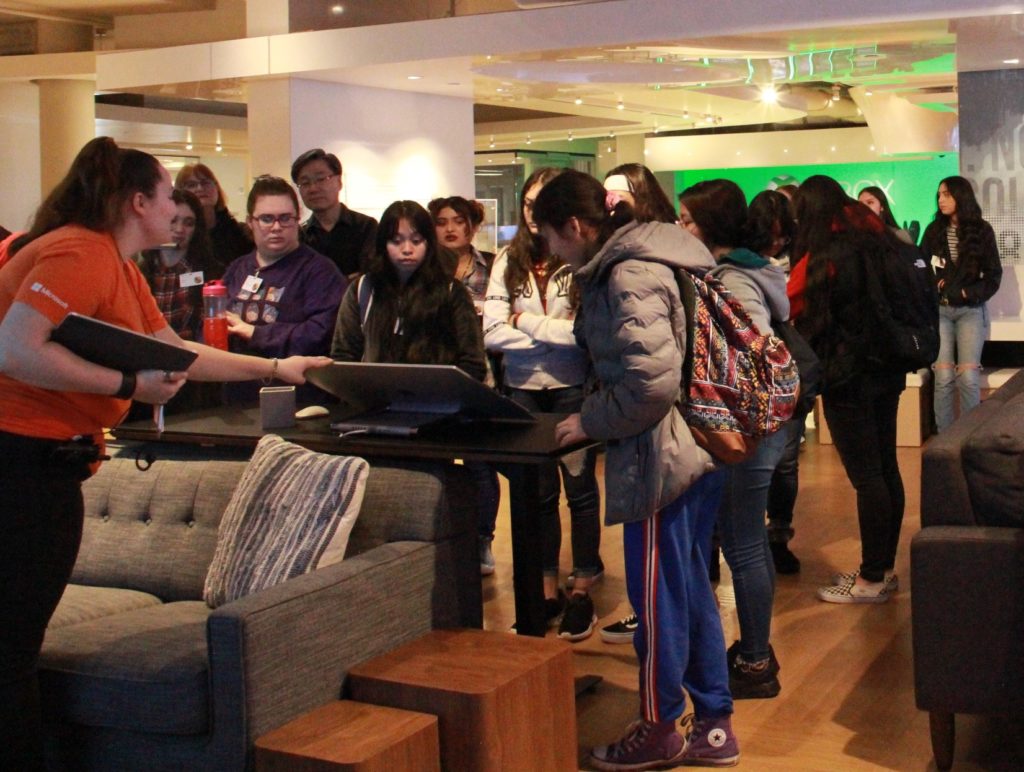 "I enjoyed playing games, seeing the Visitor Center, talking to female workers." – 10th grade

"I was inspired by the workers' enthusiasm." – 10th grade

"I really enjoyed all the technology they had!" – 10th grade