January 23rd, 2020 | IGNITE Panel at Spanaway Lake High School | By Mindee Graver 
On January 23rd, Spanaway Lake High School hosted an IGNITE panel in our theater, welcoming more than 60 students from Spanaway Lake High School and Cedarcrest Middle School. The panel helped inspire and encourage students to participate in the many different technology and engineering classes we have here at Spanaway Lake, as well as educate them about how these careers are in high demand, especially for women!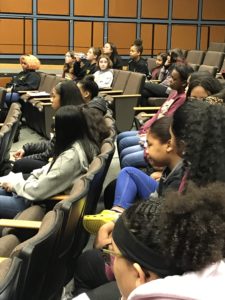 The 4 panelists we hosted were Kris Symer (Hybrid Designer at Atsu Corp), Diane Burkhammer (Sr. Business Sales Planning Manager at T-Mobile), Jaclyn Baker (Mechanical Engineer at BCE Engineers), and Iuliia Dmitrieva (Engineering Student & Student Helper at Seattle Children's Research Institute).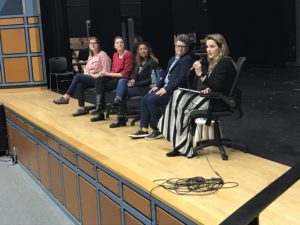 These women started out by sharing about their backgrounds and what or who got them interested in STEM. They also told stories about their education. One of the students' favorite stories was when Diane shared that she was raised to be a nurse due to her culture and family. One day in high school, after a small knife accident, she realized she could never be a nurse because of her fear of blood. That was the turning point where she started her pursuit of a career in STEM. Our students loved to hear that they don't have to have it all figured out right now, that life changes, but it is good to have goals!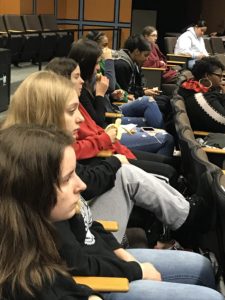 The girls were able to ask multiple questions to the panel, ranging from personal questions like "What do you do in your spare time for fun?", to broader questions such as "How do you feel supported as a woman in your field?" Our students learned that you can make good money in a STEM career, and that women are especially underrepresented. They were also taught that everyone has a different path that led them to the career they are in today, and anyone who has the desire can study and achieve their goals!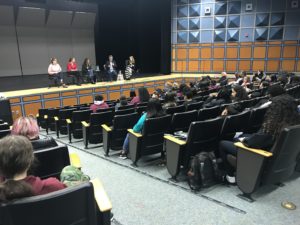 Thank you so much to all 4 panelists, Diane Burkhammer, Jaclyn Baker, Iuliia Dmitrieva, and Kris Symer!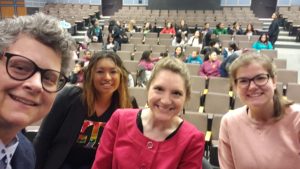 You were all amazing, and the girls really enjoyed hearing about your pathways, as well as all the thoughts and advice you shared! I heard from so many students that they were inspired by your words and they want to take more STEM classes and pursue a career in STEM!
After attending this event:
Here's what the students enjoyed most:
"I enjoyed hearing stories from all the women from different backgrounds. I asked a question about building my confidence and their words really inspired me."
- 8th grade
"You don't have to know what you want to do to be 100% fine and successful."
- 11th grade
"What inspired me was when the panelists talked about the classes you should take and also to keep your options open."
- 9th grade
"Something that inspired me was when they were talking about them doing what they wanted and not what others wanted."
- 7th grade
"I enjoyed them being truthful and telling us it takes time to realize what you want. It inspired me because I want to be in the medical field to become a vet. I thought it was perfect and definitely inspiring."
- 8th grade
"Opened new questions to ask myself about possible future careers and how to pursue those."
- 11th grade
"That they each had different backgrounds. It inspired me to continue studying."
- 11th grade
"The advice for my career choice. It inspired me to take classes to better myself."
- 10th grade
"The highlights I enjoyed was hearing all of their experiences and how they love their job now. It inspired me to have more time to explore, even after high school."
- 11th grade
"How they talked about their background and how they did the thing they wanted to do, which is cool."
- 9th grade
"Hearing about changing majors and look around to see what interests you the most."
- 11th grade
"What courses they took in order to get to where they are today. Their journeys."
- 10th grade
"Diane's story of how she became a T-Mobile worker. It inspired me to try new things."
- 9th grade
"I could relate to the people speaking. It was great!"
- 10th grade
"The passion that the panelists had and being very chill and comfortable."
- 12th grade
"It was cool how everyone started off different."
- 7th grade
"Their backgrounds and how they did not give up. It inspired me to not give up on my dreams."
- 7th grade
"I like how the women didn't like technology and engineering, but they tried it and it's fun for them."
- 12th grade
"It boosted my confidence knowing how they made mistakes to get where they are now."
- 8th grade
"I enjoyed how they all like what they do and they all took different paths to get there."
- 8th grade
"I liked how the panelists worked in different fields. The way they talked about not giving up inspired me to keep trying."
- 8th grade
"How I'm going to be a leader and start planning my life!"
- 7th grade