January 23, 2020 | Broadview-Thomson at Milliman
On Jan. 23, the IGNITE middle school chapter from Broadview-Thomson visited Milliman, Inc in Seattle. The group was warmly welcomed by volunteers and brought way up to the 31st floor of the office skyscraper, where we kicked off the day with an introduction from the company's CEO, Steve White!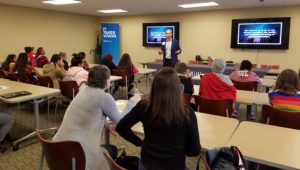 After learning about Milliman's mission in actuarial services, insurance, financial health, and risk management, the girls got a chance to explore its real world applications. They broke into 4 small groups, each with a different "Challenge Session" focus.
In The Art of Risk Taking, Grace Chang led a discussion about risk management on a personal level and how to decide when to take your chances using steps like identifying the risk, evaluating how likely or severe a risk is, and ways to analyze, manage, and monitor risks and consequences.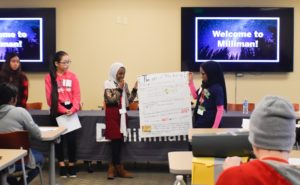 The group in Stronger Than Ever worked with Maureen Tressel Lewis to look at how athletes can heal more quickly. Using an example of a baseball player with a shoulder injury, the girls brainstormed considerations and impacts of different treatment options to decide on the best plan.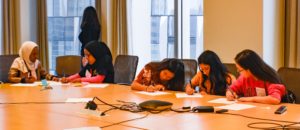 In Food As Medicine, the group learned about the concept of social determinants of health and the importance of access to healthy food. Deana Bell led a workshop looking at a community whose main source of food is from gas stations and minimarts, and how to improve the population's health through programs that provide healthy food.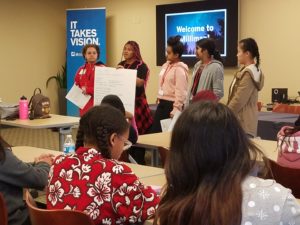 The Design Prototyping Workshop explored rapid prototyping with Melody Craff. The girls learned all about this fun and effective way to demonstrate and explore ideas for new products, apps and services, and got to design a product of their own!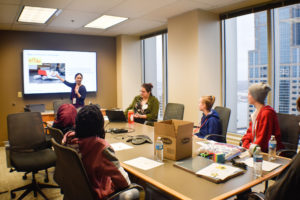 All four groups were excited and engaged in their activities, and the Milliman mentors were incredibly supportive, encouraging, and FUN! After everyone worked through their challenges, the groups took turns presenting their ideas to the whole group. The girls all showed great ingenuity and confidence and enjoyed sharing what they learned and learning from each other. It was awesome and very eye-opening to see the wide variety of problems that Milliman is working to solve!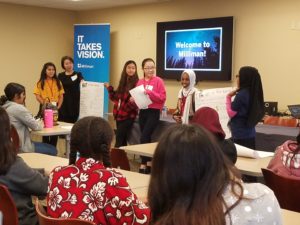 After the presentations, we enjoyed lunch and a panel discussion with a diverse group of women who work at Milliman:
Naomi Bornemann - Senior IS Engineer/Vulnerability Management Team Lead
Dawn Webster - Legal Operations Manager
Melissa Crespo - Human Resources Specialist
Rubina Ali - Accounting Manager
Stephanie L. Sent - Actuary
Janessa Sanchez - Actuary
Angelica Escalera - Global Corporate Services IT Technical Lead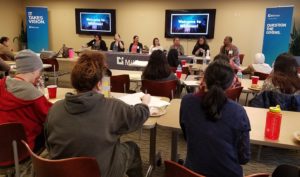 The panelists worked in a wide variety of positions at Milliman, focusing on pension plans, health insurance, risk management - and even hacking! They ranged from 17 years with the company to a new hire who is in her third week. Speakers shared inspiring stories of growing up in the Dominican Republic and Pakistan, challenging home lives, difficulties in school, and not fitting in. One was in remedial math in school, and another was the only girl among 50 engineering students! Despite these obstacles, they have all found their way to rewarding careers at Milliman, where they get to try new things every day and make a difference in the community and world.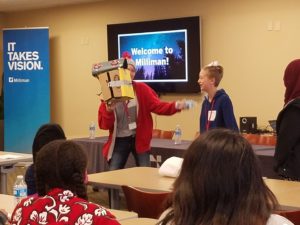 The panel gave a lot of meaningful advice, including to share your ideas, try new things and ask A LOT of questions. They stressed that you make your own space, regardless of your background, and reminded the girls that they all have adults in their lives that care about them and believe in them. It was inspiring to hear from women who have been through significant challenges say that you WILL get through whatever you are dealing with, and that small steps are important - you will eventually get there!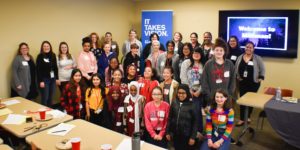 Broadview Thomson had an amazing day at Milliman, and we are so grateful for everyone who made it possible! Thank you to Steve White, Grace Chang, Maureen Tressel Lewis, Deana Bell, Melody Craff, Naomi Bornemann, Dawn Webster, Melissa Crespo, Rubina Ali, Stephanie L. Sent, Janessa Sanchez, and Angelica Escalera, and the whole Milliman team!
After attending this event:
Here's what the students enjoyed most:
"I enjoyed hearing all their stories. They inspired me to try new things and not give up. It was very fun, one of my favorite events!"
"I enjoyed trying to figure out solutions with my fellow classmates. It inspired me to be thankful for the access to healthy food I have."
- 8th grade
"I enjoyed when they shared how they ended up with a career/job and getting to work and discuss about the Art of Risks. It was really fun and entertaining that we got to learn new things."
"I loved the workshop I was in. I learned more about STEM jobs. I loved my workshop and everything we did!"
- 7th grade
"I liked when we went in our groups and made up scenarios. I also liked the panel and when we presented."
- 6th grade
"I liked when we got to split into groups and talk about things."
- 6th grade
"All the powerful women working here."
"All the staff was really fun and I learned about insurance."
"Making a model and the presentations. I really liked it!"
"What I enjoyed was walking our robot. What inspired me today was the panel's stories."
"We got to present and talk about insurance."