January 16, 2020 | Truman High School, Spanaway Lake High School, and Cedarcrest Middle School at Nordstrom 
On Jan. 16, 2020, 48 girls and non-binary students from Truman High School, Spanaway Lake High School, and Cedarcrest Middle School attended an IGNITE field trip to Nordstrom. The building was beautiful, and we were greeted kindly by Malia Cook, Administrative Assistant, who brought us up to the offices where we would be meeting for the day. The artwork was stunning, and many students walked slowly through the offices so they could see and enjoy the atmosphere.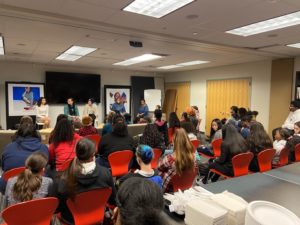 On this IGNITE field trip, we had a short group activity where girls shared with everyone in their group what they want to do when they grow up and what they want to study while in college. It was wonderful to see girls from three different schools sharing, encouraging each other, listening and giving positive feedback!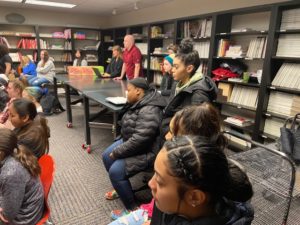 We had 5 great panelists speak to us and share their excitement about their jobs and working in the STEM field at Nordstrom. The panelists were software engineers Sarah Purhar and Sara Nakama, Jessica Giese, a recruiter, and Sarah Stewart and Ishita Chatterjee, who are both Directors of Engineering. It was great to hear the different parts of each panelist's job and how they interact with each other. The speakers discussed the importance of women in STEM and technology and also shared that they appreciate how Nordstrom encourages community and is open to diversity conversations.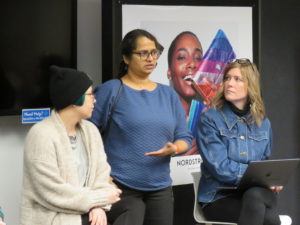 Students received advice to never give up, try something outside your comfort zone, and have a core group of friends to help you keep calm at work and school. The conversation about "imposter syndrome" was also helpful to know that everyone struggles with self doubt.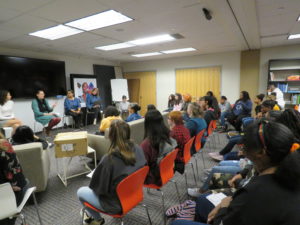 Many girls shared that they loved how passionate the panelists were when talking about their struggles and their jobs and that they were inspired by the stories!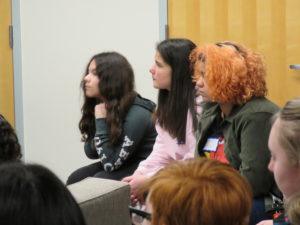 We are so thankful to Nordstrom for providing this opportunity and opening our eyes to the many possibilities in STEM!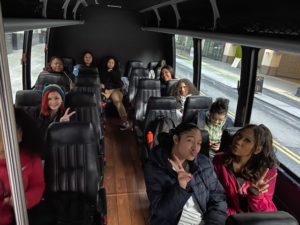 Thank you to Malia Cook, Ishita Chatterjee and Spandita Gujrati for organizing the event and making us all feel welcome right from the start, and to Sarah Purhar, Sara Nakama, Jessica Giese, and Sarah Stewart for joining the panel discussion!
Here's what the students enjoyed most:
"I enjoyed hearing everyone's individual stories. It inspired me to think more about STEM."
- 8th grade
"You don't have to know what you want to be, you can figure it out along the way."
- 12th grade
"I liked hearing people's different options, where they worked before and where they are now."
- 12th grade
"I enjoyed the overall experience. All of the ladies there seemed happy and seemed to love their job. That to me was inspiring."
- 9th grade
"How passionate they were. When they talked about their struggles in the past."
- 10th grade
"When they talked about what inspired them."
- 8th grade
"I like how they decided what they wanted to be but said it changed."
- 8th grade
"How they talked about their STEM career. I want to keep going on these trips!"
- 9th grade
"How one of the women got there without going through the traditional training."
- 11th grade
"How each speaker had their own way they moved up and how they started their whole field."
- 11th grade
"You don't have to be good at tech to work there."
- 11th grade