January 16, 2020 | Microsoft Coding Workshop with Federal Way, Franklin, Graham-Kapowsin and Challenger High Schools
A large group of 71 girls/non-binary students from Federal Way, Franklin, Graham-Kapowsin, and Challenger High Schools visited Microsoft on an engaging IGNITE field trip to learn about computer science and STEM careers! Students were greeted enthusiastically by Microsoft staff, who had our name tags all ready for our arrival. The facility was amazing, with cool lighting, table games, and a great presentation and activity space with tables and computers.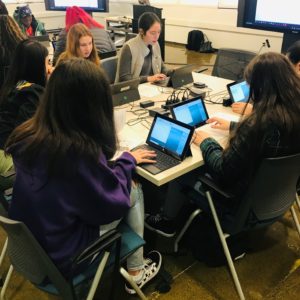 Liz Bander and Liz Maher got us started on the coding activity and made it fun. They demonstrated on the TV screens so the girls could follow, and provided written instructions as well. Students programmed a turtle to move around the screen. By using a series of simple commands, the turtle was able to draw a box and then a variety of shapes such as flowers.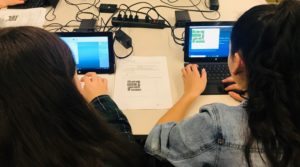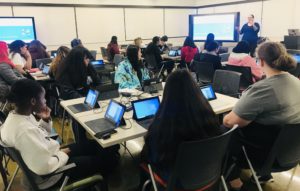 Many of the girls were able to get started quickly and run with it. Others were a little more tentative to start, but then were able to create the turtle going through the maze and gained new confidence! As students got more comfortable they were able to manipulate parts of the code to change the line color, background color or speed. It was great to see their confidence develop and the realization that they could actually code - and that it was kind of fun!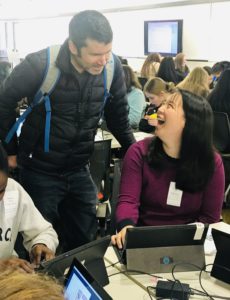 During this time, other Microsoft employees including Brittany DiGenova, Molly O'Donnell, Mary Beth Thome, Amara Gordon, Viv Liao and Christina Tobias were helpful in encouraging students when their coding sequences ran into errors and assisting them with figuring out how to code some of their creative ideas.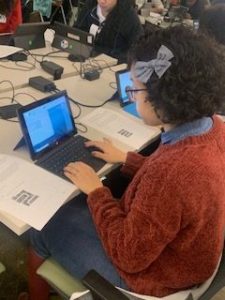 A special shout out to Liz Bander for her passion about coding, getting young girls involved and excited about coding, and knowledge about coding and teaching!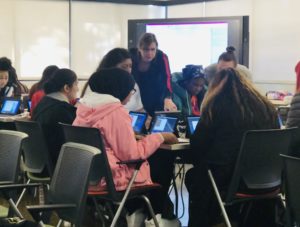 After lunch, an engaging panel of Microsoft employees gave valuable career guidance and tips to our students, including Viv Liao, Katina Reece, Angela Harris, Sufen Fong, and Jenny Lian. The panelists shared their backgrounds and stories, how they got started at Microsoft, and advice for how to nurture an interest in coding and technology careers. It was great to hear that there are options for getting started, including the traditional four-year college route of course, but also the LEAP program, Apprenti, which is an apprenticeship training program for tech, and ADA Developers Academy. It is important for these young girls to know that there are different ways to get where they want to go!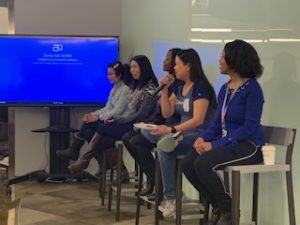 Students really enjoyed being able to talk to successful women in the field and getting to ask questions. A lot of the girls who already had some coding experience got even more confirmation to keep going down that path. It was incredible to see these young ladies so excited about the possibilities and different options that are waiting for them after they graduate.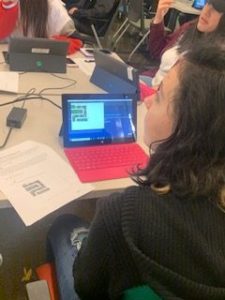 The girls left with some great takeaways, which are always great reminders for us professionals as well!
Other women have done this, so can you!
Support each other
Don't forget to share and give!
Be a well-rounded person
Believe in yourself!
Find friends who will support you
These events are so important because they fuel an interest in computers, technology and STEM that was already there and provide the opportunity for self-discovery and exploration. No matter the outcome, these girls benefitted from meeting strong, independent, confident women - some not much older than themselves! - who are successful and making a great living and career.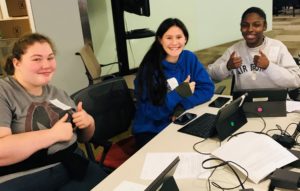 Thank you for the opportunity to visit Microsoft and meet these amazing women in technology. We are changing the futures of young women! Thank you Liz Bander, Liz Maher, Brittany DiGenova, Molly O'Donnell, Mary Beth Thome, Amara Gordon, Viv Liao, Christina Tobias, Angela Harris, Sufen Fong, and Jenny Lian, and the IGNITE team, for making this possible!
After attending this event:
Here's what the students enjoyed most:
"I enjoyed the coding activity and hearing the panel talk. This has inspired me to worry less about what others think about what I can or can't do. I would also like to dive deeper into coding and learn more about different kinds of code and the different things it allows to happen."
- 9th grade
"I really enjoyed seeing the diversity in the panel. They all talked about the hardships of being a woman in the tech profession. I enjoyed that because it made me feel hopeful. Tech wasn't the easiest for me, and I learned that if I continue to persevere this may be my future career."
- 9th grade
"I enjoyed the Small Basic coding program. It was a fun experience and a bit of a struggle for some lessons. This event was also a way to see if coding would be a career path for myself. I really enjoyed learning something new. This event inspired me to see if any other STEM jobs would interest me and find a career."
- 10th grade
"The speakers from the panel because they talked about internships you can do in high school and how to apply online. Also, it helps you explore more with computer science and what you want to do. This event inspired me to look into HS internships with Microsoft or other companies."
- 10th grade
"I liked learning how to code in a way which made it fun, and I also liked the Q&A which helped me learn more about how they got into computer science and what difficulties they faced. I liked everything about this event!"
- 9th grade
"I enjoyed the Q&A when the ladies were answering questions and talking about careers. It inspired me to look more into Microsoft and maybe see if I want to work there when I'm older."
- 9th grade
"Coding from scratch was really fun. I learned that with coding you've got to have a lot of patience. You will make a lot of mistakes but you don't let that discourage you. Just keep on trying."
- 10th grade
"I really enjoyed the coding. I've never really liked coding but now I'm a little more inspired to pursue a career in software engineering."
- 9th grade
"We learned the basics on coding which was surprisingly easy. It made me consider this as a career option."
- 11th grade
"Turtle game, coding practice, panel Q&A. This inspired me to be whoever I want and to only listen to myself. Everything was great, continue doing this!"
- 10th grade
"I loved learning how to code and learning about Microsoft. I was inspired that these women made their dreams come to life."
- 10th grade
"We got to move turtles. How easy the coding was and how fun. Don't care what people think about the career you want."
- 10th grade
"Loved the hands on learning and seeing different perspectives in STEM. Everything was amazing!"
- 11th grade
"I enjoyed getting to know different people, talking to working women, coding (logic). This event inspired me to give more attention to STEM careers."
- 11th grade
"The turtle game, and the panel. This field trip really inspired me to pursue a career in computer science."
- 11th grade
"I loved the panel, and talking to a group of diverse, successful women. It was a great experience, thank you :)"
- 10th grade
"Hearing the panel talk and the Q&A was really inspiring because they introduced me to what working at Microsoft is like, something I have always wondered."
- 9th grade
"I really enjoyed hearing stories from women in the STEM field. It is really inspiring to know that women are increasing in technology."
- 11th grade
"This event helped me to push myself even though I don't see myself working in technology."
- 10th grade
"I enjoyed learning how to code and make the turtle do what I want."
- 10th grade