Friday, February 7, 2020 | Workshop at Everett Middle School| by Demetric Strong, IGNITE Teacher
On February 7th, our Ignite Worldwide volunteers were welcomed by two members of our youth outreach organization and asked several questions by our students. The panel members were thoughtful in their responses and the students in the audience were very surprised that the members of the panel pursued a career in STEM later in life. This provided my students with intrinsic motivation to consider taking classes such as computer science or coding courses offered by our afterschool program. Once panel members finished answering questions we transitioned into small groups to begin our workshop.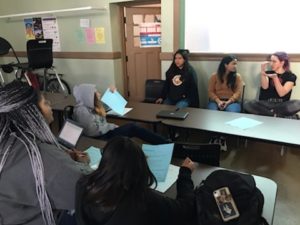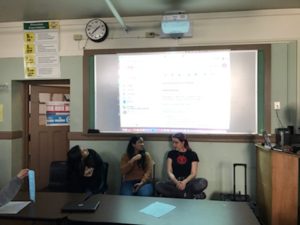 Naomi, our amazing workshop host, split the girls into smaller groups of three to four and led a workshop around methods for data analysis and visualization using Python. At the beginning of the workshop session, students were asked to tap into students' prior knowledge to get an idea of each student's level. Namoi introduced the program and had visual aids for our students which were helpful to our English language learners and students with special needs. As we transitioned through each task Naomi would work on one with any students that needed help which created buy-in and trust amongst each participant. Students were excited to complete the task and took pictures on their devices to show their caring adults and friends at home.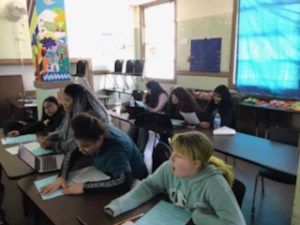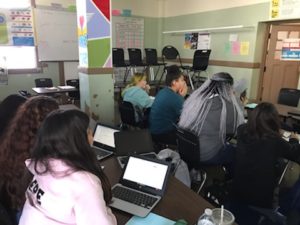 Naomi ended the session by sharing her contact info and resources that students had access to in our community. Students were excited that there were many opportunities to improve skills in STEM close to the community and began to ask several questions to get more details. Naomi did an excellent job sparking interest around STEM which was evident when students asked if I could leave all the information on the board so students could share with their friends the following week.
Thank you to Naomi Most, Software Engineer at Streamlit and our panelists Aditi Phadtare, Cloud Infrastructure Engineer at Sony Interactive Entertainment and Amber Williamson, Cybersecurity Engineer.
After attending this event:
Here's what the students enjoyed most:
Doing the survey for the jobs thing we got "Itzy bitzy spider". It was so funny. We got to do some coding and mess around. It was super fun and we also got to make it personal. - Grade 8
Putting in random answers and getting results like a quiz shows the wonders of code and technology. - Grade 8
The work that inspired me was code. What I also liked about today is the people because they taught us more. - Grade 6
I enjoyed the activities that we do with friends and new people that work with us. - Grade 7
Something I enjoyed was the coding. I also liked learning how to code with friends. And finally I enjoyed hearing from the presenter. - Grade 6
I loved learning more about using python and how to make a personality test. I really want to learn how python works! - Grade 6
Las actividas porque te distraes y t unes mas a tus companeros de clase y puedes tener mas amigos. (Working close with and making new friends in groups.) - Grade 7