On December 15, IGNITE Worldwide hosted a panel with Women in Computer Science at the University of Washington, Tacoma! Girls and non-binary students joined from Renton School District, Everett Middle School in San Francisco, and West Seattle High School.
Heather Finch, the event facilitator, kicked off the event with an introduction to IGNITE and Women in Computer Science. WiCS at UW Tacoma aims to support and promote women in the computer science field. They are an inclusive group that seeks to challenge biases and myths faced by women and other minorities in computing sciences and promote allyship. Students also learned about the underrepresentation of women in STEM careers, but that these careers are great options because they pay well, are in high demand, and offer excellent work flexibility!
After the introduction, each panelist shared their story: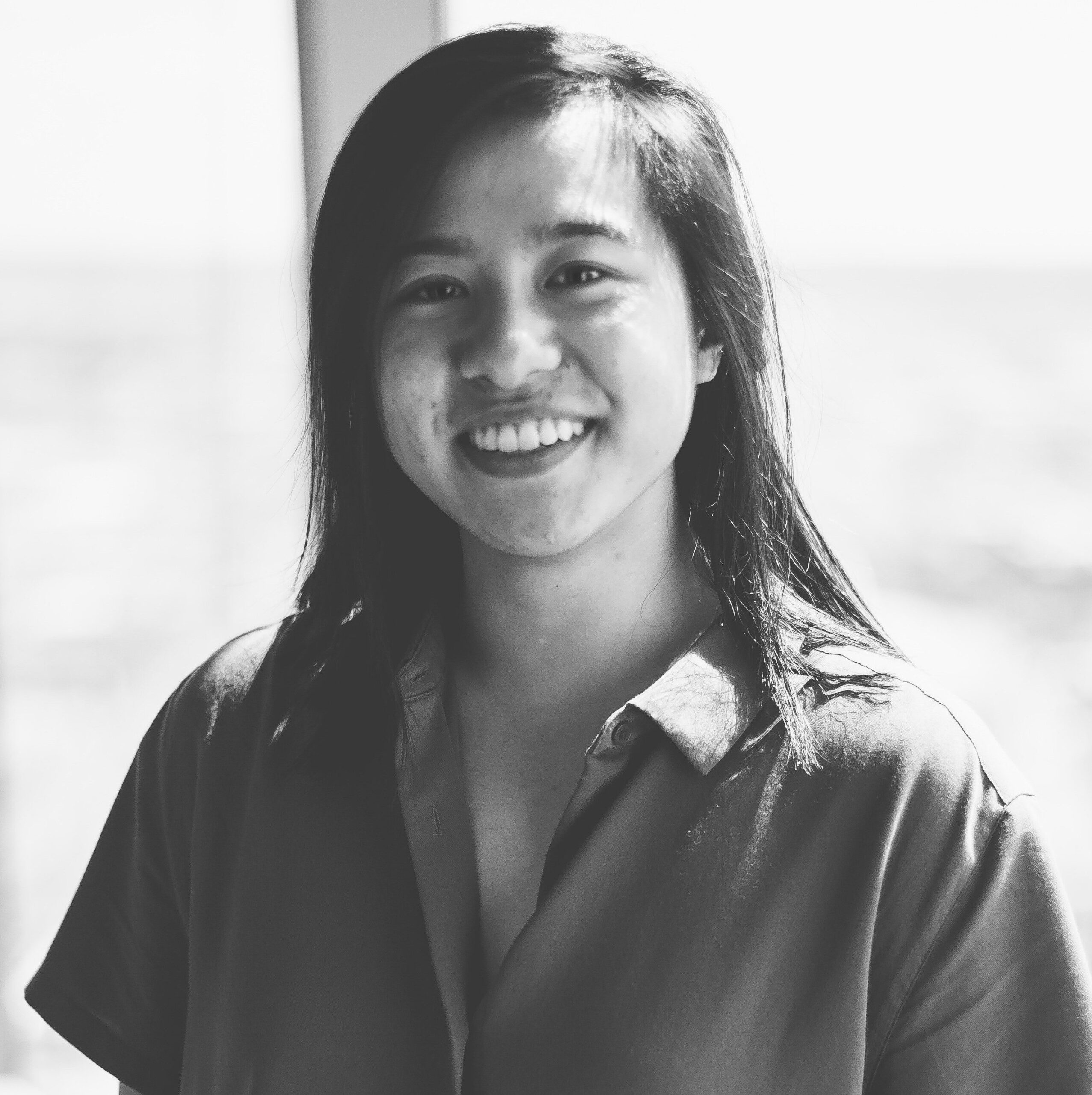 Sonia Xu is graduating with her Master's this week and will shortly be starting work at Amazon Web Services! Sonia explained how she has always loved reading, writing, and photography. Despite doing well high school, she judged herself incapable of a technical career. After studying business in college, she got her "dream job" at an advertising agency, but was dissatisfied because the work didn't challenge her. She then decided to study programming and enter a technology career so she could stimulate her mind. Sonia said that you don't need to be a genius to do STEM, just curious and determined! Her final piece of wisdom was to "pursue the things that make you forget time exists."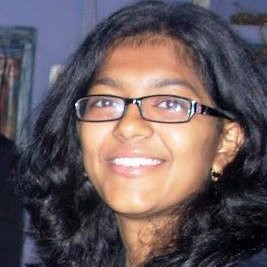 Anubha Agrawal, a recent grad who is soon to be a software development engineer at Amazon's Alexa program, joined the panel all the way from India! She described her limited exposure to tech as a young girl in India. She was obsessed with video games and video chat as a child and first became interested in computers in order to learn to make games. Anubha wishes she had known earlier that technology could be a career, but she's very happy more people now have access to technical classes and resources while still in school. She advised the girls to ask questions and to try anything at least once!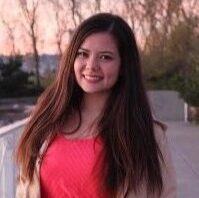 Mariko Briggs, a recent grad and technology intern at T-Mobile, shared her broad array of interests growing up, such as cooking and ice skating. She described her ambition to join every extracurricular event she could, and her love of complex problem-solving. Affordability was an important factor in Mariko's higher education, so she started at community college. Computer science wasn't her original major, but she decided to try it and is very glad she did! She loves that she gets paid to do what she really wants and that she gets to be around lots of smart people.
After the panelists shared, the girls had time to ask their own questions:
What kind of technical skills should you start learning in high school? The panelists noted that if you're already thinking about this, you're pretty far ahead! They encouraged girls to take advantage of opportunities available at school and also to try to think of solutions to problems that come up in your life, and you'll organically think of some great possibilities. Think about how you can be more efficient, or how you can make things more efficient – for example, how can you load more people onto a Ferris Wheel more efficiently?
Did you ever feel you wouldn't pursue a career in CS? All three panelists answered yes!
How do you apply to jobs successfully? Mariko is currently applying to jobs and advised to apply to as many as possible. Even if you're not selected or not invested in the company, every application and interview is good practice. It's a numbers game!
Would you recommend an internship in high school? Though many internship opportunities will be available in college, panelists recommended reaching out now to companies you feel are doing something cool, and also Google "high school internships" to learn what's available.
How do you build confidence? For social anxiety, imagining you know the person you're speaking with is useful. In the case of unfamiliar events, trying something once is a good way to find out if something is worth it. Promise yourself that if it's too bad you are allowed to stop. Also, faking confidence for long enough can make it real!
To finish the event, each panelist offered a final piece of advice.
Sonia: Explore your options
Anubha: Love the process of learning
Mariko: Be curious!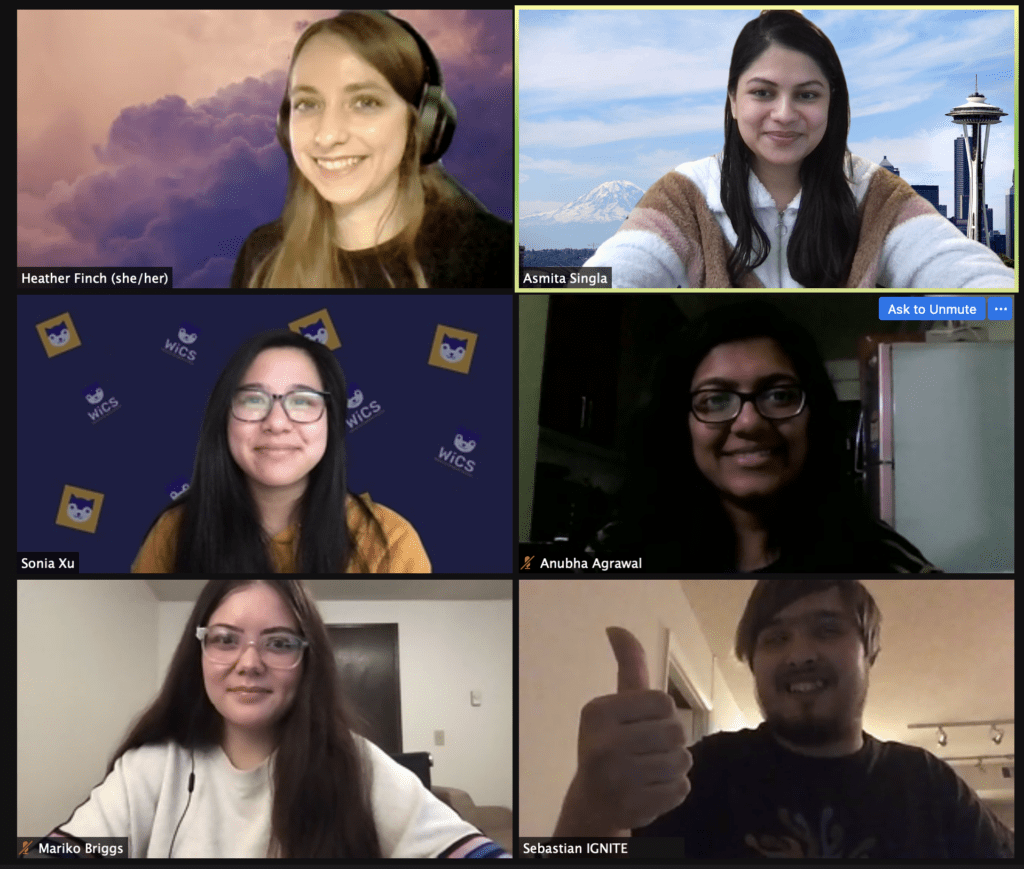 The students really enjoyed hearing the many different ways that the panelists got into Computer Science. Just because you don't come from a STEM background doesn't mean that you can't get into the field. Don't be afraid of failure and changing course! Be willing to break out of your comfort zone and reach out to people as resources, and people in the field will point you in the right direction.
Students were also inspired by hearing different ways to problem solve and think about the world around them. They appreciated the speakers going in depth into the work they are engaged in and how that work may change everyday life. It makes a world of difference when the students get a chance to hear what exactly each panelist is doing and how that technology or product will be applied in the world at large!
Thank you to everyone for attending and participating in this IGNITE panel! A special thank you to the amazing volunteers, Heather Finch, Asmita Singla, Sonia Xu, Anubha Agrawal, Mariko Briggs, and Sebastian Rodionov for making this inspiring event possible!
After attending this event:
Here's what the students thought of the event:
"Today's event made me feel more confident and made me more interested in the STEM program. I have always been a person who needed to be challenged and this meeting showed me a great option for a program that would help me reach that career goal." – 9th grade

"This event inspired me because I learned what jobs I should apply for. And because I learned a lot more about STEM. I liked how they answered questions that people had. And that they showed me that STEM is really interesting." – 8th grade

"The career choices fit a lot of my interests and make me more curious about them. I know that I will choose a STEM-based career. You guys did a good job with explaining everything! I liked how you explained your struggles and how they got through them!" – 9th grade

"I am impressed with the way that all of you found your way to a career that suited you and a career that you found interesting and fun. That is all that I want for a career." – 9th grade

"Thank you guys so much! I signed up for this just because it looked interesting, but they have opened my eyes to computer science." – 9th grade

"This inspired me because we heard people from all over the world who love computer science. Thank you for taking time out of your day to do this." – 7th grade

"This inspired me in seeing that STEM is very important for my future and also for all the women who don't have too much opportunities. I really want to have one job that uses math and science." – 7th grade

"This event inspired me to want to learn more about the STEM careers. This event was an inspiring event and it was good. It helped me learn more about it." – 8th grade

"It was fun! Thank you for coming to the zoom meeting." – 7th grade