On February 25th, IGNITE welcomed girls/non-binary students from George Waghington Bush Middle School in Tumwater School District along with a Homeschooler on a Virtual Field Trip with Amazon Women in Engineering! Nihit Pokhrel, a Solutions Architect at Amazon, welcomed everyone to the event and shared a video about Amazon employees, showcasing the wide variety of talent and skills Amazon houses in order to make an impact. Nihit said that "STEM is everywhere, yet not many women are in the STEM field." Places like Amazon want to change this!
The students got a chance to answer a poll question: "What was the original name for the Amazon Women in Engineering (AWE)? Turns out AWE was once known by "Hoppers" in reference to Dr. Grace Hopper, who paved the way for computers with her programs. Nihit shared that STEM can be utilized in any field, it's a lot of fun, and you get paid well for it!
After the introduction, students met three panelists: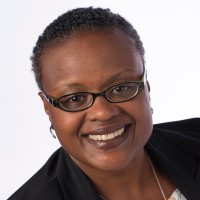 Stephanie LaBoo is an Advanced Technology Safety Engineer at Amazon. Previously she worked as a Chemical Engineer for Boeing but wanted something different. Stephanie said that "Amazon is always hiring!" Stephanie has been with Amazon for a year and is enjoying her experience so far, which is a good reminder to students that it's okay to change your mind and try new things!
Shambhavi Bala is a Senior Technical Program Manager on the Amazon Robotics team, where she gets to make things easier for humans. Shambhavi grew up in India and said she was bad at math and received just average grades. Still, she worked hard and achieved a BA in Electronics, and during her Senior year of college she got a scholarship to attend Purdue in the United States!
Stephanie Orpilla, a Web Development Engineer, builds websites and apps for Amazon! During college she earned a science degree and also began coding. She happened to land a job in the coding field, and after that decided to do more! Eventually this led to an offer from Amazon, so she moved to Washington for the position. Stephanie's advice was to, "Stay on your path." Don't let anyone convince you you can't do something!
After meeting these brilliant minds, the students had a chance to gain more knowledge. Here are some of the wonderful questions they asked:
How do you choose what job you should apply for?
How do you figure out what you want to do for a career?
I want to be a vet, what STEM should I do for that?
How do you build confidence?
What's the hardest thing at work?
How should I choose what job I should apply to?
Are any of you working on the Amazon Mars/Space project or is it a secret?
How do we start taking classes or learning more about STEM?
The panelists responses and advice included:
Take lots of STEM classes, test them out, and see what interests you. Talk to teachers so they can connect you with opportunities. Let others know what you enjoy learning and ask how you can learn more!
One of the hardest things was figuring out how to communicate with each other via Zoom! It takes adjustment to work with your team a new way.
If you want to be a vet take a lot of Biology, and having a good grasp on technology is needed as well. Technical instruments will be utilized in any job!
Confidence will build over time. Keep an open mind about everything and confidence will come. Remember that you know more than you think you do.
After the panel and Q&A, students got into groups to talk about accessibility within Amazon devices!
Those who worked on the Echo Show talked about adding a colorblind setting. Students who were in the Echo Dot group thought of adding a feature that would allow lyricists the chance to put their work with harmony on the Echo Dot. Young minds in the Kindle group thought of several things: adding a tab for languages, captions for the hard of hearing, voice/audio recognition for those who may be visually impaired, and also a larger popup icon so you can decide if you want a written or audio version, making it easier for those who are visual or hearing impaired to choose their needs.
The students loved being able to learn more about Amazon products and then discuss ways to improve them, and the volunteers were impressed with all the great ideas!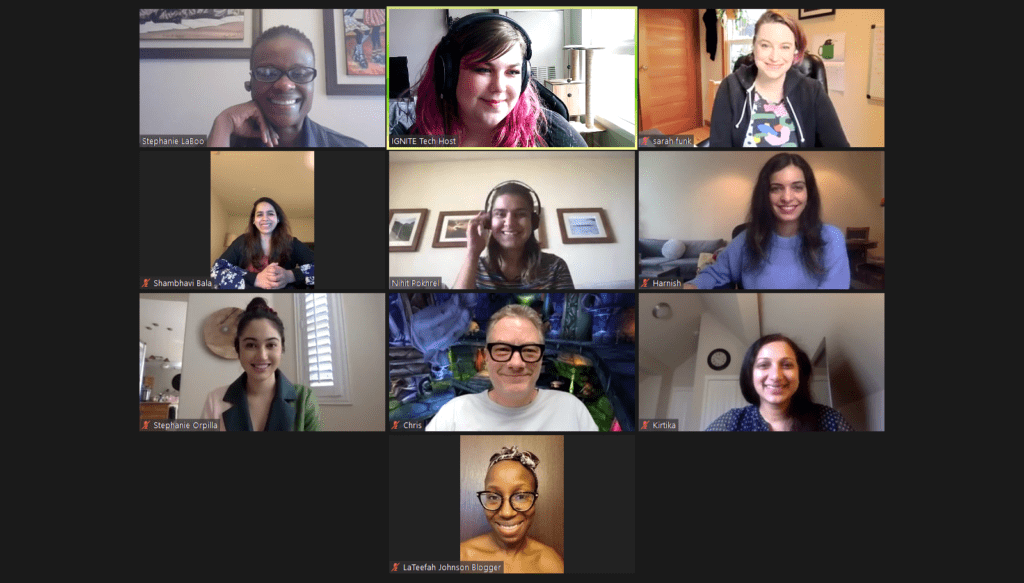 At the end of the event, the panelists each shared one final piece of advice:
Speak up more and don't be afraid! 
Believe in yourself, go after your dreams.
Don't let anyone define you or hold you back!
Be confident, love what you do, don't be afraid, and let your confidence be seen.
This was a great opportunity for girls to process what they are passionate about and how that relates to STEM, and also learn what career options are out there for them when they join the workforce. They really enjoyed collaborating with women in STEM and other students about passions and ideas. It was also important to hear professional women share that you don't have to be the best in a subject to get a job doing what you love. You are constantly evolving in your career and you aren't pinned to one job. You can continue learning and growing, and you may find you are hopping to new jobs – and that's okay!
Thank you to the amazing Amazon AWE volunteers for hosting such an engaging and inspiring event! Thank you to our wonderful facilitator, Nihit Pokhrel; Tech Host, Nicole Michaud; Panelists Stephanie LaBoo, Shambhavi Bala, and Stephanie Orpilla; Breakout Room Leaders Harnish Bhatia, Kirtika Dhathathri, Chris Haltiner, and Sarah Funk; and IGNITE volunteer LaTeefah Johnson.
After attending this event:
Here's what the students thought of the event:
"Today's event inspired me in many ways and taught me girls are capable too. As a child growing up in school I was taught the best a girl or woman could get was working at a café or do housework. After coming to today's event I know girls can do anything as long as we put our minds to it!" – 8th grade

"All of the volunteers were amazing! Wait they were more than amazing, they were spectacular! They taught me so much and I am so excited to be just like them!" – 8th grade

"I learned that coming up with new ideas is easy and fun sharing them. Thank you!" – 6th grade  

"I love to hear from people who are in jobs that I might end up pursuing some day. Thank you for taking your time to present to us today!" – 8th grade

"It inspired me to be confident!" – 8th grade

"It inspired me to talk to others more often on Zoom, because I am usually too shy to talk." – 7th grade