On Feb. 24, IGNITE and Boeing hosted an Engineering Design Challenge Workshop for girls/non-binary students from Sedro-Woolley High School, West Valley Jr. High School, and Lawton Alternative School!
To kick off the event, students learned about Boeing as well as the importance of pursuing opportunities in STEM. Boeing is the world's largest aerospace company and also America's biggest manufacturing exporter. In a fun poll, students learned that it would take 7,000 stacked Oreo cookies to stretch the length of one of Boeing's planes!
After the introduction, students worked in breakout rooms with Boeing engineers. Breakout rooms were led by Stephanie Lorber, Industrial Engineering Director; Lauren Buck, Human Factors Engineer; Dominiqueca Edwards, Industrial Engineer; and Ashley Abril, Flight Test Engineer, who challenged the students to make an airplane wing that is really long but also really strong using materials like paper and tape. One of Boeing's planes, called the Phantom Eye, can fly at 60,000 feet for up to four days because of it's very long wings! The students' task was to make a wing that was 2 feet long and could hold its own weight. Many were successful, and a couple girls made strong wings that were even longer than 2 feet! Most importantly, everyone had fun and really enjoyed the opportunity to interact with the engineers.
Following the workshop, three of the engineers shared more about their jobs and experiences in STEM.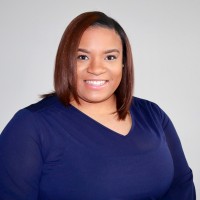 Dominiqueca Edwards, an Industrial Engineer, chose to go into engineering thanks to her sister and a group similar to IGNITE, the National Society of Black Engineers. In high school, she was very involved in athletics and did swimming, bowling, track & field, and dancing! Dominiqueca's love for math and science motivated her to take engineering courses in high school, and she eventually attended North Carolina A&T State University for both her bachelor's and master's degrees.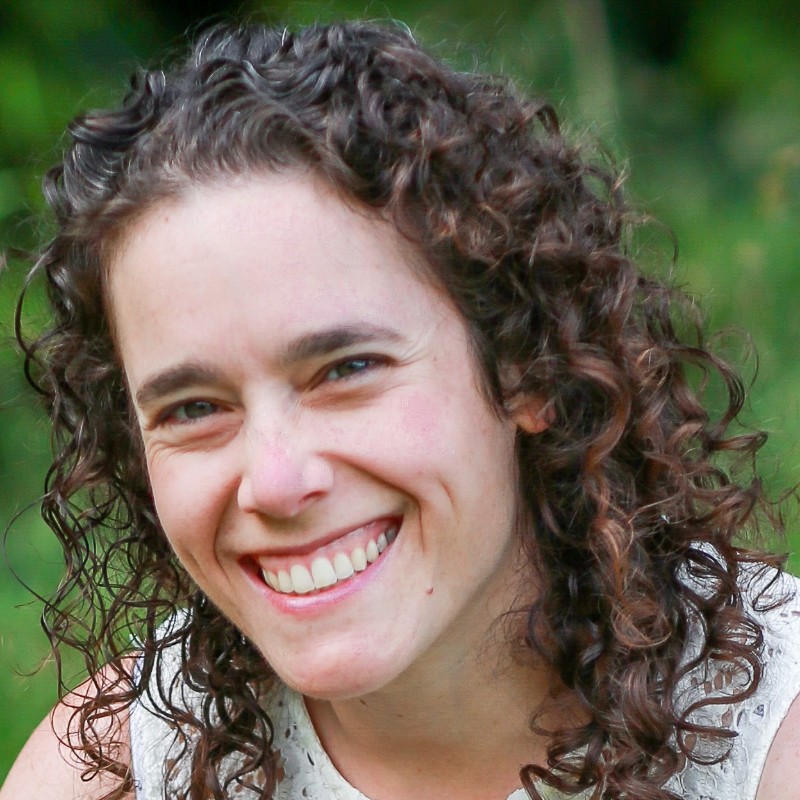 Stephanie Lorber is an Industrial Engineering Director. In high school, she was very into STEM and would attend math and science competitions. While she wasn't certain about what career she wanted to pursue, she liked problem-solving and working on puzzles. When she entered the University of Michigan Stephanie was guided to the College of Engineering and ultimately went from not knowing about Boeing to being a Director at Boeing!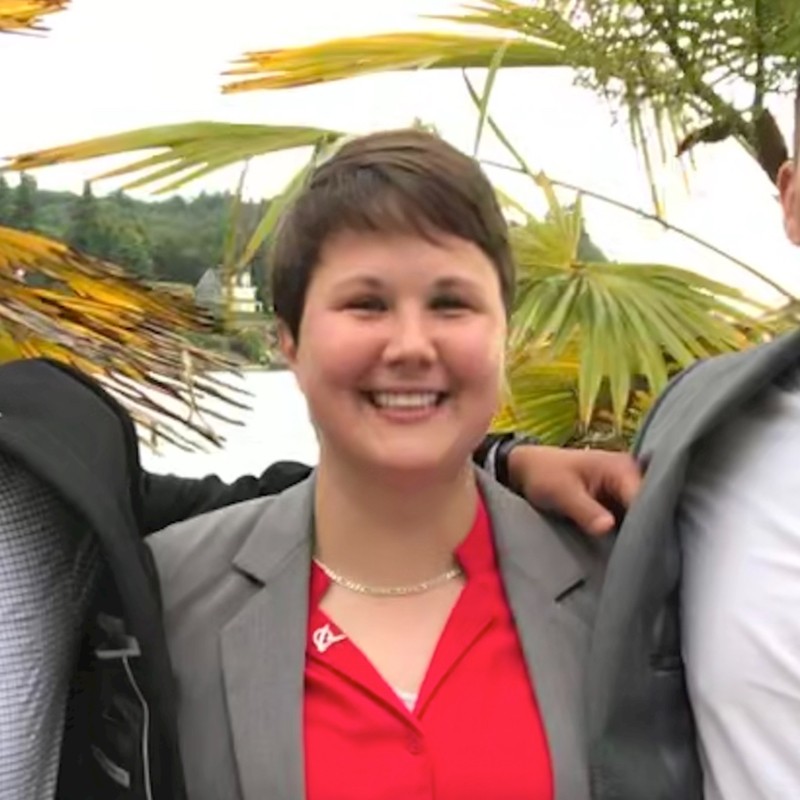 Lauren Buck, a Human Factors Engineer, was also involved in high school athletics, doing the shot-put and distance events in track and field. She took a welding class where she created art by soldering metal together, and she loved it! She had to balance work, sports, and school but said that hard work and dedication make this possible and worthwhile. It was thanks to a substitute teacher that Lauren even learned what engineering was and why she pursued the career!
The students then got a chance to ask questions. Some of their questions included:
What classes should I take if I'm interested in STEM?
Is the design process stressful?
How do you prepare for interviews?
How do you build confidence, especially if you've been told that you are not good enough?
The panelists had amazing advice to share. They all encouraged students to take a variety of classes and pursue their interests to find their passions. Learning happens when we step outside our comfort zone or are facing challenges! The big theme was the importance of trying, failing, and using that process to learn and grow. It was so important for the girls to hear that it's okay to fail because they often feel pressure to be perfect!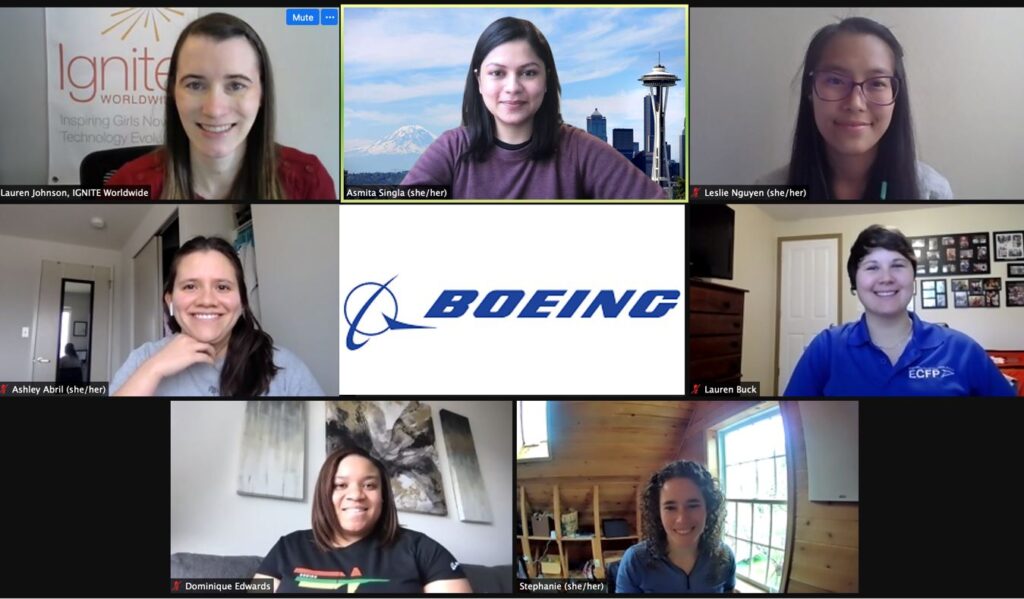 The volunteers did an incredible job of creating a space where students felt comfortable participating. Everyone had a wonderful time during the panel and activity, and it was a great experience for students to try their hands at aerospace engineering! Maybe in a few years some of them will join the Boeing team!
Thank you to everyone for attending and participating in this event! A huge thank you to IGNITE volunteer Tech Host Asmita Singla and to the amazing Boeing volunteers, Stephanie Lorber, Lauren Buck, Dominiqueca Edwards, and Ashley Abril, for leading the activity and sharing your knowledge and advice to inspire the next generation of engineers!
After attending this event:
Here's what the students thought of the event:
"I really enjoyed how we got to build the airplane wing and getting to learn more about those types of things. Thanks SO much!!!" – 7th grade

"My parents have always wanted me to go into a STEM field, but it has never been a passion of mine. After watching these women who were so content in their jobs, it made me wonder if my parents may have been right all along. I will definitely explore more about these subjects. Thank you for all your time and help! You are all incredibly inspiring people, and wonderful role models." – 8th grade

"This event inspired me by informing me about yet another career type in the STEM field and that there are many different types and benefits to these jobs. I was inspired to hear a couple different real life stories of successful happy women in STEM. I would like to say thank you for sharing your stories. I learned a lot and feel inspired and motivated." – 8th grade

"This event inspired me because it was really cool to see so many women and especially women of different ethnicities talking about career opportunities and their journeys. Thank you so much for sharing. It was super cool and inspiring!" – 8th grade

"This event inspired me because everyone told their story and I felt like I can relate with most of their statements. If I get into technology more I'll definitely try to get a job Boeing." – 8th grade

"I feel like home, and I feel hopeful to pursue engineering even though I mix up my numbers a lot. I feel inspired to purse engineering and I feel motivated to do so." – 12th grade

"I love challenging myself, and to be honest I am quite stubborn so when someone tells me that I can't do it, I prove them wrong by taking the challenge. I feel completely inspired to do engineering after today's event." – 12th grade

"This event especially when doing the breakout rooms helped me learn the engineering part of STEM. I also learned there are many different things you could do for this job. I'd like to thank them for spending their time to set this up, and answering the questions very truthfully. I also like to thank them for sharing the experiences in STEM on how hard it was." – 6th grade

"It was amazing to see others with their ideas. Another thing was that it was inspiring [and] making things that I didn't know was cool." – 8th grade

"This event was great, the women definitely encouraged us to pursue a career in STEM and sharing their experiences were great examples for us that it can be done. I would like to thank them for taking time out of their day to do this for us and for giving us great advice. I really enjoyed this event!" – 10th grade

"In today's event, what inspired me was the difficulties there is when choosing what you like doing and to also take as many classes as you want to explore what I want to do for a career. What also inspired me were the advice talked among the engineers and people who work for STEM. Today I met my classmates, people who worked for STEM, and more." – 6th grade