On April 1st, IGNITE students from Quincy High School got a chance to explore the world of STEM at Moz! Ida Basha, Office Operations Assistant at Moz, welcomed the students and teachers into the virtual space. Students then enjoyed a video tour of the Moz corporate headquarters, which showcased office meeting options in soundproof rooms, desk spaces configured for all sorts of ergonomic needs, and even opportunities to sit back and have fun while at work in the game room!
Students then participated in a poll, which asked, "Is STEM a good fit for you? From the list, please check off all of the things that interest you." The list included a variety of choices, such as "Art", "Music", "Sports", and "Traveling." The poll helped students explore the possibilities of STEM and how its relevance in the world is everywhere we look! Ida explained that increasing access to opportunities in these fields for less-represented people was the reason that Moz wanted to welcome the girls and non-binary students today!
Following the behind-the-scenes look at Moz, students had a chance to hear from a panel of three women at Moz.
Sarah Bird, Chief Executive Officer, introduced herself by showing some pictures of her family and things she enjoys, such as yoga. She pretty much runs the show at Moz, but with the help of everyone around her; Sarah believes that every position plays a huge role in allowing the business to flourish. Sarah continues to be involved in not only Moz but other businesses as well, and is a board member for a few different organizations, including some non-profits.
Daphne Mui, Senior Cloud Infrastructure Developer, ensures that "the cloud" works properly and keeps everything in its proper space in the cloud. She showed students a drawing of a tank and encouraged them to think of all the parts a tank has, since the cloud's parts can be thought of in a similar way. Daphne's job focuses on aspects like network, communication, visualization, and storage.
Daphne Gold, Senior Software Engineer, loves mathematics and worked with some great companies before finding her way to Moz. Eager to show the students what she was like as a child, Daphne shared a picture from when she was very young and had a cool, little squishy piggy to show off! Previously, Daphne also spent some time teaching English.
After getting to know the panelists, the students had a chance to ask excellent questions, including:
How has working in the tech field been different from taking tech classes?
What is your favorite part of your job?
What skills should someone in your field have?
Panelists' responses and advice included:
It's never too late to follow your dreams!
Life's challenges do not need to define you.
You can rise above your challenges and create a life that brings you joy.
A workplace should be inclusive, safe, encouraging, and should support customers as people, not just as business partners.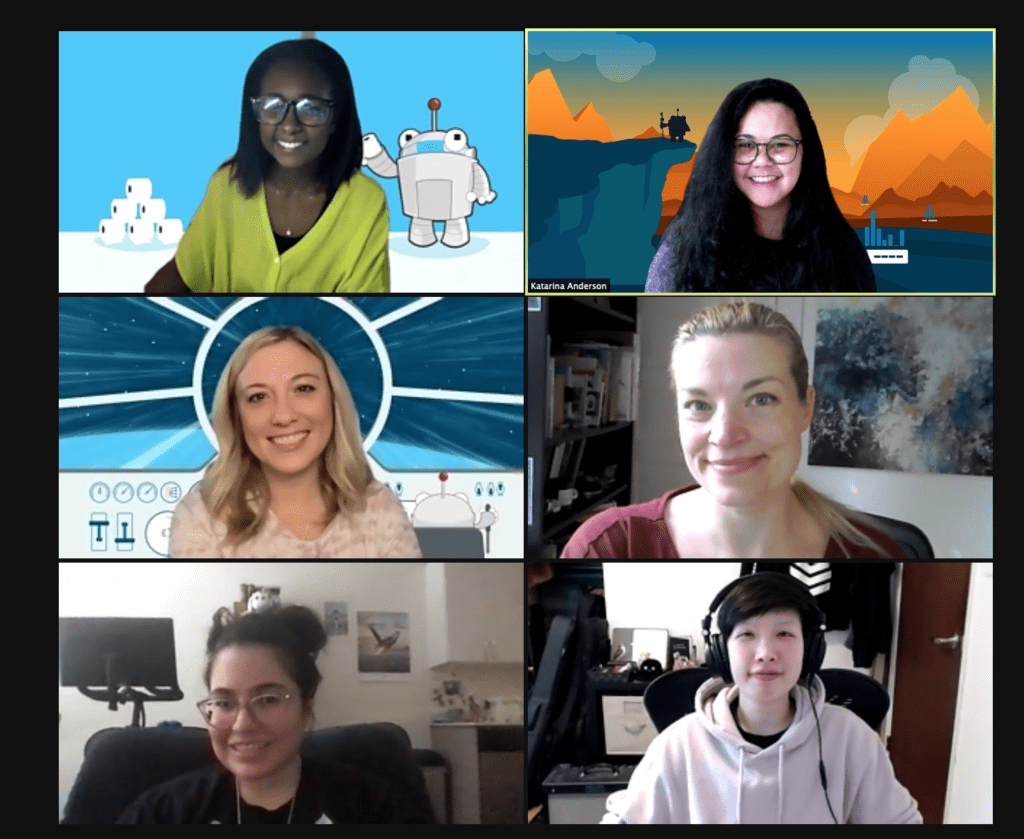 Following the panel, the students participated in an interactive activity where they explored marketing and all of its magic! They first engaged with a short business outline to plan how a new business could promote inclusion and diversity in the workplace. Then, the students worked together to create an elevator pitch for the new business. Through the activity, students learned what it might be like to work in certain areas of marketing, as well as how to collaborate to develop ideas and concepts that match client and company needs.
To conclude the field trip, the panelists provided the students with some words of wisdom:
Be you no matter what.
Never let anyone stop you.
Stay creative.
Do everything until you figure it out.
Explore; that's what living is for!
Thank you to Facilitator Ida Basha, Director of Operations Ashlie Daulton, Tech Host Katarina Anderson, and IGNITE volunteer LaTeefah Johnson. A special thank you to our Moz panelists, Sarah Bird, Daphne Mui, and Daphne Gold, for putting on such an inspiring field trip!
After attending this event:
Here's what the students thought of the event:
"Today's event inspired me as I now feel more confident about wanting a career in STEM. This event helped encourage me to follow my dreams." – 10th grade

"Today's event has helped me get a better understanding of what kinds of fields are available in STEM. It has inspired me to continue pursuing a career in STEM." – 11th grade

"I was inspired by the women and the stories they shared. It was cool to see different perspectives in STEM." – 12th grade

"I appreciate them taking the time to talk to us. I really appreciate the answers to my questions as well." – 10th grade

"I had a nice experience getting to know you all and knowing more about the technology industry!" – 11th grade

"It was nice to hear them share their stories. It's okay to change careers because we change over time." – 12th grade

"Today's event inspired me to pursue a career in design for a tech company. Knowing that I will be able to do this has given me a lot of hope." – 11th grade

"The IGNITE event inspired me by making me more interested in the technology industry. I want to look more in-depth and learn about the technology industry." – 11th grade

"I saw a different side of STEM. The industry is changing everyday and there are more opportunities." – 12th grade

"Thank you for teaching us and giving us broader insight into the different STEM careers and opportunities." – 11th grade