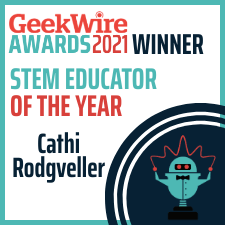 Cathi Rodgveller, CEO & Founder of IGNITE Worldwide, has been named a GeekWire 2021 STEM Educator of the Year award winner. The GeekWire Awards celebrate the Pacific Northwest's leading innovators, entrepreneurs and technologists. Educator of the Year is a new award for GeekWire, recognizing the amazing work that educators are playing in our community.
From the nomination: Cathi founded IGNITE to reach all girls: not just girls already interested in STEM, but those who have no experience, are intimidated by science or math, may have never met a woman engineer or realized a desire to do social good can align with a technical career. IGNITE does not focus on a single career track, like coding; girls are exposed to 300+ nontraditional career opportunities in STEM. Beyond exposure and skill-building, Cathi's visionary program uses storytelling to connect girls emotionally with women in industry. Volunteers share personal experiences, including overcoming obstacles, which allows girls to relate and recognize their own potential for success. In 2019, 84% of IGNITE girls reported an interest in STEM, compared with 9% nationally. IGNITE is a small nonprofit with a big reach. In 2016, Cathi started with 1 full time and 1 part time staff. She now leads a team of 5 plus several contractors in creating an outsized impact on girls education and empowerment. IGNITE is the only organization of its kind, working directly with schools to offer free access during the school day so all girls can participate, and providing programming that is easy to implement, sustainable, and effective. Cathi has grown IGNITE from a Seattle Public Schools best practice to an internationally adopted program serving 10,000 girls every year and lauded by the National Science Foundation, the Department of Education, and the Department of State. Every day IGNITE inspires thousands of students, women, and advocates around the world.
"I am so honored to be recognized as a leader in STEM education here in the Pacific Northwest," said IGNITE Worldwide's Founder and CEO, Cathi Rodgveller. "This past year has been full of hurdles and without the perseverance and dedication of the IGNITE Worldwide staff, volunteers, and teachers we wouldn't be able to reach as many students as we have."
Details about the GeekWire awards and event are available at https://www.geekwire.com/events/geekwire-awards-2021/.
About IGNITE Worldwide
IGNITE Worldwide is changing gender and racial equity in STEM systemically and permanently. By working directly with educators and school districts during the school day, IGNITE Worldwide provides unparalleled programming that promotes STEM education and career advancement for girls and non-binary youth from historically marginalized communities. Through virtual and hands-on events, the IGNITE program connects students with role models who live and work in their communities, helping youth to recognize new possibilities for their futures.
About the GeekWire Awards
Now in its 13th year, the GeekWire Awards is one of the most hotly-anticipated events in the Seattle tech community, bringing together more than 1,000 geeks to celebrate innovation and the entrepreneurial spirit. Past winners have included Smartsheet, Swype, Amazon, Redfin, Zulily, Avalara CEO Scott McFarlane, University of Washington computer scientist Ed Lazowska, Dreambox Learning CEO Jessie Woolley-Wilson, TAF and many others.