On December 8th, 2021, IGNITE hosted a Virtual Android Workshop with Google for students at West Valley Innovation Center in Washington and John O'Connell High School in California. STEM professionals from the Android team at Google shared their experiences with girls and nonbinary students.
Facilitators Julia Zhu and Ambreen Joyo kicked off the event by sharing about Google, its mission to organize the world's information, and the work of the Android team.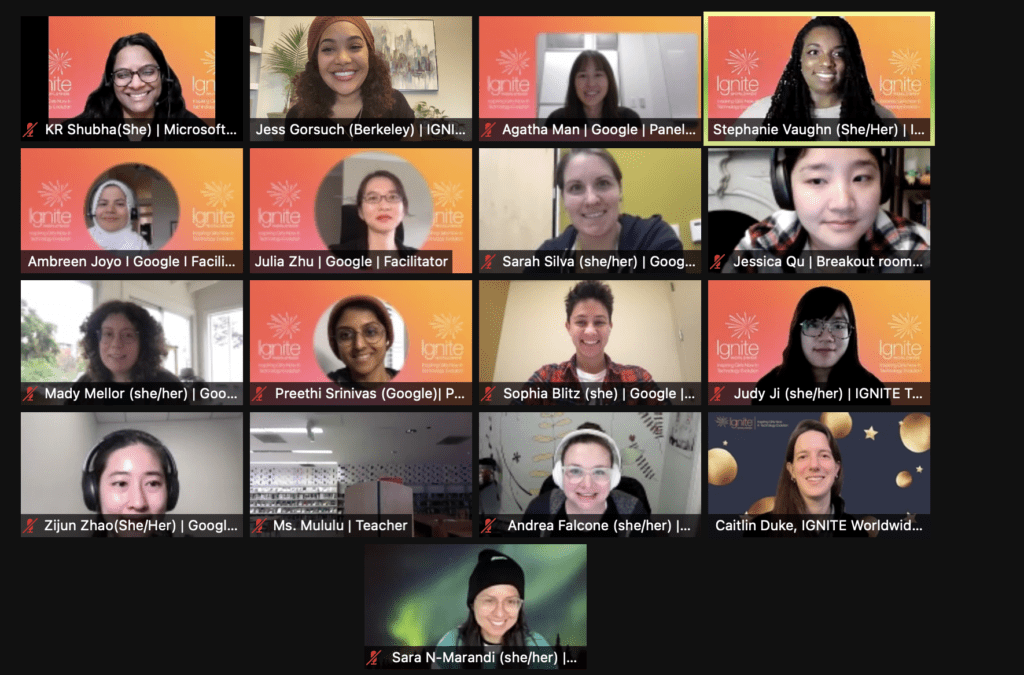 Julia and Ambreen emphasized that, with everything around us involving STEM today in some form or other, it's an amazing career choice and has a lot of impact, which is why the volunteers at the event chose this field.
The students shared topics of interest including arts and traveling, and learned that all of these areas could lead to jobs in STEM. STEM is the fastest growing field in the world and STEM skills are useful in all industries.
Students met in small groups with Google volunteers to practice coding in action for a "Hungry Robot Phone App" that needed to be fed every 10 seconds. The group leaders walked through the steps of how to define the logic and write code for the app.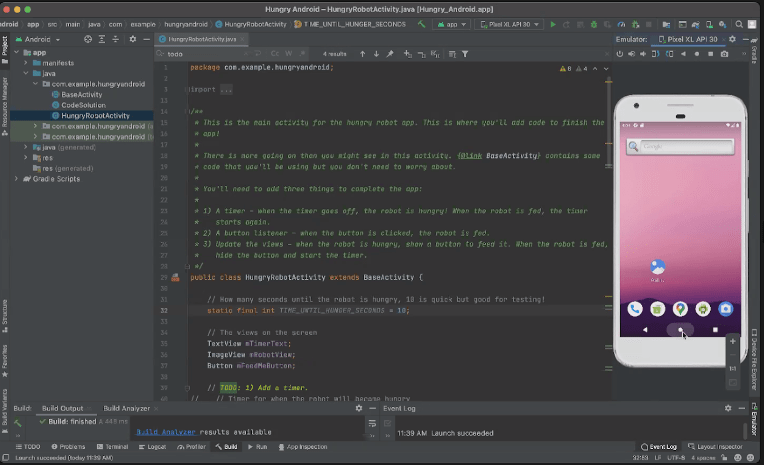 When the activity concluded, three women leaders at Android shared their stories.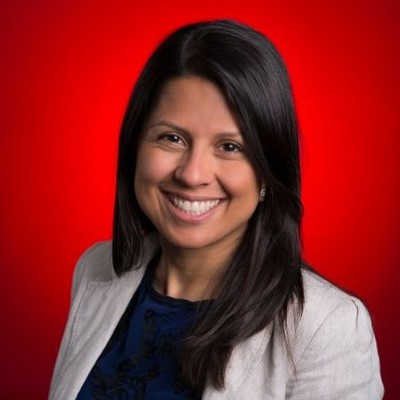 Sara N-Marandi is a Product Manager who works on Android privacy at Google. Sara relocated to Canada from Iran when she was little and overcame many barriers to pursue technology with grit and support from her women mentors. Sara encouraged students to just give tech a try and not be afraid!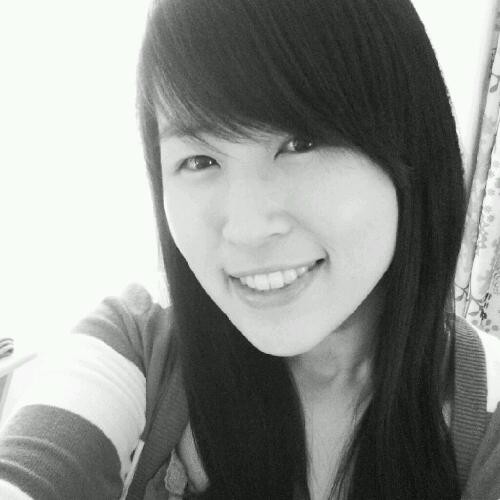 Agatha Man is a Software Engineer specializing in Web development at Google. Agatha's entry into tech happened in high school, where she learned to make websites. She was the only girl in class! She shared how she progressed through her school and career to now working on Android apps in cars. Agatha's advice to the students was to "never be afraid to pursue what you love."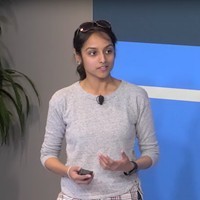 Preethi Srinivas, a User Experience Researcher, has a love for craft and always wanted to make dolls interactive as a child. Her love for technology came from this deep desire and she now works with Android app users. She sees technology as a magic wand to meaningfully impact people's lives.
Students asked in-depth questions of the panelists:
How many different types of code do you use?
What kind of skills should we be learning now for a career in STEM?
Why do you suggest a career in CS/Tech for girls and nonbinary students?
How do you decide what to take up in college?
How do I choose which jobs to apply to?
How do you prepare for interviews?
Panelists had thoughtful answers for all the questions, detailing that CS/STEM skills are transferable, and students should continue to be curious and not be afraid to explore areas of overlap between what they love and STEM. Panelists also encouraged students to learn, explore and continue to be creative, happy, and passionate about what they are working on and not worry about carving a career niche for themselves too early. Everyone can do great work in STEM careers so there is no reason girls and nonbinary students should limit themselves.
We would like to thank all the volunteers for participating in this IGNITE workshop and helping showcase STEM careers for girls and nonbinary students. Thank you to Tech Hosts Jess Gorsuch, Stephanie Vaughn, and Judy Ji for managing the behind-the-scenes aspects of the workshop, Facilitators Julia Zhu and Ambreen Joyo for moderating, Panelists Sara N-Marandi, Preethi Srinivas, and Agatha Man for sharing their stories, Breakout Room Leaders Zijun Zhao, Mady Mellor, Sarah Silva, Sophia Blitz, Jessica Qu, and Andrea Falcone for introducing students to coding skills, and Blogger KR Shubha for capturing this event.
After attending this event:
Here's what the students thought of the event:
"It inspired me to do what I love and to go out of my comfort zone. Thank you for this wonderful experience. I will truly never forget it." – 7th grade

"It inspired me in so many wonderful ways and I loved the experience I had with Google." – 7th grade

"It inspired me to learn all the hardships people went through to get where they are today. Thank you for sharing your stories with us. You are such powerful women and I had fun." – 9th grade

"Today's event inspired me to pursue my dream." – 7th grade

"My questions were answered and I learned a bit about coding and life in a STEM field! This was a very memorable experience and I loved working together on the robot app! Thank you all so much!!!" – 7th grade

"It was really cool to learn about the different careers in STEM and all the girls who have pursued a STEM career." – 7th grade

"I was inspired by the women who are in STEM and their inspirations." – 8th grade

"It inspired us to learn about the benefits of being in the STEM field and to do a beginning code class." – Middle school

"It inspired me how the STEM professionals explained how they became STEM professionals in the first place. I like STEM and think it's fun, and I now know more about coding." – 8th grade

"It inspired me to pursue my dream of life in the STEM field." – 8th grade