On December 13th, 2021, a group of womxn in STEM gathered to share about their journeys in the field with girls and nonbinary students from John O'Connell High School in San Francisco, Seattle World School, and Quincy High School in Quincy, Washington.
Facilitator Qian Wan, a Research and Development Engineer at Nvidia, gave an introduction about the importance of woman and nonbinary professionals engaging in STEM careers and introduced the Tech Host, Stephanie Vaughn, a Computer Science Instructor and Lead IGNITE Volunteer. Following this introduction, the panelists each shared their stories.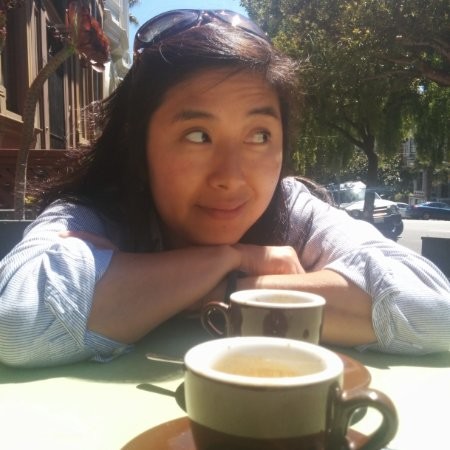 Monica Caraway has been a UX Researcher at Google for four years. She has held a lot of other jobs as well, which has helped her figure out how to get where she is today. She had never heard of STEM or UX when she was in high school. Now, she helps people make software and apps, thinking about how to make the design and experience better for users.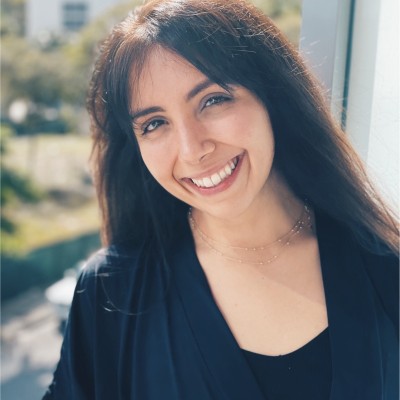 Jessica Gonzalez, Senior Consultant for IBM, dreamed of being a businesswoman growing up. She made her brother and sister play "office" with her as a kid. She didn't have coding classes in high school or learn about technology, and saw a lot of male faces when she did learn those things. She became interested in STEM in college as a management major, switching over to information technology. She now sells cloud as a service—i.e., storage via the internet.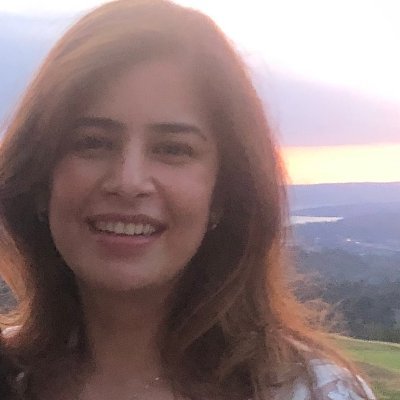 Harveen Kathuria, Product Management Director at Salesforce, never thought she would land where she is today. She has dabbled in coding and graphic design. Now she solves problems for people in tech, and currently manages a team that is all men. She would like to see more women and nonbinary professionals in her field.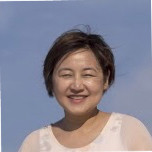 Eva Tseng, Senior Test & Learn and Optimization Manager at T-Mobile, took a non-traditional path to working with data scientists. She grew up in suburban Taiwan and had parents who wanted her to succeed, but hadn't thought of STEM until after she started studying advertising.
Pepsy Martin-Wirth, Gaming Readiness Lead at Microsoft Xbox, has worked for her organization for the past nine years. She loves the job even though she never saw herself in gaming before now. She manages timelines and projects to prepare for launches. In high school, she didn't value education and had a big attitude. She wants others to value their education so that they are not just be cogs in big wheels. She grew up in South Central Los Angeles, a part of the city that not everyone is able to leave, and wants to help others succeed the way she has.
After the panelists shared, teachers encouraged students to engage with STEM classes and clubs at their schools, and then it was time for students to ask questions.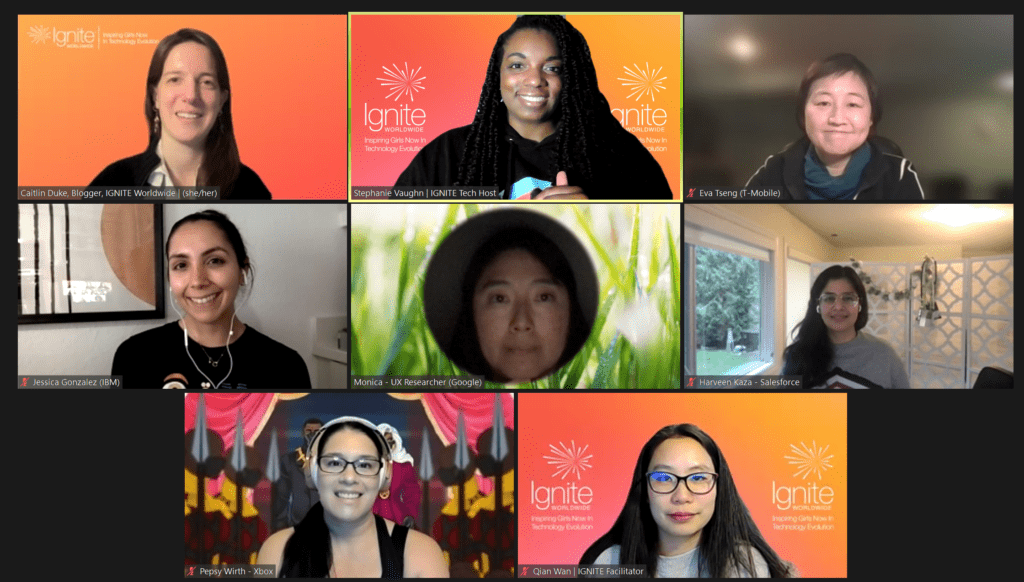 How much time and effort did it take to get to where you are now? Did you ever feel alone?
Pepsy said that it took a lot of time. She was older when she went back to college, had three kids at home and was on welfare and needed to get degrees very quickly. It took her eight years to get to where she is now. When she started, there were very few women, and now there are more but there are still not enough. One of her goals was to be able to put her children through college, and she is well on the way to accomplishing that. 
Jessica put in extra time at the very beginning of her career, traveling, working weekends, and more. It can feel isolating and alone to work in order to advance. At the same time, she has also felt like a part of a group of people who share goals and perspectives. If it's something that you really want, you are going to have to put time into it, and you'll get there.
What are UX and UI? They stand for User Experience and User Interface. UX is a field that improves the ease of use and experience of using an app, including building features and making things go more smoothly. UI is how the user interacts with technology, including physical and digital screens and more.
What can I do now to learn more about a career in STEM? Learning about what options are out there through panels like this is a great start!
Did your culture affect your pursuit of your dream job?
Harveen shared that her culture growing up did not suggest this option and did not direct her to this path.
Eva said that each culture has its own values. Check that your field and your chosen path reflects your values, and it's helpful to find the relationship to the path and field that you want to have. 
Panelists agreed that they are part of global companies and building from multiple cultures and this is the time for young minds to join and influence the way that companies grow and develop.  
What internships, scholarships, and classes do you recommend?
Microsoft has a competitive internship program, looking especially for diversity and inclusion candidates—focusing on people of color, people with disabilities, and those who have served in the military. 
Follow your passion in terms of selecting classes—coding is great, and there are lots of boot camps as well. YouTube is a great resource for beginners!
STEM needs diverse passions and abilities and needs people who are interested in fashion, beauty, comic books, animals, and more, not exclusively math or science disciplines.
Lightning round—what do you wish you had known in high school?
Pepsy: I wish I knew how to put my head down and get my education. It helps you in so many ways that you might not expect, and trade school is a great choice along with 2- and 4-year degrees.
Eva: I wishes that I had done more clubs and extracurriculars to explore her passions. 
Harveen: I wish I had believed in myself and known that there are limitless opportunities if you put the effort into them.
Jessica: Don't compare yourself to others; everyone's journey is so different. 
Monica: Get started somewhere with whatever you're interested in now, and your journey will take you somewhere great. 
Thank you to all of our volunteers as well as Teachers Bill Butler, Julianna Mululu, and Ross Kondo for making this panel possible!
After attending this event:
Here's what the students thought of the event:
"Thank you for opening my eyes to new opportunities." – 12th grade

"They inspired me to pursue more possibilities because of how technology can be mixed with everything. There were women who started late and are making it big." – High school

"Thank you for helping me explore more options and not being afraid. There were lots of tips and help." – High school