On December 10th, 2021, girls and nonbinary students at Quincy High School in Washington joined a panel from Planet Labs to learn more about Planet's unique work and engage with women professionals.
Facilitator Karra Batcheller, a Software Engineer, shared that Planet's mission is to image the whole world every day, making change visible, accessible and actionable. They do this using an array of tiny satellites orbiting the Earth.
Karra also shared that, even during the pandemic, there are more careers in STEM than there are people to fill them, and yet, a striking gender disparity exists.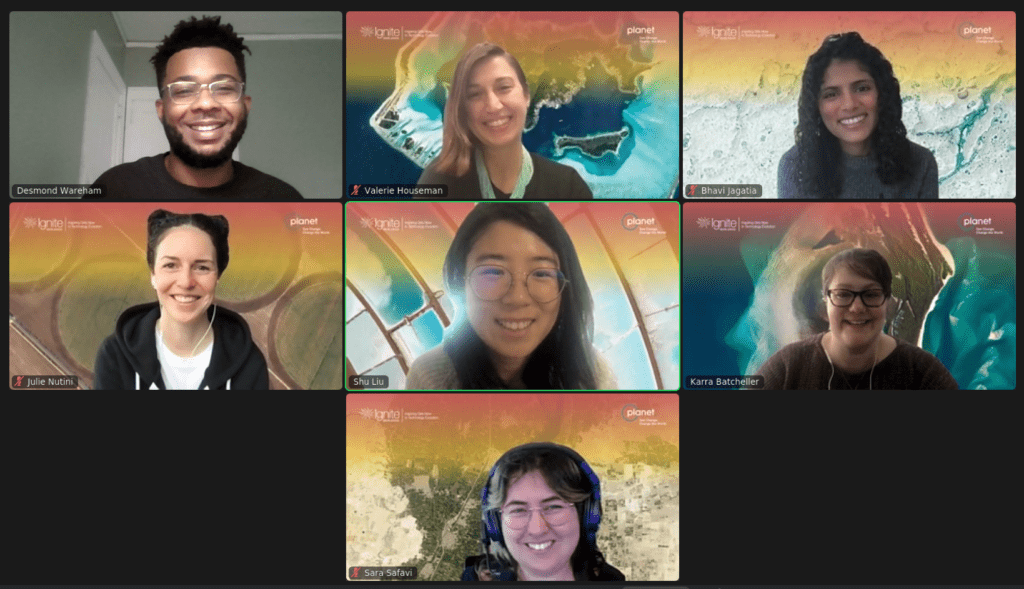 Next, the panelists introduced themselves.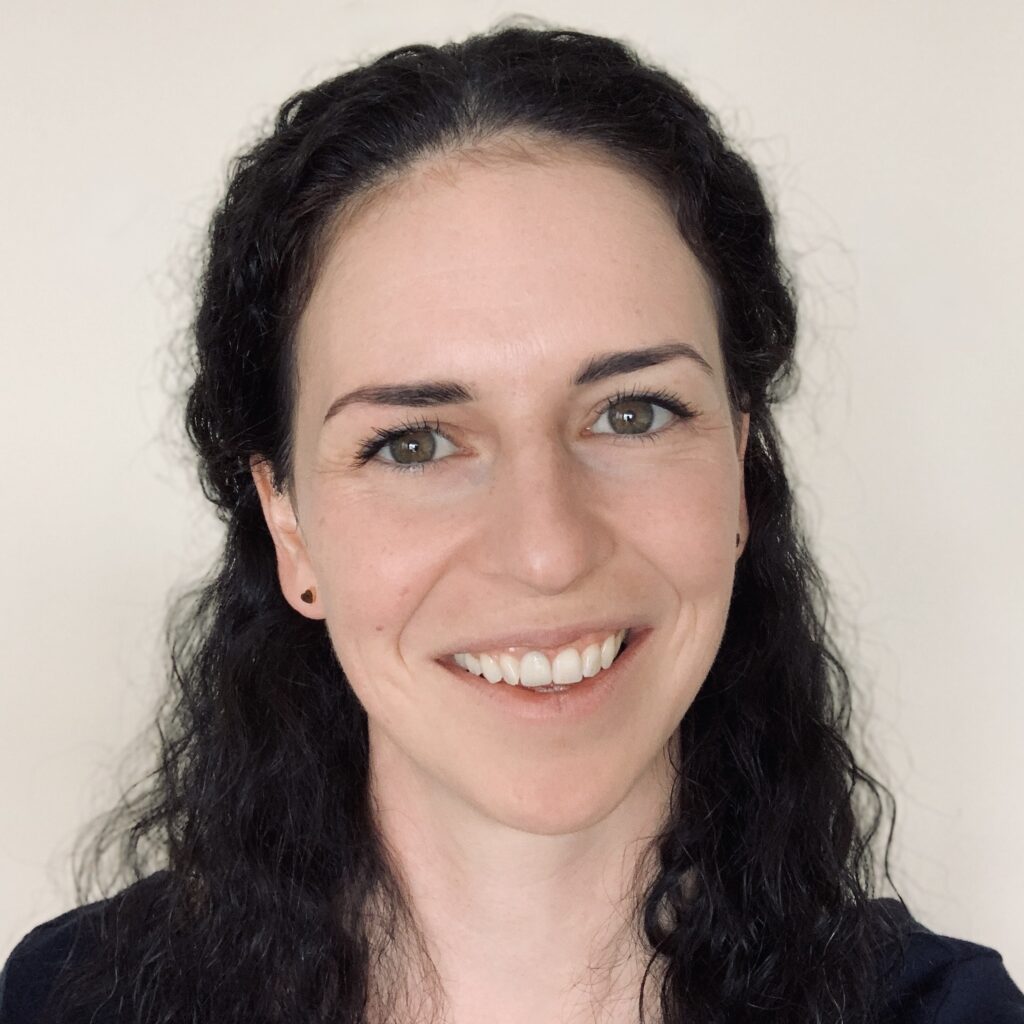 Julie Nutini, Geospatial Scientist SAR Specialist, works with a type of imaging instrument that can see through clouds. Julie liked to figure skate as a kid and played trombone and field hockey. Her favorite subject was math. She put a lot of pressure on herself to succeed and in her senior year thought about going into the trades to avoid focusing too rigidly on her grades. She ended up going to university, where she had to choose between microbiology and an advanced math course, and originally set her sights on teaching math at university. She got a master's degree in Math and PhD in Computer Science. In her STEM career, she has gotten to travel all over the world, and found that this was her dream career that she never knew existed. There is no one right path to STEM, but Julie recommends following what you love.
Shu Liu, Accountant, calculates transactions to make sure the business is running as planned. She grew up in China, and didn't have opportunities to choose specific courses in middle school or high school. She was heavily influenced by her parents' idea that accounting was a good field for girls. Her favorite classes were focused on the sciences and she wonders what would have happened if she'd focused on this area, but she has fortunately found that there are many paths in accounting. She is working on coding right now, learning another language just like when she learned English, to help automate some of her work. She encourages students to find their passion and not be too swayed by the opinions of others.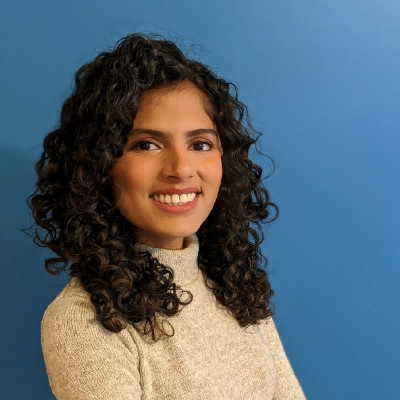 Bhavi Jagatia, Astrodynamics Engineer, remembers reading about the moon landing with her dad when she was four years old. She wanted to be an astronaut and made a journal of clippings about space travel. She grew up in a small orthodox community in India and didn't see opportunities for women in STEM, but her parents encouraged her interest in space exploration, thinking she would grow out of it. She didn't, and decided to go to college in the United States, earning a full ride to Cornell. She thought this would be her big break, but she had to learn new ways of learning, how to interview, and more cross-cultural communication skills. She applied to Planet four years in a row and then got an internship that has now turned into a full-time job. She now works on Planet's satellites. Bhavi passed on the advice she learned from her grandfather—keep pushing to do what you love.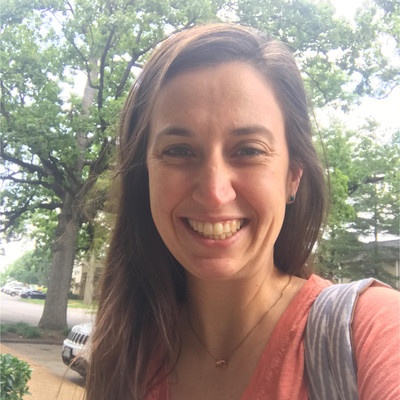 Valerie Houseman, Geospatial Big Data Software Engineer, works with locations on the Earth, and supports the software to run hundreds of thousands of times a day to answer different questions. She corrects how the satellites aim, and keeps an orange on her desk to help herself visualize the Earth. She didn't have a lot of computer access at home, but when her high school assigned her to learn a brand new school, she focused on computer programming. They didn't think she would like it but she did, and she kept thinking of how to solve problems in her day-to-day life. She was often the only woman in classes with 30 young men, but didn't mind because everyone had a lot in common and similar interests. She got interested in big data through genomics, which also involves taking huge amounts of data and making sense of it. She advises students to remember all the things they have already learned and mastered that used to be hard, and to surround themselves with people who care about the same things they do.
After learning a bit about each panelist, students asked them a variety of questions.
Who inspired you on your journey?
Bhavi highlighted the first Indian female astronaut, Kalpana Chawla, who passed away in the Columbia disaster. Chawla also moved to the US from India and made her career here.
Julie said, "My dad!" He failed out of his first year of university, but went back and persevered. He would have enjoyed grad school too, and she took the path he wasn't able to take. 
Valerie mentioned a co-worker named Jenny, who introduced her to other women in the field. Valerie now tries to make connections for others.
Shu has had wonderful mentors at different companies who gave her new experiences and challenges. 
Did you ever deal with a man telling you that you couldn't do something because you're a woman?
Shu had to choose a major before college. She wanted to study geography, but her parents told her that wasn't suitable for a girl. Now as an adult, she feels she doesn't have to listen to her parents that way!
Julie has experienced being treated differently from male colleagues, including by instructors. It's important to be aware of external biases, and to bring a lot of strength from within.
Valerie had to remember who she was instead of who others thought she was. In college, she had some professors who said, "guys and Val" when addressing the class, and she felt unnecessarily singled out.
Bhavi explained that, in her experience, rarely do men actually say explicitly that you can't do something—it's more sly in the way they make you feel. She started out in mechanical engineering with big machinery, when boys would not let her get time on the machines and would encourage her to plan or present. She asked a lot of questions to get them to admit their biases and give her equal learning and practice time.
If you could go back in time and tell your past self something or change something, what would you do?
Shu would try to talk to more people to learn about more possibilities for her future. Parents and teachers might have limited experience; she would have liked to attend events like this one to learn more possible future paths for herself.
Julie was so focused on grades in high school and university, and wishes she had not focused so much on those numbers and been more open to expanding knowledge and learning things in different ways. University is a great time to explore many possibilities.
Valerie said that spending time with people is a great way to get where you want to go, to build relationships and not just focus on what you can do alone. She didn't know she would end up in this particular role, and would have liked to be more open to all opportunities.
Bhavi said that it's a process to not let herself be defined by grades, career, awards, or papers. She's done all these things and she's also become a whole person in the process, with an interest in art and wonderful friends and community. 
What's an embarrassing mistake you've made at work?
Bhavi shared that this is her first real job outside of internships. She hasn't been made to feel embarrassed by mistakes—Planet recognizes that things go wrong and people make mistakes.
She broke the system that helps decide which imaging requests to take during an update; she worked with her manager to fix that issue and, despite being worried she would be fired, she learned that her manager had broken the same system during his first week on the job.
Julie said that coding or programming is an opportunity to make mistakes repeatedly, and learn how to fix them. 
Valerie made a "rookie mistake" after ten years on the job. One major rule is to not push programming changes on a Friday, and she paused data collection and publishing for several days, but everyone was very calm about it and just encouraged her to fix it as soon as feasible.
Shu once sent a client a balance sheet that wasn't balanced. She realized the mistake and corrected it for the very understanding client, and then instituted changes to avoid repeating that mistake.
Lightning round! Panelists shared their last piece of advice.
Valerie: Stick with what you geek out about because when it's hard you'll still be doing what you love. When you get somewhere, don't question if you should be there, but roll with it and do the best you can.
Shu: Get out of your comfort zone. If the worst that can happen is that you make an error, that's not so bad!
Bhavi: Do the best you can from where you are.
Julie: Your best is different from everyone else's best. It's about your journey and not what someone else has done five times. There are so many possibilities and you could end up anywhere. Finally, take care of your mental health—this is really important.
Thank you to Facilitator Karra Batcheller, Lead Planet Volunteer Sara Safavi, Tech Host Desmond Wareham, and Panelists Julie Nutini, Shu Liu, Bhavi Jagatia, and Valerie Houseman for contributing their time and energy to make this panel come to life!