On January 25, 2022, girls and nonbinary students in grades 7-11 from West Valley Innovation Center, Hazen High School, Why Not You Academy, and Archbishop Murphy High School in Washington joined volunteers from the Seattle Children's Information Technology team to learn more about IT career pathways.
Facilitator Kathleen Nguyen, Director, IT Clinical Communications, welcomed attendees to the panel and shared with students how important STEM is beyond what we may think of first when envisioning a hospital setting. Not everyone at Seattle Children's Hospital is a medical professional, and many work in technology to support groundbreaking health care.
Students shared what they thought IT workers in health care do, including working with people, solving complex problems, inventing things, and leading large teams.
After this introduction, the Panelists shared about their STEM journeys.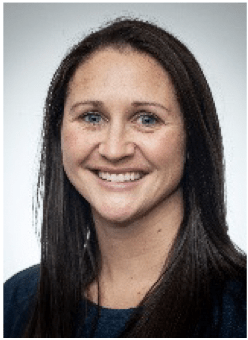 Kalisa Beyer, Principal Trainer, played sports including volleyball and soccer when she was in school. Athletics helped her gain skills that were applicable in many other areas. She studied as much science as she could despite not having access to many courses. She took with her the lessons she had learned from sports to persevere and not give up, even though she did not get into the computer science pathway she wanted on her first or second tries. She kept at it and now trains others via eLearning.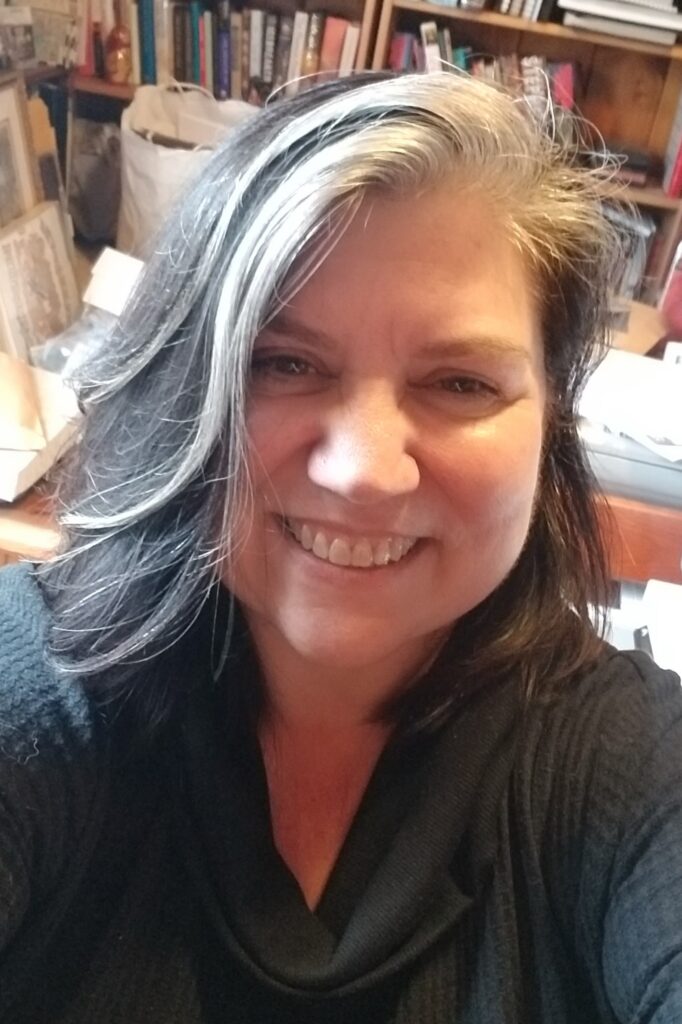 Dawn Owen-Kerins, Network and Voice Services Manager, is responsible for the network and voice infrastructure and manages 19 engineers across four states, all but two of whom are men. In high school, she took science and art classes to exercise her creativity and ended up finding her current interests. After high school, Dawn went to a community college where she stumbled on a class in C++ programming, which led her into the path of her current career, which she loves. Dawn would encourage students to be curious and take classes that expand their horizons. She would like to interview some IGNITE students to join her team in a few years!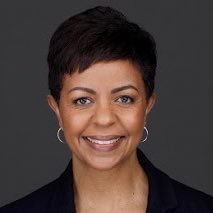 Tina Smith, Associate Vice President and Chief Applications Officer, partners with many of the other panelists to deliver technology solutions for the workforce, patients and families. In high school, she enjoyed playing video games like Atari and Frogger, and played basketball. She started her exploration of STEM with an elective computer class, majored in technology, and then studied business. She wants to pay forward the excitement and encouragement of educators who supported her success. She emphasizes that even if students don't end up working on computers, studying STEM can help with careers in fields as different as mechanics or fashion, as well as in so many other areas of life.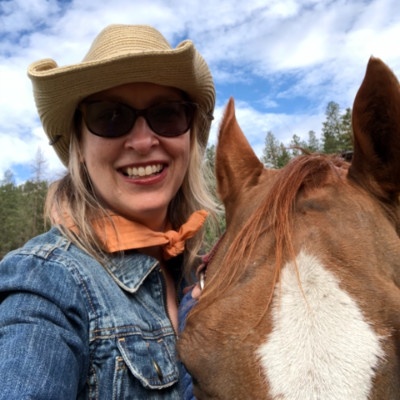 Pat Velasquez, Senior Sharepoint Developer, grew up in a small town in Kitsap County. She was so interested in coding that she studied it for weeks over a school break and, when she got back to school, the teacher said she knew more than he did. Regardless of her natural aptitude and ambition, she knew that she would have to save up to attend college. Her first SAT scores were not strong enough because she didn't take the test under ideal conditions, but she knew she could not afford to retake the test, so she started at a community college to prepare to transfer. She had one pathway from community college to computer science, and was the only woman in her program, so she started making a community for herself. It took her about six months to find her first job after graduating, but she knows from her daughter's experience that hiring timelines are much faster now.
Susan Yu, Clinical Systems Analyst, designs and builds electronic healthcare systems. After her grandmother had a stroke, Susan saw the impact of the healthcare system in her own family and decided to major in nursing, never imagining how this career might intersect with technology. She experienced common difficulties with charting and wanted to improve this process for fellow nurses, which led to her current position. She advises students to bolster their STEM skills now, as they can apply to so many other areas.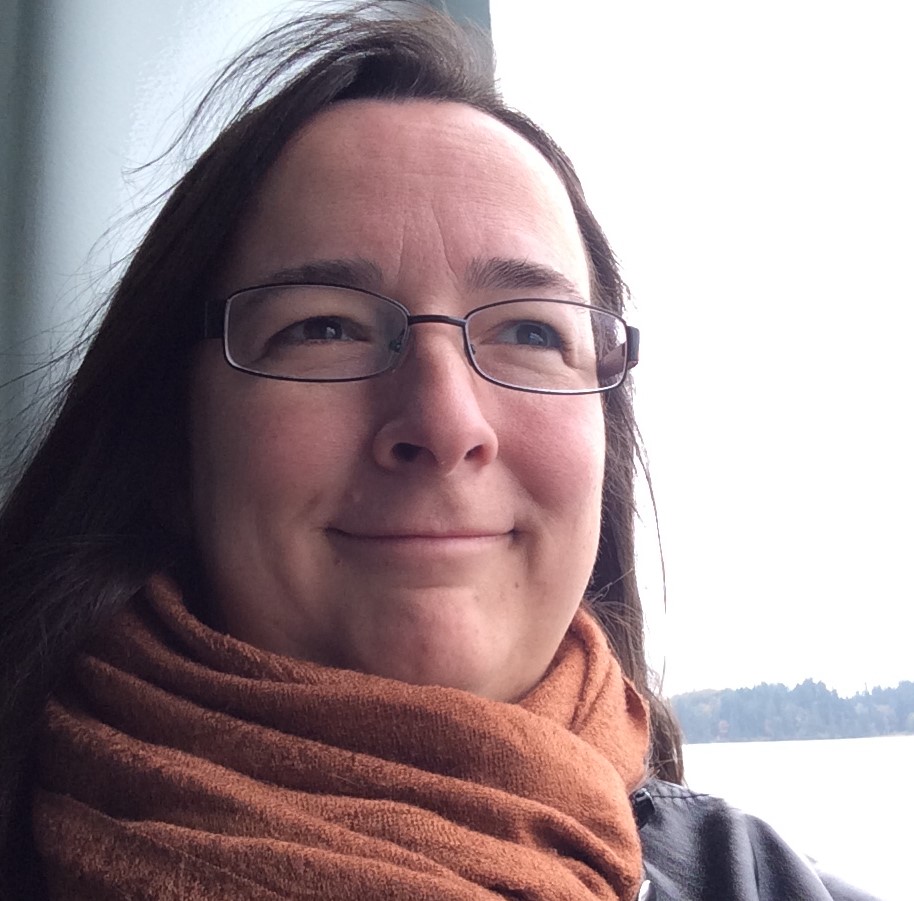 Stephanie Zimmerman, Information Technology Program Manager, oversees the security of healthcare records. She shared that healthcare records are even more valuable on the black market than financial records are! Between sixth grade and sophomore year, Stephanie and her mom experienced a great deal of financial insecurity, leading to Stephanie attending more than five different schools in that time. While you might think that would put her at an educational disadvantage, the experience actually set her up for success in technology, as learning to let go of the past and pivot on a dime is essential in the constantly evolving STEM fields. Nothing she works on today existed when she was in high school, or even five years ago. Therefore, she recommends embracing one of Seattle Children's core values to be relentlessly curious.
Students then asked the Panelists questions including:
What are your thoughts on trade schools? Trade schools can be very targeted and prepare students for particular fields, which can be very attractive to people hiring. This is great if you know what field you want to enter! If you aren't certain, more general education at community colleges or public universities can be very helpful in narrowing your focus. Where you get your degree matters less these days than your training—and you have the ability to change your direction if you discover that your original ambition no longer fits.
What classes can I take right now to get started? There are free courses online through Harvard and Coursera. It's also important to take advantage of your math classes right now to help expand your brain, and pay attention in your English classes too because you need to communicate no matter what your career. Talk to your teachers about class options—they are there to help you get the most out of your education.
What kind of degrees does your job require? Most panelists have Associate's and Bachelor's degrees, but the first requirement is a high school diploma. Many degree programs can lead to STEM jobs, and you can narrow down your training as you get closer to your chosen career.
What does a day in your job look like? A lot of meetings, a lot of customer support, and creating code or training exercises. Even while working from home over the past two years, everyone at Seattle Children's Hospital has had lots of opportunities to collaborate with others.
What can I do now to learn more about my career options? Your options are actually unlimited! Volunteering is a great way to learn about needs in your community and creatively apply your skills. Talk with your teachers and counselors about ways to support you. Research companies and attend events that seem interesting to you.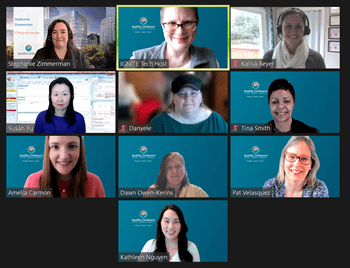 Lightning round—what do you wish you had known at the students' age?
Kalisa: Be curious and don't limit yourself to one thing early on. Make sure that you're taking as many classes/programs as you can now—they'll continue to help you learn later on.
Dawn: Be relentlessly curious. Take whatever class interests you, and don't be surprised that you may be able to pull that back into what interests you later.
Tina: Ask more questions, and lean on other people for help.
Pat: Know that you're going to make mistakes, and what matters is how you handle them and come back from them.
Susan: You're going to have things happen in life that you have no control over. You have sole control over how you think and how you react to the situation. How you view a situation can affect how things turn out.
Stephanie: Don't be afraid to pivot. What you find interesting right now might not be what you want to do for the rest of your life, but try to hold onto the joy and wonder we were all born with.
Thank you to all the volunteers who made this event possible, including Amelia Carmon, Katie Scaff, Facilitator Kathleen Nguyen, Tech Hosts Rebekah Luce and Danyele Wilson, and Panelists Stephanie Zimmerman, Susan Yu, Pat Velasquez, Tina Smith, Dawn Owen-Kerins, and Kalisa Beyer!
After attending this event:
Here's what the students thought of the event:
"It was inspiring to see and know that you don't have to have everything planned out and you don't necessarily need to go to a 'big name' college to get a job in STEM. I like how the volunteers gave us insight into their personal process of getting into their field because it made their situations more relatable to my own and made the STEM field feel achievable." – 11th grade

"I really liked how the presenters showed how they all had very different experiences with schooling/majors/etc and still ended up in STEM, and with a job they enjoy. It gives me hope that even if I make some wrong choices or go down a career path and I change my mind later on, I can still turn that around." – 10th grade

"I really like listening to people like me actually in the field and what they do/their journey. It really helped me broaden my horizons and I saw all the different possibilities and things that are accessible. They also inspired me to be curious and talked about life lessons that come along the way. You inspired me a lot and I hope to pursue something in the healthcare (IT) field." – 9th grade

"I liked hearing what everyone had to say about their careers. It inspired me to hear that there are many jobs that have STEM and are in the medical field." – 7th grade

"Today's event inspired me to go out of my comfort zone. After hearing the speakers' stories, I know that if I put my mind to it I will be able to take these career paths as well. I would like to thank them for devoting their time. After listening to them, I now understand the importance of STEM and IT." – 9th grade

"It inspired me to look more into the STEM field." – 8th grade

"Today I was inspired because not many women or nonbinary people are in this field. Hearing people's stories about their life struggles inspired me." -9th grade

"Today's event helped inspire me to understand my career pathway, and to have more confidence in my choices." – 9th grade

"It gave me more inspiration from how different each story was, especially after we asked more questions." – 8th grade

"It's great to hear other people's life stories and know that they had a great opportunity. It's amazing that they are here today talking to us about STEM. I saw STEM posters everywhere but I didn't know what it was. Now I have a good idea about it." – 9th grade

"I love that I got to ask questions and received helpful answers that my parents won't provide. I am very thankful that you answered my questions and gave me ways and resources to use to improve my pathway with STEM. " – 8th grade

"It was inspiring hearing people's stories and how hard it was to get their jobs but they still persevered anyway." – 7th grade

"It inspired me to consider a job in STEM. Thank you for telling us about your careers." – 8th grade

"Today's event inspired me because of all of the stories about how some of the women didn't do well at school, and how they now love their jobs being able to help people." – 10th grade

"This inspired me to try out things that interest me. Thank you for telling me your story." – 9th grade

"It inspired me to keep going on with my dreams. Thank you for your time today." – 7th grade

"It inspired me to not give up and to try things out of your comfort zone. Thank you for sharing your experiences with all of us. I am so grateful that I got this opportunity." – 7th grade

"It was cool to hear everyone's stories and their perspective on how jobs are changing." – 9th grade