On January 19, 2022, IGNITE Worldwide hosted a virtual panel of five women in computer science for students at the University of Vermont Computer Science Club, University of Washington, and Hazen High School in Renton, Washington. The girls and nonbinary students learned all about the importance of STEM careers, while also discovering that these careers are accessible to anyone with the right mindset. They also had the opportunity to share their dream jobs and discover how STEM ties into all these careers.
The students learned about the critical underrepresentation of female voices in technical careers, as well as the numerous ways STEM skills can be applied to any career. Furthermore, the team illustrated the benefits of STEM careers, such as meaningful problem solving, exceptional job satisfaction, and robust financial compensation.
Following the background presentation, each panelist had the opportunity to introduce herself, explain her story, and provide some advice to the students.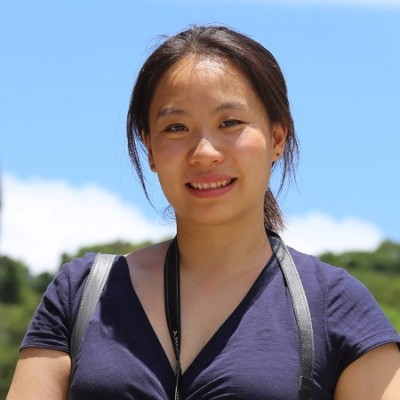 Qian Wan, Robotics & AI Research Engineer at Nvidia, described her experience building virtual environments to train robots. Her father is an electrical engineer, and she did exceptionally well in high school. However, she overcame multiple challenges in university, including health issues and a change in college major. She worked incredibly hard at her first science job, and now has a very fulfilling job working with robotics.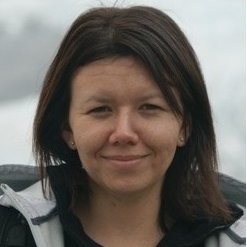 Viktoria Garner, Lead Software Engineer at REI, leads a team of programmers who work on the REI website. She advises that Computer Science graduates have great flexibility in their career, and suggests you choose a job you are passionate about. She originally wanted to be a dancer but enjoyed programming so much she decided to enter a STEM career. Although she was intimidated by the small proportion of women in her robotics class, she led her team to victory in several competitions. She loves her current job at REI.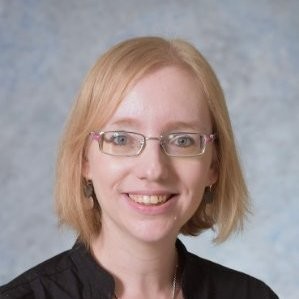 Maya Livshits, a Software Engineer at Intuit, did not initially have many STEM role models and was apprehensive about computer programming, but very skilled at art, especially painting. While studying Industrial Design at college, she became dissatisfied with the curriculum and chose to study mechanical engineering to facilitate a career designing toys. However, she really enjoyed the STEM courses that had earlier intimidated her and achieved a PhD in mechanical engineering. Her favorite part of her job is the challenging problems she gets to help solve every day.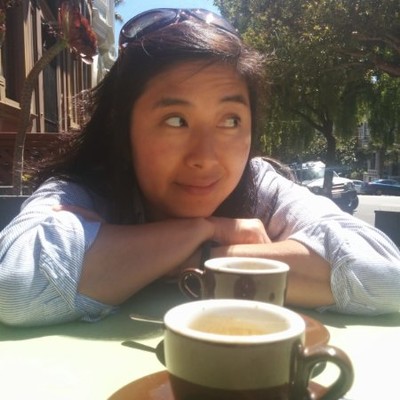 Monica Caraway, a UX Researcher at Google, was initially relatively uninformed about potential STEM career paths. She described her experience with a large variety of past jobs, such as translation, teaching English in Germany, taxonomy, and graphic design. She presents proposals of ways to improve the user experience to stakeholders at Google, and brings art into her methods to make Google products visually appealing.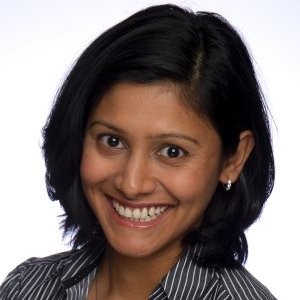 Kavita Krishnan Kamani, the Partner Director of PM at Microsoft, works with customers to improve manufacturing, design, and shipping of electronic devices. While growing up in India, she was expected to become a doctor or engineer. She decided she was too squeamish to be a doctor, so computer science was her career of choice. Fortunately, she was excited by the material and has a job she loves while engaging in mountaineering, hiking, and other outdoor activities for fun. She advises the students not to make unfavorable comparisons with other people, instead focusing on their own personal growth.
After the panel finished discussing their lives, the students were able to pose questions to each member on a variety of topics, such as:
What advice would you give to business students looking to enter the STEM field? Kavita recommends everyone take opportunities as they come and perform outstanding work, in order to cultivate a positive network of professional connections. Also, one should be open to learn, even from people less advanced in their career.
How important are internships to help get a job after college? Internships are extremely important not only because they provide work experience but also often recruit directly into the company. However, one can substitute for an internship through other work if none is available or one is unlucky in the application process.
What advice do you have on interviews for internships? Technical background is far less important than a willingness to work hard and learn new skills. They are looking for proof that you are passionate about some topic and channel that energy effectively.
What if you think STEM is just too hard? It's necessary to have a growth mindset (i.e. a willingness to learn from mistakes) and take small, easily achievable steps towards the wider goal. Also, STEM is an incredibly broad field, so one should take the time to explore opportunities before writing everything off as "too hard."
How should you choose what jobs to apply to? Viktoria recommends selecting a company that reflects your values rather than choosing a specific role. Also, it's important to apply to a variety of different roles in order to explore options.
How have you navigated being a woman in STEM courses? When Maya studied mechanical engineering, there were only ten women and over 100 men in her program. However, she became great friends with all the women and had the good fortune to be treated well by most male students. Also, don't blame yourself for other people's unconscious biases or let them impact your self-esteem.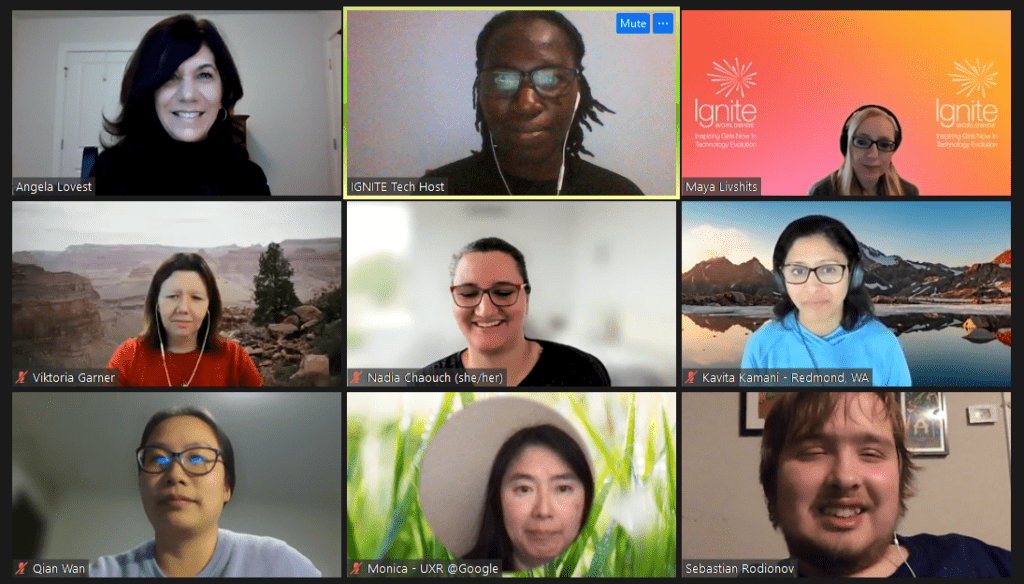 To wrap up the event, each panelist gave one last piece of advice.
Qian: Don't be afraid to pursue opportunities, always work hard, and be nice to people.
Victoria: Take advantage of STEM conferences.
Maya: Work hard and go with the flow.
Monica: Start small and learn while doing work.
Kavita: If you're sad about something, ask yourself if it will matter years into the future.
Thank you so much to Panelists Qian Wan, Viktoria Garner, Kavita Krishnan Kamani, Maya Livshits, and Monica Caraway, Tech Host Chiluba Fungo, Facilitator Angela Lovest, and Blogger Sebastian Rodionov for making this virtual panel possible!
After attending this event:
Here's what the students thought of the event:
"Half the time I feel like I am flying in blind so it was wonderful hearing other women in STEM talk about their experience and how they got involved in STEM." – College Sophomore

"Today's event inspired me by learning about all of the amazing career paths that these women have been through. I also really enjoyed learning about how they dealt with being in such a male-dominated industry. Thank you so much for helping us organize this event." – College Sophomore

"I came to know that going out of my way to invest in my passion can get me forward towards my dream career. Thank you so much for inspiring me!" – Graduate Student

"I enjoyed learning about everyone's different experiences and their suggestions. It was inspiring to hear how the panelists worked through challenges. ​​Thank you so much for taking the time to share your experiences!" – College Sophomore

"It is motivating to hear about the experiences of people who have done what I am doing now! It was also inspiring to know that the opportunities are out there, and that STEM is so in-demand. Thank you for meeting with us. I was particularly grateful for a book recommendation, and would like to communicate that it makes it easier to study all day and night knowing that good outcomes and jobs are possible!" – College Senior

"I recently changed my major to computer science. I was unaware of the opportunities there were for me, but this event showed me all the jobs and experiences out there for me. Thanks so much for your time, although it was short I learned a lot more today and it was really awesome to see so many women in STEM." – College Sophomore

"It is inspiring to know that technical skills aren't necessary, mainly passion is. Thank you so much for your time!" – College Junior

"I am excited to pursue STEM and Business in college and will look for an internship. Thank you so much for sharing your experience. Your insight helped me feel more comfortable with my choice to study STEM and Business." – 12th grade

"Seeing successful women in STEM and their shared experience was inspiring. Thank you for being in the conference today. It really helped me be hopeful about my future in STEM." – College Sophomore

"I was inspired to be more confident and ask questions in my internship interviews. Thank you for taking the time. Really appreciate it!" – Graduate Student

"I was inspired to pursue a variety of CS opportunities." – College Sophomore