On March 3, 2022, IGNITE Worldwide welcomed Northeast Guilford High School in McLeansville, NC for a Virtual Artificial Intelligence Workshop with Afiniti!
Nataliya Dragoman, Manager of Early Careers & Communities at Afiniti, welcomed the students and asked if anyone had ever needed to talk to a customer service agent. Customer service issues are very common, and Afiniti works to make those interactions more helpful by using more than 100 pieces of data to pair each customer with a representative who can most effectively assist them. That data analysis and pairing happens in less than a second! 
Nataliya said that all sorts of different interests and skill sets are involved in STEM and help companies like Afiniti do important work. She then introduced three panelists to share about themselves and their jobs: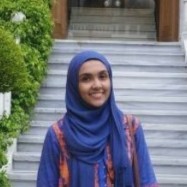 Tayyaba Ayub, Associate Director, Data Science in the Artificial Intelligence team at Afiniti uses data to build systems that increase productivity and revenue. Data science is one of the most lucrative fields available today, but Tayyaba didn't even know it existed when she was entering the workforce 8 years ago! She studied engineering and was just a mediocre student, and she struggled in some of her classes. Tayyaba found her path when companies, including Afiniti, reached out to students looking for those with a knack for math. She stressed that it's okay to not get perfect grades. Tayyaba loves her job and has traveled to 7 countries for work!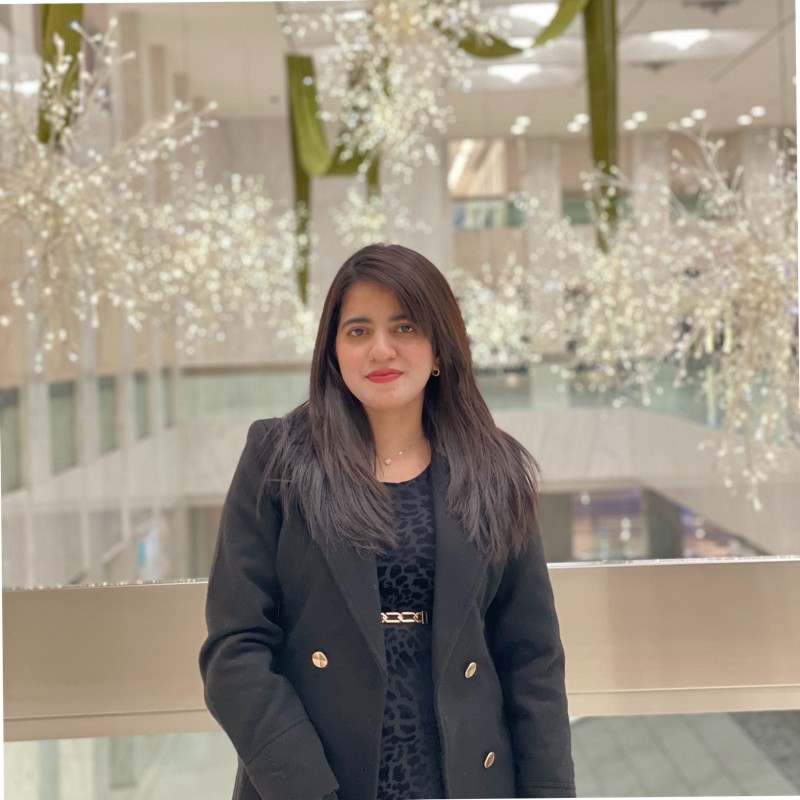 Zoya Shahid, Lead Data Engineer, is responsible for collecting data and transforming it into a meaningful form. She showed off an award she received for her work. Zoya said STEM is a great option for everyone because you do meaningful work that helps people all around the world. STEM gives you strength!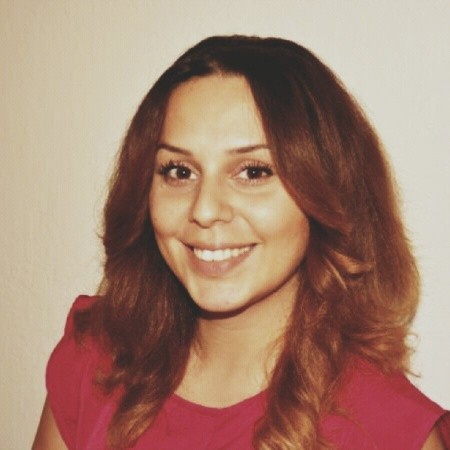 Yeliz Ustabas is a Principal Product Manager, which means she helps guide teams in creating products. She liked STEM growing up but had a lot of interests and didn't know what she wanted to do. She took business classes and pursued coding as a hobby, and both elements inform her current job; though she focuses on the business side of STEM, technical knowledge helps her connect with engineers. Yeliz still has a lot of interests, including illustration, which she discovered through designing wireframes!
Students then got a chance to experience AI firsthand through a series of games where the computer "learns" as you play, recognizing image classes (like cats or dogs), identifying an object you're drawing, or competing in rock, paper, scissors. Students were challenged to try to beat the computer in rock, paper, scissors, and a few succeeded! The volunteers explained that the more you play, the more difficult it is to win because the computer AI collects more and more data on the patterns we all inherently use.
Throughout the event, students asked a lot of insightful questions about STEM and AI:
What classes should I take to learn more about technology and engineering? Volunteers recommended classes related to coding, engineering, math skills, or any foundational STEM skills–it may not seem useful now, but it all comes together when you get a job!
What benefits can AI have in music? AI can collect data based on what you listen to and make recommendations, or even "learn" your favorite genre so that's what you hear when you're put on hold on a phone call. AI can also help people create or mix music, such as learning a composer's patterns. It can impact the whole spectrum from creation to how we consume music!
Does AI involve robots? It often does! Robots appear to "think like humans," but it's really just a bunch of rules (do this, do that) and teaching conditions (if this happens, do this…), and eventually the robots "learn" and "act human" as they get more rules and conditions to guide their actions in different situations. Nataliya once interacted with a robot in Japan that was a company receptionist, and Zoya saw robot waiters at a restaurant! A new use for robots is delivering packages. To do that successfully they need to learn how to walk, turn, get up when they fall down, etc, always building on prior knowledge.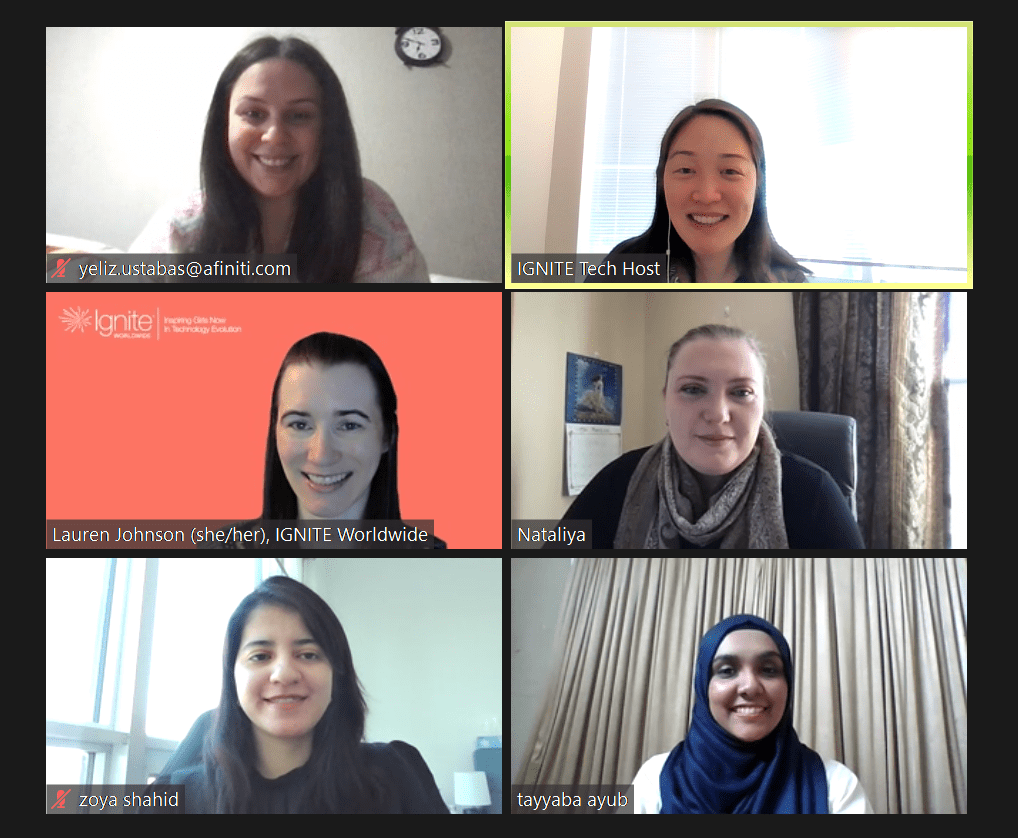 What areas can AI be used in? AI can be used in numerous fields, such as:
Medical science – detecting cancer and other illnesses
Facial recognition – like you use to unlock your iPhone
Smart cars and cars that "learn" your route to work.
Alexa and other smart devices, doing things like automatically adjusting the temperature based on the user's preferences
Art – recognizing patterns and colors
How did you start in AI?
Zoya didn't like STEM classes initially, but she got encouragement in a science class and started understanding it and getting interested when she saw how wide-ranging it was.
Yeliz knew she loved organizing school projects, which led her to the business side of STEM. She started working with AI companies and loved it! More opportunities help you refine your interests.
Tayyaba enjoys looking at patterns in data. In her current job she identifies patterns and feeds them into the model. The model uses code, but she doesn't write the code.
The big takeaway from the discussion was that AI is everywhere! It's a very broad and creative space that explores how people develop themselves and how we learn. There are hard tech skills like coding involved, but also lots of creativity!
The event concluded with a lightning round where the volunteers each shared one final piece of advice:
Yeliz – math is so involved in work and life!
Tayyaba – the bullies don't succeed; working hard pays off
Zoya – I wish I knew the importance of STEM and explored STEM classes
Tech Host Julie – doing well in school pays off, but it's also important to explore and find out what you like. The best jobs are the ones where you like it, you're good at it, and it's useful.
Thank you to Northeast Guilford High School for participating in the great discussion! And a big thank you to the Afiniti volunteers who made this event possible: Tech Host Julie Kim, Facilitator Nataliya Dragoman, and panelists/breakout room leaders Tayyaba Ayub, Zoya Shahid, and Yeliz Ustabas.
After attending this event:
Here's what the students thought of the event:
"It showed I don't need to know what I want to do now and I have enough time to think about it, which makes it more comfortable thinking about my future." – 9th grade

"It inspired me to be a woman in STEM." – 9th grade

"I'm going to start trying to branch out and try new options in career choices." – 9th grade

"There aren't a lot of women who work in STEM so I want to be one." – 9th grade

"It inspired me to go into STEM." – 10th grade