On March 1, 2022, 90 girls and nonbinary students at Oak Harbor High School in Oak Harbor, WA attended the school's first IGNITE event! Oak Harbor welcomed a panel of women in STEM and Skilled Trades to share about their jobs, industries, and personal backgrounds, with a goal of encouraging more girls to explore these fields.
Chris Whiteman, OHHS Engineering and Welding teacher, kicked off the event by welcoming the students and panelists. He shared that in his years of teaching STEM and trades-related classes, most of his students have been male. The importance of changing this dynamic was underscored recently when he had the pleasure of working with an all girls SkillsUSA Engineering Design team, which went on to become Washington State champions and place 7th in the nation. Mr. Whiteman wants to make sure all girls have the opportunity—and feel comfortable—participating in programs like SkillsUSA, cultivating their talents, and showing everyone what they can do!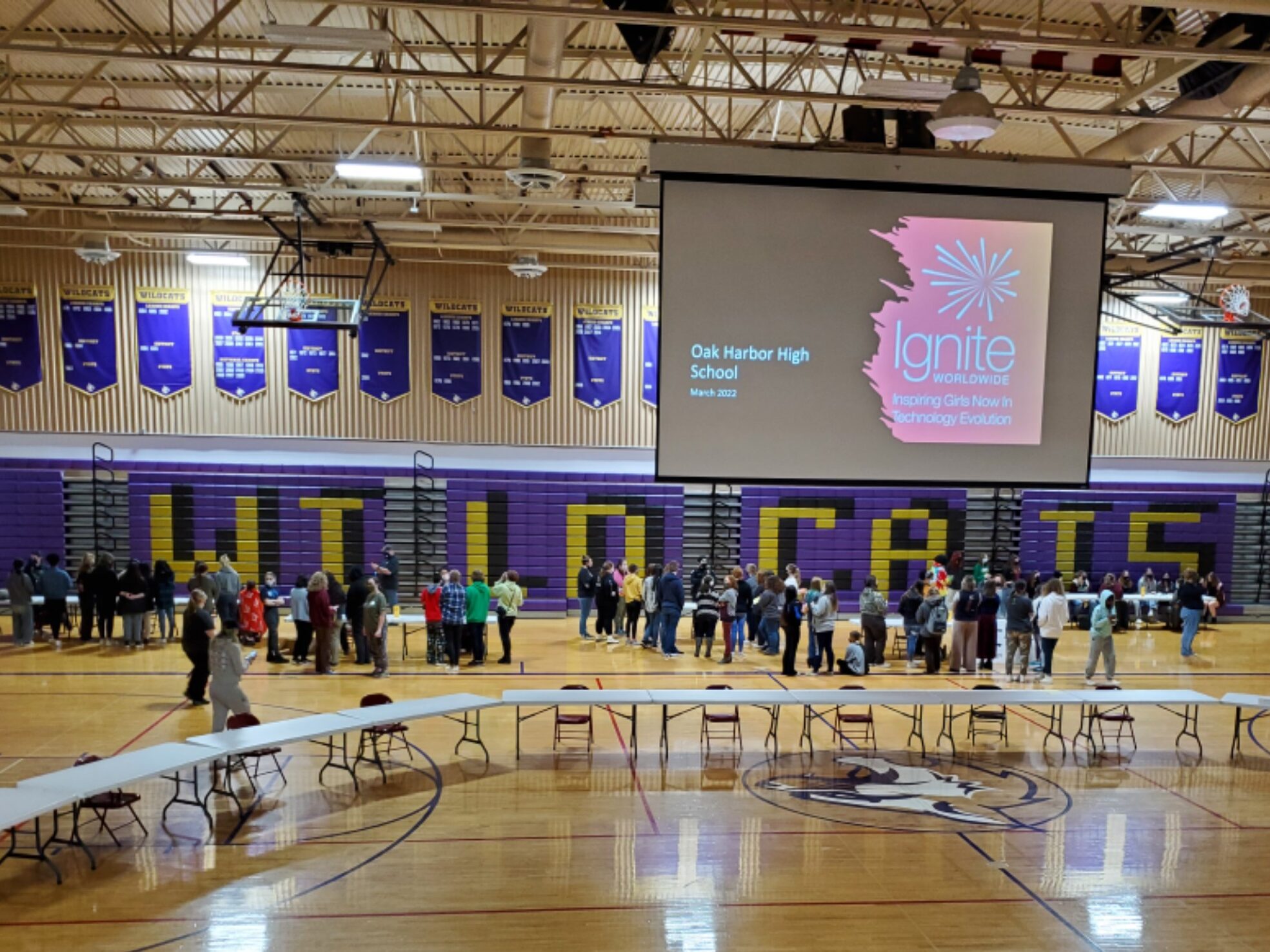 Mr. Whiteman then introduced the panelists, who represented a wide variety of STEM and trades professions:
Elizabeth Bayer – Process Engineer at Technical Services, Inc.
Melissa Gehrmann – Environmental Director at Naval Facilities Engineering Command
Angela McFarland – Powertrain Calibration Engineer at PACCAR
Kayla Meek – U.S. Navy Pilot
Susan Rogers – a Mechanical Engineer by trade who has worked as an Applied Research Engineer, Stress Analyst, Quality Engineer, and Program Manager
AJ Scelzi – Police Officer for the City of Oak Harbor
Chrissy Shuart – Shop Foreman at Washington Iron Works, Inc.
Angela Smith – IPC trainer at Technology Service Inc Systems
Heide Stefanyshyn-Piper – former NASA astronaut and retired U.S. Navy Captain
Vanessa Villa – Program Manager 2 at Microsoft
Josette Vogelman – Office Manager and Service Writer at Better Off Road
Jillian White – Embedded Systems Test Engineer at PACCAR
The panelists shared about their interests growing up, which ranged from sports to reading to math to problem solving. Most of them didn't plan on working in their current field and didn't follow a straight path to get there. Their stories made it clear that you don't need to have everything planned out, and no matter how much you do plan, sometimes life happens! It's important to find a well-paying job that you enjoy. STEM/Skilled Trades jobs are also great options because they have a huge impact on society.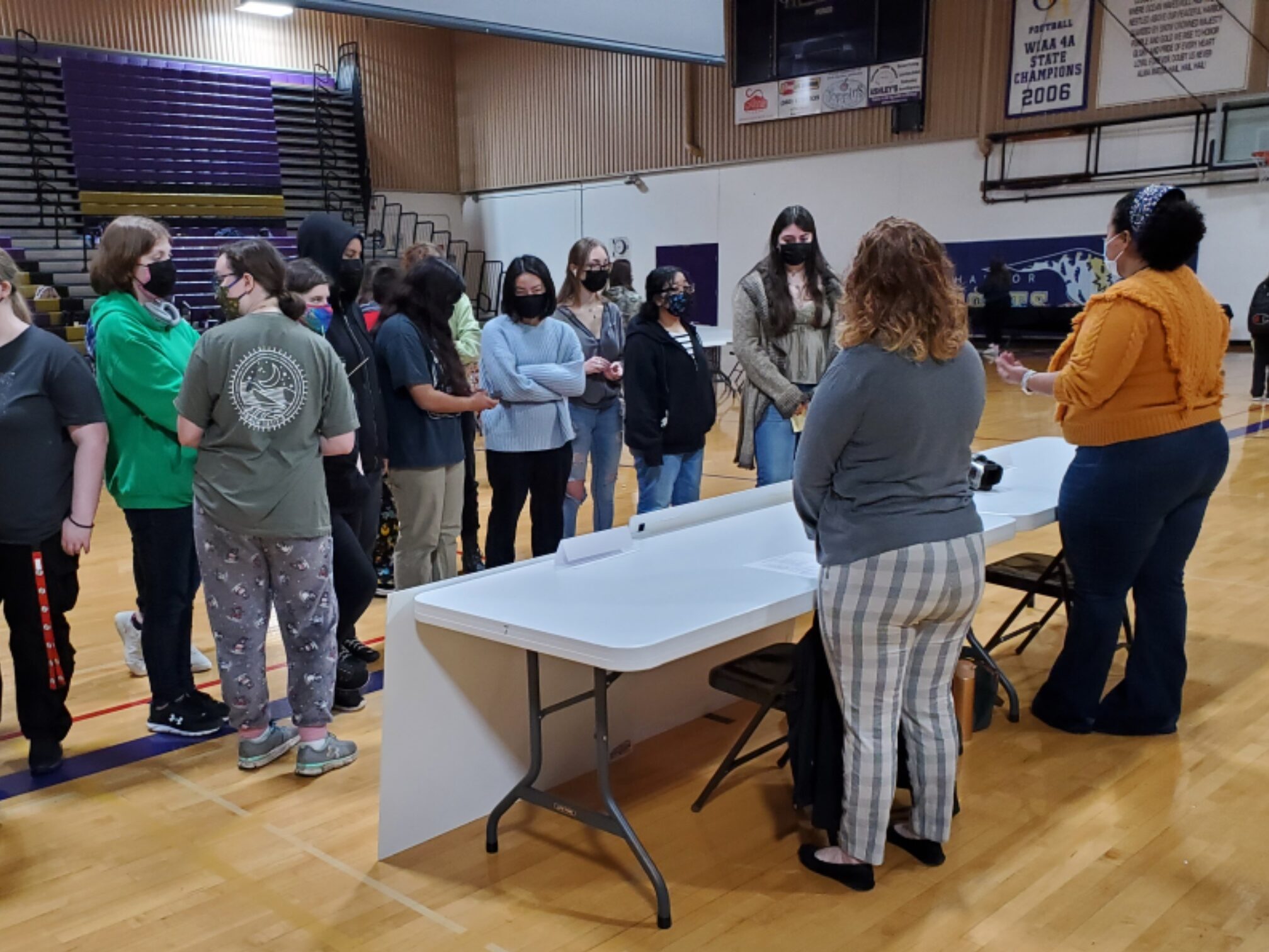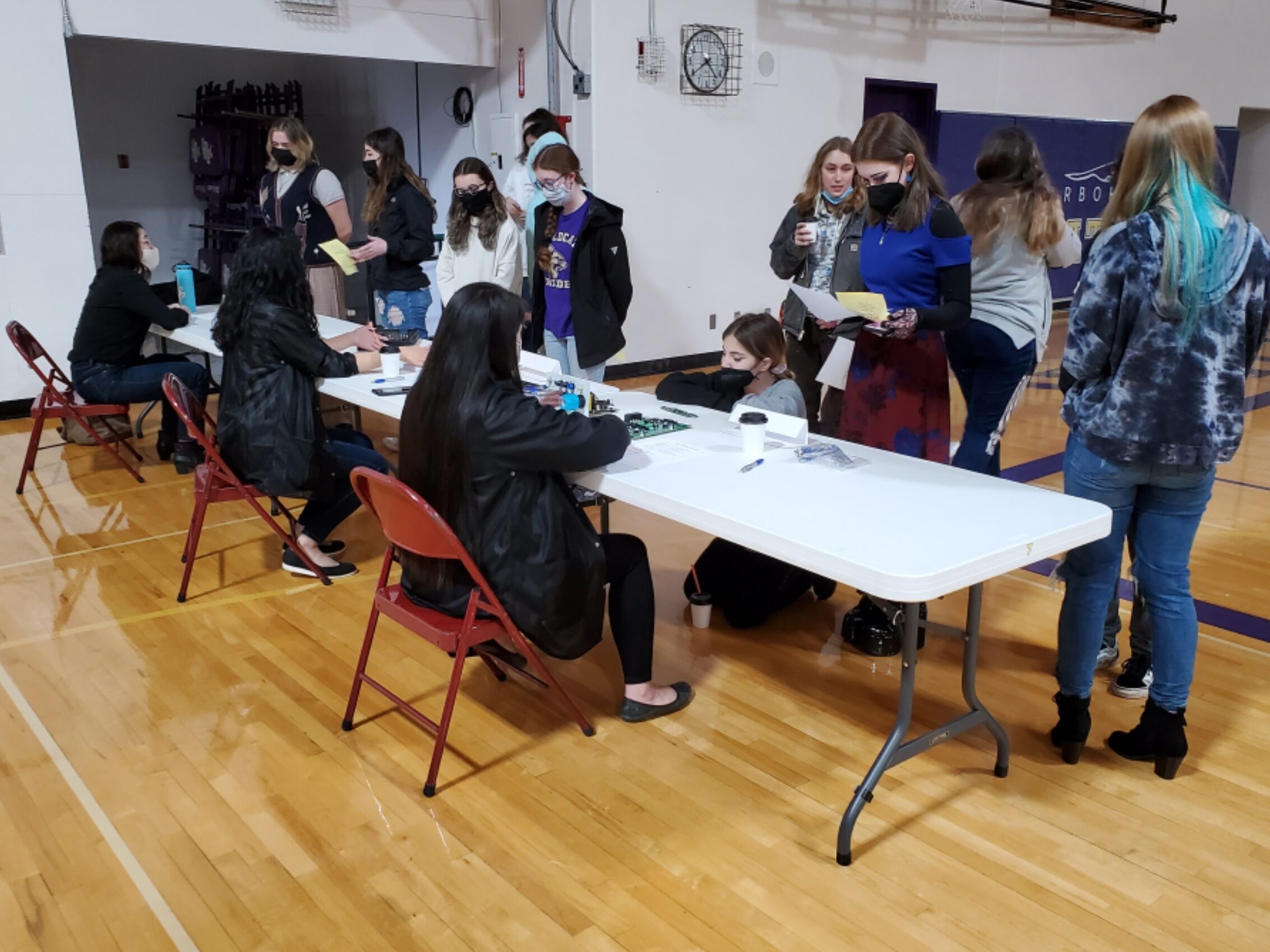 After meeting the panelists, the students got a chance to ask questions and spend more time with each speaker in breakout sessions. Student questions included:
How did you arrive at your career?
What kind of schooling or training did you have to complete?
How long have you been working at this?
It was so helpful for students to meet women in industry who have pursued similar interests, encountered similar challenges, and have worked in male-dominated environments. They showed that women can succeed in these areas just as much as men can, and it doesn't have to be weird for women to go into these areas!
Thank you to Oak Harbor High School for hosting such an incredible inaugural IGNITE event! Special thanks to teachers Chris Whiteman, Christine Kellison, and Lincoln Kelley for setting up the event, and to the amazing volunteers who shared their time and experience with OHHS students: Elizabeth Bayer, Melissa Gehrmann, Angela McFarland, Kayla Meek, Susan Rogers, AJ Scelzi, Chrissy Shuart, Angela Smith, Heide Stefanyshyn-Piper, Vanessa Villa, Josette Vogelman, and Jillian White.
After attending this event:
Here's what the students thought of the event:
"It makes me want to go and try and get more career opportunities more than sticking with one lane. I've been focused on one career, so now I will open more doors. Thank you for coming here! You made me think about other careers!" – 10th grade

"Today's event inspired me because there are so many more girls in my community interested in STEM than I thought there were. It also showed more how big the field of STEM is and what a variety of career paths there are." – 9th grade

"I saw a lot of different women in different types of careers. For some reason when speakers like that show up they seem non-human. But then we got to talk with them and it's like 'oh yeah, they're human too' because they're laughing and joking with us." – 11th grade

"It inspired me even more to get into a technical career because I got to see what they actually do. Thank you for teaching me more about the auto industry." – 10th grade

"I feel more inspired to pursue a STEM career because I know what to expect. I feel I am now aware of more options. Thanks a ton for answering questions. It really helps knowing about your experiences and fields." – 11th grade

"The women were amazing! They knew what they were talking about and were confident, so it helped soften the anxiety about going into a male-dominated field." – 12th grade

"I feel way more comfortable with being a woman in STEM. I am keeping my options open to pursue different careers." – 12th grade

"It's inspired me by helping me learn requirements. It's helped me learn the different careers and what they are like." – 9th grade

"Today's event was inspiring because now I know that even though we are women we still have the confidence to do what we want. This will help me achieve my goals now. They have inspired me to work harder and achieve my goals in life." – 9th grade

"It inspired me to see so many fearless women. It made me happy to see them so eager to talk about their jobs to us." – 10th grade

"I loved the different perspectives and demonstrations that were shown and I was super interested in all of them." – 11th grade

"It showed me that women can do well in STEM fields, especially because one of the people attending the event was in the career I'm thinking about pursuing." – 12th grade

"Today's events helped me not just pursue STEM careers, but to know more about them so that hopefully in my dream career, I can spread their success and importance, for both men and women." – 11th grade

"I felt like there were more people who understood how I feel. I also thought that it was amazing to see so many women who are doing what I am interested in doing. It made me feel like I had more support than I thought." – 12th grade

"It inspired me by being more confident in the job I want to do." – 10th grade

"I got to see a bunch of women doing jobs that I am interested in. All these women inspired me to know that even in male-dominated careers we can still kick butt and be the best at our jobs." – 11th grade

"I found that there were a lot of women who were just like me. I learned that it is possible to pursue, and even excel, in my chosen field." – 12th grade

"I found careers that I never considered or looked at that made me interested. I got to hear experiences and their steps to getting to their positions. It made me more comfortable for the future for STEM careers. They're so well spoken and they did wonderful. They answered questions well and made me aspire to be like them. " – 10th grade

"Today's event inspired me to explore more about STEM careers and consider pursuing one. I really enjoyed the experience that the volunteers provided for us students. It was very informative and helped my understanding of STEM careers." – 11th grade

"It helped give me a better understanding of the different career fields and opportunities. It gave me options and different possible paths for me to take in pursuit of whichever STEM career field I might choose." – 10th grade

"It has inspired me to be who I am and do what I love." – 12th grade

"It was cool getting to see the perspectives of people in hands-on fields of work." – 12th grade

"Today has inspired me to do what I believe in no matter what." – 10th grade

"I loved learning about the success of women in various fields." – 10th grade

"I think I know what type of college to look for. I feel more confident in my choices." – 10th grade

"It has inspired me to stay with STEM. And also gave me a lot of firsthand experience with STEM jobs." – 11th grade

"I learned a lot about the different careers I can go into. I quite enjoyed the different aspects of STEM that were showcased." – 9th grade

"There were a lot of lovely ladies that told us very inspiring things." – 10th grade