On April 12, 2022, IGNITE students from Kent School District attended a virtual field trip to T-Mobile, where they got a live tour of the Tech Experience Center!
To kick off the event, students learned that STEM is a great field to explore, because STEM jobs pay well, they are in high demand, and STEM is part of pretty much everything–from computers and phones to agriculture, medicine, and entertainment. Michelle Balatico, Senior Program Manager, shared that T-Mobile is the second-largest wireless carrier in the United States, with more than 100 million customers!
Michelle introduced the tour guides, Henry Li and Candice Boyd. Henry felt a special connection to the students as a Kent School District alum! After a quick trivia game about 5G technology, Henry and Candice showed off live demos of the tech in action and shared about real-world applications in farming and agriculture. The tour stops included:
A robotic arm sorting colored cubes. Robots can be used on farms to do things like harvesting, weeding and milking cows!
Sensors monitoring plant health that collect and upload data. This technology can be used for livestock, crops, soil, and more.
Augmented reality, where computer-generated content is superimposed on real objects—in this case, images showing how to repair a machine. AR can help farmers fix equipment problems.
Drones, which are used in agriculture to monitor, water, and fertilize crops.
In breakout rooms, the students got a chance to dive deeper into how the tech relates to real life scenarios and brainstorm ways 5G technology could help solve farming problems, like finding lost cows, keeping plants and livestock healthy, and supplementing labor when a farm is shorthanded.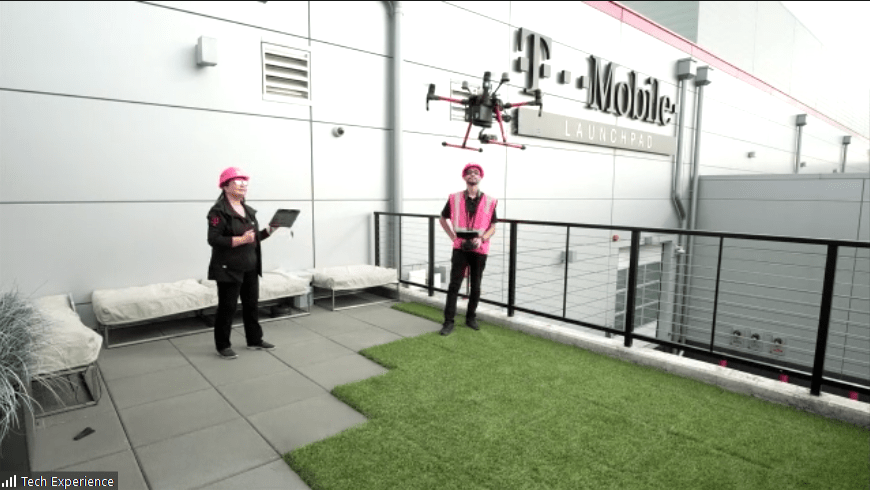 After the tour, the students got to better know Henry and Candice and also meet two other T-Mobile STEM professionals: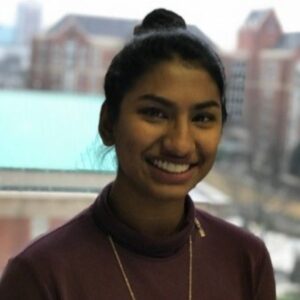 Irene Vargheese is a Product Manager for the mobile commerce team. Irene enjoys STEM because she gets bored quickly, and things are always changing in STEM so you never feel stuck. Solving problems is also satisfying! Irene's advice was to go for the opportunities you're interested in, not what you think you're "qualified" for; you are more qualified than you think!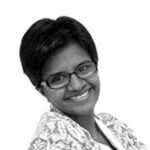 Nithya Sundar, Senior Manager, RF Deployment, is part of an engineering team based in L.A. that deploys mobile technology. Growing up, Nithya liked to build things and play with legos. She was also good at math and liked art and wanted to go into engineering because it incorporated art and design. She didn't speak English at first but worked really hard and reached out for help. Her advice was to network and learn about technology and the different jobs available.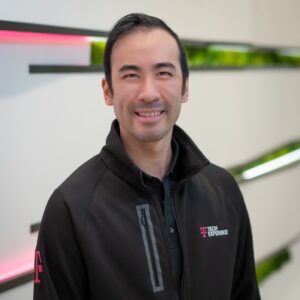 Henry Li is a Senior Network Operations Engineer and certified drone pilot! He always liked learning and became the "family IT guy." He was good at math through high school but struggled in college and had to learn to ask for help. All of Henry's siblings ultimately went into STEM but some did not go into the field until college. It's never too late or too early to start!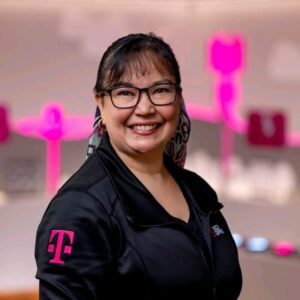 Candice Boyd, Senior Manager, Tech Experience, has been with T-Mobile for 26 years! She has always been curious and liked puzzles, and she credits teachers as mentors and helped her find her interests. She now runs Tech Experience operations!
Students asked the volunteers a lot of great questions, including:
What are hard/soft skills that are helpful to learn? Volunteers recommended programming languages, Excel, communication and presentation skills, and problem solving and teamwork. Being able to "pivot" language depending on who you're speaking to to get what you need (like engineers) is very valuable!
How do I prepare for a job interview? You can look up common questions online and even watch YouTube videos of other people interviewing. Talk about being involved in projects and use examples so interviewers can see how you solve problems. Study the topic you're pursuing, find a mentor, and remember that interviews are also a chance for YOU to interview the company, so research and ask questions.
What do you like best about your job, and are there any stressful parts? The speakers love working with great people, solving problems, and helping people (Nithya shared that it was very rewarding to restore the network after a California wildfire!). At the same time, when you're helping people, it can be stressful to make sure everyone's needs are met and that the team is supported, and when you're working with technology there are a lot of things that can go wrong. But it's worth it when you have that "a-ha" moment as a team, or when what you do impacts millions of people!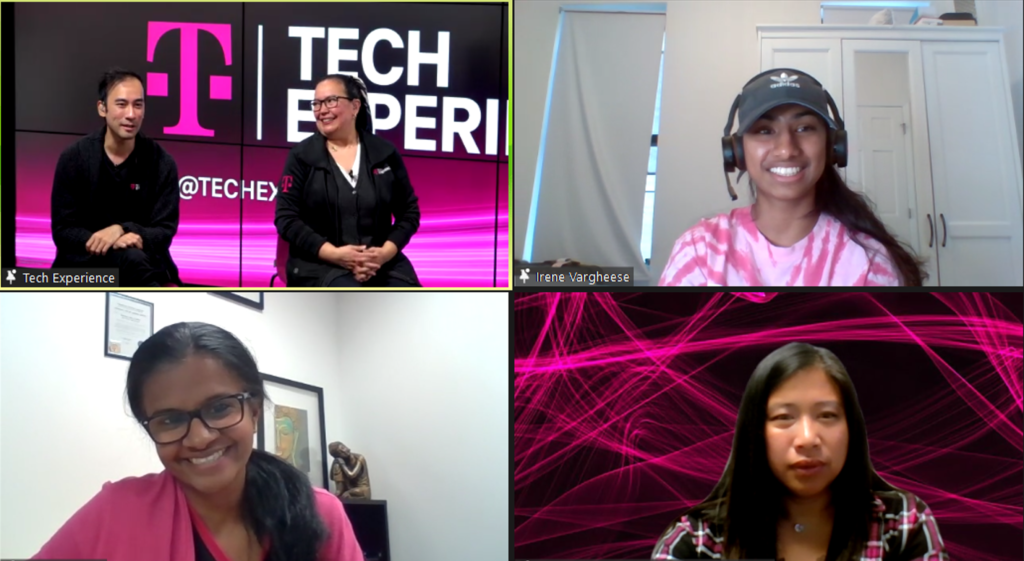 This event provided an engaging behind-the-scenes look at T-Mobile technology, as well as relatable experiences and helpful advice for students looking into STEM. Thank you to the amazing team that came together to put on such an organized, well thought out, and memorable experience: Thank you to Facilitator Michelle Balatico, Tech Host Emma Savage, Tour Guides Henry Li and Candice Boyd, Panelists Irene Vargheese and Nithya Sundar, and the Tech Experience Center production staff!
After attending this event:
Here's what the students thought of the event:
"It Inspired me because I know more about the impact that STEM makes on the world. I love helping people and I love to see that with STEM I can really make an impact in the world. I love to see that people from my school can get a job at T-Mobile and it gives me hope." – 10th grade

"It showed me that there are many avenues in STEM, that if I try hard I can get a job at T-mobile." – 10th grade

"Thank you for setting time aside to show us this beautiful presentation and making us a part of this event." – 9th grade

"I would like to thank them for offering us this opportunity. It has completely changed my mind on STEM and the careers that are available for it. I used to think it was a program just for science but now I know more about the program and the problems it tackles." – 10th grade

"Todays event really inspired me and I had a good time!" – 10th grade

"Today's event made me realize that I can incorporate technology into my future career as a surgeon. In situations where it is impossible for me as a human to operate, with the help of robots and new medical technological advances I can save the lives of people by controlling the robot to make precise cuts and or go to places in the human body that I can't reach." – 9th grade

"It inspired me to work hard." – 10th grade

"It inspired me in many ways." – 10th grade