On Thursday, April 28, IGNITE students at the Yakima Valley Technical Skills Center joined a group of volunteers from The Home Depot (THD) for a virtual field trip to learn more about working at the world's largest home improvement retailer and how STEM factors into this work!
Facilitators and Hosts Njeri Gachago, Senior Product Manager, and Britton Barton, Director of Product Management, shared that when people hear "The Home Depot" they often think of DIY projects and selling hammers. What many don't realize is all of the technology needed to power "Helping Doers Get More Done." The steps required to simply sell a hammer involve technologies ranging from augmented reality, geolocation, and a massively complex system of supply chain logistics and online ordering. Those technologies form the basis of the Technology and Product Management at The Home Depot.
Njeri and Britton told students that research has shown the demand for STEM jobs will outpace the projected number of candidates who will be able to meet the qualifications. Research has also shown diversity often strengthens teams and companies. This means companies are excited and eager to hire women and nonbinary professionals for open roles.
The event featured a panel session and an exercise in how Product Managers help solve big problems with technology.
During the panel discussion, students met two THD product managers, Roodlande and Sunny. These women took two very different paths, proving there is no right way to go about getting the job you want.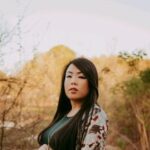 Sunny Bradshaw, Senior Product Manager, Store Selling Software, hopped around different schools and professions, including psychology and cooking, and found her landing spot in technology. Sunny shared a photo of a prior team on which she was the only woman. Her advice was, "Just keep trying. Never give up."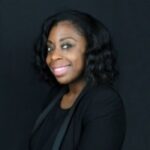 Roodlande Joseph, Associate Product Manager, Store Checkout, went to school for business, then worked her way up to become a Product Manager. She shared how she has had to learn to "take her space" that is given to her and she has earned. Her tips to students were "How you start is not how you finish. Success is not linear. It's OK to pivot. Explore your interests."
Both women emphasized the opportunity a lot of high schoolers have with STEM classes being offered more frequently in schools and encouraged students to enroll early on.
Students asked the Panelists many thoughtful questions, including:
What classes did you take in college?
What can I do to prepare to work for a STEM company?
What colleges did you attend?
How many years of experience do you have in the tech field?
Do you have any advice to prepare for a STEM career?
How do I choose what jobs to apply to?
A Home Depot Product Manager Instructor, Zehra Pirani, led students in solving a real-world problem around customers leveraging online and mobile technology to solve their project needs. The whole team had a great discussion about value and how empathy allows us to connect to our customers better. With many different possible solutions tossed around, the group discussed how they can, and should, feel empowered to experiment to find the best path forward. Zehra's words of wisdom were to "Fall in love with your problem."
As folks said their good-byes, volunteers shared a final piece of wisdom: Bet on yourself. You'll end up where you're supposed to be.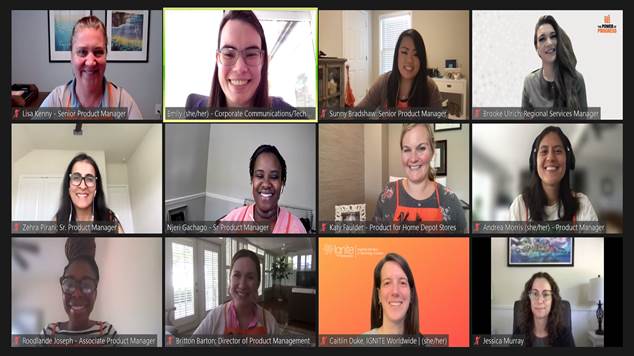 Thank you to Njeri Gachago for organizing this event and co-facilitating. Thank you to fellow FacilitatorBritton Barton, Tech Host Emily Ide from Corporate Communications, Activity Leader Zehra Pirani, and the rest of the amazing field trip team from The Home Depot—Lisa Kenny, Brooke Ulrich, Katy Faulder, Jessica Murray, and Bridgette Krauter. Thank you to Blogger Andrea Morris for capturing the event for this post.
After attending this event:
Here's what the students thought of the event:
"Today I received good advice to prepare for a future STEM job." – 11th grade

"I decided to do some internships either during high school or college." – 11th grade

"I would like to thank them for helping me learn about STEM." – 11th grade