On April 20, IGNITE middle school students from Broadview Thomson K-8 in Seattle took an exciting field trip to the T-Mobile Tech Experience Center. T-Mobile immediately made an impression as the bus pulled in, greeting the students with a drone flying overhead and music playing. They even got to view the drone's footage as they entered the Center!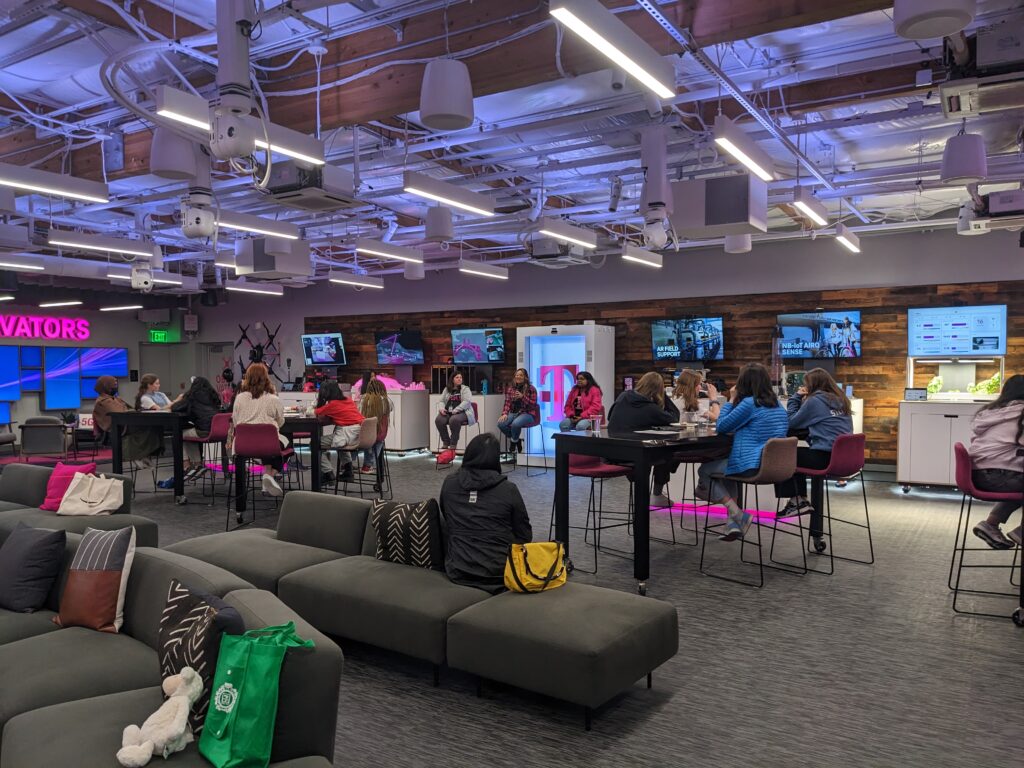 To set the stage for a day of exploration, students first got an introduction to wireless and 5G technology, including seeing the first-generation mobile phone, which looks nothing like the smartphones we use today! They learned that 5G has a ton of applications beyond the mobile phone and got a chance to experience some firsthand.
First up was a programming activity with robot cars powered by the 5G network. Students learned that programming is the language that computers use to talk to each other, which is what makes all the technology possible. With the support of T-Mobile mentors Henry Li, Nguyen Duong, Rowan Andruscavage, Elizabeth Zhang, and Woody Sellers, they were able to "talk" to their cars and code them to drive along set routes and do tricks like spin in circles!
The students were very engaged in the activity, as well as the tour of demo stations that followed, where students saw more 5G in action: robotics, drones, augmented reality, and hydroponics. There was a lot of variety, which kept everyone engaged, and everything was very interesting and hands-on!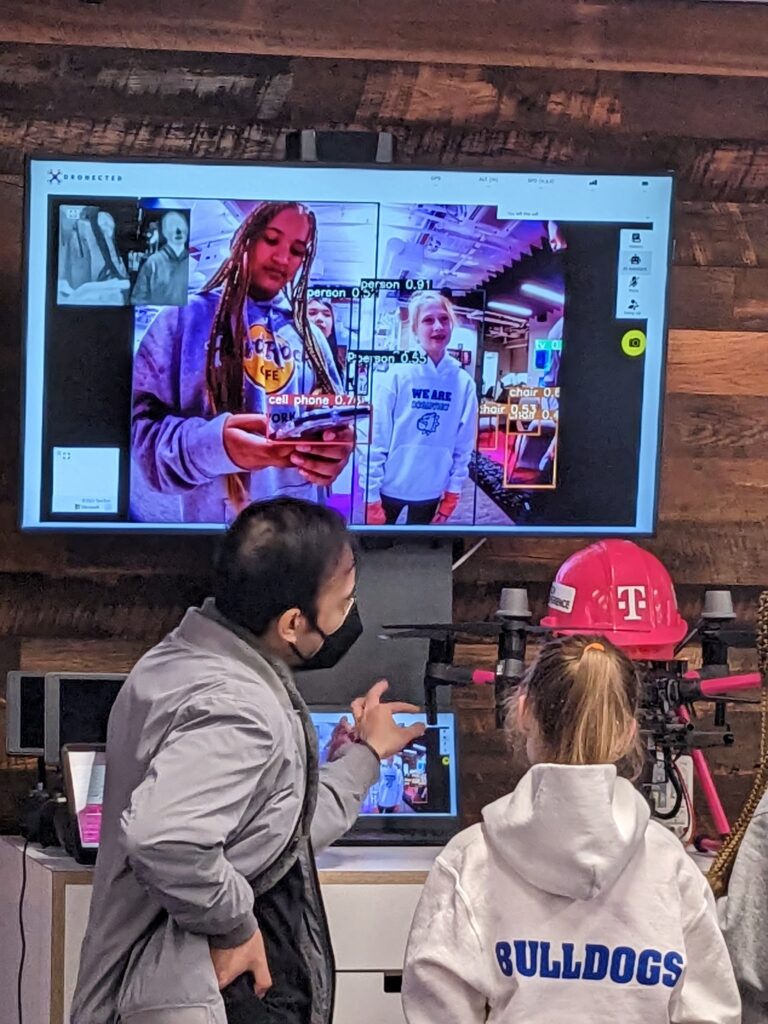 After exploring the amazing space, the group came back together for lunch and a panel with T-Mobile STEM professionals: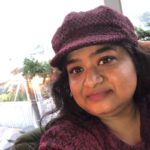 Anjana Ghosh, Manager, Product & Technology at T-Mobile, grew up in India and is with T-Mobile for the second time in her career! In her current role, she translates business needs into technical implementations and designs products and services. The job includes a lot of creativity and innovation, as well as collaboration and communication. She works closely with architects, product managers, and domain leads.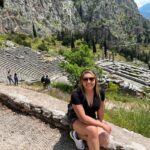 Diane Burkhammer, Senior Product Manager for T-Mobile for Business, never imagined herself in a STEM career. Her parents didn't attend college, and both work blue-collar jobs, so she always assumed she would end up working in hospitality or some other "traditional" low-paying job. She took a coding class in high school because her friends were enrolled and immediately fell in love! Even though college wasn't easy, and she didn't get the best grades, Diane kept working at it and got an amazing job right after graduation. She's so glad she took the chance to try something new; it changed her life!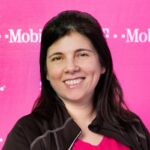 Caro von Esch, Senior Manager, Product & Technology at T-Mobile, has roots in Argentina. A user experience professional, she has a design background and has been with T-Mobile for 12 years in a variety of creative roles. Caro loves outreach and mentoring people! 
The panel provided a lot of helpful information, and students took advantage of the chance to ask questions, including:
What classes did you take related to STEM? 
How did you know what you were going to do for a career?
What do you do in your job day to day?
Why is it important to have confidence?
Some of the panelists' advice included:
Representation matters. When you get to your career, there will be people there that look like you. Don't be shy to ask for help or advice.
You do not have to have a plan. Keep a positive attitude and surround yourself with people who support you. 
Making a mistake and getting negative feedback can help you in the future. Having those challenges builds resilience and helps get through day-to-day life. You learn how to process feedback as you get older.
Make the most of the situation. You don't know everything that is going to happen in the future, but you can always make the best decision you can at the time and move forward.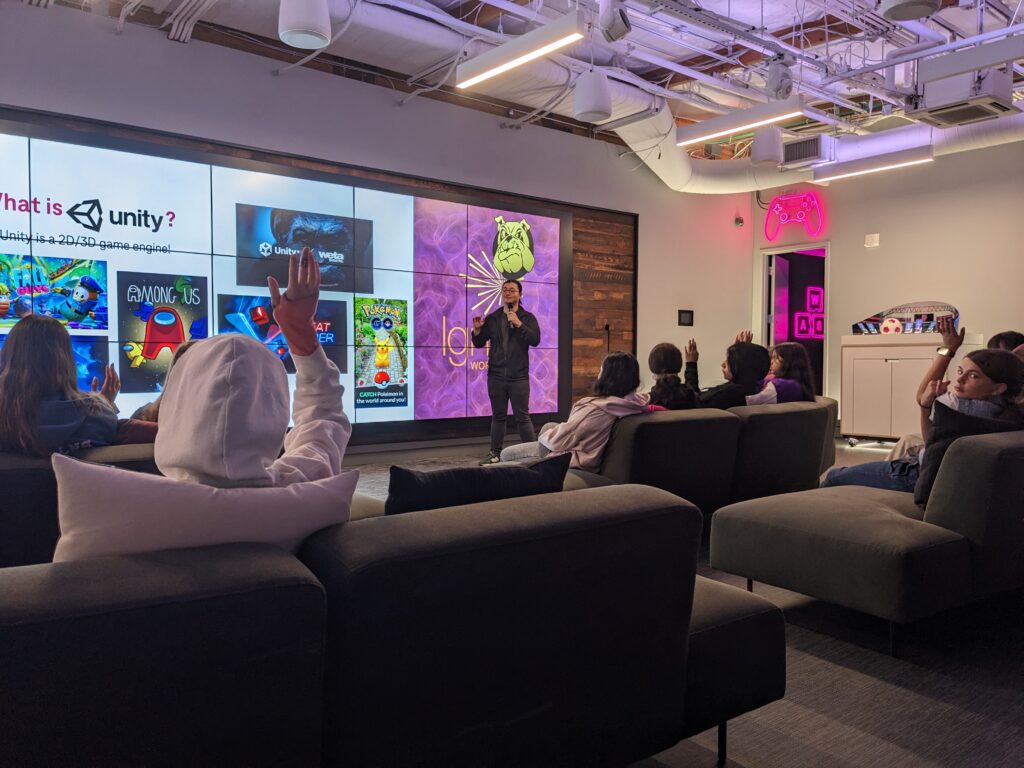 This was an awesome experience for Broadview-Thomson! Thank you to T-Mobile for providing such an interesting and engaging field trip – Candice Boyd, Beckie Stark, Henry Li, Nguyen Duong, Rowan Andruscavage, Michelle Balatico, Elizabeth Zhang, Kyle Hokenson, and Woody Sellers. A special thanks to the Panelists – Anjana Ghosh, Diane Burkhammer, and Caro von Esch for sharing their stories with the students.
After attending this event:
Here's what the students thought of the event:
"This event inspired me by boosting my confidence and making me think that I can have a good future. The volunteers showed us the video that they take with the drone and also how I look which was cool" – 6th grade

"I learned that there are so many types of jobs at a company. It might be a medical company, but there could be tech/coding jobs. I want to thank the volunteers because their experiences help me realize how to improve my future." – 6th grade

"The guest speakers talked about how sometimes you just want to quit and they said that it's okay to feel this way. I learned a lot about 5G. I also learned about programming robots." – 8th grade

"This event inspired me to speak up and to be confident." – 6th grade

"This event was cool and it was inspiring to see the professions. STEM is cool." – 6th grade

"It was good because I got to get hands-on coding experience. I was also told what classes to take." – 7th grade

"I thought it was nice to see and use hands-on tools and cameras. It made me understand more and what classes to take." – 7th grade

"I learned more about going to college and switching majors to what feels right. You can do what you want." – 8th grade

"It was fun to experiment with code. My big takeaway was that T-Mobile has drones, the silly robots were fun to mess with and the volunteers were cool." – 6th grade

"I feel more confident to speak up for myself. I think this event was cool, and it helped a lot for some of us to be in STEM one day." – 7th grade

"Today's event really helped me to think about my future and it helped me understand more about STEM and tech. I thank everyone who helped us know more about STEM and the speakers that shared about the future and how you can do tech as a career." – 6th grade

"It helped me find out more about STEM. It was fun and I learned a lot today." – 6th grade

"Today inspired me because technology was always my favorite thing, so now I know a bit more about technology. My big takeaway was that I learned how to code." – 6th grade

"Today's event inspired me by showing me different things I can do in STEM. It showed me different things and experiences. My big takeaway from today was how cool STEM is." – 7th grade

"This event inspired me by boosting my confidence and makes me think that I can do what I want. I liked the package robot, too." – 6th grade