On April 20, 2023, students from Kilo Middle School participated in an IGNITE Panel Event featuring STEM professionals in various roles.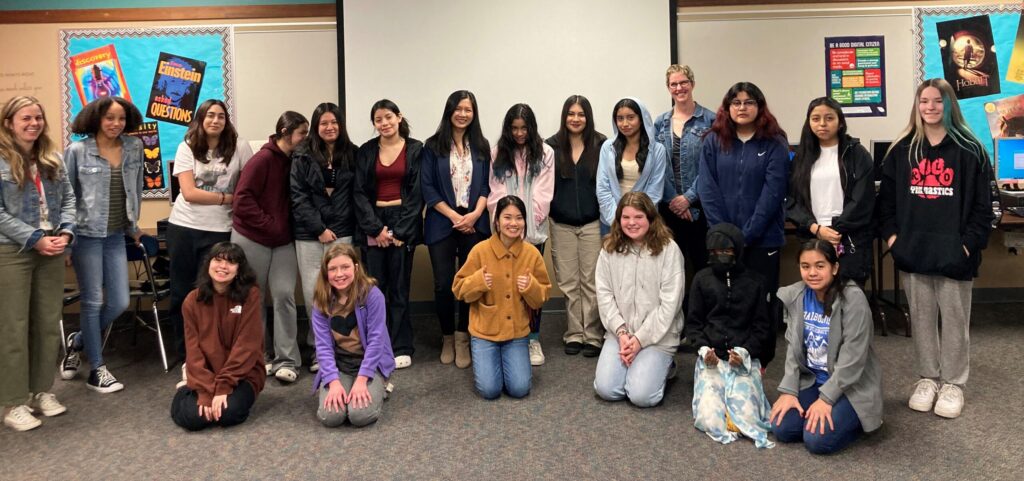 The Panelists included: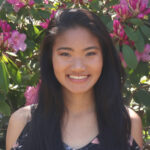 Marcella Huang recently completed a very competitive University of Washington Computer Science program and has interned at CodeStream and Microsoft. Marcella discovered Python programming while in middle school, and IGNITE helped her find options for a future in STEM! She pursued programming first at the community college and next at the university. Marcella is currently looking for engineering opportunities in the field of accessibility.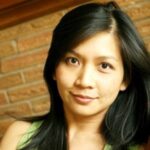 Jasmine Wilkerson, Director of Data Science at Advata Inc., encouraged the students to have a broader view of what STEM means, from art to education to engineering. As a result, opportunities in the future are unlimited! She also urged the students not to be limited by what others think they can do, and to keep up their learning by being curious.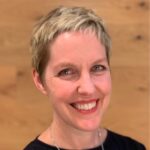 Kristin Fitzpatrick is a Data Analyst at the global investment firm Houlihan Lokey. She shared that the job she has now didn't even exist until she was out of college and had been working for 15 years! Her interest started upon seeing the amazing charts and graphs of data that could tell a story in one picture. She was amazed at how they could help visualize what was happening with complex events, like an election, and things really important to her personally, like her son's blood sugar, and how much energy came from the solar panels on her roof. She took night classes, got her first job as a data analyst, and hasn't looked back. She loves what she does because it helps people see the world differently and change it for the better.
The students found the stories from the Panelists very impactful. Some standout sentiments included:
Though growing up with less financial means may pose some challenges, it doesn't mean you can't succeed in your goals.
It's okay to have more than one career in your lifetime and to try something new.
How each panelist got into their careers.
What it's like to be one of the only women at their job.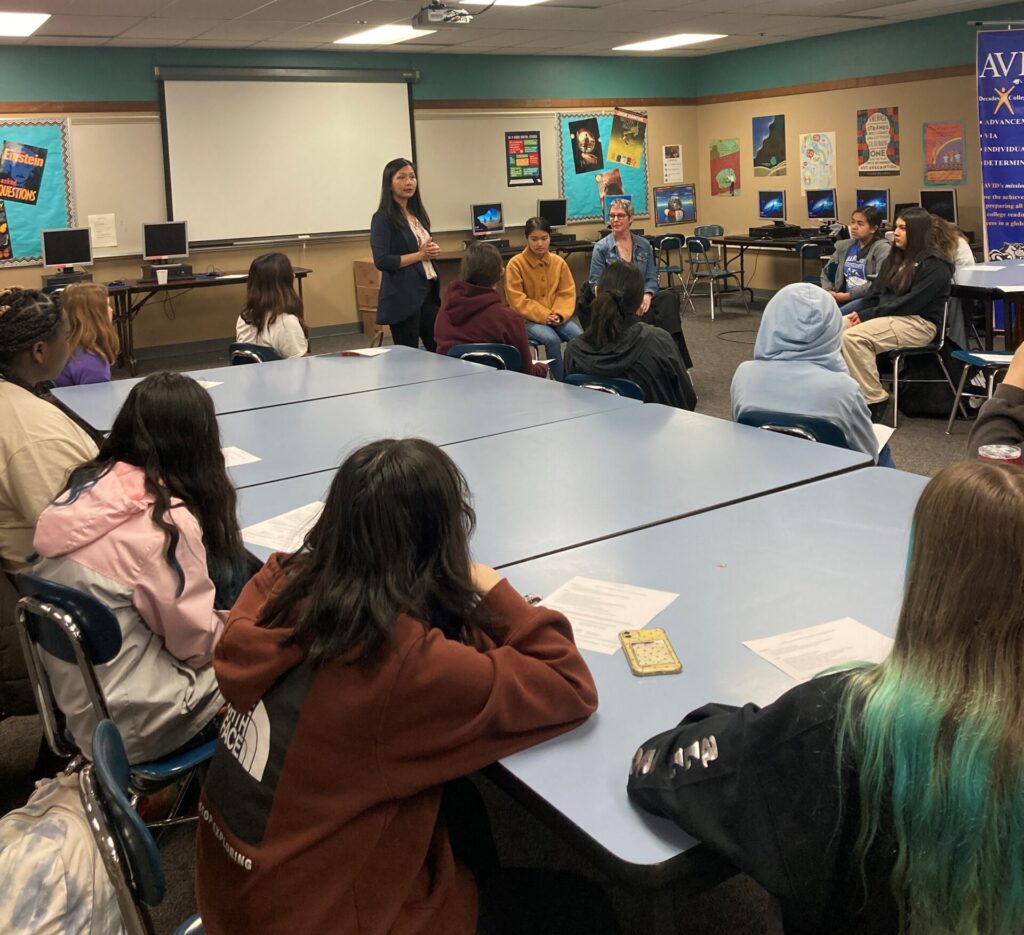 Thank you to the Panelists, Marcella Huang, Jasmine Wilkerson, and Kristin Fitzpatrick, for sharing their stories and experiences with IGNITE Students.
After attending this event:
Here's what the students thought of the event:
"Today's event helped inspire me to be more confident and hopeful to pursue my career. It has also made me more interested in STEM. I feel thankful for the volunteers who took their time to help us learn more about STEM." – 6th grade

"Today made me feel like I have a voice." – 7th grade

"This event showed me that women can work in male-dominated fields. It allowed me to see that I am not alone when it comes to my interests in STEM. I can take away the fact that women can do anything men can, if not better!" – 8th grade

"Today showed me that I can have a happy life in STEM." – 7th grade

"The panelists inspired me when they talked about how it doesn't matter what others think about me, and there are lots of people interested in STEM. It a was cool experience, thank you!": – 6th grade

"This event inspired me to see I can be anything I want. I can have a job in STEM if I really put my mind to it. We need more women in STEM because women don't have as many jobs in STEM." – 6th grade

"Before this event, I wasn't sure about being a geologist or starting a career. I thought that women were not supposed to work, then when these women shared their stories I got excited and now I want to start a career." – 7th grade

"Today made me see that I can get help in college and I don't have to worry about money for college. The panelists helped me feel confident to keep moving forward. I went to school today and I met three inspiring workers and they made me feel more confidence in school. Thanks!" – 7th grade

"Today taught me that I can become a woman in STEM. I can also change what I want to do. I learned that confidence is key." – 8th grade

"Today's event inspired me to look more into STEM. It taught me that even if your family does not have much experience and aren't very good advice givers, you can still pursue your dream!" – 8th grade

"The event inspired me to think about my opportunities and what kind of jobs in STEM I can end up doing." – 8th grade

"This event inspired me to have more confidence in myself and in joining STEM." – 8th grade

"Today's event inspired me because people that come from nothing can go this far. I learned that I wouldn't have to worry about money, and to not let that be the reason to stop doing what you want to do." – 8th grade

"Today's event inspired me because there are lots of things in STEM and I got to learn more about them." – 7th grade

"Today made me feel comfortable with career paths and choices and gave me a better understanding about STEM. I learned about different career paths and how the volunteers got encouraged to get into STEM." – 6th grade

"The panelists inspired me with their stories about how they got to the place they are now." – 8th grade

"This event inspired me by showing us new careers I didn't know about and telling us what it is like." – 7th grade

"Today made me want to get into game designing or anything related to games." – 7th grade

"I feel really good because the panelists told us about careers in STEM and how can I decide what work I want to do. I am very inspired to pursue this career." – 7th grade

"This event showed me how different people take different roads in life and how it is okay to take a different road from other people. I also learned about college, money, classes, and different backgrounds." – 7th grade

"Today's event inspired me by teaching me more about STEM. By knowing more, I have more options for the future. Thank you for teaching me more about STEM." – 8th grade

"This experience inspired me because I found out that you can make a good salary and travel to different places by working in STEM. It can offer a flexible schedule and allow for time with kids. I learned that you can switch careers easily and change your mindset." – 8th grade

"After today, I am more interested in science and engineering. This event made me more interested in STEAM and I learned about different types of STEAM jobs." – 7th grade

"The stories helped me get a better understanding of what STEM would help with and made me want to pursue becoming a doctor or studying medicine. I learned to not limit myself and to not just think something isn't for you, to still try and have hope." – 8th grade

"It was inspiring to hear how the panelists were able to get jobs they enjoy. They have good interests and jobs that seem fun." – 6th grade

"Today helped me realize that if I go for a career and choose not to do it anymore that it's never too late to change. You can choose so many things that interest you and not just one thing." – 8th grade

"It was nice that the panelists were willing to talk about things they went through. It was inspiring to hear about their experiences and their perspective on life and on being a woman in STEM." – 8th grade

"Today's event gave me advice for my future and motivated me to pursue my dreams. I am inspired by how the women who came here today put their voices out." – 8th grade