On April 13, 2023, IGNITE Students from Claire Lilienthal K-8 in San Francisco, CA, visited the Smith-Kettlewell Eye Research Institute (SKERI) for an IGNITE Field Trip. Audrey Wong-Kee-You, Research Coordinator, welcomed the students and teachers and introduced them to the institute's mission of creating a unique environment for the study of vision science and the development of assistive technology to support people who are blind and visually impaired.
After the introduction, SKERI staff members, including Chief Operating Officer Sony Devis, Senior Research Administrator Beatriz St. John, Accountant Francisco Molieri, and IRB Coordinator Margaret McGovern, led groups of students for a tour of select laboratories.
In the Coughlan lab, students explored technology applications that support independent navigation for people with visual impairments.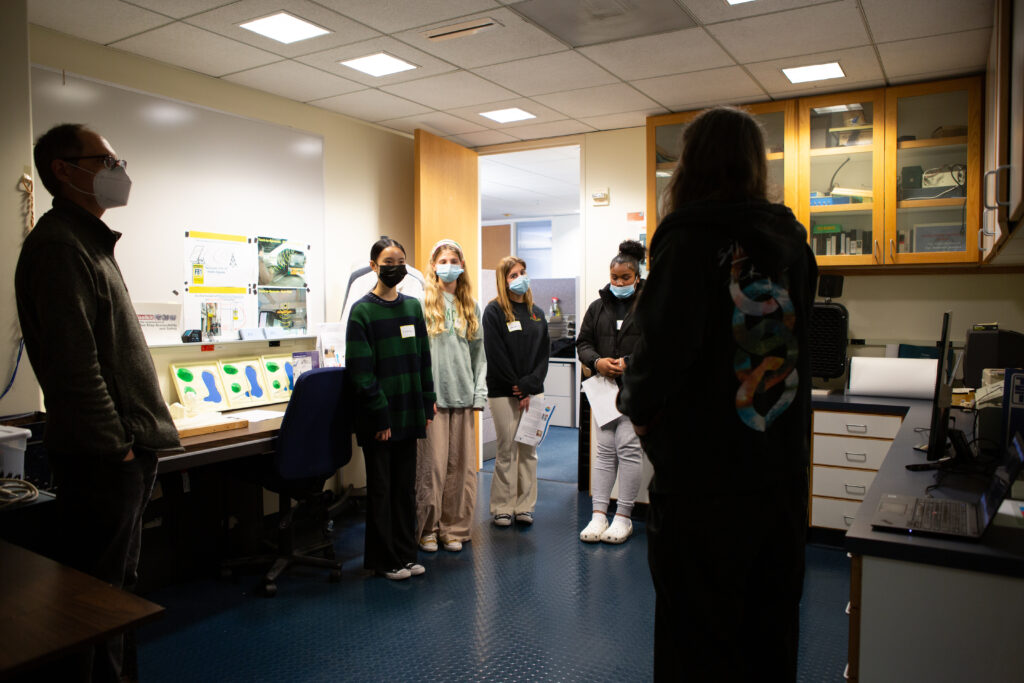 In the Verghese lab, students learned about the importance of binocular vision for the development of good depth perception and observed their retina in an optical coherence tomography device.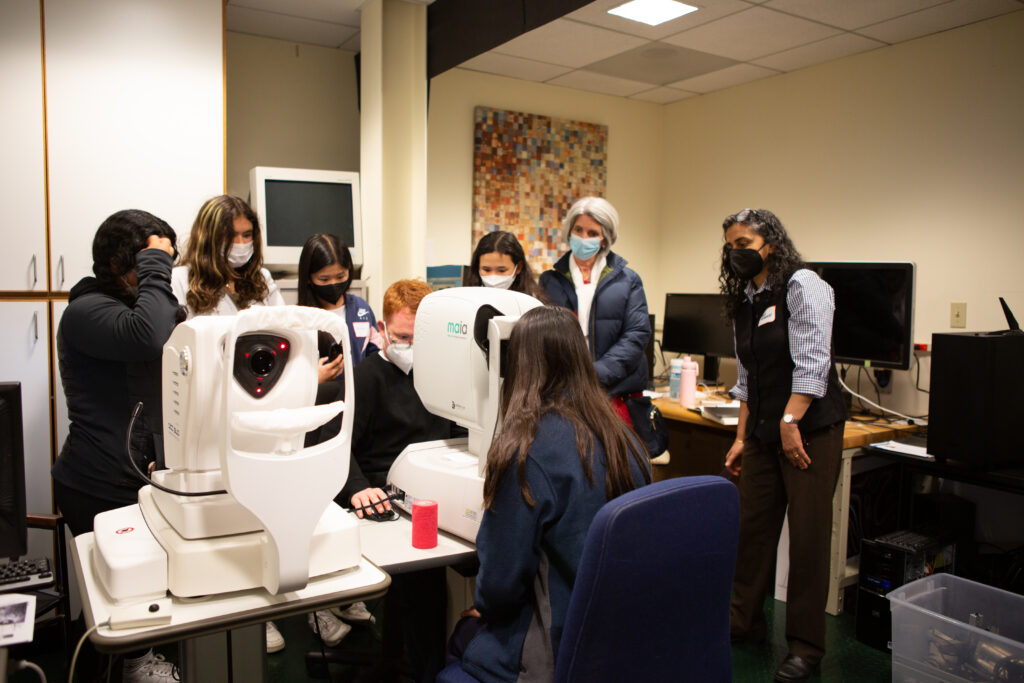 In the Shanidze lab, students learned about how the brain combines information from different senses to control a person's walking and balance. Students also got to explore simulations of how diseases that affect vision can also impact walking, and learned about how researchers in the lab are using Kinect sensors to study how people with and without visual impairment walk.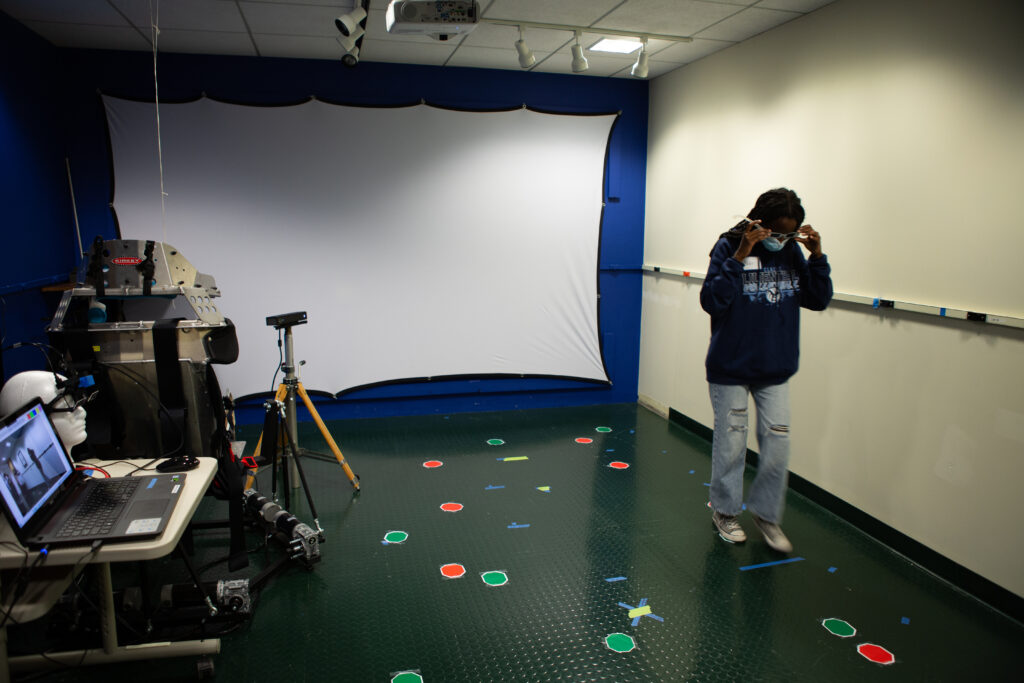 Finally, in the Teng lab, students learned about how echolocation can be used by people who are blind to navigate. Students participated in an interactive activity to demonstrate how people can use sound to detect features in their environment and also learned about how electroencephalography (EEG) is used in the lab's echolocation research to measure electrical signals in the brain.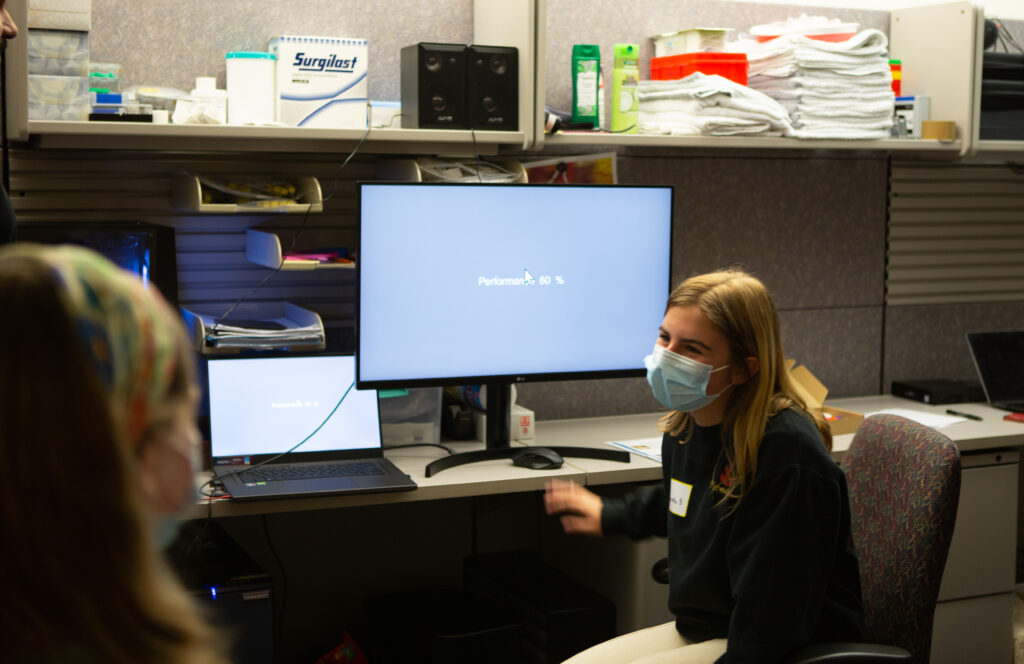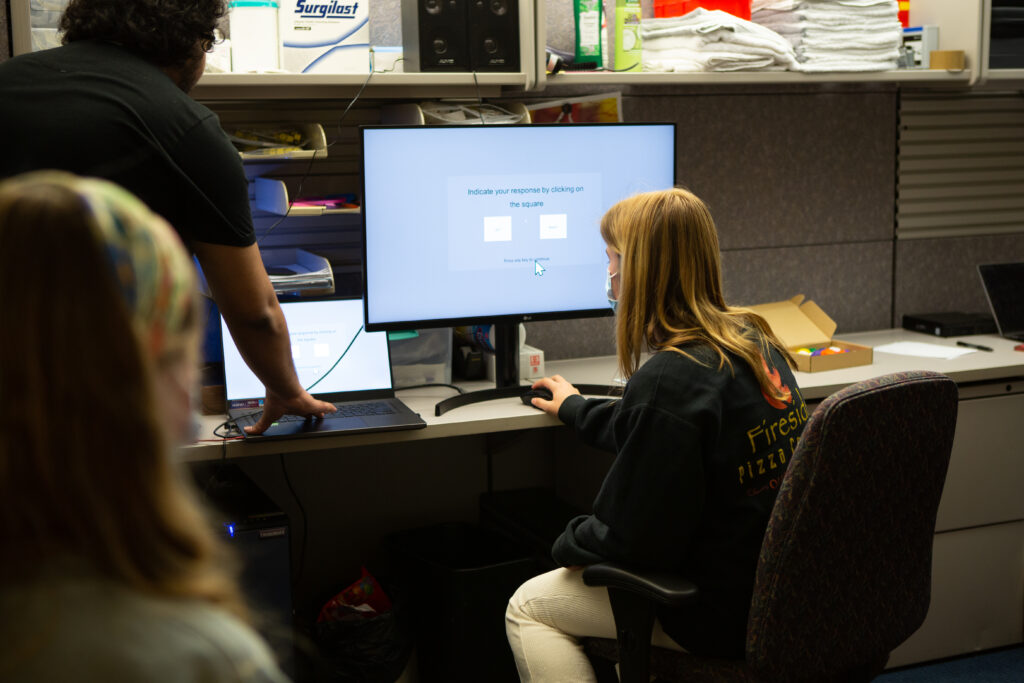 Following the lab tours, students got a chance to hear from a panel of four women at SKERI: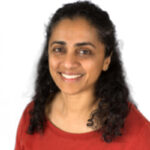 Preeti Verghese is a Senior Scientist leading her own team of researchers to study neural processes, strategies, and adaptations that humans use to interact with objects in the real world. Being 1 of only 4 women in a 200+ student engineering program, she learned the importance of standing up for yourself and supporting fellow women when working toward your goal. She shared that sometimes a career path you may initially think is not for you can be combined with your other interests to create a perfect job for you.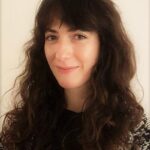 Catherine Agathos is a Postdoctoral Researcher in the Shanidze lab. She shared her experience navigating the next steps as she was completing her engineering degree and discussed how pursuing a PhD has allowed her to study a topic she is fascinated about – how humans move and interact with their environment. Her curiosity and determination have allowed her to reach her goal of being a Movement Scientist studying how vision and posture are linked.
Haydée García-Lázaro is a Postdoctoral Researcher in the Teng lab. From a young age, she was fascinated by the brain and how it controls our thoughts, feelings, and behavior. She recounted her experiences as she trained to be a brain scientist and wanted the students to know that a career in science allows you to explore not just in the laboratory but also around the world to share research findings at conferences, to foster scientific collaborations, and to learn from other scientists. Haydée urged the students to remember that everyone is capable, no matter their background or gender.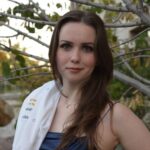 Jillian Cellucci is a Research Associate in the Good lab and IRB Coordinator at SKERI. In the Good lab, she runs vision tests on babies using visual evoked potentials, and as the IRB coordinator, she helps review the scientific procedures of research at SKERI. Jillian shared her experience with a mental health condition and discussed how her experience ultimately sparked her curiosity and passion for understanding how our brains work. She shared how completing her studies was challenging but that, by persevering, she reached her goal of getting a job she loves.
After getting to know the panelists, students asked excellent questions, including:
How did you decide what to study?
What do you do in your role day to day?
Do you have any advice on how to prepare for a job interview?
Panelists' responses and advice included:
Think about topics that really excite you and consider your values and life goals. You may not always realize it, but there is often a career path that can allow you to pursue your passion, and that is in demand.
Scientists wear different hats. A normal day includes planning and executing experiments, analyzing data, writing reports, attending meetings, mentoring students/trainees, and of course, lots of coffee!
It's important to be confident in your skills and honest about where you could still improve.
A huge thank you to Drs. James Coughlan, Preeti Verghese, Natela Shanidze, and Santani Teng for opening the doors to their laboratories. The lab tours were made possible with the help of Postdoc researchers Haydée García-Lázaro and Catherine Agathos, along with research interns, assistants, and associates Hirva Patel, Naomi Heinen, Aidan Gauper, Yash Kshirsagar, and Ryan Crabb. We thank our wonderful panelists, Preeti, Haydée, Catherine, and Jillian, for sharing their stories and facilitator Naomi for moderating. Finally, we thank all the volunteers at SKERI who helped put the event together and supported the Field Trip on the day of, including Audrey Wong-Kee-You, Sony Devis, Bebe St. John, Linda Washington, Francisco Molieri, and Margaret McGovern.
After attending this event:
Here's what the students thought of the event:
"Today's event inspired me by showing real women in STEM who became successful in male-dominated careers. I think that seeing these role models was really important because it shows me and other girls we could do similar things. One of my big takeaways from today was that I learned a lot more about the human eye and how STEM can help to solve diseases. I also learned a lot about how sight corresponds with other senses." – 7th grade

"This event has inspired me because the panel speakers talked about things they had to overcome and struggled with. They also helped by telling us ways they've found what they're passionate about. My big takeaways today were that you should pursue what you're passionate about and not what others think you should do, and even through your struggles, you should still fulfill your goals." – 7th grade

"The event was cool and I learned something new – don't let being a woman stop you from becoming who you want to be. Thank you all." – 7th grade

"Today's event inspired me because now I know some of my options for a career. I got to see how the scientists got through their lives in male-dominated careers. I learned that it is okay to do what I love and how awesome science can be." – 7th grade

"Today's event taught me about the dynamics of the brain and eyes. It was interesting learning about clicking and echolocation. My big takeaways were that you should pursue what you want to do." – 7th grade

"Today's event showed me that I am capable of pursuing STEM and if I work hard I can do whatever I want. Thank you volunteers! My big takeaway was that it's okay to ask questions and pursue whatever subjects I'm interested in." – 7th grade

"Today's event taught me that we can get a job we want no matter what gender we are. I liked when the volunteers told us that they sometimes struggle but still pushed through and got a job they wanted." – 7th grade

"It was inspiring to see so many women working in STEM, especially working in multiple career positions. One big takeaway was the stuff I learned in the labs today. Another takeaway were the stories I heard in the panel, which taught me no matter your background, you can pursue anything." – 7th grade

"Today's event inspired me to work in any place or environment I want to. My big takeaway from today was that you can do whatever you want to." – 7th grade

"Today taught me about how people can help others who don't have eyesight or have poor eyesight. Today also showed me that I can pursue my dreams. What I took away from today is that STEM is very important because it helps people all around." – 7th grade

"Today helped me understand more about eyes and other things. Thank you so much, I hope to see the volunteers again." – 7th grade

"Today's event inspired me by showing cool things you can do in STEM. Also, it showed me many women working in STEM. My big takeaway is that women can work in STEM. I learned this from all the women who spoke. Thanks, volunteers." – 7th grade

"Today inspired me to start looking more into STEM that involves your eyes and bodies. I liked how we got to feel and see how some people with eye problems feel and see." – 7th grade

"Today taught me about how STEM can help people who have no eyesight or poor eyesight. What I took away from today is that being able to study these subjects can really help others."

"I was very inspired by how the panelists overcame challenges. That made me very motivated and showed me that I should keep going. You should always be who you are and keep going. Know that you belong and that even if you are the only woman, you are just as smart and deserve to be there, just like everyone else." – 7th grad

"I saw many different ways people in STEM help blind people overcome their challenges. Humans can use echolocation too! I also saw a retina!" – 7th grade

"Today's event inspired me by making me feel more confident in my decision for my future. Before this, I was unsure what I wanted to do, but now I'm confident I want to study STEM. My big takeaway was that you don't need to be a man to study STEM. I also found that STEM is really interesting." – 7th grade

"I got to learn about the panelists' paths when they were younger. This inspired me because they talked about themselves when they were our age! The speakers cleared up everything and were very detailed." – 7th grade

"Today was inspiring because I learned to be strong and not to be shy. I also learned how to have a good career. A takeaway was that people who can't see don't have many ways to learn how to walk without bumping on something." – 7th grade

"Today I learned that even with disadvantages, you can still pursue your dreams. I can pursue my own dreams, even if I am lacking in money. Just because I'm a girl, it doesn't mean I'm not capable." – 7th grade