On April 20, 2023, students from Skyline, John O'Connell, and Westmoor High Schools participated in an IGNITE Field Trip to Tesla's Fremont Factory.
During the event, volunteers from Tesla provided students with an introduction to Tesla and its mission to transition the world to sustainable energy. Students and volunteers were able to network throughout lunch.
The event then continued with a tram tour of the entire factory floor of the Tesla Fremont Factory. The students observed a Model X being manufactured all the way from aluminum rolls to a complete car. The students learned about metrology and precision labs, painting, robotics, and many automated and semi-automated assembly lines.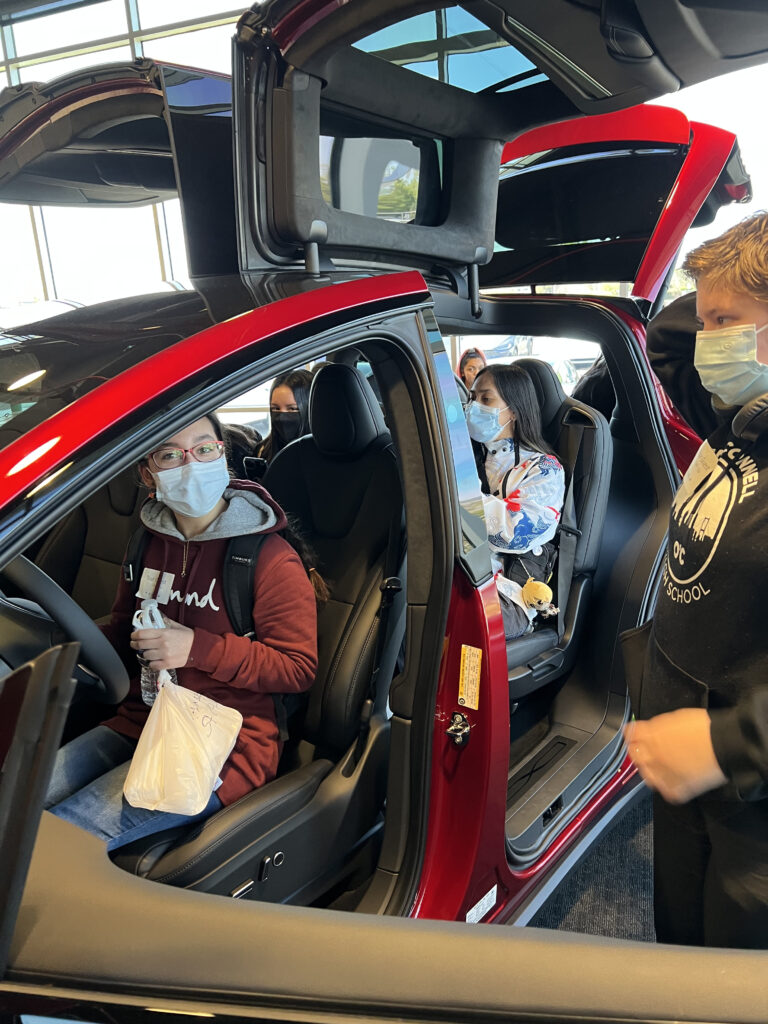 After the activity, students were given the opportunity to hear from Panelists working at Tesla, including:
One Panelist, who is a Senior Autopilot Engineer, took an unconventional path to the Autopilot team through social sciences undergrad in the UC system. She is from the Bay Area and was encouraged to keep an open mind and pursue what she desired.
The Senior Energy Sales Engineer, who is from Venezuela, likes bikes and was always good at math. She went to MIT and sparked a conversation about solar and big batteries, leading to many questions from the students.
One of the Panelists, who is a Senior Field Quality Engineer, described her childhood and spoke about receiving lots of support. She also discussed First Principles thinking and how it helps in solving difficult problems at Tesla.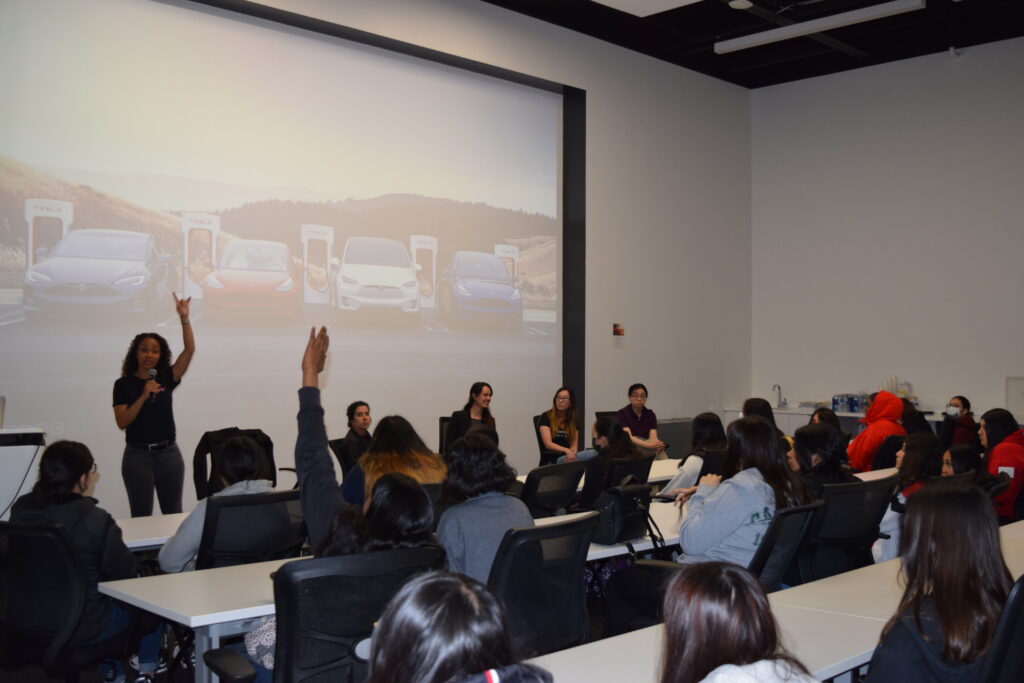 The Panelist, whose role is Senior Packaging Technical Program Manager, was a Tesla intern who did not get a full-time offer when her internship ended. However, through networking and getting to know others at Tesla, she got an offer from a different team. In high school, she was into arts, theater, and performance but didn't know what she wanted to do.
The Senior Product Support Engineer Panelist has been at Tesla for 12 years, from when the company had 1,000 employees to now with 100,000. She is pregnant with her third baby girl and met her husband at Tesla. She spoke about how she felt proud to be an engineer and having made it, despite sometimes being confused for a translator or secretary. She was always passionate about racing and fixing things with her hands and is from San Jose.
The Panelist, whose role is Senior Powertrain Mechanical Engineer, had an unconventional college path and went to community college. He regrets not taking more hard science classes in high school. He is super proud of working at Tesla and is very supportive of women at Tesla and women in STEM.
The Senior Charging Applications Engineer Panelist from Moldova shared came to the US with nothing. She applied to many scholarships and colleges, transferred from community college, and worked hard through difficult times, passing hard classes. She spoke about why she wanted to work for Tesla's mission and people.
Another Telsa Volunteer led the discussion as a moderator, but also shared her personal journey at Tesla. She spoke about how proud she is to work among so many smart people working on such amazing products.
During the panel discussion, students asked about getting an internship or apprenticeship at Tesla. The Panelists told them about typical intern schedules and qualifications. The students also asked about what a day at Tesla is like, if employees ever feel bored, and how to find order in chaos. There were many technical questions about how batteries work, how big the Cybertruck battery is, and if solar is bad for the environment. Some controversial topics were also discussed, such as unions and Cybertruck glass window breakage. Students asked about important skills to have and for advice on how to proceed with the end of their high school career. The discussion covered communication, the ability to explain difficult concepts to different people with different skills, First Principles thinking, and time management.
Thank you to the many Tesla volunteers who made this experience possible!
After attending this event:
Here's what the students thought of the event:
"There were so many amazing jobs that people did and each one had their strengths and skills. Most of the team members made me feel welcome and comfortable and they inspired me to be comfortable as a woman in engineering or any other career. I want to thank everyone that was with us today. I'm taking away knowledge of a engineering career, of different skills needed, and how to showcase my talents. I'm also taking away some fun memories and experiences I had here at Tesla." – 11th grade

"Today's event inspired me because it made me feel more comfortable pursuing STEM as a woman. It taught me about all the opportunities that Tesla has to offer, especially for women and it taught me all the cool things that happen of the factory floor of Tesla. Some of my big takeaways were that just because someone is successful now, it doesn't mean that they took the easy road to get there and that there are so many opportunities for girls to be able to work in the STEM fields." – 9th grade

"I felt inspired by seeing women in positions that are mainly filled by men. Hearing about their engineering stories was very inspiring. Learning about solar energy and how Tesla is trying to be as sustainable as possible was informative. It was interesting to learn that Tesla is working with other companies to help our home, planet Earth." – 11th grade

"I loved seeing the robots and hands-on work people were doing on the tour. Hearing about everyone's experiences and how they got here was inspiring. One of my biggest takeaways was to get as much experiences as I can while still being able to, like taking engineering classes and opportunities. I learned that people can come from many backgrounds, but they get along to help build a sustainable future." – 11th grade

"This event inspired me to learn more about tech's place in sustainability. I also learned more about the opportunities in tech for women. My big takeaways were that monitoring programs are important and that it's vital for several tests to be made before putting a product out into the market." – 11th grade

"Today's event inspired me because it motivated me to follow my interests through hearing different experiences. I really liked the manufacture tour – it was so awesome and interesting! Hearing from people with different backgrounds and experiences motivated me to look forward in pursuing a engineering career. " – 12th grade

"It was nice to learn more about Tesla and it's process. It inspired me to look into more engineering. Tesla is creating a new car and it's cool." – 12th grade

"This event inspired me because I've been nervous that I won't be able to find a job when I'm through with college, and this event has made me realize I can. Tesla is ahead of our time, and they are coming closer to fulfilling clean energy thought out the world, and the manufacture process is really cool." – 11th grade

"Hearing how everyone overcame their struggles to persue their careers was inspiring. Seeing how actual Teslas are built and how the factory operates was interesting. A takeaway was learning how much these women love their jobs and what they do." – 11th grade

"Everyone was very kind and answered questions with a lot of insight and helpful knowledge. I am definitely more interested in STEM! I would like to know more about the internships offered at Tesla. I also appreciate how kind and thoughtful the staff and presenters were!" – 12th grade

"Today inspired me to pursue what I want to, and that with enough passion, I can be successful in what I want to do. I learned how important it is to be thinking about the future and innovations and to improve or alleviate problems. The volunteers were amazing." – 11th grade

"This event inspired me to try to join internships to get knowledge and try something new. It also inspired me to buy a Tesla car in the future. My big takeaway was how there are so many options for an internship that could help you know what you're interested in. I also got to see how they make the Tesla vehicles and how they make around 18,000 cars in a day. Thank you to everyone for making this tour and panel." – 12th grade

"Today's event was exciting and very interesting. It inspired me towards something I want to do when I get into college. The volunteers inspired to chase my dream career; I was considering going into biotechnology as my strength to see if this something for me. This experience impacted me and I want to thank everyone who took the time to talk with us about their experience in Tesla. This event made me able to analyze and see how Tesla is made through coding programs and users that instruct the robot software. The company's mission was something – people are looking to solve problems using technology to change the world everyday. I love that. I hope I can intern at Tesla!" – 12th grade

"Being able to see the cars in the production line was great. I would love to be able to do an internship and I'm really interested in STEM." – 10th grade

"This event inspired me to go for the job that I wanted. I want to say thanks to the people who volunteered. I also loved the tour." – 10th grade

"It was really inspiring hearing how actual people working at Tesla got to where they are now. Something that I took away from today was that we don't need any fancy background to join something as big as Tesla." – 12th grade

"This event opened me up to the idea of engineering as a possible career path. I've never even thought of it before, but now I'm willing to look into it more as a female! There's career paths and opportunities everywhere! I really appreciate everyone for holding this panel as I learned a whole lot!" – 9th grade

"Today gave me a clearer idea of what exactly working at Tesla, or any large manufacturing company, is like. It gave me insight into how to get into STEM. My biggest takeaways from today were that opportunities are everywhere and I don't need to have everything planned at the moment. Thank you to everyone who spoke today." – 12th grade

"I loved talking to all the amazing engineers and hearing how they have succeeded in their careers inspires me to work hard. My biggest takeaway was anything is possible; Tesla started from something so small to something so huge now and I admire that." – 12th grade

"This experience was fun." – 9th grade

"This event was fun and interesting." – 10th grade

"Today inspired me to keep an open mind. My biggest takeaway was that you don't always have to study to be something." – 10th grade

"I was really interested in the volunteers' pasts and how they worked to get into Tesla." – 10th grade