On Tuesday, May 23, 2023, volunteers from Afiniti led a creative IGNITE Design Thinking Workshop with 7th and 8th-grade students from Cedar Heights Middle School. Lindsay Hua, VP of Global Deployment and Head of Diversity in Technology, led the event with an introduction to AI and Afiniti, followed by a discussion on the importance of design thinking. She explained that design thinking is a powerful way for teams to solve tough problems and that, design is not just what it looks or feels like but also how it works. She elaborated on design thinking being a user-centered approach to problem-solving.
After laying the foundation on the importance of design thinking, the concept was reinforced through a hands-on exercise. The students were asked to break out into 4 groups of 4-5 each, use an empathy map, and design the next smart backpack. The idea behind the empathy map was to get inside the user's mind and jot down all ideas & features of the backpack.
The student groups, led by Afiniti volunteers Anna Carlson, Amber Barbour, Kashaf Jamshed, and Michelle Mattson, shared what they would want their backpack to have and why it would be a good design element. Lots of awesome ideas, including but not limited to fingerprint ID, pop-up umbrella, mood screens, ability to hover, smart voice assistant, and homework tracker, came up!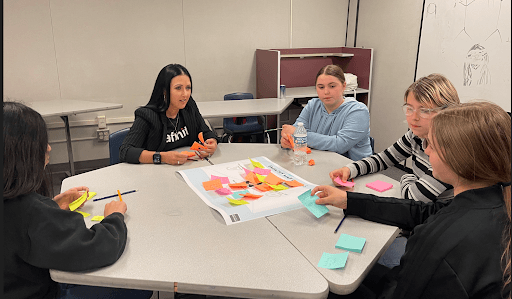 After the activity, the breakout room leaders joined together for a panel session. The Panelists included: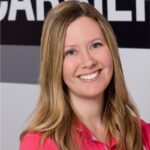 Amber Barbour, Director of Travel and Expense, specializes in planning and project management at Afiniti. She spoke about how you don't need to be a 'coder' to work in a tech company and can provide immense support from the business side of things. She stressed the importance of understanding business needs and leveraging technology to improve processes. Bringing the right solutions at the right time is critical!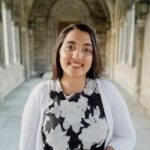 Kashaf Jamshed, Lead Data Scientist, primarily works on designing AI algorithms that make human connections more valuable for Afiniti's clients. As a kid, she was motivated to be the first female engineer in her family and never let the negative voices of others let her down. She advised students to engage in courses/activities that cultivate critical and logical thinking – critical thinking lies at the heart of everything technology related!
Michelle Mattson, Director of Training and Development, works on developing strong leaders at Afiniti. Her path to a technology career was not a traditional one but one where she kept learning and was open to new ideas. Her shy younger self would have never imagined her training others to become leaders. It is okay to take a non-traditional approach to your career as long as you enjoy what you do and bring your best foot forward while keeping up with the changing times!
Some of the questions students asked and the answers they received included:
Q: What are some college degrees you can pursue for a career in UX design?
A: UX and design is a very broad area of work – any degree that educates you about the psyche of design and how users interface with it is a good stepping stone. (Eg: Computer Science, Psychology, and Fine Arts)
Q: What does your day-to-day look like?
A: A majority of our days are spent listening, testing, understanding people's opportunities and challenges, and then exploring ways we can help them.
Q: What makes you really happy at work?
A: When I make a good model that delivers measurable value to our clients and their customers – it brings me immense joy.
In addition to the activity and panel, the students also enjoyed networking with our Afiniti volunteers before the session ended.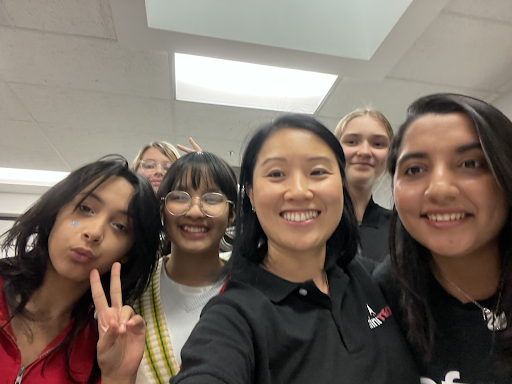 A huge thank you to all of our Afiniti volunteers: Lindsay Hua, Anna Carlson, Amber Barbour, Kashaf Jamshed, and Michelle Mattson for leading the activities and being an awesome panel, and Stephanie Konschu for facilitating the session. Thank you for sharing your time and your stories!
After attending this event:
Here's what the students thought of the event:
"This event made me realize the potentional I hold towards STEM and how I could possibly influence my future. I learned how to involve myself more and how comfortable this event made me, and I now feel inspired towards the business and industry itself after listening to the experiences of the volunteers. I think the biggest takeaway from this is how difficult but fufilling this area of work is. I learned how to be a leader and how to persevere even through social norms and work struggles. Thank you to the volunteers for coming and representing their company!" – 7th grade

"Today's event was fun and inspired me to choose a path in STEM. I learned that I don't have to code and that I could choose multiple paths in STEM." – 8th grade

"I loved the people involved in this and the way they explained everything to me. As someone who has been interested in STEM since I was in first grade, this has fueled my liking of the topic. I think I'm going to continue to pursue a career in STEM. I feel like I've learned a lot about design. The instructors were very kind and showed us the pros and cons of being in a STEM-based job. The Smart Backpack activity helped me understand the steps to creation." – 7th grade

"This event inspired me to be more creative and think further into my future. I also learned about the amount of jobs there are for women." – 8th grade

"This event inspired me by showing the different ways women can be involved in STEM. Women in STEM are underrepresented and STEM jobs are awesome. Design is cool and I should do it if i want to because misogyny is real." – 7th grade

"Today inspired me by teaching me that even if you are a girl, you can still do lots of things. There are a lot of different opportunities for women." – 8th grade

"I've considered design and job choices similar to these before, and this experience helped me understand STEM better. If I ever have the choice between some of my old top choices for a career and these, I might choose a STEM job." – 7th grade

"This event really inspired me to use my imagination and create something new. The biggest thing I learned was about how the panelists work and their salaries." – 8th grade

"Today inspired me to create new things and be creative. I liked how we made the backpacks, that activity was my biggest takeaway. I thought it was cool." – 8th grade

"Today was fun! Thank you!" – 7th grade

"The event inspired me to pursue the job I'm passionate about. It also inspired me to ask questions. The biggest takeaway was that STEM has a lot of different fields to explore from programming to design. The volunteers were really nice and I enjoyed listening to them!" – 8th grade

"This event inspired me to research some other jobs in STEM and find out exactly what I want to do. My biggest takeaway was that that there is actually a very wide variety of STEM fields and jobs to explore that don't just have to do with coding." – 8th grade

"Today's event has been great and I had a great day. I loved it a lot!" – 8th grade

"The panelists inspired me to want to have a job in STEM. I liked learning about what they do on the job and how they got to where they are." – 7th grade