On October 12, 2023, IGNITE Students from Skyline High School participated in a Field Trip to Cruise. The event focused on self-driving automobile technology, taking place at Cruise's facility in San Francisco, CA. The event included engaging STEM activities, an insightful panel discussion, and immersive tours, providing students with a first-hand inside look into the future of automotive technology.
The day kicked off with Cruise employees greeting the students upon arrival. As Cruise's history and overview were presented, it set the stage for the students to dive into the world of self-driving cars.
Cruise provided a stacked day of STEM experiences facilitated by their own employees, volunteering their time and skill to share STEM with high schoolers. One experience that stood out was the extensive and detailed tours of Cruise's facility, exploring both the Chevy and Origin cars. Vanessa Hadlock and Melaney Chen, Cruise employees and the tour guides for the day, provided in-depth explanations of the car manufacturing process and insights into the futuristic Origin vehicle. The featured activity, "Think like an AV (autonomous vehicle)," allowed students to simulate different functions of an autonomous vehicle, offering a hands-on experience of the technology in action.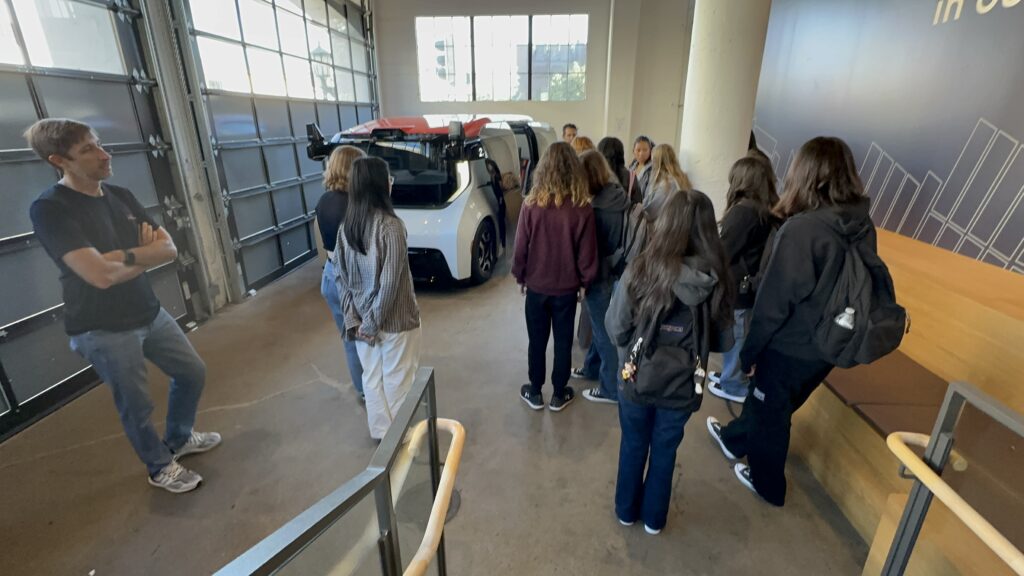 Perhaps the most impactful event of the day, though, was the Panel discussion, which featured industry experts Sula Mpande, Manager II, Incident Management, and Caitlin Stanton, Software Engineer. They shared their personal experiences and career journeys, pointing out the importance of soft skills in STEM. The Panelists encouraged students to participate in extracurricular activities, emphasizing that a specific educational background is not a prerequisite for a career at Cruise but that well-rounded learned experiences can take you far. The Q&A session allowed students to gain valuable insights into the automotive industry. Following the panel, students reflected on how they could relate to the Panelists, opening up the possibilities of their futures.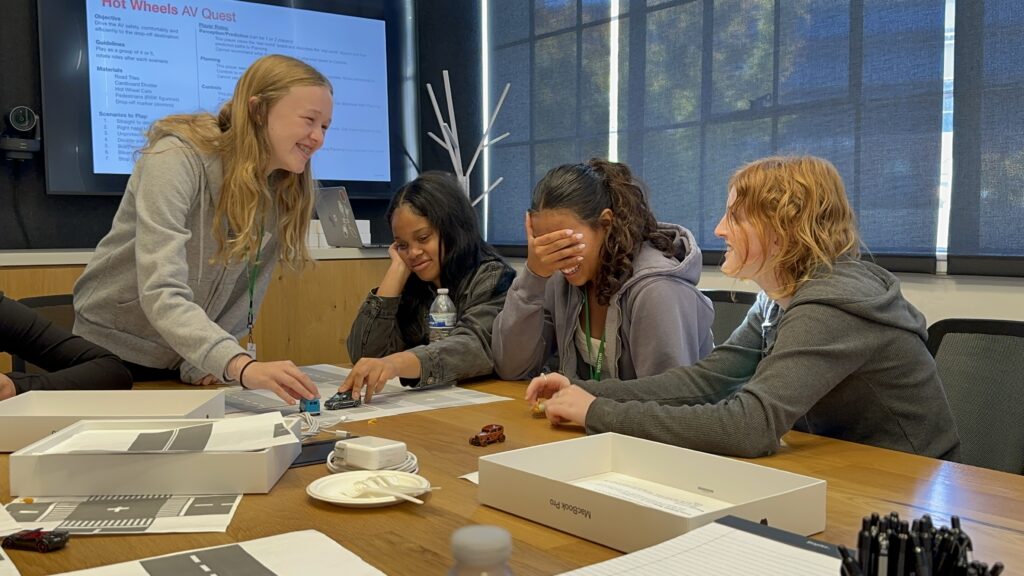 The Field Trip to Cruise proved to be an exceptional experience for the students. Their enthusiastic response underscored the success of the event in inspiring and teaching them about the possibilities awaiting them in the future of STEM.
Thank you to our dedicated volunteers for making this event a success! A special thank you to Jonathan Guzman for serving dual roles as Facilitator and Activity Leader. Thank you to Sula Mpande and Caitlin Stanton, our Panelists, who inspired students with their stories and insights. Thanks to Brad Oglesby, Estella Wong, and Eugene Wang for warmly greeting the students. Thank you to Vanessa Hadlock and Melaney Chen for providing enthusiastic tours of the Cruise facility. Additional thanks to Rose Suarez and Emie Sabumukama for helping as Small Group Leaders and Educator Ayo Akutugba for making it an unforgettable day for IGNITE Students!
After attending this event:
Here's what the students thought of the event:
"It was cool to see so many different people with different backgrounds working in this field. I was also inspired by the variation of jobs just at one company. It reminds me there is no end to opportunities. Self-driving cars require a lot of communication. There are a lot of jobs in engineering." – 11th grade

"Today inspired me to work towards my goal and to work harder. It also inspired me to look more into STEM careers. Some takeaways from today are that sometimes you will have to fail before you actually succeed, and that's okay because it's a process to learn. Another takeaway was that you don't immediately know what you want to do, and that is okay because you'll figure it out eventually." – 11th grade

"This event inspired me to learn that there could be multiple ways to get a career that involves STEM. It's great motivation for students to learn more about opportunities that they can reach for. My big takeaways can be how we got to learn about the process of the cars and how they help improve the environment and help us around the city." – 11th grade

"This event inspired me not to give up if life doesn't go how I want it to. It also inspired me to look more into different fields. I think that STEM careers are more interesting and widespread now." – 11th grade

"Today helped me understand more about the future of cars. The future of tech is going to be really cool and self-driving cars are really cool!" – 11th grade

"I am inspired to try out coding and robotics. I learned that autonomous cars will probably be increasingly used in the world in the future." – 11th grade

"I learned that you should always try for what you want and try out a lot of different things as you start to grow up to find what you like to do. I also learned that there is a lot that goes into building a self-driving car!" – 11th grade

"This event inspired me to research more paths I can take for my career and to try coding. My big takeaway is that careers aren't linear, and a lot of paths can lead you to tech. Thank you, volunteers, for answering our questions!" – 11th grade

"I like math and I also think AI is cool. Software engineering is a more significant part of tech than I thought." – 11th grade

"This event inspired me to look into coding and robotics. Autonomous cars are pretty cool, and the panelists all had good stories. Everyone was really cool." – 11th grade

"I was really inspired by the workers sharing their experiences at Cruise. I would like to thank them for taking their time to welcome us." – 11th grade

"Today inspired me to look into coding. Software engineering is more significant than I thought." – 11th grade

"This event inspired me because I've learned from the speakers that you don't necessarily need to go to college to find your career. The speakers showed that you can have a difficult time during college and figure out later in life what you truly want to do. My big takeaway from today was that creating cars that aren't controlled by people is very difficult. I've learned that a lot of work gets put into creating a car that is functional, and there are many jobs that can go into helping create the cars." – 11th grade
About Cruise:
Cruise is a self-driving car company that designs and builds autonomous vehicles, writes the code that makes them work, and operates an autonomous ridehail service in San Francisco and around the country.
About IGNITE Program Field Trip Events:
IGNITE Field Trips offer a memorable, behind-the-scenes look at STEM in action and the wide range of career opportunities at the host company. Company employees interact directly with the students through an office tour, hands-on STEM activities, and IGNITE Panel and Q&A discussion.
About IGNITE Worldwide:
IGNITE Worldwide is a 501(c)3 nonprofit STEM education organization that aims to change gender and racial equity in STEM permanently and systematically. We work directly with teachers during the school day to provide programming that promotes gender equity and representation in STEM academics and careers. Through our award-winning program, IGNITE provides engaging, hands-on events that connect students with STEM professionals from industry leaders from around the world. Learn more at www.igniteworldwide.org.