IGNITE Students at Cedar Heights Middle School in Kent, Washington welcomed an In-Person IGNITE Panel on October 20, 2023. The Panelists, all accomplished professionals in STEM fields, offered valuable insights and advice to the audience of 25 students in grades 6-8.
The panel discussion was a unique opportunity for middle school students to gain insight into the world of STEM and seek answers to some questions about their future. The event kicked off with the Panelists sharing their personal and professional stories. The students were curious to know how the Panelists discovered their passions, how they overcame obstacles in their paths, the discrimination they may have encountered in the workforce, and what educational paths they should consider to pursue specific careers.
The Panelists, including Eva Tseng, Senior Manager at T-Mobile, Sunayana Singh, Senior Product Manager at Microsoft, Sarah Potter, Principal HW Engineering Program Manager at T-Mobile, and Abhiraami Godala, Engineering Manager at REI, responded with wisdom and enthusiasm. They emphasized the importance of following one's passions and encouraged the students to explore a variety of opportunities in STEM. They emphasized that no person or obstacle should hold them back from pursuing their dreams.
A particularly impactful moment came when the panelists highlighted the creative aspects of STEM, such as using art skills to design video games, showcasing the diverse and exciting possibilities within the field. The young audience was inspired by the idea that they could bring their unique talents and interests into the world of science, technology, engineering, and mathematics.
The most relevant and helpful elements of the event were the discussions about the abundance of opportunities within STEM fields and the reassuring message that no matter what hardships one might face, perseverance and a passion for one's work could lead to fulfilling careers. The panelists' personal stories and advice resonated with the students, motivating them to explore the world of STEM without fear.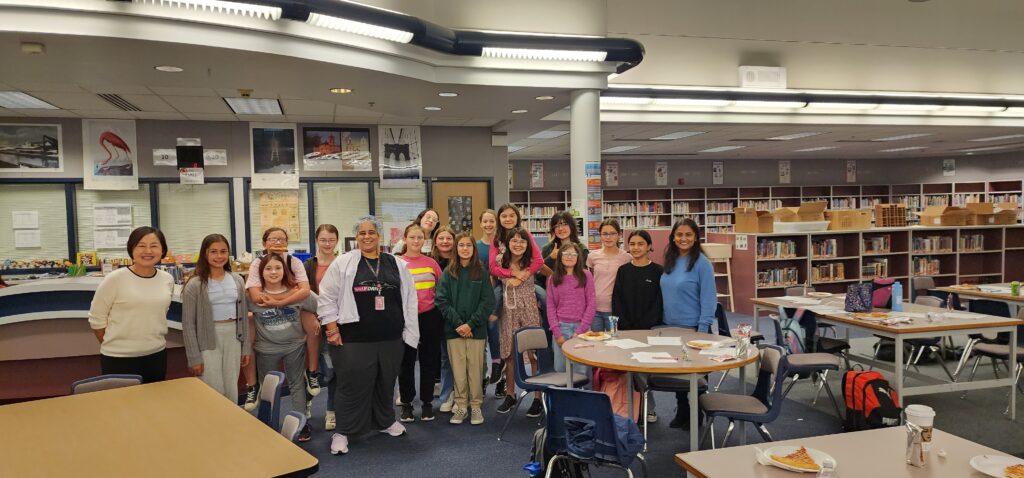 We would like to extend our heartfelt thanks to Eva Tseng, Sunayana Singh, Sarah Potter, and Abhiraami Godala for their invaluable contributions to our event. Your insights and guidance have made a lasting impact on our students. Additionally, thank you to Educator Hannah Reeves for taking on so many roles and responsibilities that made this event a success!
After attending this event:
Here's what the students thought of the event:
"Today helped me feel more confident and inspired about my future career and what I'm going to do." – 8th grade

"I learned that you can be anything you want to be." – 8th grade

"I've learned that I can do anything I want to pursue in life. I feel more comfortable about pursuing a career in STEM, and I can choose my own path." – 8th grade

"This event showed me that you can do anything you want. I thank the volunteers." – 6th grade

"This event inspired me by showing me that I'm not alone and helped me feel confident about my future." – 8th grade

"I can do everything ten times better than a boy. I can also do a boy's job. I can do anything." – 6th grade

"I felt inspired because I have always felt I needed to do something else that women did more. I know now that I could be an engineer and I can do more than 1-2 jobs in life. Thank you for inspiring me." – 6th grade

"Today taught me to be myself and stand out in a crowd. Be yourself, and once you find success, help others." – 6th grade

"This event inspired me to step out of the crowd. I draw and make stuff, and I think I should show it to more people. I thank all the volunteers for taking time today to talk to us. I'm so happy boys aren't here, so it's stress-free." – 6th grade

"This event inspired me by showing the path every person on the panel had taken to get into STEM. The big takeaway I had is to not let others discourage you in the path you want to take." – 8th grade

"Today inspired me to be hopeful about my goals and not let walls block me." – 6th grade

"Today's event inspired me by making me feel curious about what is inside some tech items. Technology interests me because they use different items each time. My big takeaways were how things work." – 6th grade

"This event taught me that 'girls can do anything boys can do, but 10 times better.' Learning about STEAM and girls are awesome, just the way they are." – 6th grade

"Now I want to pursue a diesel mechanic job. Thanks." – 8th grade

"Today's event showed me how many paths there are and how different interests can connect. The volunteers said that jobs have multiple interests together." – 7th grade

"Today's event made me feel confident in pursuing future jobs, especially non-traditional jobs for girls. A big takeaway today is to not be afraid and dream big." – 7th grade

"This event inspired me to pursue my dreams and made me feel fearless." – 6th grade

"It was very inspiring to hear the panelists' stories and what inspired them." – 8th grade

"This experience was fun." – 6th grade
About IGNITE Program Panel Events:
Virtual or In-Person IGNITE Panels empower women in STEM careers to connect directly with students by sharing their academic and professional journeys. IGNITE Students are inspired by hearing stories they can relate to, and Q&A discussions help break down stereotypes that hold them back from engaging in STEM classes and careers.
About IGNITE Worldwide:
IGNITE Worldwide is a 501(c)3 nonprofit STEM education organization that aims to change gender and racial equity in STEM permanently and systematically. We work directly with teachers during the school day to provide programming that promotes gender equity and representation in STEM academics and careers. Through our award-winning program, IGNITE provides engaging, hands-on events that connect students with STEM professionals from industry leaders from around the world. Learn more at www.igniteworldwide.org.