On October 17, 2023, Lakota Middle School hosted an inspiring IGNITE In-Person Panel on the topic of STEM industries and opportunities. This event saw enthusiastic participation from approximately 30 students in grades 6-8, eager to gain insights into the world of Science, Technology, Engineering, and Mathematics (STEM). The experience offered an engaging platform for students to interact with accomplished professionals and gain valuable knowledge about STEM careers.
The event offered students from Lakota Middle School the opportunity to delve into the fascinating world of STEM. The panel featured four distinguished STEM professionals who shared their experiences, insights, and wisdom. The Panelists included Laura Bartenhagen, Principal at ESM Consulting Engineers, LLC; Valerie Smith, Acoustical Consultant at Salter; Jasmine Wilkerson, Director of Data Science at Advata Inc; and Sharon Kuan, Software Development Engineer at MCG Health. Students listened as the Panelists shared their stories and experiences. Afterward, the students eagerly posed questions to the Panelists, which included topics such as career satisfaction, challenges faced by women in male-dominated fields, and strategies for overcoming obstacles.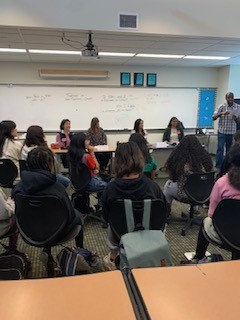 The students demonstrated their enthusiasm and curiosity with a barrage of questions. The sheer volume of inquiries and comments exceeded the time allocated, highlighting the connections students made with the Panelists. The Panelists responded with advice and shared their personal experiences, which ranged from moments of doubt and frustration to the profound fulfillment they found in their STEM careers.
One particularly impactful moment was when a student asked if the Panelists had ever wanted to quit their jobs. Their honest responses resonated deeply with the audience, emphasizing the importance of perseverance and believing in oneself, even in the face of challenges. The Panelists encouraged the students to advocate for themselves and stay resilient in pursuing their dreams.
The event left an indelible mark on the students from Lakota Middle School. It not only provided valuable information about STEM industries and opportunities but also inspired them to believe in their potential. The personal, open, and honest interactions with the Panelists showcased the real-world impact and meaning of STEM careers, making the event an invaluable experience for the students.
A sincere thank you to Laura Bartenhagen, Valerie Smith, Jasmine Wilkerson, and Sharon Kuan for sharing their career experiences and life journeys with the students. Additional thanks to Federal Way Public Schools Educators DeVaughn Wilson, Toni Fortunato, and Charissa Eggleston for providing the support and work required to make this event an amazing success.
After attending this event:
Here's what the students thought of the event:
"The panelists have inspired me to be confident and gave very great advice for my future and how I can start at middle school. I learned to never be afraid to try something new, that if you like something, never be afraid to pursue it because of your background, and to never back down, never give up." – 8th grade

"Today's event inspired me and gave me confidence in working in the STEM environment. It was very interesting to learn about this topic and discuss it more. It was inspiring and motivational." – 8th grade

"Today's event inspired me to pursue engineering, to try new things, and to never give up. Thank you to the panelists for coming to visit us." – 8th grade

"I now know that women can also do STEM jobs." – 7th grade

"The panelists inspired me to do what I want to do and I now know what to expect in jobs. Women continue to do what they want to do and are not listening to people telling them what to do." – 7th grade

"Today's event showed me how there are different types of engineering in the world. It also showed me how things can change for the better." – 7th grade

"I know more now than I did when I first walked into the room. It was very interesting and informative. Thank you." – 8th grade

"I'm inspired to continue to be open to all opportunities that are available to me. The STEM industries have always interested me, but this was the cherry on top." – 7th grade

"I feel inspired to continue working on stuff that might be difficult for me right now because it will get better in the future. I learned more about the details of working in these industries. The panelists taught us that STEM has great benefits and the work has a lot of variety." – 8th grade

"This experience was great. Thank you." – 6th grade

"This event was very inspiring and fun. Thank you for making me feel included." – 6th grade

"Today helped me better understand what working in the STEM field is like and how to more easily choose a career." – 8th grade

"I didn't really want to go, but I liked this event more than I expected. It showed me I can do what I want like a girl boss." – 7th grade

'This event helped me understand more about STEM and helped me to learn." – 7th grade

"Hearing from women working in a male-dominated field inspired me." – 6th grade

"This event inspired me because the panelists said girls can do what boys do, if not better. Another reason why this event inspired me was because some of the panelists had a hard ladder up to success. It was really cool. I liked asking questions and getting an answer that made me know more." – 6th grade
About IGNITE Program Panel Events:
Virtual or In-Person IGNITE Panels empower women in STEM careers to connect directly with students by sharing their academic and professional journeys. IGNITE Students are inspired by hearing stories they can relate to, and Q&A discussions help break down stereotypes that hold them back from engaging in STEM classes and careers.
About IGNITE Worldwide:
IGNITE Worldwide is a 501(c)3 nonprofit STEM education organization that aims to change gender and racial equity in STEM permanently and systematically. We work directly with teachers during the school day to provide programming that promotes gender equity and representation in STEM academics and careers. Through our award-winning program, IGNITE provides engaging, hands-on events that connect students with STEM professionals from industry leaders from around the world. Learn more at www.igniteworldwide.org.