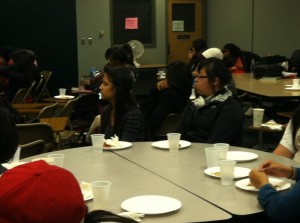 Last Thursday was the first Presentation of the year for IGNITE! Girls in grades 9- 12 at Franklin High School came together to hear from women in science, technology, engineering and math. The event was graciously hosted by Julie O'Brien, a math teacher at Franklin and a fabulous IGNITE teacher who worked tirelessly to bring girls to the event, coordinate with other teachers, get field trip forms ready and so much more. Thank you Julie! We are so lucky to have you.
One of the best aspects of the Presentation was watching the girls' reactions to the women's stories. Many are amazed at the types of technology being developed. One volunteer, for example, told the girls about contact lenses on which you can play video games. She stressed that it is within the girls' reach to work with technology that is similarly cool.
Our volunteers are truly amazing and inspirational- thank you to all of the women industry professionals that took time to join us at Thursday's event. Many were first time volunteers and you did an amazing job inspiring the girls and sharing your stories! You are all setting a great example for other young women. Thank you to Martine Stillman, a Mechanical Engineer from Synapse, Robin Shapiro, founder of Health Perspectives Group, and Allied Health Advocates, Clare Megathlin, Director of Solution Management at Microsoft, and Colleen Budd, Program Manager at Microsoft. You do so much for IGNITE and we would not work without you!
The panelists touched on some very important topics for the girls, for example, that there are lots of scholarships available for women who pursue engineering and technology. One student asked if the panelists are treated differently in their fields because they are women. Martine mentioned that women can be treated differently in STEM careers, and sometimes that is to their advantage like when there are special programs and money for women. The girls asked some very thought provoking questions to the panelists, and the discussion was rich and informative. It was a great way to kick-off IGNITE Presentations in schools, and we are so excited about what's to come!
Here are the comments from the girls' evaluation sheets:
I heard how there are visual contact lenses that can help with gaming instead of sitting in front of a computer all day long.
I learned that there are classes at Franklin that would help a lot in the start of a bright future.
I learned that women are practically being begged to be an engineer and that it can pay off in college funds also.
The most interesting thing I hear today was the statistics on how many women are in this major.
I liked that colleges are willing to give you money to be able to study there.
I liked that there's tons of scholarships for women.
It was interesting that you don't have to be good at math and science- you just need passion to pursue a career in technology.
I really liked the information on mechanical engineering.
I liked hearing about the scholarships people offer.
The amount of information provided about engineering was very helpful.
I liked that they can help us in college and how many jobs they offer girls, and that you can make millions.
It was interesting that you don't have to be good at math to be in tech, and how if you were in college they have scholarships.
Today's event was the best, I liked the women talking about their experiences in technology.
The most interesting thing that I heard today was that there is a ton of money for women to go into engineering.
I liked that you don't have to be good at math to go into engineering.
As a woman you can do whatever you want and that you have to try your best to learn new things.
Knowing that they really want girls to do these thing and learn more is good.
Designing things like contact lenses with games you could play inside is so cool.
There are a lot of careers available for women in technology.
The women gave a lot of information that I didn't know, and I liked hearing about the different types of engineering programs.
I liked the presenters, they were helpful and talkative, and I also liked how they shared their passion for their job.
I liked when they gave us information about scholarships, grants, and internships. It really opened lots of options and gave me relief about college.
I liked the speech by the speakers about their history. That was the best.
The guests were very good at being helpful for us.
I got to learn more about technology, like the contacts with a video game. I want to know more about that.
I liked the information about the different classes I can take.
I liked hearing about the woman who owns 2 companies.
I was mainly focused on computer engineering, but now I don't know what to do. I mean, my choices expanded greatly now.
It was interesting that men don't look down on you as much as I thought, and that they would rely on you.
I liked learning of the different career types. I also enjoyed how engineering and technical skills are needed in many companies.
I liked the stories of women discovering their career passions.
I learned a lot about scholarships, and mechanical engineering sounded fun!
I liked getting to ask questions and I liked hearing about how much everyone makes.
I liked hearing their stories and what got them into actually being in that career.
It was interesting to hear about programming and how they tell us to get started.
Companies are actually interested in women, and a lot of money is invested in them.
I liked best all the information about IGNITE.
There are opportunities for women to be a part of the technology field.
We got to ask questions and hear from people that have experience.
The mechanical engineering and biotech was interesting…Probably considering going into either one.
The best part was how they explained their struggles and challenges.
It was good hearing about all the programs that can help us.
There are not many women in technology, but most companies want women.
I thought it was interesting that there is a huge need for women in tech fields. This makes me want to be one of the few women.
There was tons of information, especially helpful information. I never knew some of the facts about engineering until today. It intrigued me a whole lot. I hope to know more later on.
Thank you all for a great event, and for your dedication to IGNITE!
Cathi

View the Franklin High School Chapter Page