July 5, 2013
We were thrilled to hear from our Katsina chapter in Nigeria this month. Some of the students volunteered to make a presentation to their colleagues on what they liked best about IGNITE.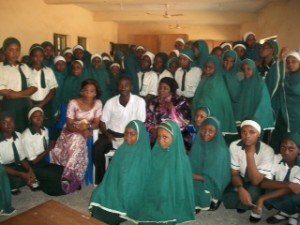 Here are a few comments from the girls:
"When are we going to have the opportunity of meeting with the IGNITE President?"
Another one asked: "I would like to be a pilot, can IGNITE help to inform me more on what subjects I should concentrate on more in my school?"
The third girl suggested that there should be a kind of machine or film shown to reveal how IGNITE programs work in abroad"
All the students were excited and happy to have a program mainly for them as girls. They see this as an opportunity for them to know more about how technology works.
Regards,
Abdulhakeem