3-17-16
Hi All,
We had a glorious field trip yesterday to Starbucks.
Over 40+ IGNITE girls were invited to participate in a remarkable day with so many dedicated technical women from Starbucks Headquarters.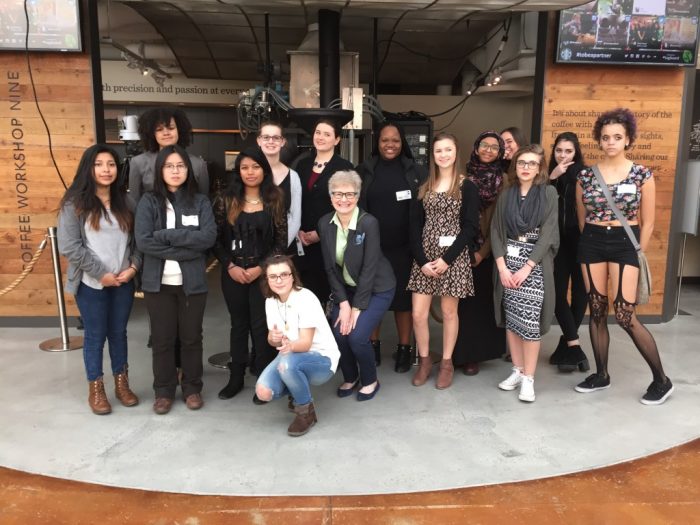 First we had a tour, and got to see the entire building, from top to bottom. The girls were so excited to get to see the inner workings of such a great company.
Then the girls participated in the Starbucks Idea-a-Thon! The girls went into small groups with women from technology and were given a real life question to figure out. It was set up just like a real work meeting.  They presented out as a group and several groups actually came up with skits. They did such an amazing job and came up with brilliant ideas. Also, the girls realized that this is what you do at work! And it was such a great experience to see what a work meeting with be like. They were very inspired by the whole experience. I will send along pictures to Kari as well to share with all of you.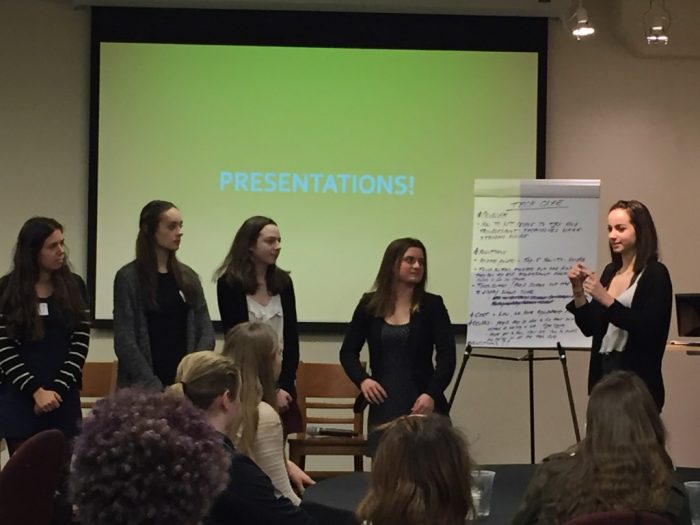 Then Starbucks provided a beautiful lunch. During the lunch women from Starbucks did an IGNITE panel. They were incredible. The women offered all of the best advice we all wish we had in high school. They also told such amazing and inspiration stories that show how girls and women can overcome any obstacles life throws our way. The girls loved the panel and many wanted to talk with the women and spent time after the panel thanking the women for their valuable time and caring.
---
There are so many to thank.
First I want to thank Kari Paakaula, who worked closely with me worrying over every detail to make this day as great as it was. She spent many hours over this trip and all of the work it took to make it so wonderful. Thank you Kari for all you did for IGNITE girls!
Thank you our facilitators who organized the details and all of the events.
Emily Schmit,  Engineer, Donna Buyce, Business System Manager. They were by Kari's side for every detail.
Thank you to the women tour guides, panelists and every women who helped make this day so special.
Thank you to our panelists, Marianne Marck, Senior Vice President, Consumer Technology, Janet Landers, Senior Vice President , Business Technology, Ashley Vogel, Packaging Engineer, Lisa Vaillancourt, Director, Enterprise Architect, Emily Zeitter and Molly Bash, Pricing. Your time and heartfelt presence was outstanding and this is the heart of how we affect girl's lives. Thank you!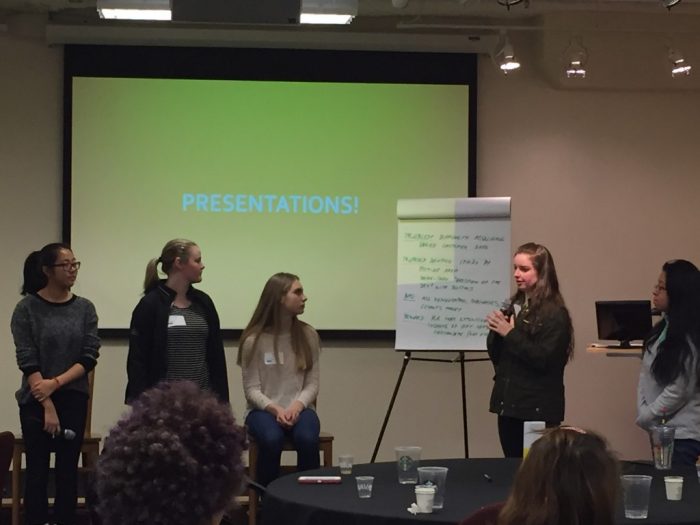 And look at how many people put their hands in to create this day.
Thank you to Patrece Higgs Mansisidor, Amber Walters, Betsy Brace, Adela Zichova, Elise Guerette, Anne-Marie Herron, Allison Gabbert, Susan Stephens, Christine Gardner, Rama Pentapelli, Wendy Ehringer, Samantha Greenwood, Margaret Wright, Emily Schmidt, Shami Okafor, Naoko Tsunoda, Cheryl Chapman, Rachel Martin, Rachel Horak, Emily Alexander, Jojo Chan Wu, Diane Terry, Lynnea Paddock, Emma Avery, Wendy Tong, Meredith McGee, Brenda Glasgow, Emily Schmidt, Crystal Warmington-North, Ashlee Zink, Chelon Jones, Courtney Groves, Sampson Fletcher, and Shruti Kapoor. It does indeed take a village.
Thank you to the wonderful IGNITE teachers who care so much about getting the girls these kinds of opportunities. I could not do any of this without them.
Thank you to Wyn Pottinger-Levy, Crystal Boucke, Center School and Carol Faust, Ballard HS. And to our parent chaperone Lindsey Foody. You are such an important part of how IGNITE works and we appreciate your efforts so very much.
---
Now to share comments from the girls survey forms.
They always say it best.
I enjoyed the tour and hearing the women employees share their stories. It inspired me because we had a first hand look at what it's like to work at a company like this which made me more excited and interested. Grade 10
I enjoyed listening to the speaker's talk and the whole experience. This event showed me what I could be doing in the future. Grade 10
I most enjoyed the tour because I could see the employees being very organic and natural in their workplace. This event has inspired me to work harder in school, to get a job now for experience, and to look into jobs about technology and security.
Grade 10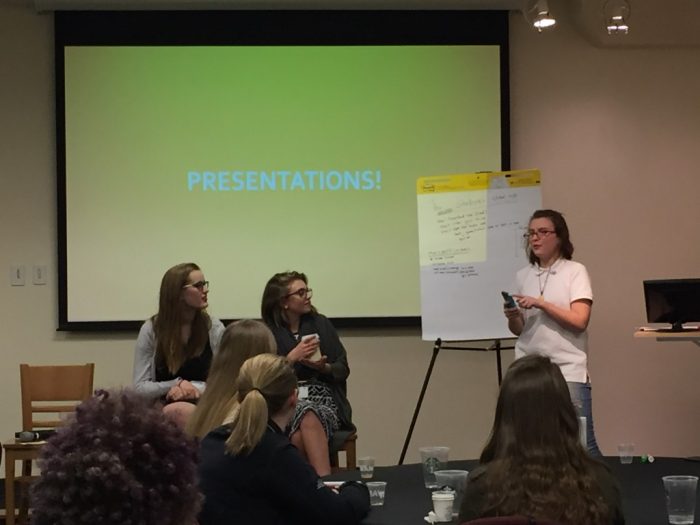 I really enjoyed the panel and the tour. The event inspired me in the way that they gave me confidence to do what I love. Grade 9
The Idea-a-thon inspired me about collaboration. Grade 10
Hearing the women talk on the panel was really inspiring grade 12
I loved the Idea-a-thon, because problem solving with a group was really interesting and everything was great. Grade 10
I really enjoyed the panel with the women who work at Starbucks. Hearing their experiences and how they ended up where they did because it really inspired me. I also really enjoyed the Starbucks tour, because it was so cool to see the workplace. I think this event was really well organized and I really enjoyed it and learned a lot.
Thank you, grade 11
I really enjoyed the panel discussion and getting to hear about how often they changed their majors and what led them to where they are today. I also really enjoyed the tour because we got to see where the people work and what it would be like to work here. Grade 11
The panel was really inspiring. The whole day was great. Grade 12
I was really excited to see how many kinds of jobs in technology there are at Starbucks. I loved the tour. Thank you, grade 12
I was so inspired by the brainstorming session and how it's like an actual workplace situation. It was really fun. Grade 12
The highlights for me where taking a tour and learning about all of the different jobs available in technology at Starbucks. Grade 10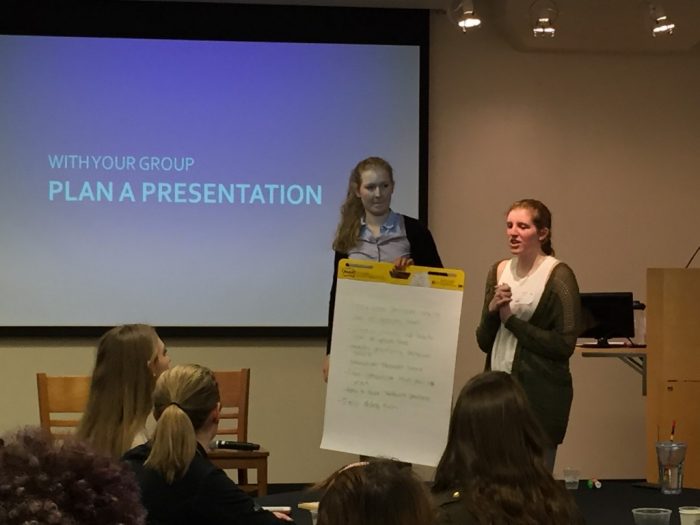 I really enjoyed tasting the treats. Coffee and tea! I also loved coming up with ideas to solve a problem. It was all really fun. Grade 10
I enjoyed experiencing a work atmosphere and listening to successful women's backgrounds/journeys
. Just keep doing these trips! Grade 11
I enjoyed touring the headquarters and seeing how big and how Starbucks works behind the scenes. And seeing how women in the workplace can do what men can do. Grade 10
I liked hearing from the panel, grade 12
The highlights for me was learning the history of Starbucks and coming up with ideas for the company. Grade 11
I really enjoyed the tour and seeing the building. Grade 9
The panel and the tour were so interesting. I really liked seeing how this all works. I would not change anything. Grade 10
I loved the brainstorming activity. I liked hearing what the people who work here had to say. Grade 10
I loved the brainstorming session and the panel was awesome.  Grade 10
Being able to hear people's stories was awesome. Grade 10
I really liked hearing what women picked as their major in college and what they ended up doing. I thought the day was really great. Grade 11
I loved the tour, wish it were longer. The panel was amazing. I would love to get involved with IGNITE more and become a student leader. Grade 11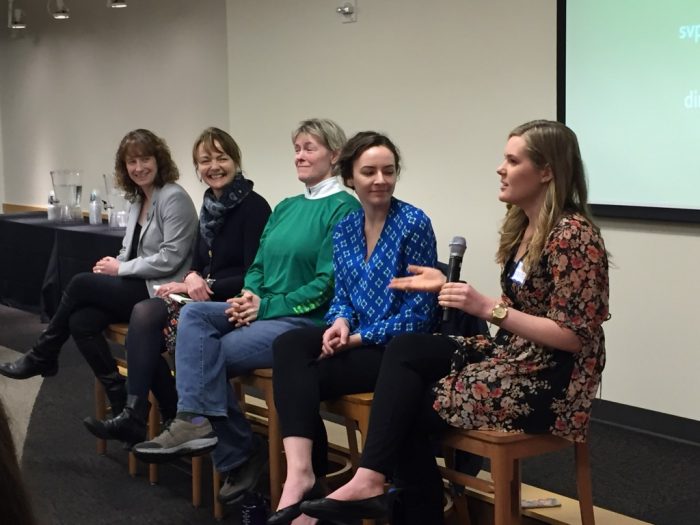 The highlights for me were the panel, and tour and seeing what women do at
Starbucks was interesting. They showed me that there are a lot of different parts to working in the field. Grade 10
I loved the tour! Really interesting to see Starbucks, since it's always something I've wanted to do. Love meeting the ladies who work here. I want to work at Starbucks now!  I would love to spend more time with the women. Grade 12
I really enjoyed presenting our elevator pitch., and brainstorming ideas to help solve a problem. I would have loved more time for that! Grade 12
Coming up with ideas/solutions was my favorite part. Grade 10
See the gym and tasting the coffee, made me want to work at Starbucks.
The day was great. Grade 10
---
The girls always say it best.
Thank you to everyone who helped with making this day memorable.
Cathi