April 21, 2016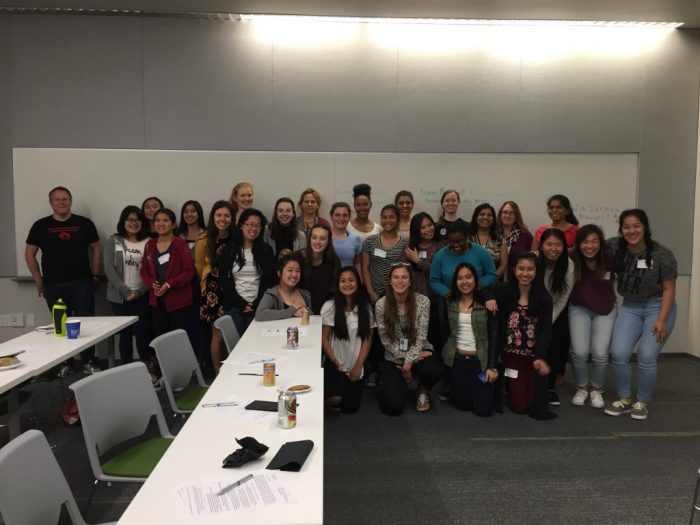 Hi All,
We had a fantastic event yesterday at Microsoft!
The girls got to visit Xbox and the Microsoft Retail Center. They loved the tours and were so excited to try hands-on activities as well as learn about how Microsoft markets their products- they shared many highlights but no secrets 🙂
Microsoft provided a beautiful lunch and an inspiring panel of women shared their stories and the girls asked so many great and astute questions.
The conversations that took place during the lunch panel were truly something fabulous. The girls were so uplifted by hearing from the women and the women care so much about providing meaningful information and illuminating why these careers choices are so great for women.
---
Thank you to Christine Alexander, and Aparna Vishawanathan who make sure each and every detail is looked after so that our day is wonderful: from booking rooms, ordering food, recruiting volunteers. Everything is set and ready to go. We cannot thank them enough for how much care goes into each and every event.
Thank you to the wonderful women who provide the tours for us each time: Xbox tour leaders Jessie Thomas and Melissa Boone; and  Esther Christoffersen from the Microsoft Retail tour. The girls always come back so excited and having learned so much about these career choices.
Thank you to our IGNITE panel volunteers: Sweety Chauhan, Program Manager, Casey Schaertl, SWE, Reham Abdelshahid, GRC, Ramya Mudduluri, Software Engineer, Natalia Varava, Dev Manager, and Diana Marshall, Business PM. You were amazing with the girls and it is so special to be a part of that experience. Thank you all for making this day so great for the girls.
Thank you to the devoted teachers from Franklin High School and Ballard High School who work so hard to make these opportunities happen for their students: Julie O'Brien, 9th grade math teacher at Franklin HS and Jim Verhaeghe, Computer Science teacher from Ballard High School.
---
Here are the comments from the girls' survey forms. They always say it best.
I enjoyed hearing the struggles the panelists went through, in regards to their gender. We are under represented as women in science and technology field and hearing their success stories and how they ended up at Microsoft is very inspiring. This event was an amazing experience. Grade 10
The panel discussion really inspired me a lot. I learned a lot of tips for later on job/careers. It was really helpful. J grade 10
I enjoyed playing the game and being a participant for the game. It was interesting to hear that there were so many tests before a game is released to the public. This event inspired me to consider gaming as a future career choice. Grade 10
The Xbox tour and learning about how games are developed has inspired me to learn more about technology and science. I also learned that you could have different backgrounds and still work in the tech industry. Grade 10
I loved seeing the retail products center. It made me think about all the nuances of the retail industry and made me think more about how tech is used in our everyday lives. Grade 11
I enjoyed playing Xbox even though I don't know how. This event inspired me because women can also do computer science stuff. Grade 10
Everything was great. I enjoyed playing the game at Xbox and the food was great. People were really nice and I learned a lot. Grade 10
This day was amazing and everything was awesome. I really enjoyed playing the game. It made me more interested in learning about gaming. It was very fun. Grade 10
I enjoyed the Xbox gaming session. It was really fun. I had a great time and it really inspired me to get more involved with technology. (I.e. taking classes, clubs and programs.)
I love IGNITE! Grade 10
I really enjoyed hearing how different everyone's story was and how there are so many different career opportunities involving technology. Grade 11
I really enjoyed the panel and hearing everyone's stories and how they came to work for Microsoft. The retail center was amazing! Grade 11
The panel was amazing and so were the tours. It was perfect. Grade 10
Everything inspired me today! The retail space and panel were both incredible. The event has inspired me to do more with computer science in school and out. Grade 11
The highlights for me were hearing what it's like at the job, the benefits, opportunities, that are given and the honestly of everyone. I really appreciate the women's advice. Grade 12
---
Thank you all for making this such a special day,
Cathi