April 28, 2016
Hi All,
We had such a fantastic day at Starbucks Headquarters!
Over forty young women traveled to Starbucks and experienced an exceptionally powerful day of learning about STEM careers at Starbucks Headquarters. The girls arrived and had a top to bottom tour of the Starbucks Headquarters. They got to see people in meetings and areas where the work is being done every day. The girls get to see a vibrant and dynamic work experience and were taken with the general uplifting work environment at Starbucks.
We attended a Teavana Tea tasting and the girls had such insightful comments to share about that experience. It was really fun to hear how the tea is made and so many interesting facts about tea. Thank you to Thea Reeves and Thad Schenk; and Thea's son, a 4th grader, (it was take your child to work day!) was the host and delivered tea to the girls. He did such a great job!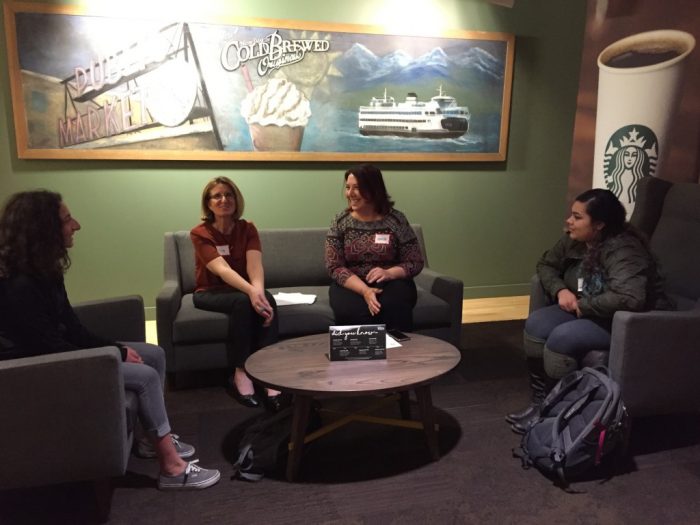 After the tour the girls split into small groups and were lead to conference rooms to learn more about IT at Starbucks. The girls were introduced to different teams and how they operate and then given the opportunity to job shadow someone from those teams. The girls were paired in 2's and went off with a few Starbucks Partners to learn even more about what they do and where they work. It was such a thoughtful, well designed day and the girls learned so much about these careers and came back telling of unforgettable experiences.
The day was not yet over! Lunch was provided and a panel of Starbucks women in IT shared their stories and then the girls asked questions. The women shared advice they wish they had known in high school, along with how great it is to be a women in IT and so much more! It really stood out that they clearly loved what they do and especially the company they work for! There was even a raffle and prizes!
The girls were so appreciative of how much they got to learn and experience in a one day field trip, and this is all thanks to the women who designed such an amazing day!
The girls learned a lot about what it means to work at Starbucks. They are called Partners; To Be A Partner:
Being a Starbucks partner means having the opportunity to be something more than an employee (#tobeapartner). Gigantic possibilities lie ahead—to grow as a person, in your career and in your community. To live the Starbucks mission and to be a leader. It's the opportunity to become your personal best. To be connected to something bigger. To be meaningful to the world. And to be recognized for all of it. It's all here for you.
The Starbucks employees talked about this a lot in personal discussions about Starbucks being about people, not drinks or food. The girls all wanted to work there and started planning their paths!
It was such an inspiring day and everyone left uplifted by it.
---
Thank you to our wonderful tour guides, Ashlee Zink, Bryanna Geisbush, Betsy Brace, Chelon Jones, and Liz Rampolla.
Thank you to the Starbucks partners who did the group job shadow, Adela Zichova, Cassandra Tate, Lisa Ferguson, Chris Droz, Patrece Higgs-Mansisidor, Amanda Scott-Kandoll, and Tammy Howard.
Thank you to the Starbucks Partners who did the individual Job Shadows.
Natalie Stephens, Amanda Petersen, Anney Kelley, Ashley Mccrillis, Aarita Sankrithi, Dawn Capecci, Kris Aamot, Melissa Nakanishi, Gehua Yu, Lisa Moran, Christopher Olson, Scott Clemens, Amy Crigger, Steve Densford, Joe Colombo, Scott Nance, Vanessa Bussiere, Rita Bartz Warner, Rebecca Nelson, Brenda Langer, Thomas Ball.
Thank you to the amazing women on the panel, Amy Tsui, Elise Guerette, Traci Fontyn, Heather Robinson, and Surekha Vuppala.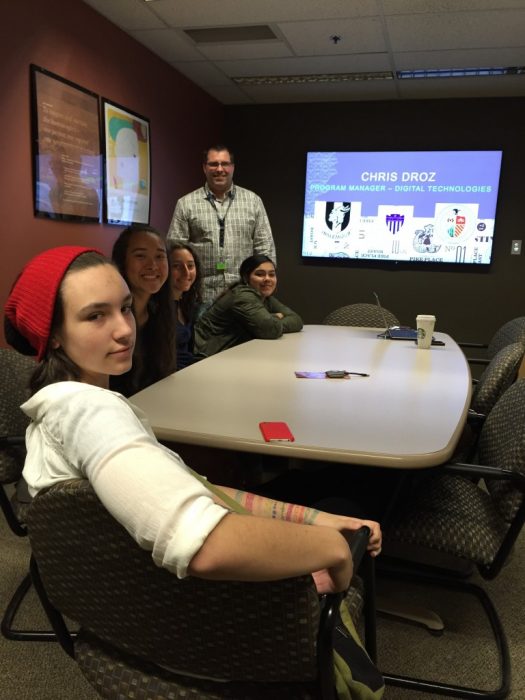 And thank you to the Starbucks photographer, Leaf Seibt.
A big thank you to the IGNITE teachers from Nathan Hale and South Lake HS.
Cindy Jamieson, and Magic Demirel, from Nathan Hale and Paige Wakamatsu and Jessica Monfils. The teachers are such important partners in the IGNITE program and we could not function without them and their tireless work for the students.
IGNITE teachers go above and beyond to provide these opportunities for the girls, and we cannot thank them enough.
A big Thank you to the parent chaperone from Nathan Hale, Melissa Williams-Gurian who helped us on this trip. Melissa is a strong advocate for IGNITE and having parent support means a great deal to the program. Thank you Melissa for being there for the teachers and girls.
---
Here are the comments from the girls survey forms.
They always say it best!
We got to have interactive conversations with many people from different fields. I also was inspired to go into STEM stuff and enjoyed seeing the workplace!!! Grade 9
I loved the tour with my mentor, job shadow person. I want to pursue a career in STEM now. The whole thing was awesome and my mentor really inspired me. Grade 12
I now want to work at Starbucks. I loved the job shadowing part. Grade 12
I learned how Starbucks is a lot more than a coffee company. It has inspired me to think more about what I really want to do after high school. I think everything was just perfect. Grade 12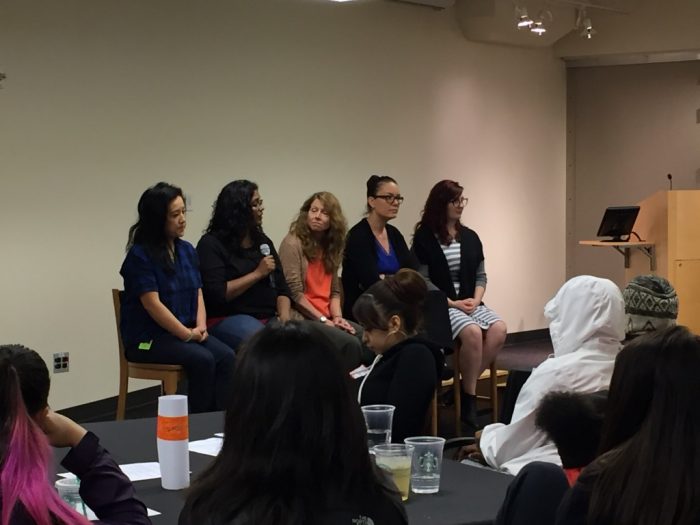 I really enjoyed going off into individual groups and it inspired me to apply to work here. You did great! Grade 10
I enjoyed seeing different aspects of the company and hearing people's stories. Grade 11
I loved job shadowing and specifically learning about one person's day and the teams they're apart of and how they contribute to the business. I thought the whole day was great J  grade 10
I liked walking around and following someone who works here. It was a lot of fun and I learned a lot. This was a perfect day. Grade 10
I loved seeing the whole company and how it works as a whole. Perfect grade 10
I learned to expand my career choices and interests. Grade 10
I thought it was interesting to see the job shadow and what happens behind the scenes at Starbucks. It's amazing how many details there are and how many people are involved in making Starbucks what it is. Grade 9
I loved going to a meeting and seeing what it's like grade 10
I really loved spending time with the job shadow person, Steve. Grade 12
I love when Aarti gave us a tour of the tasting room. It was great!  I also loved hearing about the history of Starbucks. Grade 12
I thought it was really interesting learning about scrum masters. And learning how things work. I learned a lot about STEM and will definitely be pursuing a career in STEM. Grade 10
I enjoyed job shadowing one on one. I am inspired to be more involved in STEM because of the opportunities it provides. Grade 9
The highlights for me were how collaborative people and work environments are here and the fact that you can change your mind about your career multiple times. It was all-great! Grade 9
I enjoyed job shadowing Tom and learning about what people did at Starbucks. Grade 9
When we were in a meeting and answering questions. It made me more interested and inspired. Grade 9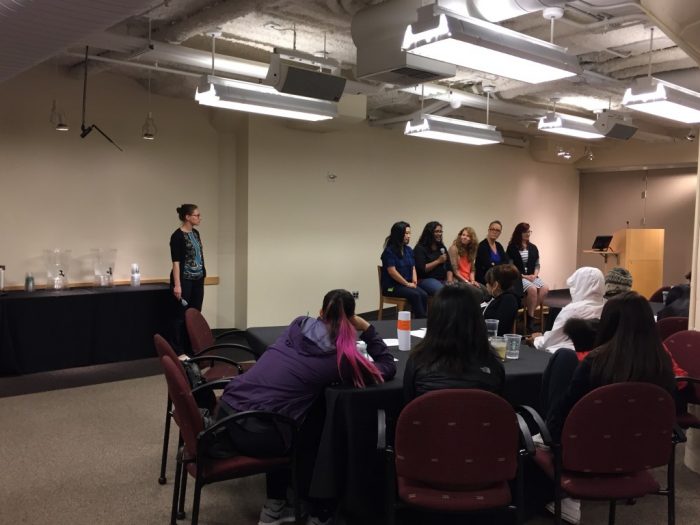 I really enjoyed the job shadowing and getting to see all of the different levels of Starbucks Headquarters. It was a great day. Thank you to everyone who took the time out of their day to inspire me to do what my heart desires. I feel like the IGNITE program is great every time I come. Grade 12
I enjoyed learning how to make coffee, but the most fun part was shadowing someone, because I learned how the environment is at the company and how everyone has a lead in mostly everything. Grade 10
The person I shadowed, (Amy) really inspired me to want to go into a STEM career.
It was great. Grade 10
The highlights for me were seeing the benefits you get when you start working here, how close knit everyone is and job shadowing was very fun and it inspired me to consider working here. Grade 9
I was very excited today. It was really interesting. Grade 10
Everyone was so nice and said hi. Everyone made sure I had what I needed. I liked seeing what everyone does. Grade 9
I liked seeing the workplace and talking to employees, and hearing their stories. Grade 9
---
Thank you all for making this day possible.
So many people had a hand in making this day life changing for girls in IGNITE.
We cannot thank you enough for this opportunity.
Cathi