Thank you so much Dear Jen, Christie, Jenn and Katie for your time with our 7th grade girls at Broadview Thomson.  The girls enjoyed your stories, information, inspiration and encouragement.  This is such important work and I personally appreciate Ignite and all  your volunteers for helping me pass on this message of being capable, intelligent and strong girls that can do anything they set their minds to.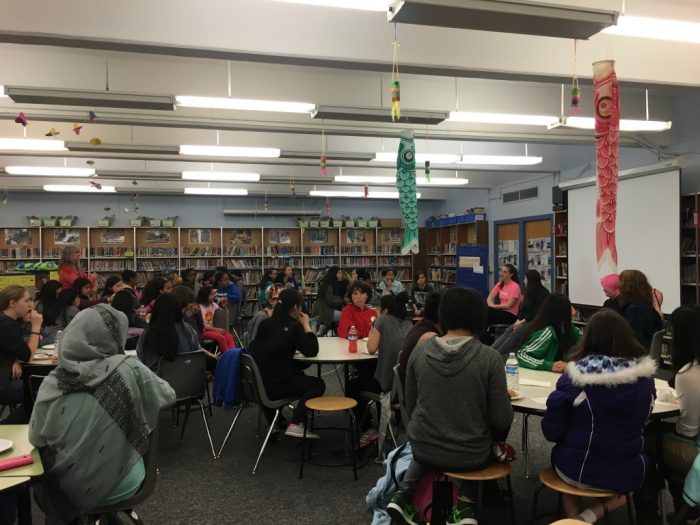 I hope you had a good experience.  All the best to you!
Below you will find some of the quotes from the girls about your presentations.
Sincerely,
Juli Keith
School Counselor
And
All the 7th grade Girls!
---
Student Comments about a highlight or something that inspired them
The beginning inspired me to just go for it.
It inspired me by saying if you fail it's okay, no one is perfect, just keep trying.
How they talked about how they succeeded throughout their life.
I enjoyed hearing it doesn't matter if you're a girl, you can still do things that boys can do, and even some that they can't.
The food was amazing.
I liked the food and how they explained how they got to their career and what college, etc..
The adults talking about their experiences.
I thought it was cool learning about other people. And the food.
I loved hearing their stories, it has inspired me to try harder and never give up.
At first I didn't' like the thought of working in technology, now I don't think it sounds so bad.
Try your best no matter what.
To continue to look for new opportunities.
Don't take no for an answer. Follow your heart.
I enjoyed that we got pizza. This event inspired me because it showed me that girls can do anything boys can do!
Learning about what the women did to become engineers.
I enjoyed all the advice we got from them and all the stories.
I enjoyed hearing that if you keep learning you can accomplish anything.
Girls and women can work hard to achieve their goals.
I liked hearing all the jobs/backgrounds of the different women.
Their stories showed me that I can do it too.
The stories made me think harder on my own future and the next choices I make.
I liked hearing how these women were inspired to be in the position that they are today.
I liked their inspirational talk and the encouragement and their courage.
The highlight for me was when the ladies talked about how few women are in STEM jobs. It inspired me to be in a STEM job.
These women don't like how sexist jobs are and they did something about it. It's relatable.
Inspired me to get out of my comfort zone and try new things.
That coding is like learning to speak a foreign language.
I like their enthusiasm about what they were doing.