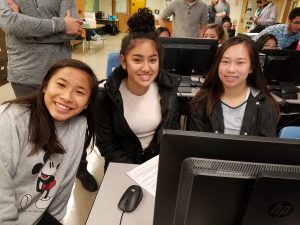 We had an inspiring IGNITE kick off event at Burton High School this year! Microsoft and Redfin lead a coding workshop where students got to code patterns that a turtle made. After delicious vegan burgers for lunch, we had a panel of 3 volunteers from Redfin. Each volunteer shared their career story and mentioned how they got to where they are today, what obstacles they had to overcome to get to where they are today, and spoke about their jobs and what they do everyday. The girls were able to ask questions and get a better understanding of various technology and engineering jobs are available to them, and how women chose their college majors and career paths. The girls loved the discussions and mentioned how inspired they were after the conversations.
THANK YOU!!!
Thank you to Tom Hall from Microsoft for organizing multiple volunteers and Jason Zhou from Redfin for funding and arranging the food for the event.
Thank you to each of our IGNITE Volunteers for teaching and guiding girls during the coding workshop:
Shengyun Zhou
Alcshata Gangolli
David Kuang
Seth Goldenberg
Joel Samelson
Tim Woo
Chung Lou
Yi Yuan
Akash Sant
Tim Guan
Celine Cuevas
Saleh Hamadeh
Andy Shh
Jane Nemenman
Aasha Rustag
Robert Law
Allen Xiao
Jordan Knapp
Matt Sperlnu
Lida Wang
John Lewis
Tom Hall
Each of these volunteers shared their stories with the girls, and it's what makes this experience so relevant and valuable. The girls related to the volunteers and see how similar they are to them: they went through a lot of things, did not have it easy, and had to work hard, but triumphed because they never gave up. It's an amazing message and one that changes these girls' lives forever. Thank you to everyone who shared their stories and answered questions with care and such thoughtfulness.
[Best_Wordpress_Gallery id="41″ gal_title="burton12/7″]
Here are the comments from the Student Evaluation surveys. The girls always say it best.
| | |
| --- | --- |
| Grade | Highlights |
| 11 | I enjoyed the process of programming. It was fun and like a game. This time, this event showed me the first step of engineering. |
| 11 | I enjoyed how they showed us step by step on what to do and figuring out how to make the turtle draw the shapes. Something that got me interested was realizing how much work goes into making scripts. |
| 10 | Some highlights that I enjoyed was that time we did coding on the turtle and seeing where certain things fit. This event has inspired me to be more interested in coding. |
| 10 | Getting to see the result of the coding we attempted and seeing the outcome was cool |
| 11 | What inspired me was when the women were all from different backgrounds and race and they're all in the computer and technical field because its not many women in that field |
| 10 | I really liked making the turtle move and making patterns |
| 10 | I liked programming the turtle to do different things because I thought it would be hard, but it was really fun and easy |
| 10 | I enjoyed the guidance of the hosts and their career was interesting to be. I was inspired by those three ladies who shared the stories with us |
| 12 | Hearing the stories of other women who made it seem that coding is useful and realizing that they went through the same dilemmas as me when they were my age |
| 9 | Some things that I enjoyed were the challenges and changing things. This event inspired me to work harder to understand and learn how to code and program. |
| 9 | I learned so many things. This inspired me to be an engineer. |
| 12 | It helped me understand the need for women in the tech industry |
Until the next IGNITE event!
Amber Zertuche
IGNITE Adviser
Physics and Engineering Teacher
Burton High School