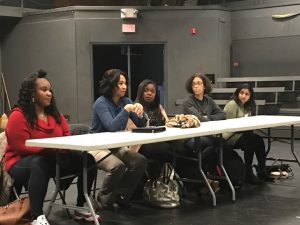 Good Morning to you all!!
I want to send a BIG thank you for helping us make our 4th Annual Women in Color In Technology Symposium event a success last Friday! I also want to send another thank you to IGNITE (Elizabeth and Ms. Cathi!) for again helping to support this event for the fourth year in a row. We had 33 young ladies of color participated and they were all inspired but what you all said! We surveyed these young ladies and 100% of them said this experience helped them better understand their future career interest and plans for after high school! And 100% of these ladies said this experience helped them think about school in a new way or inspired them to do better in school!
These quotes spoke to your impact:
"To find other ways when struggling through other mediums like the internet, asking the professor and learning through mistakes"
"I thought this experience was very inspiring and helped me see education in a new light"
"It really made me think about life and how we can achieve our goals"
"To ask questions, stay curious, and work your butt off to get a good grade in school"
"The Panelist really cared about the students and they related to the students"
"Take advantage of your opportunities that will later help you in your future"
"I heard good advice about how to get my work done and why keep trying"
"Motivation, determination, perseverance"
"They were inspirational"
Thank you all for your dedication, support, and work you put in! You help inspired these young ladies shoot for the stars in terms of their college and career goals!
I am excited about next year already!