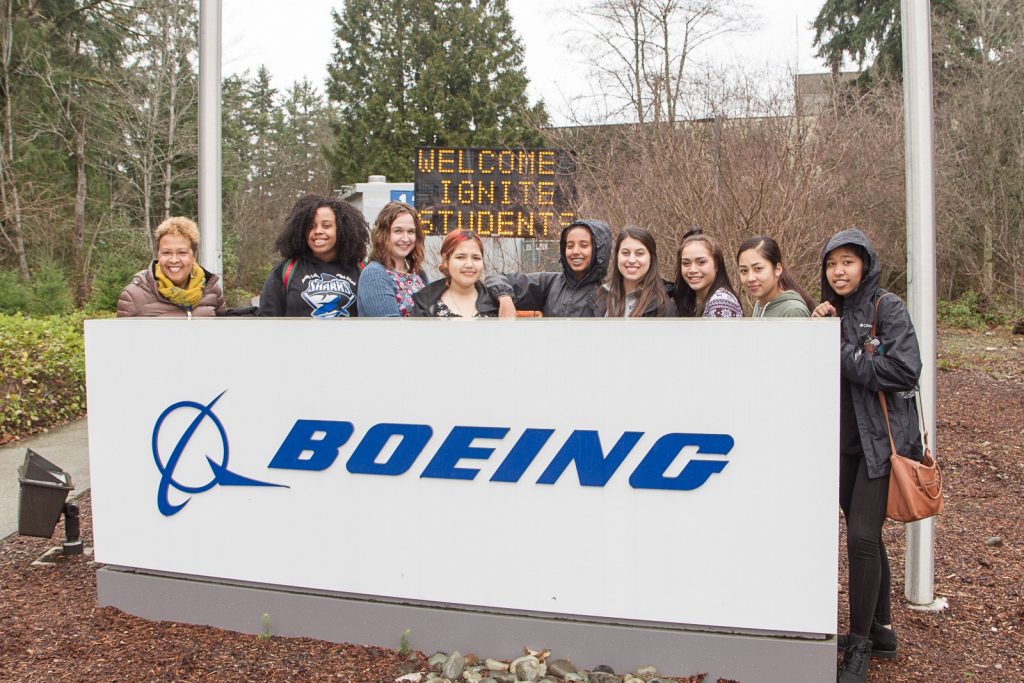 Dear Boeing Women Engineering Panelists,
First and foremost, thank you for being pioneers for women at Boeing in your field, inspiring our girls and taking the time to speak with our students.  You welcomed and motivated them by sharing how hard you worked for your successes. Students also had the opportunity to see what is possible in the various career paths especially at a big corporation like Boeing where you can find your interests.  Our Moderator, Monesa Unger, who shared her journey and mantra, 'Don't decrease your goals but increase your effort'. One of our students was so inspired that she felt compelled to write this mantra on the whiteboard in the classroom when she returned to school that day.  This student said she could relate to Monesa and the challenges she has also had to overcome to get to this point in her high school education.  
[Best_Wordpress_Gallery id="50" gal_title="Boeing2/15"]
Special thank you to each of these presenters for sharing their paths which gave our girls the opportunity to reflect on their future paths.
Sarah Donaldson

explained how her long tenure at Boeing has been a result of her can do attitude and hard work.  She explained to the students that your education is key and will help you progress in your career.

Kelly Randall

shared how math and science came easy to her but she still had to study hard in college. Her analogy of applying to jobs is like attending a concert: there is general admission (your education) and VIP access (your attitude) that will get you to where you want to be in life. This is something the students could really relate to at this point in their lives.

Mariam Davis

who explained her high school experience in computer science was a challenge but she powered through her college classes by working hard.

Nandana Baruah worked in finance and then made the shift to programming along the way. She shared her 3 C's in life for success.

Curiosity

Courage

Compassion

Jasmyn Holmstrom who shared she recently graduated from college and decided to also study a technical field along the way. She encouraged our students to try different courses in college which can expand their field of interest and help narrow their major(s) to pursue.
All the panelists agreed that it is important to DO what you SAY in the workforce because your actions in the end determine your integrity in your career.  The experience and advice really resonated with our girls who felt it reinforced their desire to succeed so they can pursue their post-secondary education. Once again thank you for this inaugural presentation at Boeing!
Comments from the girls:
Today's highlight was them sharing their experiences of growing up and what made them/helped them move forward. -12th Grade
Today's highlight was hearing the stories of how the women go into their Boeing fields and making real life decisions -9th Grade
I enjoyed sharing ideas with the group about interesting topics, like mars and self-flying planes. -9th Grade
What highlighted today's event was the panel. -12th Grade