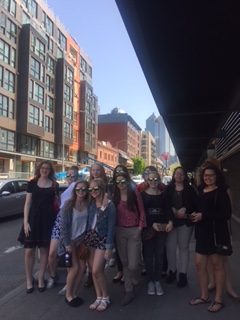 TUNE was a lot of fun to visit. TUNE is a great name because they "TUNE" technology to help customers improve their Mobile Marketing.  Their operation is situated downtown near the water and is housed in a historic brick building that used to house horses in the 1920's.  They have done a wonderful job of preserving some of the history with framed pictures of the original structure.  An old hay cart was suspended from the ceiling in one part of the building, and the outside has a horse's head looking out toward the water.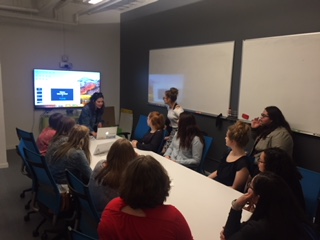 The girls were particularly excited about the app project they were tasked with.  Divided up into small groups of four, each group created an app that would positively impact the environment.  Some incorporated "steps" for exercise and reduced emissions, and other groups focused on points and prizes for picking up garbage.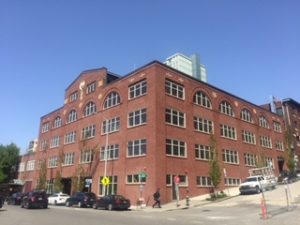 As with many tech companies, they provide opportunities for their employees to stay at work and be comfortable.  They have their own chef AND they provide breakfast and lunch, and sometimes dinner to them!  Happy hour has its own venue just a block up from the main operation, where they have regular gatherings.
And there were dogs…!After this event:
Our girls shared some of their thoughts:
"The app game we did was fun and cool and it was something you  could do in real life."
"The activity we did with the app and the tour inspired me to look deeper into this area."
"Making our own app and delivering (it) made me realize I do have creative and original ideas worth sharing."
We would like to say thank you to Ali Wolf, Recruiting Program Manager, who obviously loves her job and TUNE!  She introduced us to her amazing colleagues, who we would also like to thank:  Anita Gandhi, Web Development Manager, Jennifer Owns, Software Development Engineer, and Jamie Park, Director of Employee Development.  These dynamic women shared their stories, where they came from, and embraced the diversity of their backgrounds.  It is an amazing thing when you can reach teenagers and influence their future, and many of the girls said they are seriously considering a career in Technology.    They are seeing how different each person is and that bringing a variety of talents, skills and experiences to the table makes for a fantastic work environment and profitable business.
Thank you again for the opportunity!
Kelly Woyak, Career Specialist
Graham-Kapowsin High School
Robin Hodges, Career Specialist
Bethel High School