Dear BLINK UX Magnificent Women,
We thank you for sharing your journey and your business's focus at BLINK UX . The time you all took to share your journey and how it brought you to BLINK UX has inspired our girls.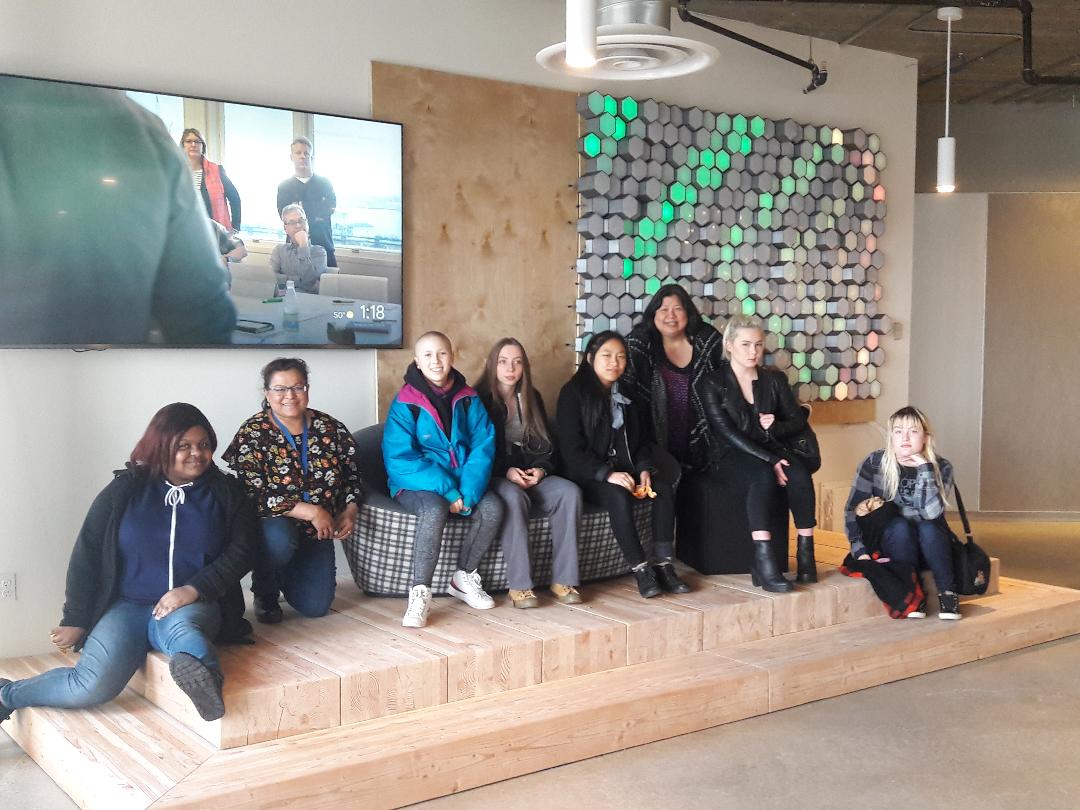 Annie Pardo welcomed us into your office with a smile and enthusiasm which really sparked our students; interest.  Our first presenter, Sarah Miller in Marketing explained the core of the business is research, collecting data, design and then testing the product while keeping users in mind as the driving force. Next Marissa Irish shared how her college pathway was unique but it only inspired her to major in business. Now as a Project Manager she loves what she does and skiing.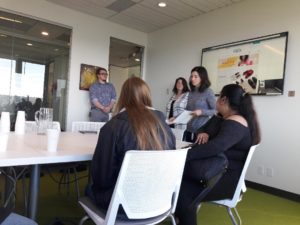 CEO Karen Clark Cole explained how the business is based on evidence driven design that consults for many companies.  She shared with our girls that she had an art degree and studied what she liked such as photography in her educational path. This got a few of our girls' attention who are very interested in art , so hearing someone in tech can have an art background was a bonus.  Her wisdom to be open to opportunities and it's ok to fail since you get better over time inspired our students. She encouraged our girls to ask this question in a job interview, "Does the company do equal pay?" since this is the only way to get change. She stressed that if more women ask this question before they accept a job offer that things will really shift.
Celeste Buccino was another Project Manager who showed a power point slide of a stream with stones going from one bankside to the other. This was to show that in the journey there are many steps that will get you to the other side. Everything you do will make you who you are so be adventurous and try new things.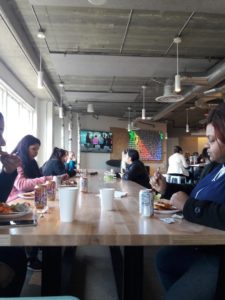 Then we took a tour which was just amazing and the girls were very inquisitive especially in the VR room and the 2 way focus group room. Also, the views from the office created a selfie buzz with the wheel, ferries and Puget Sound in the background.
Holly Prouty explained how as a user researcher her job is to work with people to see how they interact with products. She evaluates the data she collects and she shares this with the design team. Each company is different with specific needs and outcomes in their contract so you have to be flexible. One of our students's volunteered to go into the VR room to test a product and she really enjoyed it. Then we had a pizza lunch and salad that was very delicious and everyone went back for seconds so thank you.
This is a growing field and students having this early exposure gave them the opportunity to really consider this in their career and explore a major that is of interest to them vs. their passion since that will come along the way.  The many words of wisdom really resonated with our girls and we are so thankful of each presenter's time and wisdom.
Thank you to every volunteer that inspired us! Sara Keats, Annie Pardo, Brigitt Rains, Karen Clark Cole, Celeste Buccino, , Holly Prouty, and , Jordan Barber- thank you for sharing your stories with us.
After this event:
Comments from the Girls:
Getting advice was helpful and hearing success stories was inspiring.
I liked seeing the diverse interests and fields that the company lead to.
I liked the workplace and how many women work here, it's inspiring.
The highlight for me was hearing the women's stories, and journeys, where they came from, their perspective and the stepping stones.