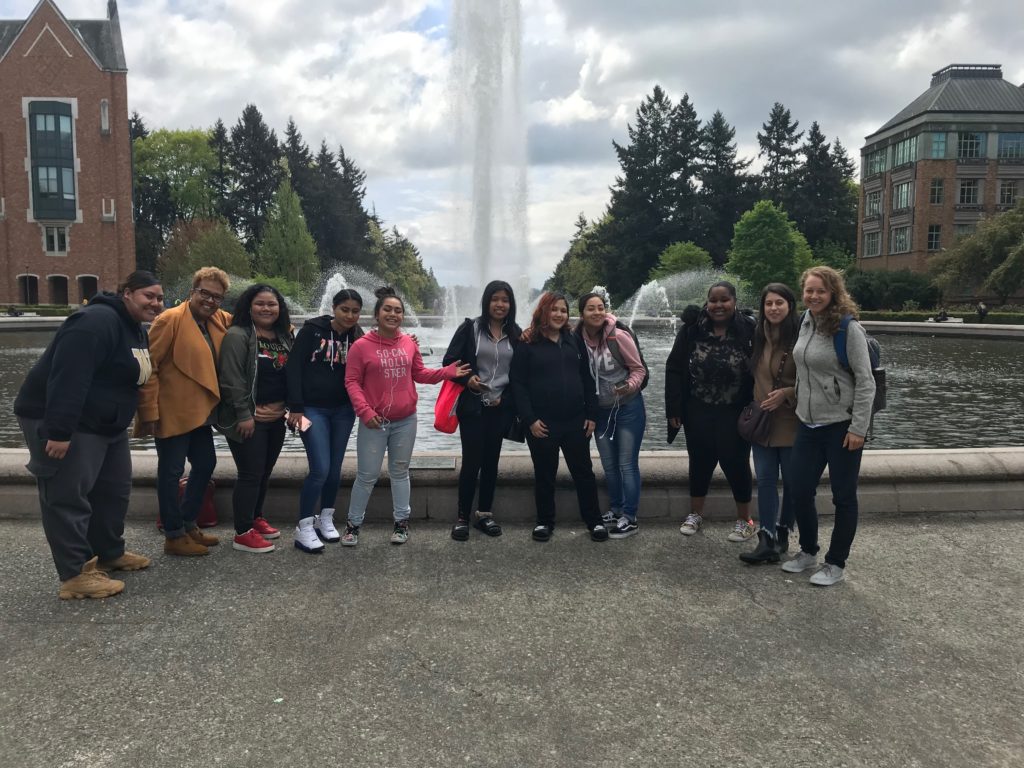 South Lake High School and Middle College High school traveled via light rail to the UW campus for an Informatics field trip. We had 18 young ladies, and 3 advisors and 2 Interns in tow. It was a great walk through the campus with the cherry blossoms in full bloom. Many of our students had never been on the UW campus.
The students really enjoyed the ice-breaker which was fun since it gave them an opportunity to interact with students from other high schools. There was a lot of laughter and learning when they found the other half of their pair.  Students said they liked this ice-breaker since even those students who were shy could still participate comfortably.
The girls had the opportunity to hear what Informatics was as a discipline and the different tracks in this major they could focus on such as: Data Science, HCI, Information Architecture, Information Assurance & Cybersecurity or Create your own track. Tips on how the admissions process works and how to present a strong application were also helpful.
Then the girls were able to engage in a real world project where creativity, collaboration and problem solving were highly valued.  This simulation activity was called 'Create Your Own App'. This involved identifying a problem and solving to create an App to address this problem.  The students came up with an App, identified three features the App would have and used paper/markers to create screenshot mockups. This involved a lot of brainstorming, engagement, problem solving, tossing around of ideas, and reaching consensus within the groups. One of the App's was called 'Stay Out the Streets'. This App was geared to address the issue of getting youth off the street with resources for teens between the age of 12-18.  Some of the functions of the App would be:
Getting a ride by adult to an appointment
Housing/Shelters
Food
Clothing
Medical and Dental Resources
Teen Pregnancy
Counseling resources
Treatment Services
School options
LGBTQ Resources
Other languages options/translations

Even though many homeless youth have phones, often they visit  libraries and other places to seek shelter and warmth. Thus, the group decided to make signs to post at places where homeless youth hang out..  
Lastly, the five students on the panel were not only insightful but also inspirational to our students who needed to hear from real students in the program. They shared that their interests started early in high school with an interest in math, robotics and Deca, etc. Even though many students interned at Microsoft they also joined clubs on campus to grow and enjoy being involved.  They urged our students to apply to anything they are interested in and reminded them it's hard work but they can succeed with effort.
Thank you for taking the time out of your busy school day to spend time with our students who you have truly inspired to learn about Informatics. We all really appreciate your time, positive energy and encouragement. Also, thank you to Torri Gottlieb who planned and moderated this event for all the students and provided pizza and snacks for lunch.   
After this event:
Highlights from the event:
The valuable info I hadn't heard about the UW before. The program's awesome.
The app making activity inspired me to think and be creative.
I liked hearing about the girls' experiences with internships.
I enjoyed the insights on diversity in the informatics program.
how friendly their classes are and knowing you'll feel welcome in college.