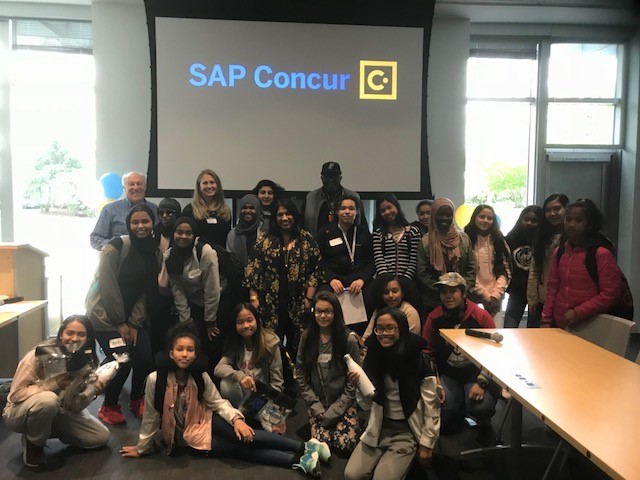 On Monday April 30, Assistant Principal Ron Howard and I escorted 19 young women from Aki Kurose Middle School to SAP Concur in Bellevue.  Aki Kurose is a Title I school located in Southeast Seattle.   Title I refers to over 85% free or reduced lunch.  Many of our students are English Language Learners and are from disadvantaged backgrounds.
Our day at Concur began with a meet-and-greet, where the students met facilitator Carol Russell and other Concur team members.  They introduced a Virtual Reality game in which the girls participated.  The game introduced new technology to these students and they were very excited to learn about this technology.
We were then given a tour of Concur where the students were shown work spaces, breakrooms, and conference rooms.  A question arose during an elevator ride as to whether any girls had previously been in an office building.  The answer was that the closest they had come was a hospital.  The breakroom was a big hit as it includes free soda, juices and coffee stations.  The girls took full advantage of these gracious resources.
After this event:
After lunch the panel discussion centered around the backgrounds of the Concur and Microsoft employees.  Many shared heartfelt stories about hardships and challenges they faced throughout their careers.  This resonated with the girls from Aki as they shared in their survey comments.  One quote was "everything they have been through really inspired me".   Another student said, "I enjoyed hearing other women talking about their background and how they got to where they are today, and it made me want to work harder to reach my goal".
The surveys indicate how thankful and appreciative the students were to have had this opportunity.
Comments from the girls about what inspired them:
They VR game and also the panel explaining their personal stories of how they made it to where they are now.
How many people that worked here had hard times in the past, and how working here changed their life, inspired me to not let anything stop me from doing what is best for me.
The tour because it showed me if I like engineering this is somewhere where I might be.
It has inspired me to do what I like.
The tour on the different floors and talking with a few people let me see that all kinds of people with different backgrounds and interests can still work great together in the same field.
[Inspired] by making me want to create anything I can imagine.
When they told us about their background it shows us how we are all human and how women's empowerment grew.
Overall this was a very successful day and we would like to thank the Concur and Microsoft teams for their time, energy and hospitality.  I would like to specifically thank Elizabeth Dewar at IGNITE for her help in organizing this event and making it happen.  Thank you to all the volunteers who helped and the panelists: Carol Russell moderator – SAP Concur, Technology Enablement for App Center; Geetha French – SAP Concur, BD Platform App Center; Claudia Myers – SAP Concur, Director of Tech Ops; Carrie Miller – SAP Concur Pricing;  Karuana Gatimu – Microsoft Technology Professional & Team Leader; and Jude Tomei – SAP Concur Sales Ops Manager. All of us from Aki truly appreciate you and thank you for your time and expertise.
Again, thank you all for such a valuable day for us.
Stuart Chernis
Aki Kurose Middle School
Computer Science