T-Mobile

Receives IGNITE's 2019 Community Service Award
Tuesday | March 12 | 2019
IGNITE Worldwide announced today that T-Mobile will be the 2019 recipient of the IGNITE Community Service Award. In recognition of T-Mobile's leadership and tremendous commitment to providing opportunities for girls in the STEM industry, IGNITE leadership selected T-Mobile to receive this special distinction.T-Mobile's recent $50,000 contribution to IGNITE's programs is the largest single contribution the organization has received since its founding and will fund programming for ten IGNITE Chapters, among other initiatives.
T-Mobile will serve as presenting sponsor for IGNITE Worldwide's fourth annual Spring Gala on Saturday, May 4, 2019 at 6pm at the Showbox SODO. Elizabeth Hunter, Senior Vice President of Technology Strategy for T-Mobile, will provide the event keynote address and is an active member of IGNITE's advisory council. The Community Service Award will be presented to T-Mobile at the event by IGNITE students and leaders. The event will benefit IGNITE's programs, supporting thousands of girls to pursue STEM education and careers for the 2019-20 school year.
Hunter commented on her and T-Mobile's enthusiasm for IGNITE, "T-Mobile is all about empowering the next generation of women tech leaders! We love partnering with IGNITE to get girls access to opportunities that will foster their interest and passion in STEM at an early age – and help pave the way for their bright futures. Receiving recognition like the IGNITE 2018 Community Service Award is truly an added bonus and we're so appreciative to be honored in this way!"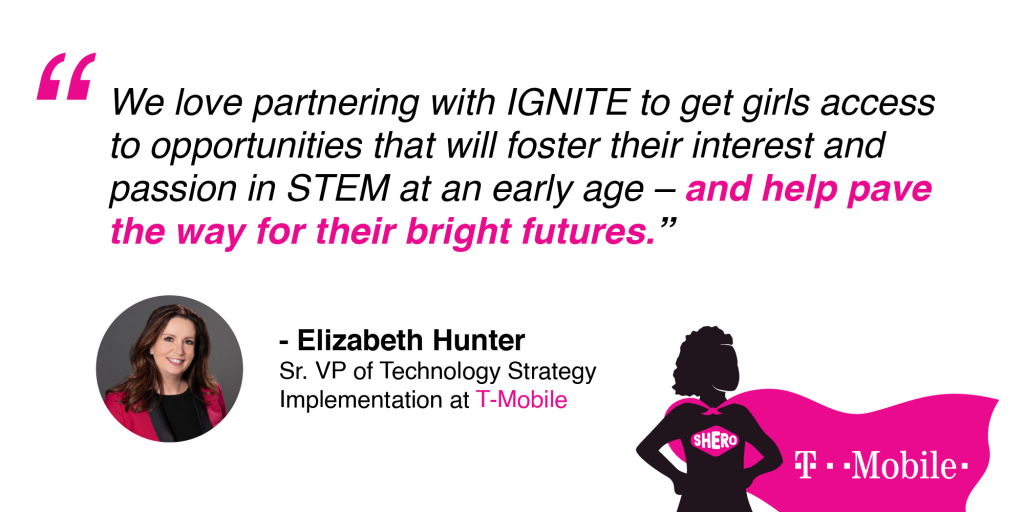 The IGNITE Spring Gala audience includes executives and professionals from multiple technology companies in the Puget Sound area including Microsoft, Amazon, Starbucks, Google, REI, TUNE, and many more. The audience will also include candidates running for state office positions. The evening will facilitate exciting and engaging conversations promoting additional collaboration to increase support for more girls to pursue STEM education and careers.
"The leadership and support provide by T-Mobile for IGNITE is vital in ensuring that girls attain every opportunity to flourish. IGNITE has proven that the program increases female enrollment in STEM classes from less than 10% to between 30% and 80% when IGNITE is active in a school. Together, with champions like T-Mobile, we are empowering the next generation of women leaders for a future in STEM," said Cathi Rodgveller, Founder and CEO of IGNITE.
Click here to reserve your tickets to the IGNITE Spring Gala in Seattle!