Thursday, April 25, 2019 | Broadview Thomson K-8 at KForce | by Michele A.
On Tuesday April 25th, thirty-six 6th-8th grade girls & non-binary students from Broadview Thomson visited KFORCE and were warmly greeted by Rianna & Abdi. Once inside, each student received amazing backpacks with KForce stitched on it.  Inside was a plastic cup and t-shirt with both the KFORCE logo and the IGNITE logo on them!  One student asked, "Do we have to give these back at the end?" She was very excited to learn they were theirs to keep 🙂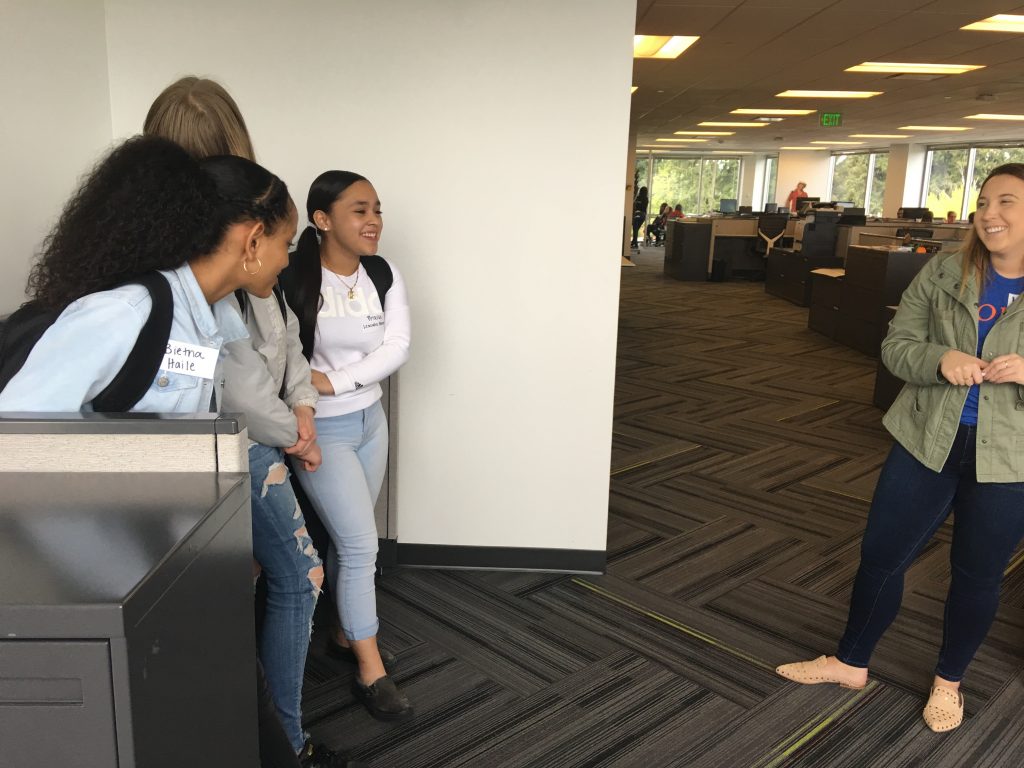 Then the girls were shown into their office space where Amanda did introductions and told us about KFORCE and the agenda for the day.  The girls put themselves in groups of 3-5 and went into breakout rooms with two KFORCE employees to discuss a questions relating to females in STEM.  For example,"Explain what you think is the most exciting opportunity in technology currently." or "Tell us how you think we can get more girls on a STEM career path."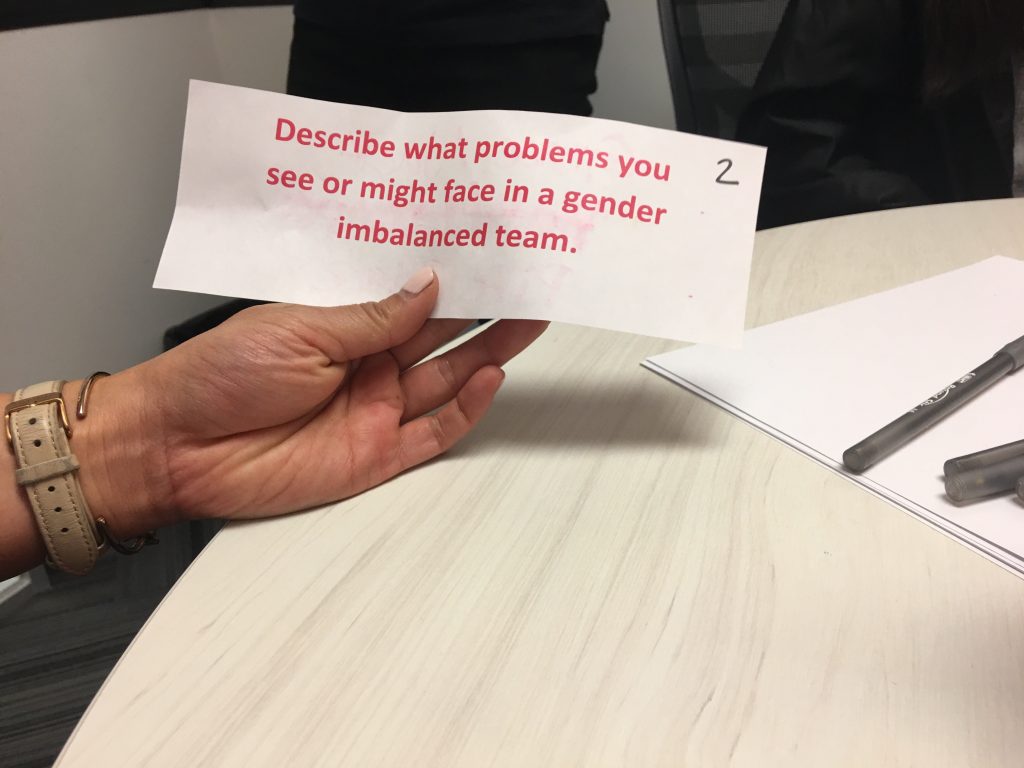 Each group made a poster of their ideas and presented them to everyone.  After presentations the groups went back into their break out rooms and drew pictures of their 'Shero', or someone who inspires them in STEM to be displayed at the IGNITE Gala on May 4th.  KFORCE provided the students and staff with an awesome lunch. The girls then sat on the floor with their food and while eating, got to listen to the women on the panel share their stories and advice.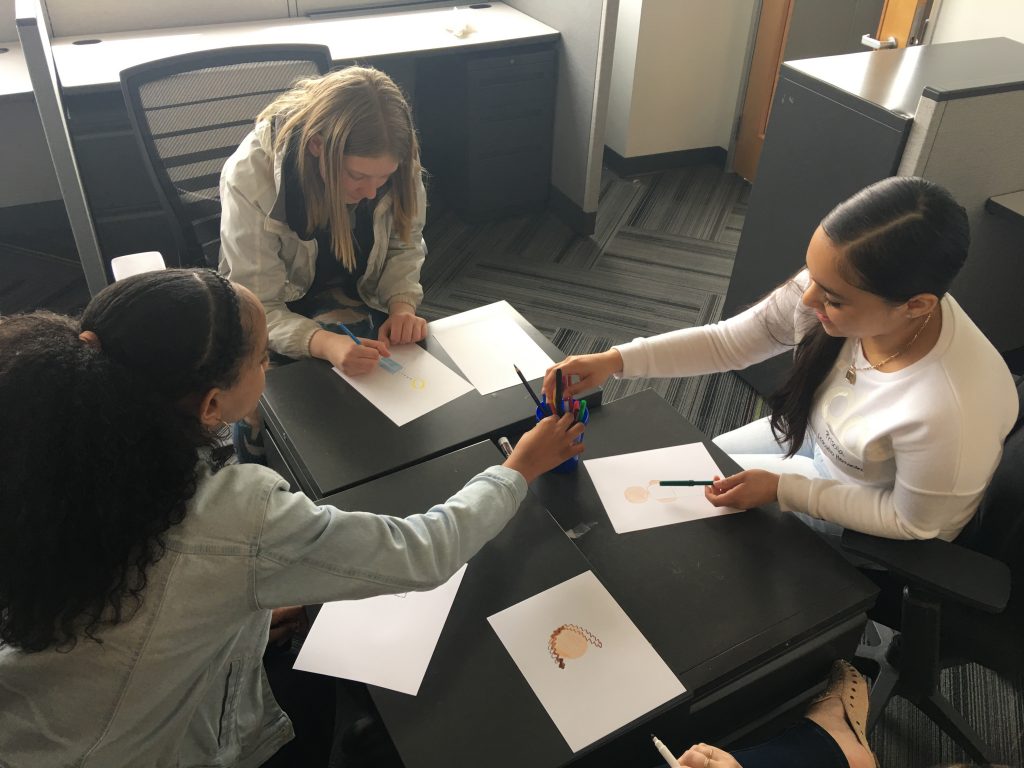 The panel members were: Kate of KFORCE was the moderator, Tatyana Arbouzova from Disney ESPN Sports App, Christie Randolph IT retired from the Healthcare field, Ana Nicacio (lawyer) & Uma Maheswari (software developer) both from Microsoft.  To start off the panel Kate told the students some statistics:
Computer Science—26% Women in the Field, 5% Women of Color

Engineering—14% Women in the Field, 3% Women of color
Christie shared that despite obstacles faced in academics, she figured out how to code she loved it! Tatyana said that to succeed, she figured out alternative methods of learning than she was taught in school.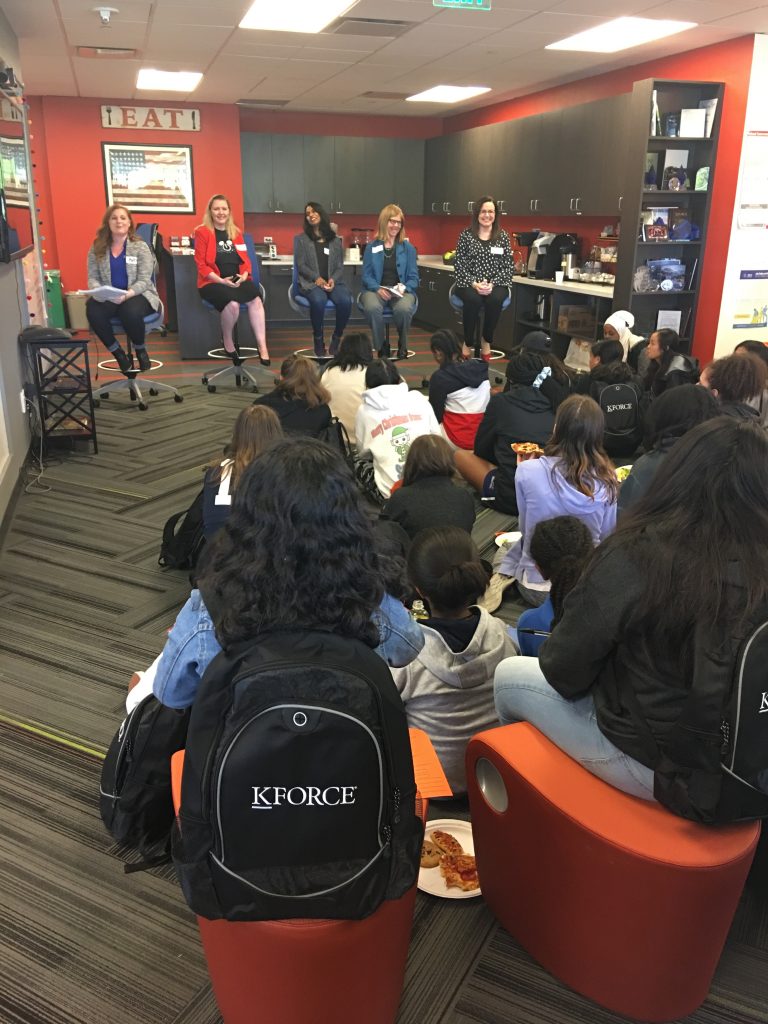 Each speaker on the Panel offered the girls some great advice:
Ana—You can do what you set your mind to! You are smarter than you think! Education is power. You don't need to be perfect. Just be great. Believe in yourself! Keep moving forward.
Christie—It might take a while, but keep at it until something clicks.  Learn how to solve problems and figure out what is the problem really. Don't give up trying.
Uma—Explore all CS classes. Take an AP Computer Science class. Learn Java or Python. Figure out how to be excited about what you need to do in school or at work. Don't worry about being perfect. 
Tatyana—Try stuff out. Learn how to influence people.  Learn how you learn best. Come up with an idea as a team quickly and then work on perfecting it. Don't listen to little voice saying that math is hard. You can do it!
The girls came away from the event inspired and more interested in looking into STEM education! Thank you, KFORCE, for being such amazing hosts and providing our students with this unique experience!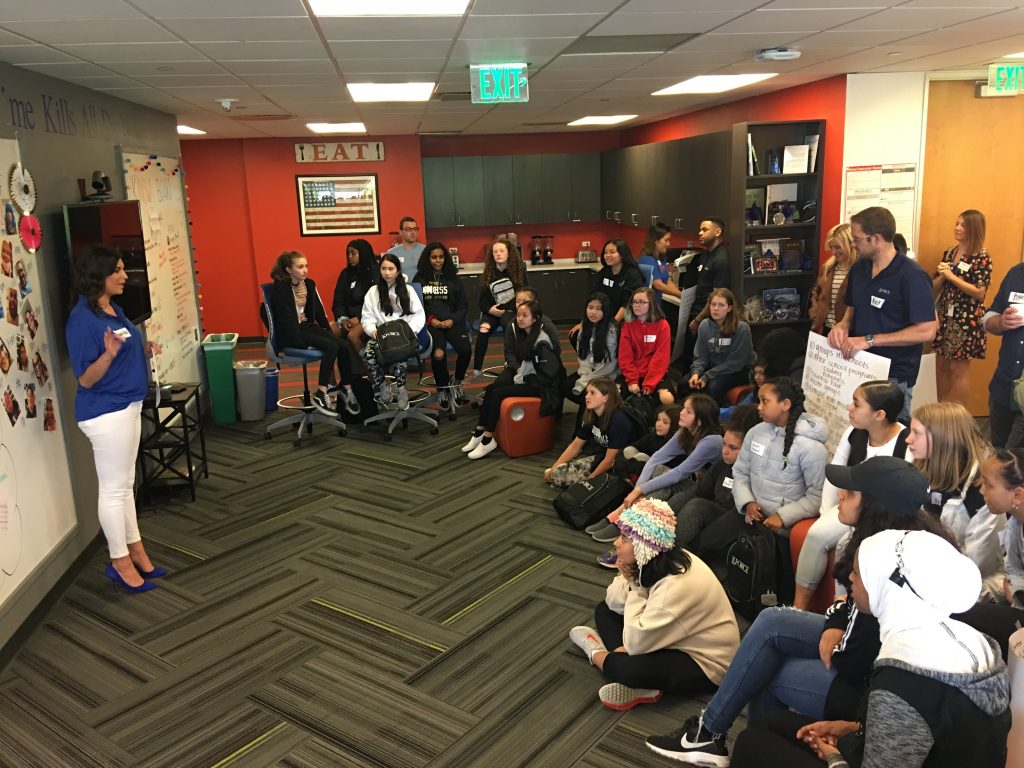 After attending this event:
Here's what the students enjoyed most:
"I already wanted to study something to do with technology, so it inspired me to do it."
- 8th grade
"The activities we did. It gave me tips on exploring in high school."
- 8th grade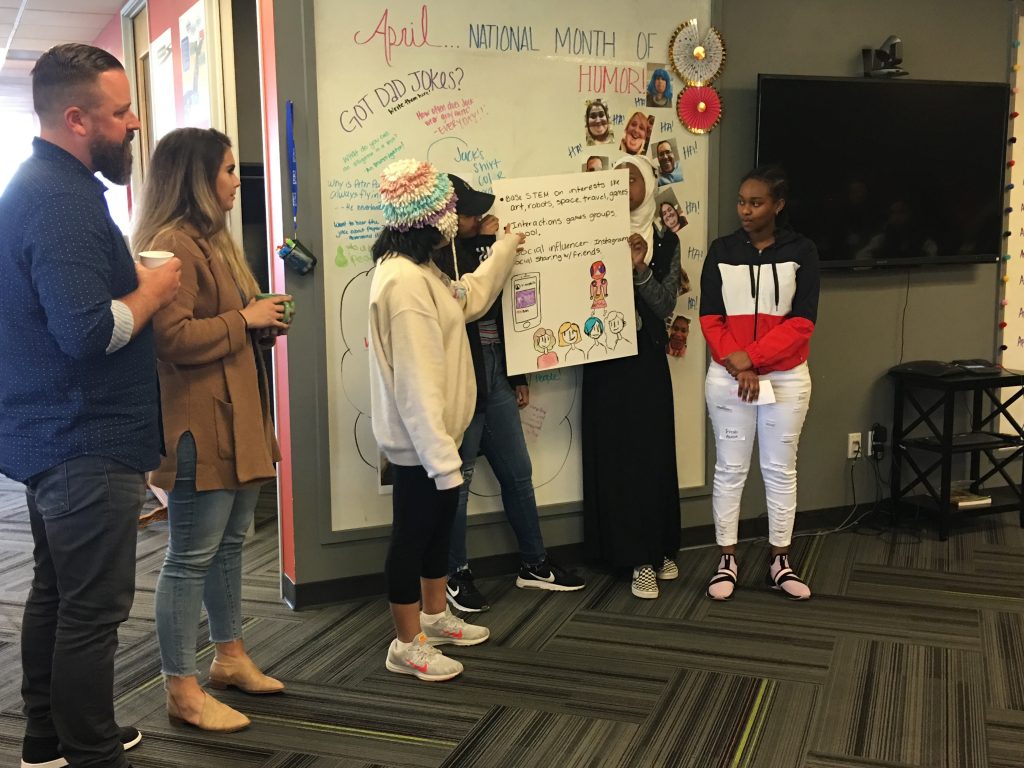 "Learning about interesting classes to take in high school example AP Computer Science."
- 8th grade
"Highlights I enjoyed is learning about gender imbalance, what inspired me was them talking to me and I learned more."
- 6th grade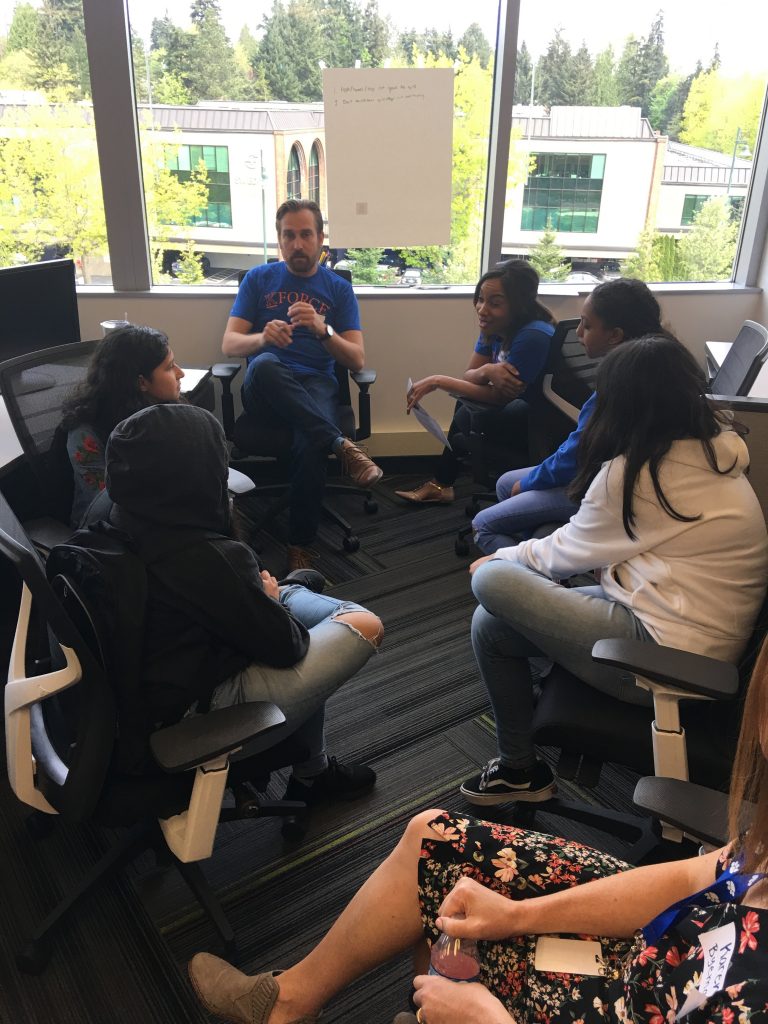 "I like the breakout groups and the art because we got to speak our minds and be creative."
- 8th grade
"I liked when we had to draw our role model. The speakers inspired me to look into more STEM activities."
- 7th grade
"Today's highlights were to listen to the panel and listen to their advice."
- 7th grade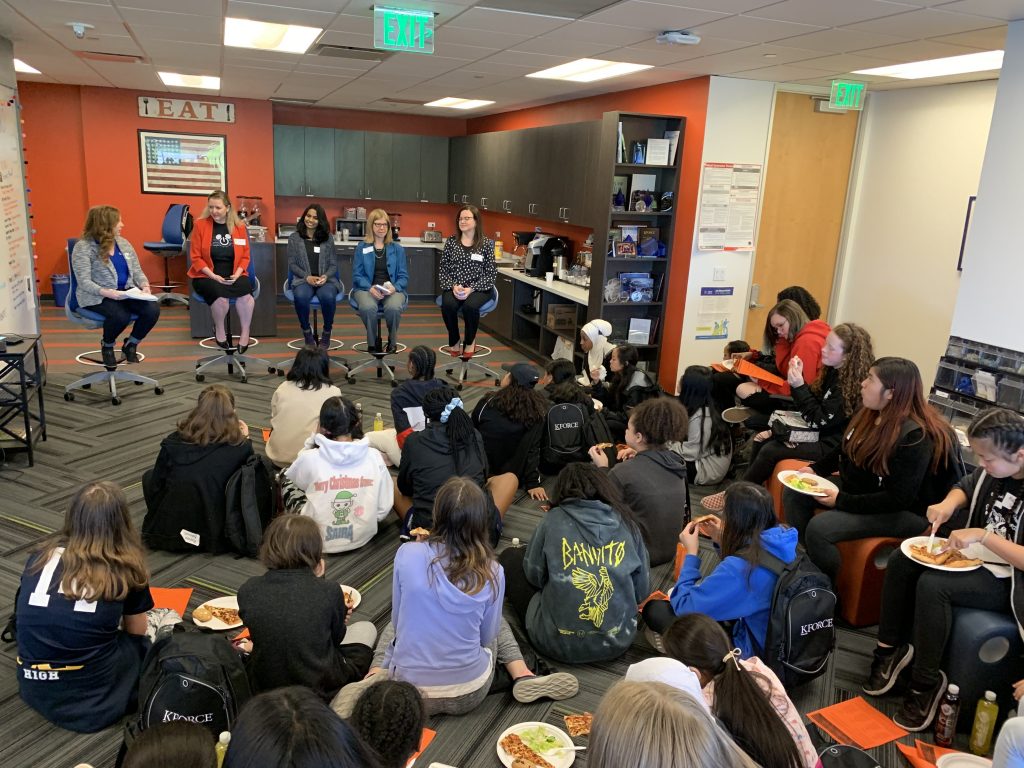 "I enjoyed when everyone shared their ideas. I also liked when we drew our Sheroes."
- 8th grade
"All of these confident women and what they do."
- 6th grade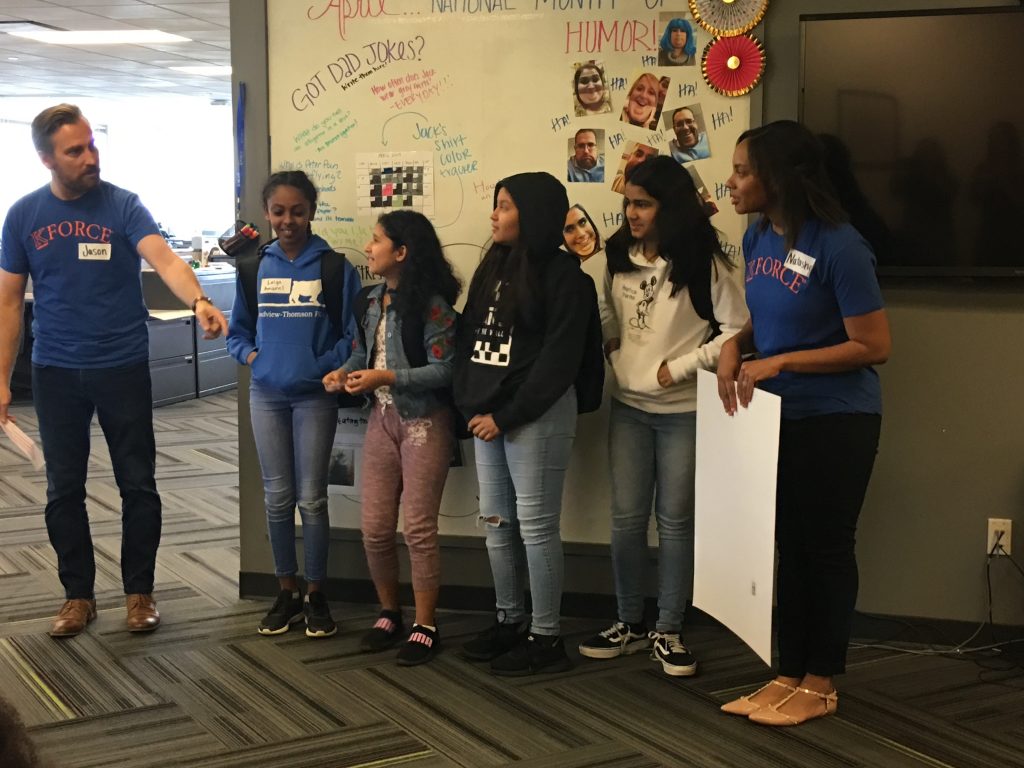 "The people there inspired me to talk more."
- 6th grade
"I enjoyed how we got together and got to talk about our ideas."
- 7th grade