December 3, 2019 | Everett Middle School at Redfin| based on Laurel Korwin's blog post
Redfin's San Francisco office was thrilled to welcome 23 students from Everett Middle School for a visit earlier this month. The students were on a field trip with IGNITE Worldwide, a nonprofit that seeks to inspire young girls and non-binary students to pursue careers in STEM.
The day began with a tour of Redfin's office, including a visit to our snack cabinets for some "brain food" for the morning ahead. Next, the students divided into smaller groups led by Redfin engineers for workshops that illustrated a day-in-the-life of various technical roles at Redfin.
Our employees worked with the students to experiment with redesigning Redfin's mobile homepage, code styling changes to Redfin's website in Chrome DevTools, and pick out differences in an image diff to demonstrate testing a hypothetical feature. Students were able to work in the very same conference rooms where employees work!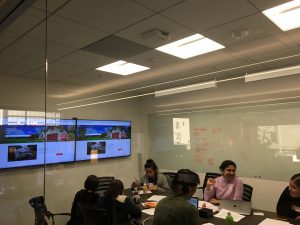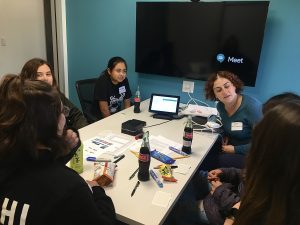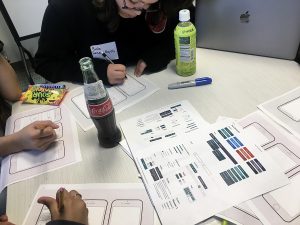 After the workshops, we had a panel discussion with six women in technical roles at Redfin who shared the stories of their journeys to careers in tech and answered the students' questions about college and STEM careers. One of our favorites — especially given the generational gap — was when one of the students asked when we each got our first computers. A kid after our own hearts!
We ended our time together with lunch, where we discussed our favorite apps and what it means to be a successful woman, and a final trip to the snack cabinets before sending the students on their way. We were happy to hear that after the visit, 92% of the students were more interested in STEM, and eight more would like to investigate taking a STEM course. We had a wonderful time and hope they continue to explore the world of STEM!
Special thanks to Jane Nemenman for making this inspirational day possible for the girls!
After attending this event:
Here's what the students enjoyed most:
The activities made me want to design. - Grade 8
Learning about different jobs and seeing code in action. - Grade 8
My highlight was messing with the apps by hacking but it goes back to the way it was. - Grade 6
It was really fun and you could change things on an app like name, colors, photos. - Grade 6
What I enjoy today was getting inspired by the 6 women workers. - Grade 6
I enjoyed when they talked about their experience in computer science. - Grade 8
I thought that it was cool that you could make a living coding. - Grade 6
Todo la verdad. (The whole truth) - Grade 7
When all the kids got up and rushed to the snack bar, my group stayed to learn about the Redfin website and coding. - Grade 8
What I enjoyed today was seeing what the different jobs were and doing what they do. - Grade 6