December 18, 2019 | IGNITE Panel at Hazen High School | by Keith Peck
On Wednesday, Dec. 18, young women in grades 9-12 from diverse backgrounds attended Hazen High School's first IGNITE panel of the year! Many of the students were shocked by the statistics about how underrepresented women are in STEM fields. For many, this was their first IGNITE event ever, and they were inspired by the incredible stories that the panelists shared. One girl noted, "Please continue this! I find it to be an opportunity for females to stand up and feel like they have more choices in their future."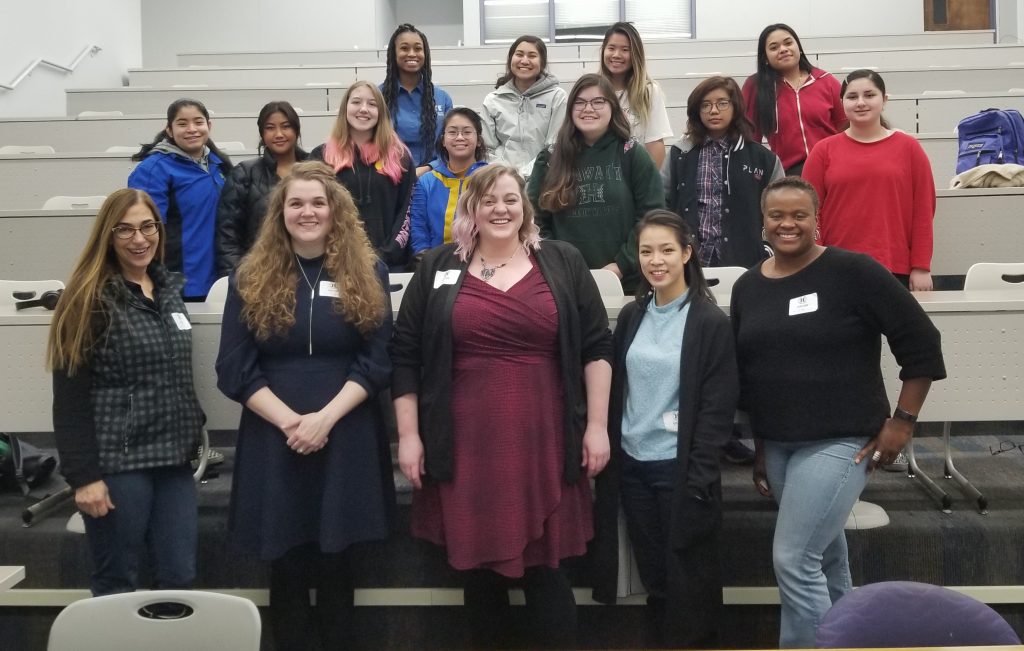 The students thought the stories were amazing and wanted to pass on their thank you to the panelists for sharing their journeys into STEM Fields:
Melissa Briggs, a Spacecraft Systems Engineer at LeoStella
Rachel Benda, a Mechanical Engineer at BCE Engineers
Stephanie LaBoo, a Senior Safety Engineer at Amazon
Amanda Tran, an AIT Engineer at LeoStella
Valerie Olague, a Senior Program Manager at Microsoft
The students really appreciated all the different perspectives the women shared. One girl remarked, "I enjoyed that the people from the panel were diverse and that they all had backgrounds that didn't necessarily lead directly to a specific career."
After hearing each panelist's story, the students got a chance to participate in a Q&A session. One student asked the panelists what interview tips they had, and they all shared great advice:
"Don't be afraid to say I did instead of we did."
"Make sure to include measurable statistics on your resume." 
"Include a couple of your related hobbies, because it shows you have other passions and interests and are more well rounded." 
Overall, many students noted that this event made them more interested in STEM, and all were very appreciative of the panelists. Thank you to Melissa, Rachel, Stephanie, Amanda and Valerie for sharing your stories and making it clear that more women are needed and wanted in STEM fields!
After attending this event:
Here's what the students enjoyed most:
"I've learned so much more about engineering in general. I thought it was all about building and/or solving problems. But there is so much more! Also, it is sad to know that only 13% of women are in engineering. "
- 10th grade
"I'm glad I had the opportunity to ask relevant questions geared towards the STEM field, because I feel that it is rare to get so many different perspectives on the field, particularly from women because of the lack of representation."
- 12th grade
"All of their stories about how they got to where they are. They also made me realize all the other possibilities in STEM.
- 10th grade
"I loved listening to the employees' stories. They all got here by following their passion and never giving up."
- 12th grade
I enjoyed asking them questions."
- 10th grade
"I began to think about different branches of computer science/programming other than coding."
- 10th grade
"I had a lot of fun, and made me more interested in the STEM field."
- 11th grade
"Getting my questions answered by the panel."
- 10th grade